MRU - This is Hu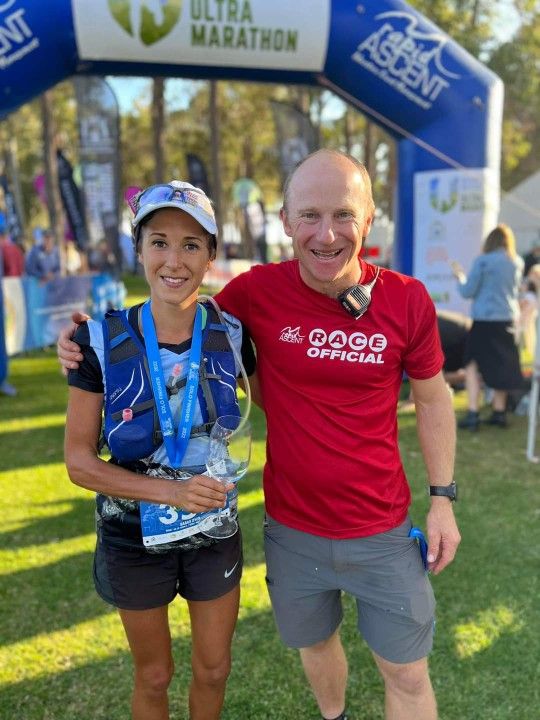 Here it goes, my first crack at a more formal race report, despite it already being two months since the event 🙃

Margaret River Ultra is an event run annually by Rapid Ascent in early May. The event gives you ~80 kilometres of fabulous trails, running through one of the most pristine and protected bio-regions of Australia – the Cape to Cape coastline of "Down South" Western Australia. Located between Cape Naturaliste and Cape Leeuwin, the region is renowned for its superb wineries, rolling country farmland, pristine beaches, world-class surf breaks, limestone caves and magnificent tall-timber forests. To run through this rich tapestry of natural wonders is a joy for anyone who enjoys putting one foot in front of the other, in meditative running. From the perfect white sand beaches at Hamelin Bay with surfing stingrays in the south to the finish point at Howard Park Wines in the north, is a  challenge for any athlete.
There are options for a team-based run comprising the 5legs of the race, or to run the entire ~80km as a solo participant. I had been registered for the 2022 event as a solo participant since August 2021, so I was fairly set on the adventure awaiting.
Date: 7/5/2022 6.15 am start (who likes the first light of dawn)
Sleep: f all - 3 am wake up
Athlete Mood: Ambivalent
Weather conditions: Splendid for May - could not have been better! Forecast 22-24 degrees, with a slight NW breeze from times.
My issue is always the start line, having a great deal of ambivalence regarding my motivations for completing MRU. As on all accounts others often display concern or rejection when I say I'm registered or doing an event. Medically and rest-wise I was not in the ideal space, nor had the ideal preparation in the lead-up to the event. Nutrition in particular was a last-minute decision for me, along with a compilation of drop bags. It's honestly stupid to consider them as optional, Don't be like Sarah.
Leg 1 - Was Hamelin Bay to Boranup Forest - for a distance of 11.5k, a loss of 190m decline, and an excellent cut-off time. OK... Absolutely stunning, the sunrise was exceptional glowing red through the smoke of the local farmers' back-burning. Dune top runs, craggy rocks and back dune scrubs were an adventure, one which I shared with chats with a Victorian runner Nick, with whom I leapfrogged for a bit in the first 40km of the course. I almost had a trip up in the first 1km of twilight, as the sun rose. Many runners decided to opt into starting with a headlamp, however, I couldn't be assed getting mine out of my pack, so my depth perception along with many of the other competitors was whacked. Once I challenged back a bit of the self-doubt of 'why the fuck are you doing this - I was great, and I went into a nice state of 'keep calm, and carry on'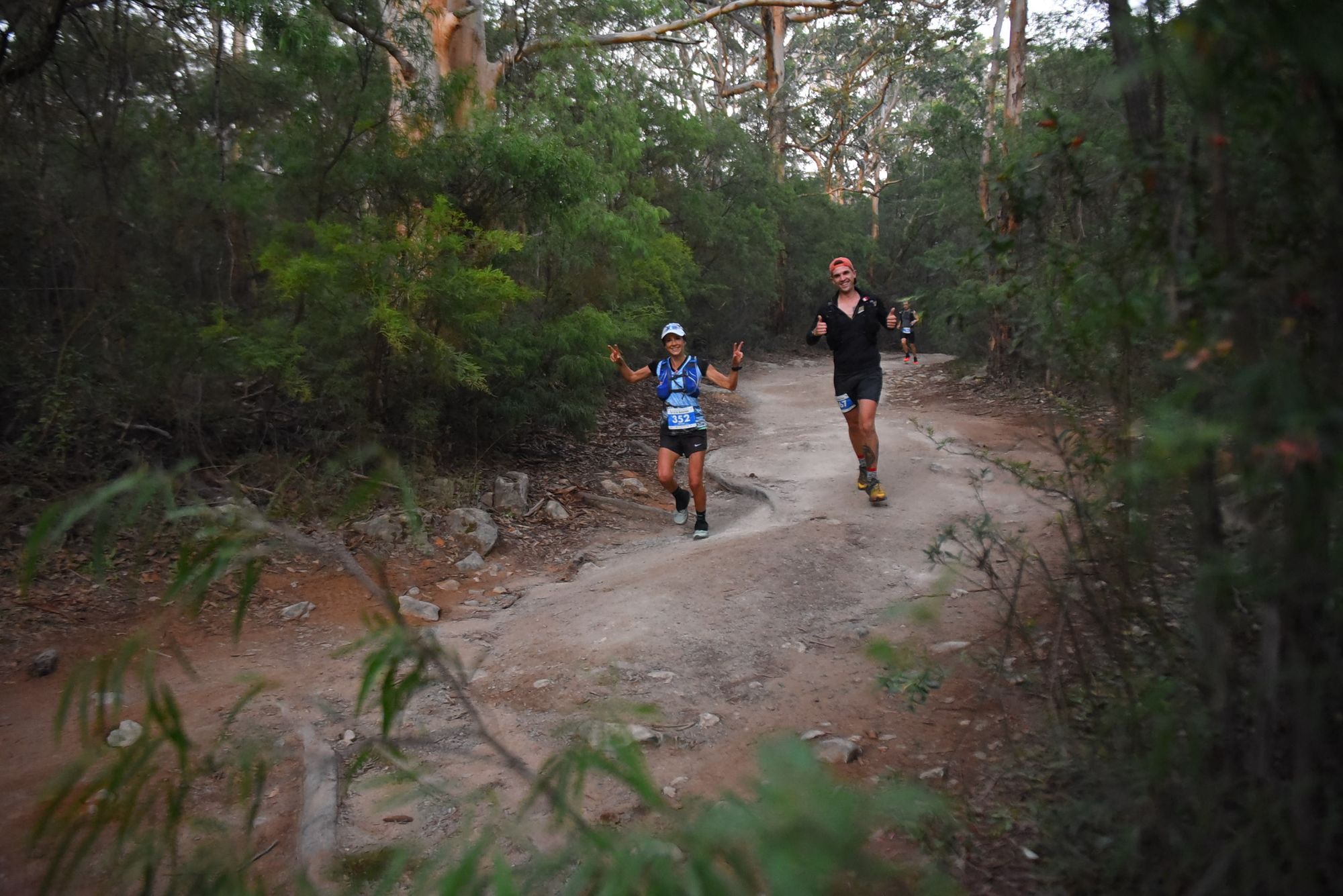 Leg 2 - Consisted of Boranup Forest to Contos Beach - for a distance of 18km. We continued the fabulous journey through the Bushlands, the sights and smells were divine. I adore the Australian bush, it's so unique. I felt honoured to be able to share this journey with others. As Nutrition and hydration is something that became a 'had to' do to continue the experience, despite not fitting my conventional food rules eg: vegan, no carb. As I entered the second aid station after a climb detour up a hill it was a delight to see my coach Rob there waiting for me. Regardless of the anxiety, I was feeling due to the mass amount of people, that you usually don't encounter so frequently on trail runs, #reclusehere. I had a snappy snap of me chewing into a provided Anzac bikkie, with the audible expression of an 'I don't even give a fuck if it's not vegan'. Back down the annoying hill, passing some familiar faces in Glen and Alexis and I was off ...


Leg 3 - Contos to Riflebutts Reserve - clocking in a nice little 19.5km joist. I enjoyed conversations with a variety of others through the forests and fire trails. Including funny little chats with less than three degrees of separation - talking craft brews and Kalgoorlie with the head brewer of a Perth microbrewery.  The cliffs were superb along the coastline as I tried to balance both the time looking up and the time looking down at the craggy trip hazards underfoot. Busting for the loo at 42km, with no coverage from the season's past bushfires, made for a laugh. I managed to locate a somewhat secure and private space in a gully, before rejoining the trail and surprising some of the other runners by coming out of the bush. Surely a sight to see... regardless if it's a Geologists natural habitat to emerge randomly from surrounding nature.  
The Beach at Redgate was nowhere near as bad as everyone had mentioned, and a lot of people were catastrophising even on the course. I shuffled through and utilised the mantra of 'Sand is Grand', which a few others felt to be inspiring. Doomsday-ing on the way, shuffling through - the only thing that was pissing me off was people using poles??
I hit my tether with nutrition after CP3, and I just couldn't do any more solids.  
After this point, I had gels and snakes with which I could dissolve in my mouth without chewing.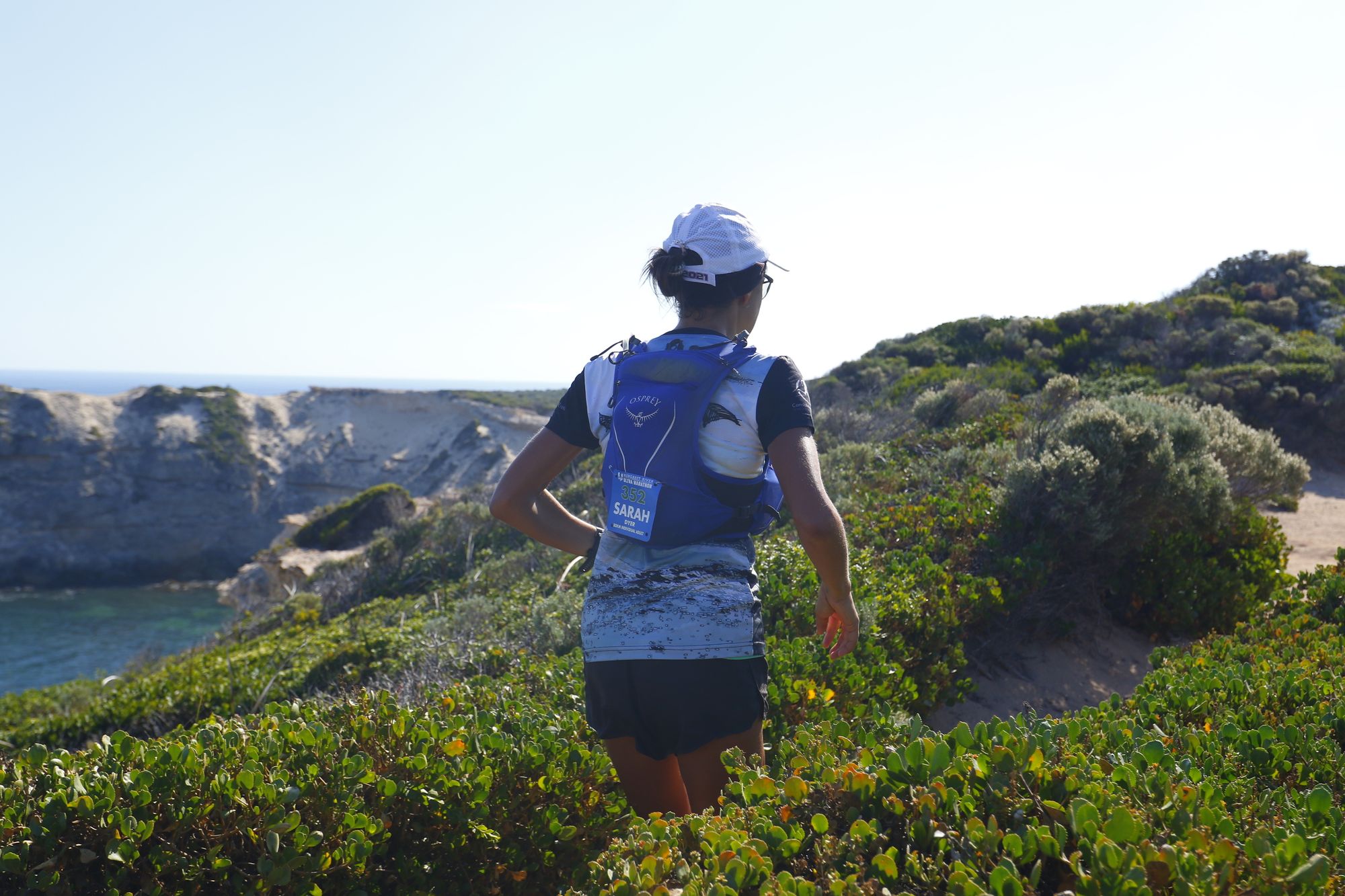 Leg 4 - Riflebutts to Gracetown, was a graceful 18.5km. I was still taking in the beauty of the coast, and the tilted stratified limestone at Beach outcrops. I revelled in the amazing salmon K-feldspar within the rounded granite outcrops, that the trail runners scrambled over rock-hopping and not really taking it all in. I wasn't in any real pain at all, as I became one with focusing on my strides and my breathwork. The stairs frustrated me in places, however, I corrected and accepted that they were just part of the journey too. I loved that random others were shouting out words of motivation and including my name 'Sarah' which took me a while to realise was because it was on my bib safety pinned to my pack. One kind stranger, actually pointed that fact out 'You're looking strong Sarah... I don't know you, it just says you are Sarah". Still makes me smile. Throughout the remainder of this leg, I ran and chatted with two other guys - one named Tony and the other I cannot remember, we played leapfrog and listened to each other's alarms to eat and drink. Weaving through the hinterland and the winding sandy tracks, past the homestead and a little climb into Gracetown. I past my friend and fellow local runner, Craig with an "I know that head..." I had been wondering where he had gotten to, as I hadn't seen him at all and wanted to run with him. I passed and into the final aid station before the leg home.


Leg 5 - Was Gracetown into Howard Park Wines for a nice little sprint of 13.1km to finish the course. I was in such a joyous mood, after seeing my coach Rob at the aid station who had given me permission to sprint, which I still laugh at now... I'm sure he has corrected me since and the comment was more along the lines of 'You can run now" so I let go and began to race... The rock climb scramble out of Gracetown was hardly conducive for sprinting, getting lost amongst the scrub and a subsequent short rip were momentary annoyances as I focused on the finish at Howard Park. It was less of a sprint than I would have liked even as the course continued, soft sand in the back blocks of the farmer's property didn't allow my legs to sprint and I focused on following the ruts and washouts from wheels, paddling and propelling myself forward as I murmured in my mind "Sand is Grand". I broke free of destruction, I broke free from catastrophe, and I let go of control. I was at one with my movement. Once I hit Caves Road and the gravel tracks it was on, I ran in, in 5min/km as I began to take notice of my pace. My reserves felt bottomless... I could have gone on.  In the last section, I can't even recall how many runners I passed, including some from teams. It was amazing, and what was more amazing were the fabulous people waiting for me with the biggest hugs at the finish line.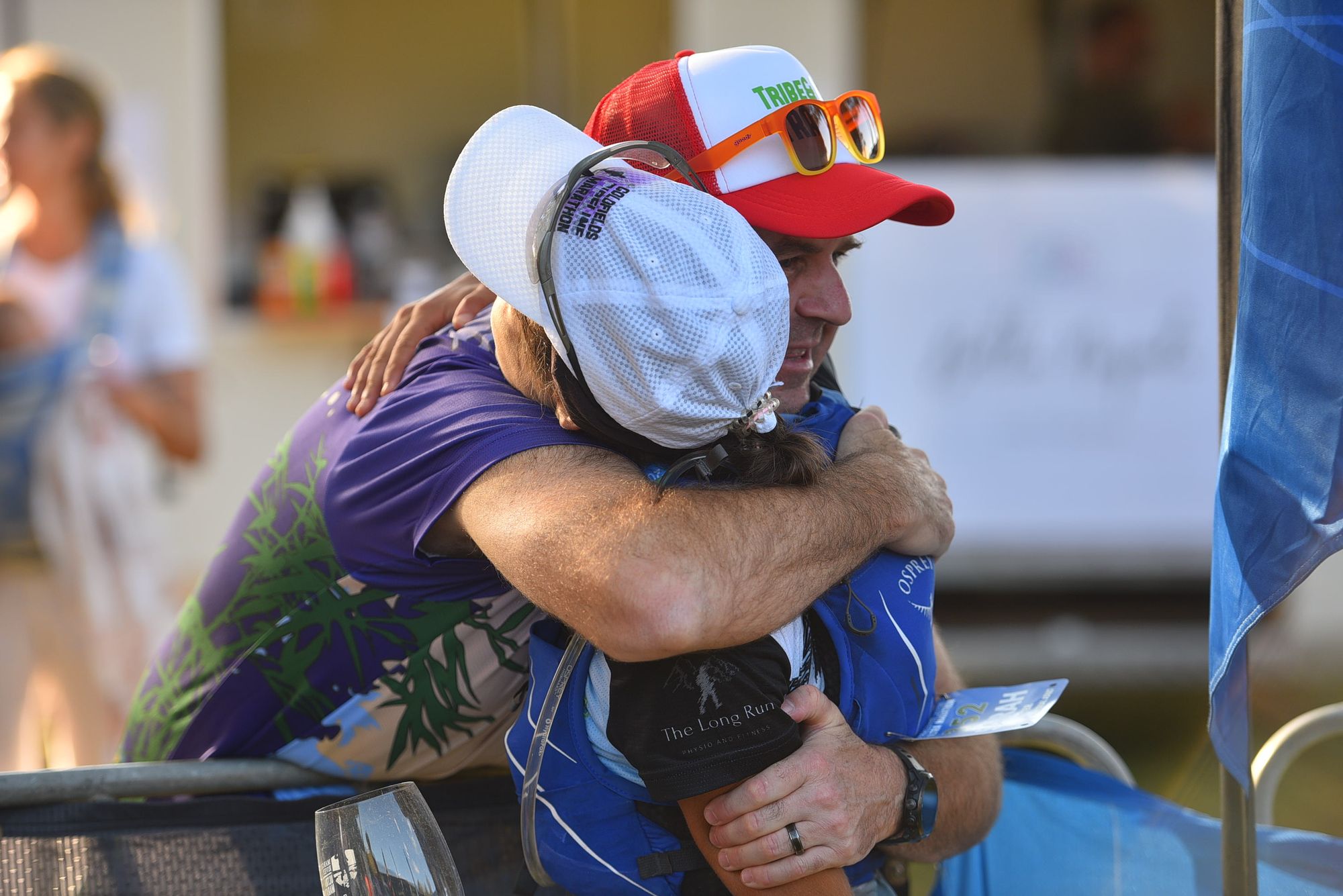 I could not be more grateful to see Rob, Shaun, Sarah, Wayne and Amanda's smiling faces. I got a big glass, and for those playing at home and unfamiliar with the run-finish incentives, a big glass is for finishers in less than 10hr course duration, as opposed to a regular wine glass awarded to all finishers along with the MRU finishers medal (which both soloists and teams achieve). Crossing in as the 9th female, and 26th overall in a time of 9hr 15min.

I was in a blurred delirium post run, high on adrenalin, walking around aimlessly, exhausted, trying to sleep, riled by the noises, nothing suitable to eat, not hungry, just dazed. A large group of us awaited some of the other Consistent Running, and MFR crew. I caught chills, and they multiplied until I could actually stomach some vegan dumplings. Which were exorbitant, a 40min wait and not really satisfying. What was satisfying was some of the conversations whilst we awaited Glen, Peta, Martha, Zara, Eve, Harmony, Juliet, Kelli, Alexis, Bill and Louise through the finish line. At around 1 am on Sunday morning (cannot remember particulars) as I'd been awake for close to 24hr, Kelli made it through. The crew was stoked and it was a sight for sore eyes, the love, support and comradery in our community is something commendable. It was all worth it!

I had moments out there, however, they weren't negative spirals as runners so often recount, or recall as narratives for reasoning to DNF or threaten to. There were happy tears of gratitude out there, for the fact that I had made it down there despite the stress, work, life, and medical complications. I made it to the start line, I felt supported, I had the utmost respect for the beautiful countryside and trail that we had the privilege and opportunity to run on, and that I could actually move my body from a place of joy and love whilst I ran, and not out of punitive punishment or self-destructive loathing.
So in summary:
Pros:
- Mint weather
- The Course
- Sand... yes I actually enjoyed it
- Just the beauty of the course (requires repetition)
- The people and their stories. Trail runners always have stories
- Randoms on the beach writing us inspirational notes. You are the bestest!
Cons:
- The number of people - everywhere... introvert and social anxiety's nightmare
- Crowded aid stations
- Clustering at the finish line..... so many people in my personal space. Cough* social distancing before it was cool
- Boardwalks and pedestrians
- Boardwalks and pedestrians and stairs... grr
- Lack of finish line catering
- 'Loud noises'... Brick Tamland-esque


Sundays post run depression was not fun, and it continued through to Monday despite some self-compassion for the feat I had just completed at MRU...
Coming back to reality was hard, work stress impending, dread of Monday incumbent email onslaught, and reminder/triggers of Mothers day and what that means for me.   As well as an irritable gut as mentioned (Ultra distance running really messes with your digestion, it's hardly a 'rest and digest' time) and sleep deprivation and delirium ensued. I really struggled to not hand the reins back over to my demon, as it was so beautiful to connect with the real joyous 'Sarah' on that weekend and run for her because I wanted to not because I had to. I find it really hard to celebrate any wins at all, in terms of personal achievement.  As its often marred with judgement from others for motivation to do so. Or it's always been my normal mode to self-diminish or brush off compliments, or redirect them onto others - as a means to avoid reality.  Honestly, I feel like I did take a big step up for Little Sarah on that weekend. And I'm still so freaking proud of myself, and I need to continue to have compassion towards myself when the dark thoughts creep in, as I proved that I do have the strength to overthrow my internal dictator.

Oh by chance... when I was unpacking my pack I found that I'd carried a little bit of home, muscovite schist from Walyunga National Park the entire way. Bloody Geo's!