Kalbarri: A window to Nature

Kalbarri is a place that I had wanted to go back to for years!
The first time I visited, albeit the weather being atrocious - the scenery was still spectacular. And I was a little devastated that I didn't get a tourist snap with the illustrious 'Natures Window' within the National Park.
This past weekend my partner and I took the liberty of a little weekend away for some downtime with nature.
Blessed with year round great weather, the mighty Murchison river, coastal and inland gorge landscapes, Kalbarri is a favourite WA holiday destination for all types of travellers. Kalbarri National Park covers an area of 186,000 hectares, and thousands of visitors are attracted to the beautiful scenery annually.


The township of Kalbarri is enclosed by different landscapes of the National Park itself. East of town are inland river gorges showcasing the deltaic Tumblagooda Sandstone which is as old as 400 million years; the south features stunning ocean cliffs plummeting to the waves below, forming a variety of coastal landforms. We will call these the 'River Gorges' and the 'Coastal Cliffs'.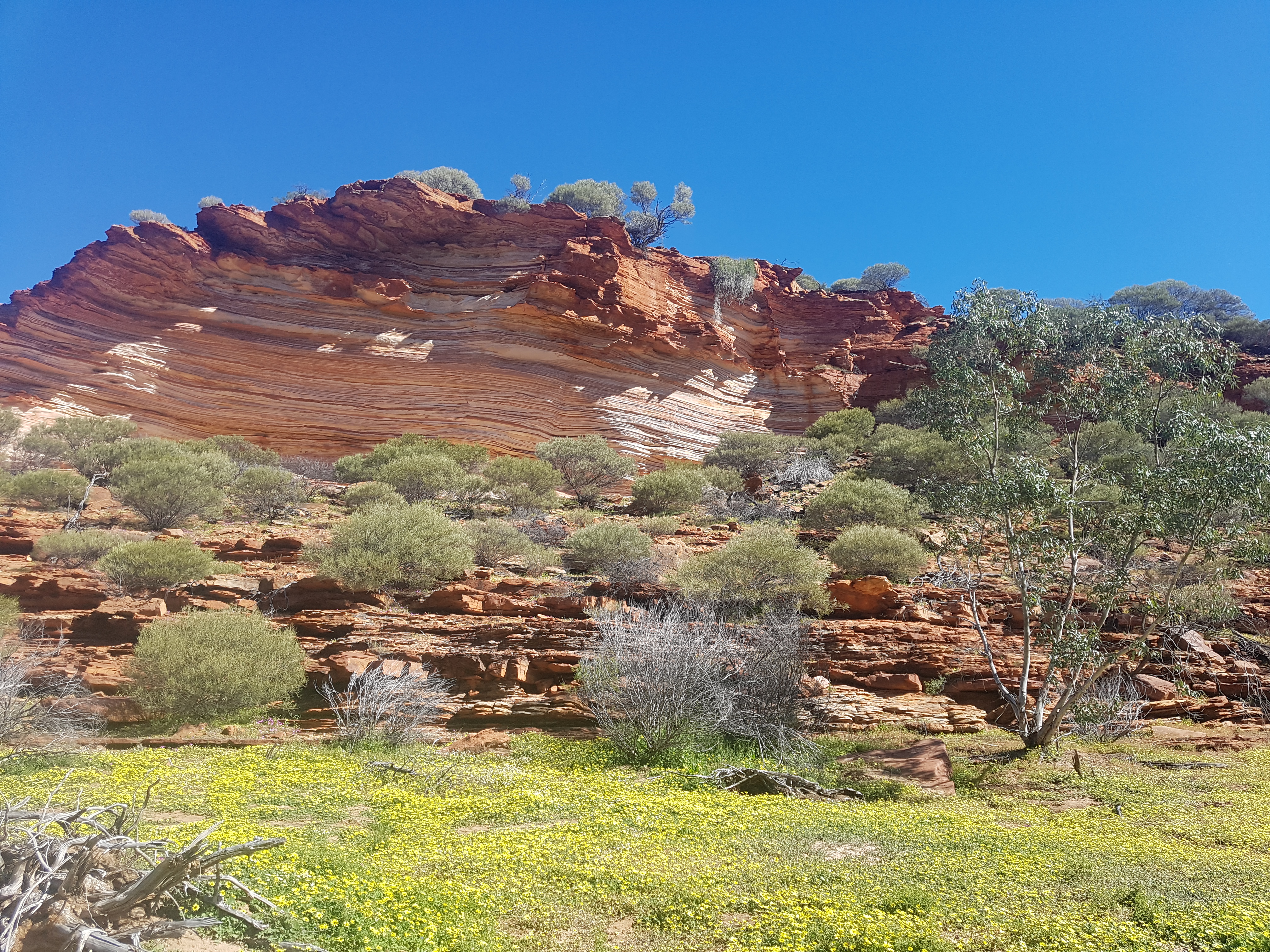 On the morning of the 1st of September, we woke in our accommodation - a studio room at Kalbarri Edge resort after a long drive the night before (we arrived at 12.30am). I went for my usual morning run out to Jakes Point and back, before we headed out to Black Rock Café for a quick coffee. After coffee, we went into the National Park for some hiking around the river gorges. Our first stop was Z-Bend, The Loop and Z Bend are sections of the Murchison River named because of the enormous loops and Z bend they have created as they flow through the sandstone gorges. We walked the Z-bend river trail -which is 2.6km return. Some scrambling was required as we walked through the chasms to access the river, ladders have been installed in appropriate places - but the walk still isn't for the faint of heart. The river gumtrees and array of coloured wildflowers starkly contrast against the sandstone.


From here we headed to see the famous 'Natures Window'. Located just 500 metres from The Loop (or Inyaka Wookai Watju) carpark, Nature's Window is one of Western Australia's most iconic natural land features, formed from layers of Tumblagooda Sandstone. To access the natural rock arch you walk down a picturesque trail, which was ablaze with various shades of wildflowers. Natures Window frames the upstream view of the Murchison River, and is perfect for that selfie or candid tourist shot - see below. If you are prepared for a hike, you can continue from Natures Window for an 8km Loop trail through the gorge system. On our trip we saw various lizards and some curious Euro Kangaroos.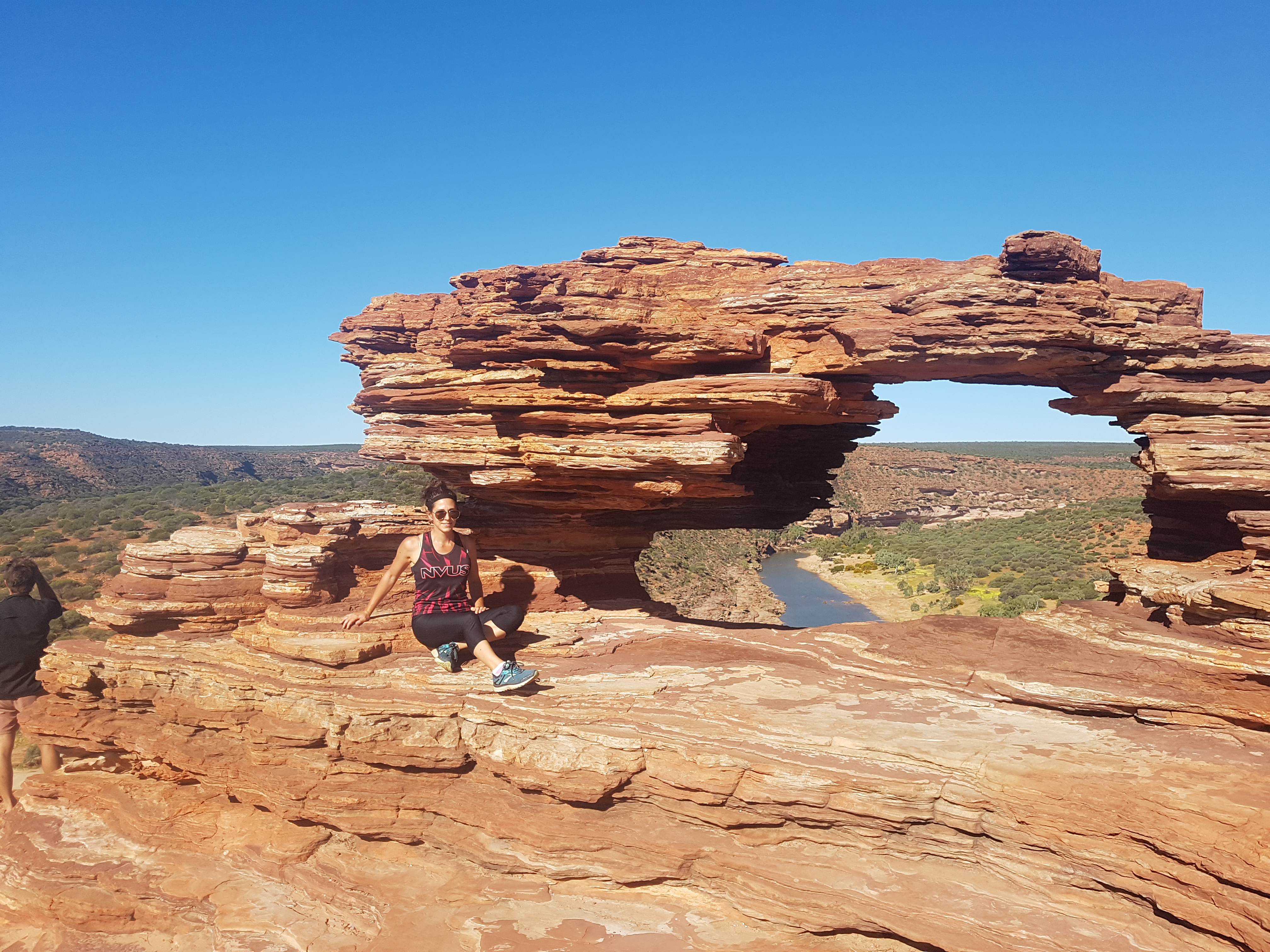 West Loop lookout is currently closed while the Skywalk is constructed. The skywalks will allow visitors to Kalbarri National Park to be able to walk 100 metres above the Murchison River Gorge after the WA Government committed $20 million to build them. These skywalks, are being funded by Royalties for Regions, and will extend 12 and 20 metres beyond the gorge rim. They are due for completion at the end of 2018 or into early 2019.
Our final gorge stop was at Hawks Head - which is named after the shape of the rock formation seen from the lookout (I fail to see the Hawk).
On the way back into town we stopped at the lookout at Meanarra Hill. This This hill is just a few kilometres out of the township of Kalbarri, and is a rounded limestone capped hill which is only 207m above sea level. Regardless of its status as a Hill, Meanarra Hill lookout provides views of the Murchison River's entrance to the sea, and impressive views out of Chinamans Beach.


Dinner was at the accommodations Edge Restaurant - Ben ordered the sirloin and I treated myself to some locally caught Kalbarri Snapper.
On Sunday morning, I woke early again and treated myself to a sizeable 16km run. Before heading out to the Coastal Cliffs, we got coffees at a van overlooking the back beach called Bean Drifting. Such a good idea, and reminded me a lot of the Lucky Bean Coffee van that always parked up at Lucky Bay in Cape Le Grande National Park in Esperance.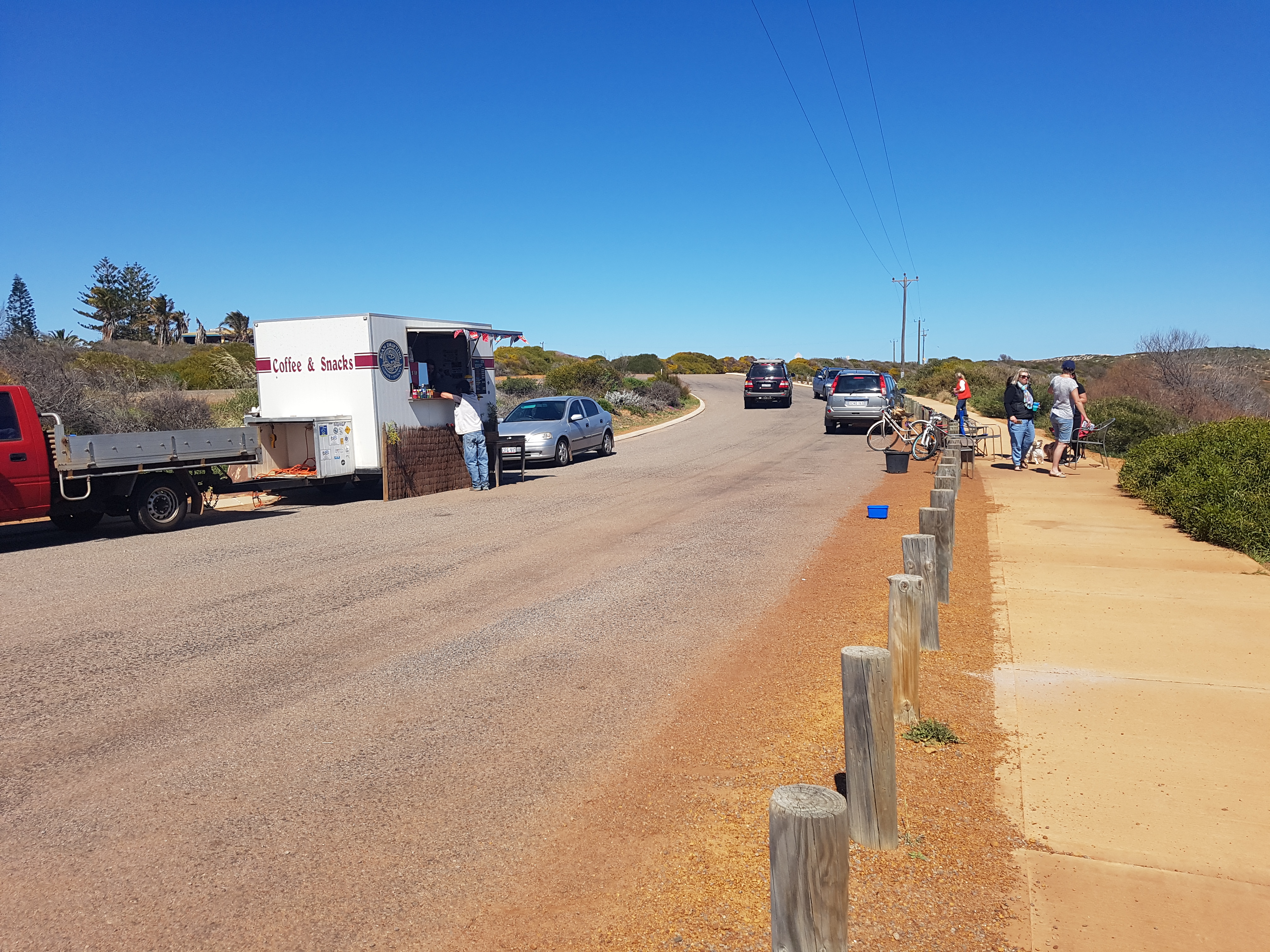 Our first stop of the day was at the Natural Bridge to begin the Bigurda Trail. Bigurda is the local name for the Euro Kangaroos which can be often seen in the area. The Bigurda Boardwalk connects the Natural Bridge to Island rock and is an easy 1.2km stroll along the cliffs. Island Rock is a collapsed Natural Bridge and now stands as a solitary sea stack - much similar to the Apostles on the Western Victorian coastline. The Bigurda trail continues for another 6.8km, stopping in at the Shellhouse Grandstand, which is a beautiful terraced rock face near a gully joining the cliff to the coastline. Ben turned around at this point, and we stopped to view the ocean. A Humpback whale and her calf were frolicking in near the coast, the mother was flipper flapping. Did I mention that Kalbarri has awesome nature tours too? Including whale watching, and eco-tours out to the Abrolhos Islands between Kalbarri and Geraldton.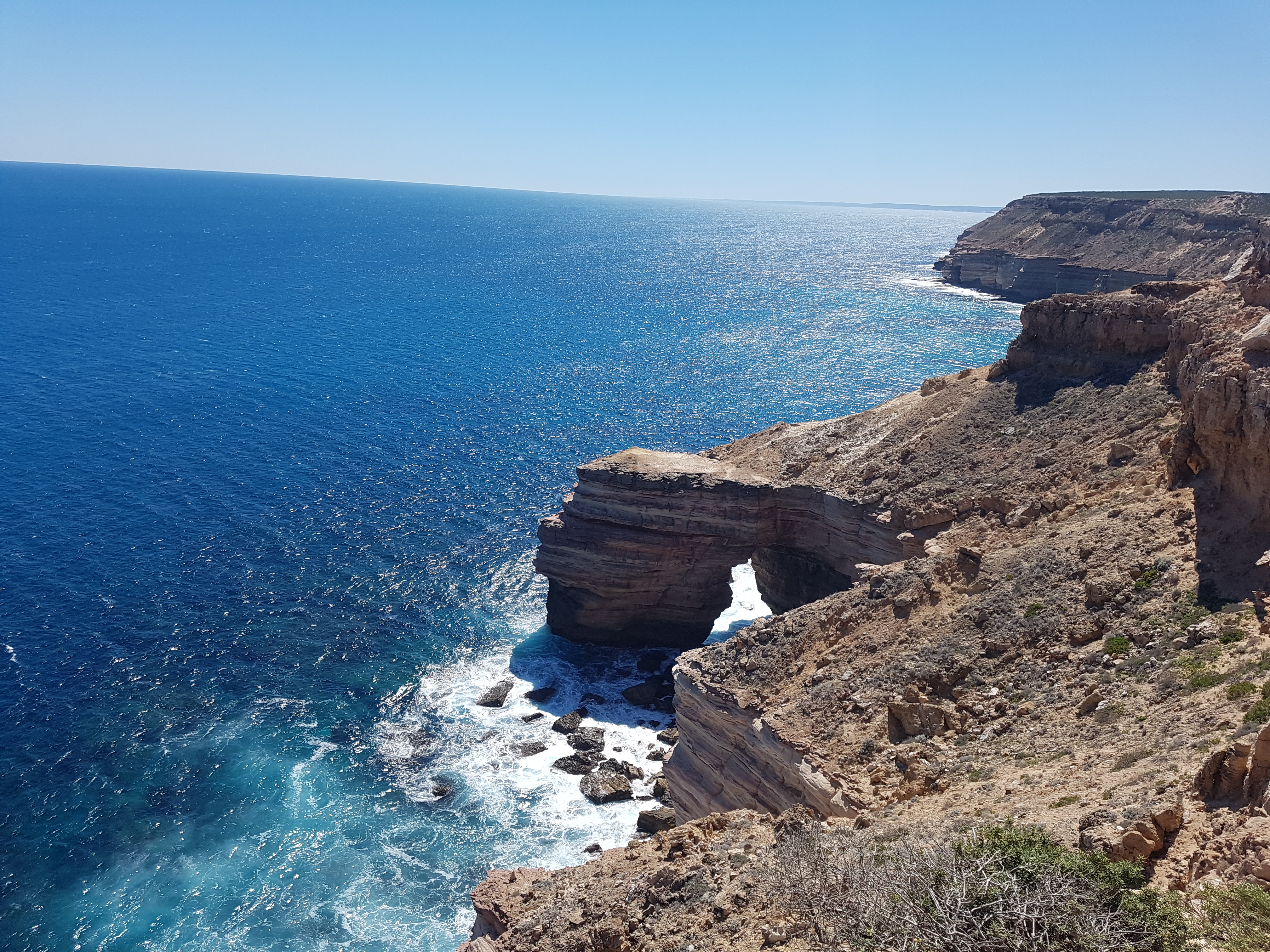 Ben had to turn around as the return trip would be 16km, so I continued on the Bigurda Trail whilst he relocated the car. Plan for this if doing a trail with a group - as you may have the luxury of dual vehicles.
The Bigurda trail ends at Eagle Gorge, and apparently this is one of the best vantage points for viewing wildlife, with roosting seabirds, whales and two species of dolphins - the common and bottlenose. We didn't see any more whales, but I was well and truly over the swallows.


From Eagle Gorge, we set off to see the oddity of the 'Principality of Hutt River'. Leonard Casley, succeeded from Australia due to arguments about taxation and the wheat quota. The Principality consists of the original 18, 500 acres of farmland. Prince Leonard's town has been developed with many buildings to provide facilities for the tourists who visit in their thousands each year. These facilities include The Administration Building containing the Government Office and Post Office, Tea Rooms with Swimming Pool and a Chapel as well as the arcade housing the Memorabilia Dept. and Historical Society displays.
The province is open for visitors between 10am and 4pm daily. Visitor visa's are available in the Government Offices or at Kalbarri visitor Centre for a minimal $4 a pop, this is paid in Australian Dollars, but you can purchase Hutt River dollars if required. Passports may also be stamped for Entry/Exit at no charge.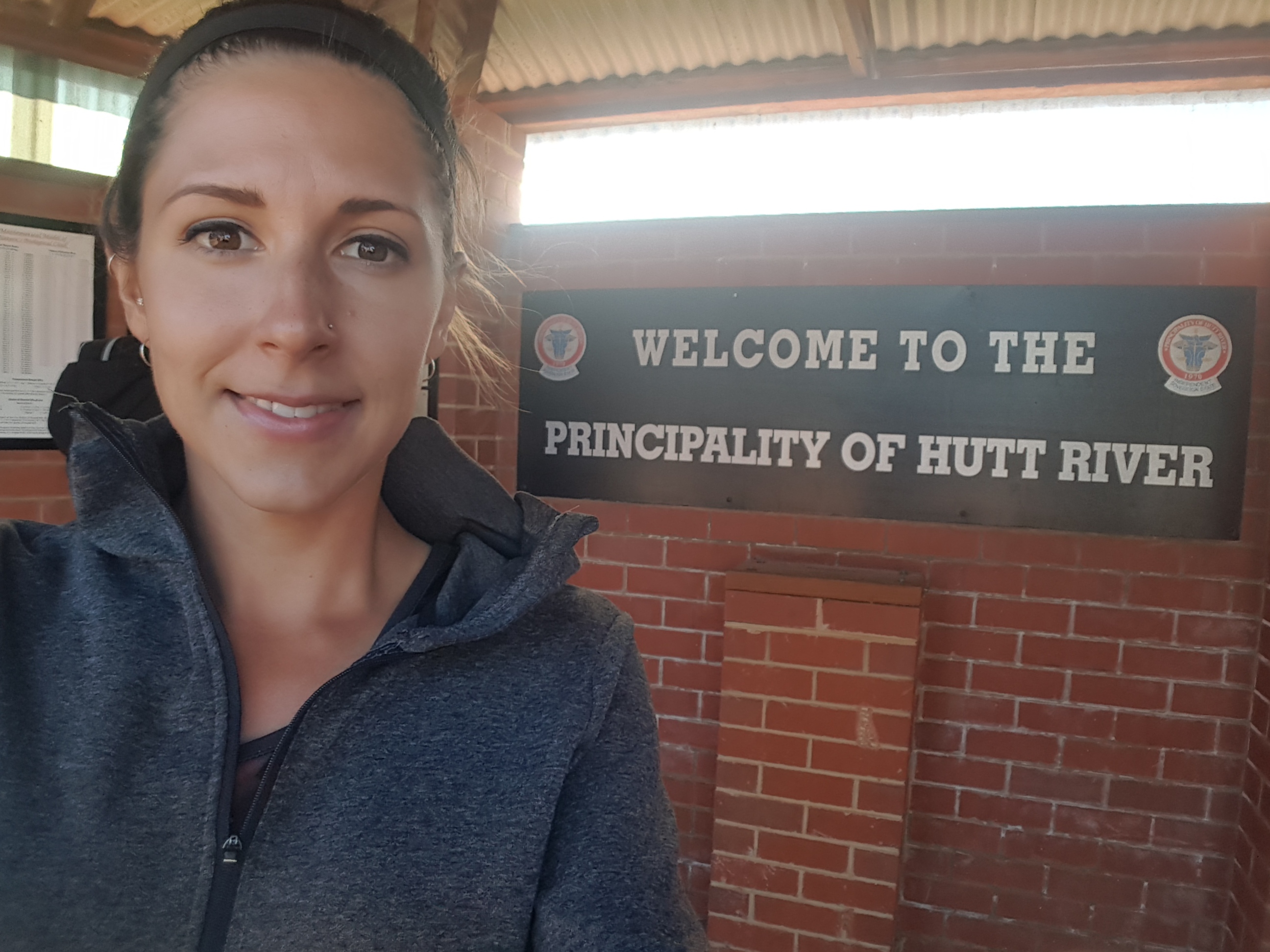 Upon arrival we were met by HRH Prince Leonard, and his son who warmly greeted us and guided us through the Principality's main buildings.
During this tour you will be shown all matters of importance and interest and the story of the Principality and its People will unfold. A great opportunity exists, at this point, for you to have any questions that you may have answered and Prince Leonard and his Family will be only to happy to assist. Basic facilities exist for campers or caravans/mobile homes to camp for a night or two with an ablution block, generated power and limited water available for use. Definitely a must see, definitely an interesting family with lots of tales to tell.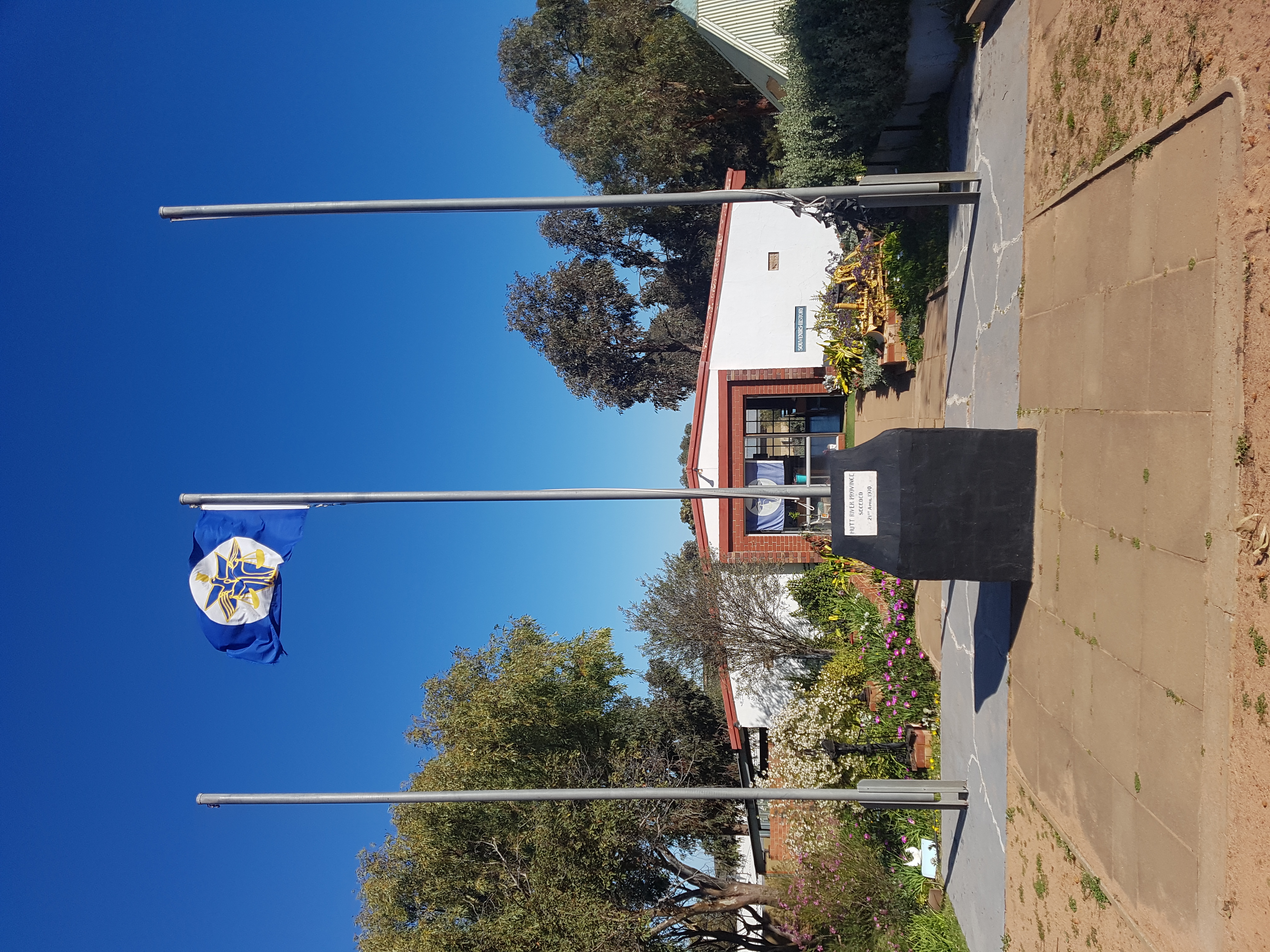 On the way back to town, we stopped in at Pot Alley and Mushroom Rock - where I completed another walk - Ben was over it by this stage.
Signage along the path takes you back 400 million years to a time when Australia was known as Gondwanaland and marine life ruled the planet. There are various rock formations from fossilized worm tunnels to conglomeratic boulders and banded colours of interbeds of iron-rich and coarse silica rich sandstone layers.


Dinner was at Dirt Dust and Diesel, an Aussie inspired restaurant. With specialised meals of Roo steaks, crocodile, buffalo meatballs and emu skewers. This restaurant also serves Australia's largest mixed grill aptly named 'The Wide Load' and a giant burger called the 'Blown Diff'. Great for a bit of humour, and the pool room was great too. Afterwards we had some local Zutydorp Icecream from next door.


The next morning we moseyed back, stopping in at Rainbow Jungle a parrot breeder and sanctuary. They were all so pretty - and Rainbow Jungle even had two species of Macaw, a talkative male Electus Parrot and a 28 Parrot named Hot Tuna. They also have a strong breeding program for Gouldian Finches which is awesome.
We stopped at Dome Geraldton for lunch.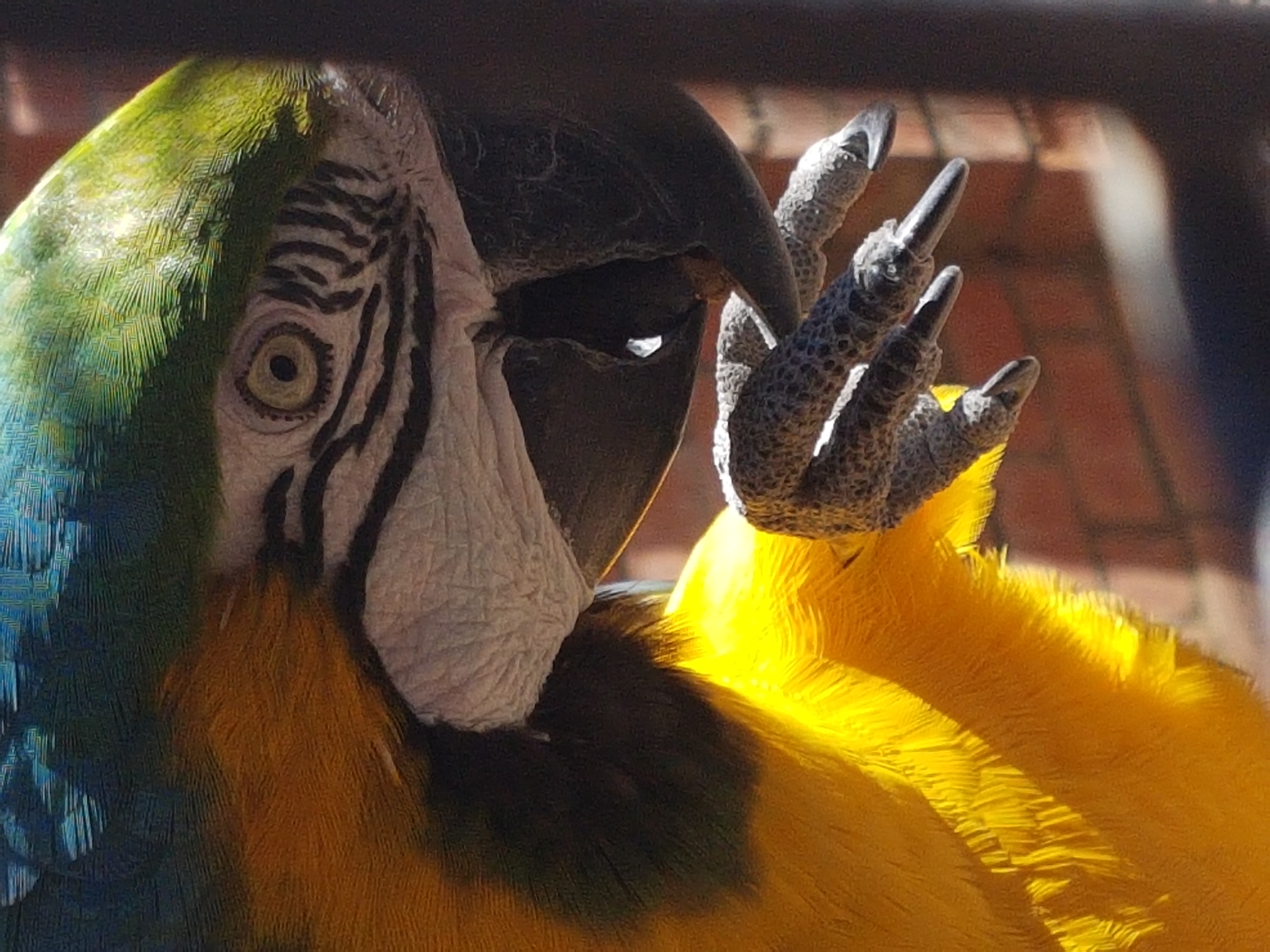 And then again at Nambung National Park - 'the Pinnacles Desert' for a look around. It was just as pretty as I had remembered it from 2015. Ben had never seen them before, and was curious at to the uniqueness of their location and why they were restricted to the one location - must be something to do with the differing sands? haha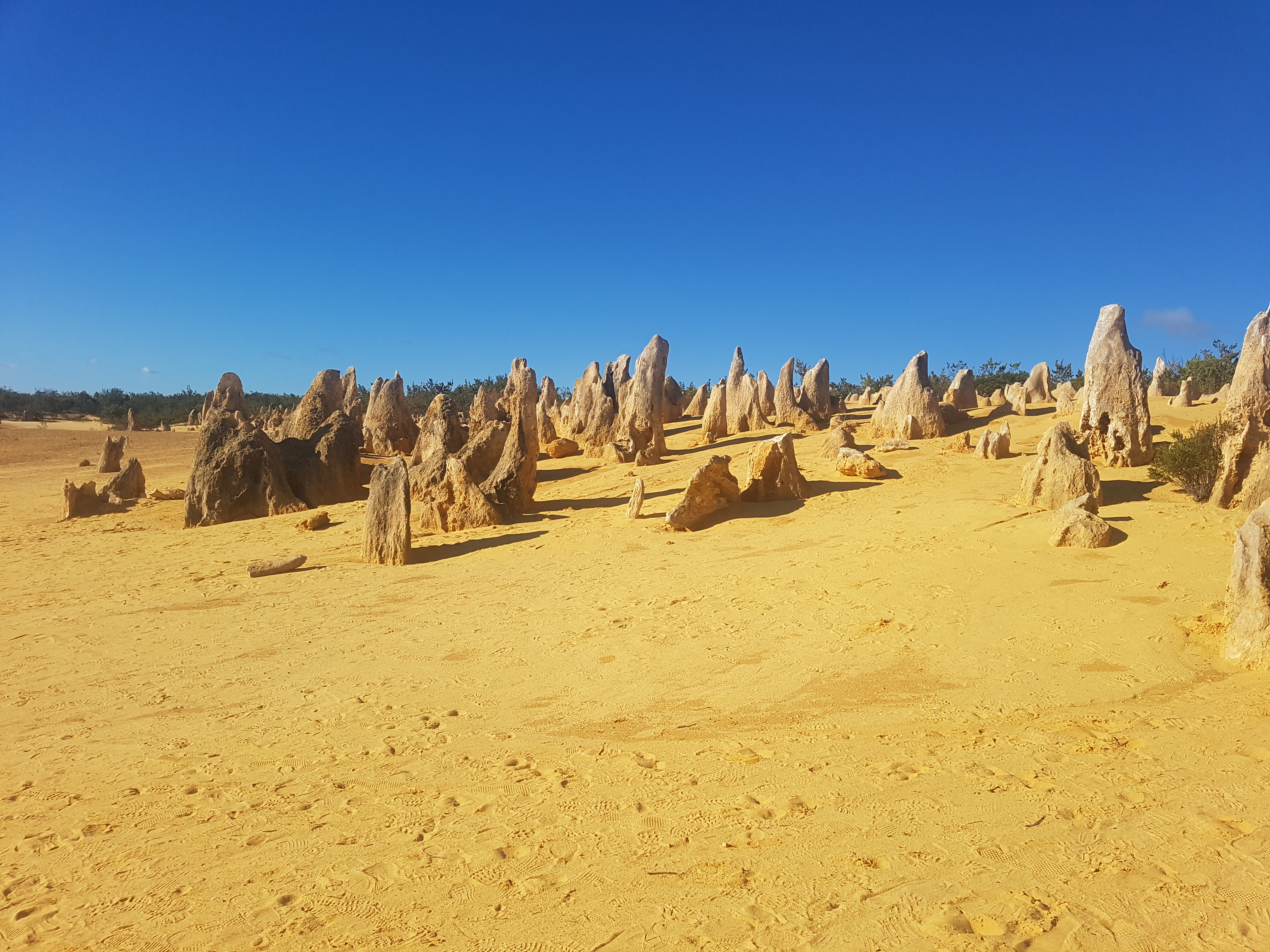 We had a final quick stop at Lancelin for sunset, Ben would love to come back here to do some windsurfing at some point, and I wouldn't mind the nature, sand-boarding and some more hiking...
Stay tuned there may be another blog post in the works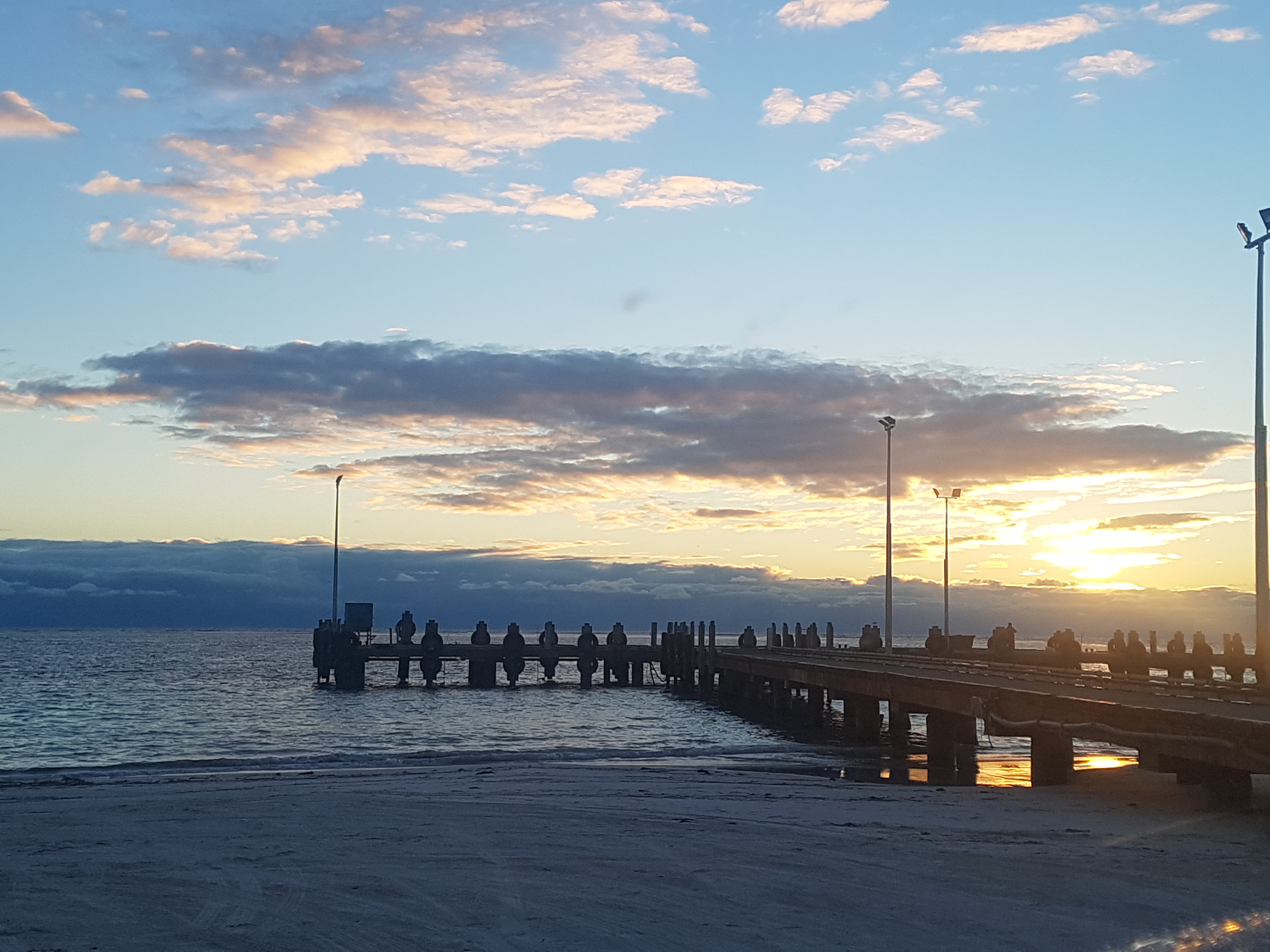 Peace, Love and Happy Reading
Sarah x