Khmer for a visit...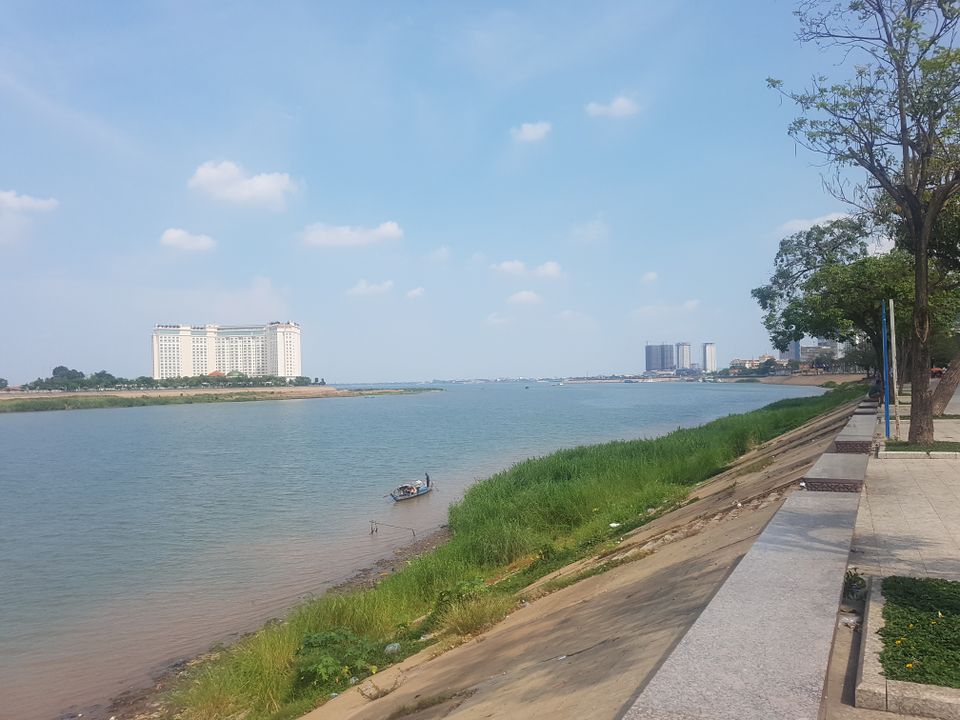 On the 16th April, we flew from Bangkok to Phnom Penh, Cambodia. The Visa and customs process was weird to say the least. To enter the Kingdom of Cambodia, a 6 month valid passport (ensure you don't get it last minute) is required as well as a valid visa, including for children.There may or may not be a long line at the visa counter. You are met with very stern-looking customs agents, that wave you up the queue where you wait your turn in the humidity. Step up to the counter, hand off your passport and passport photo (if you came prepared—otherwise they charge you $2 to photocopy your actual passport photo) and then shuffle over to wait nervously at the next window in the huddle of other travelers and returning expats. Instead of completing the work, the officers were 1. Watching UFC, and 2. Scrolling through Facebook… hmmm.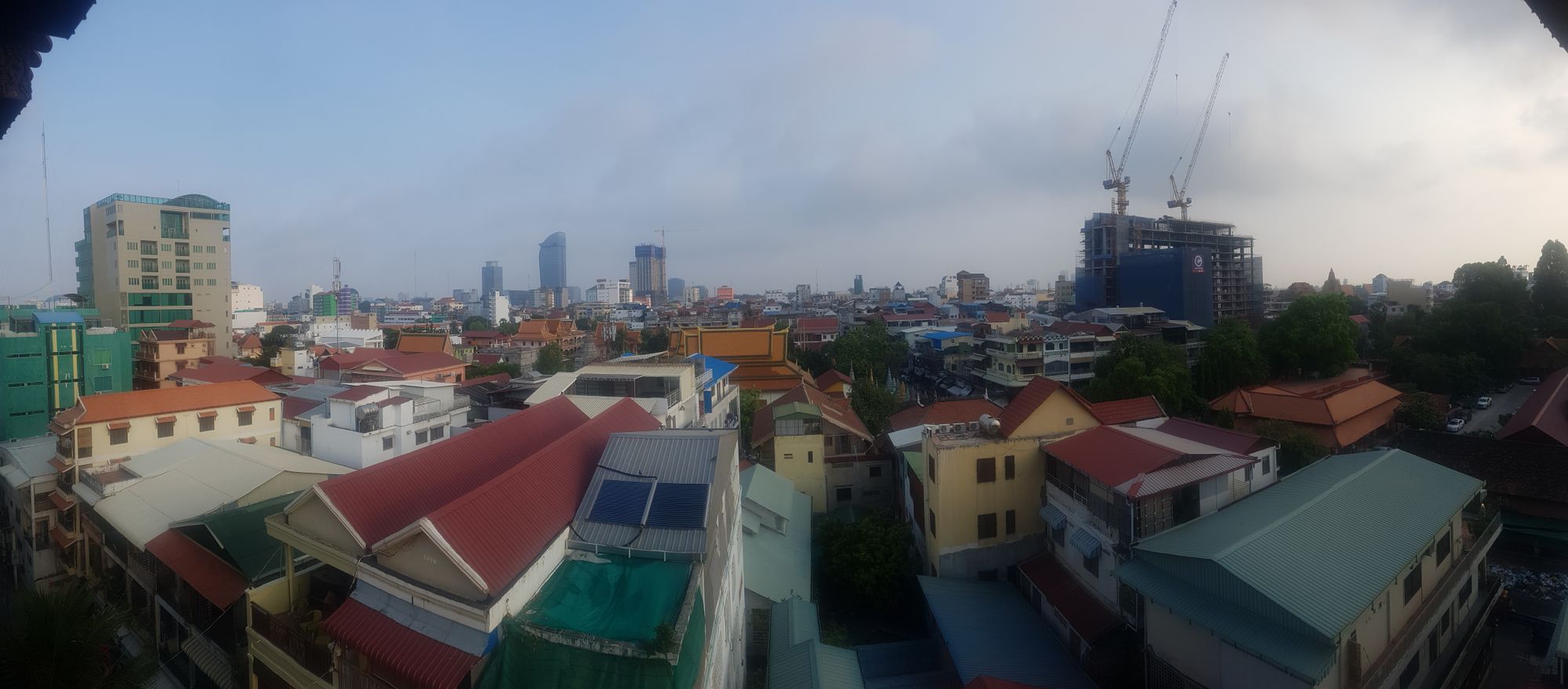 When they are finished processing everything, they wave your passport in the air so you know to come forward and pay the $30 (cash, USD) for your single-entry, month long tourist visa. They hand you an entry and exit sheet to fill out and you're on your way.From there, you can finally run to the bathroom. Fill out the entry form, and go collect your bags. Then the border official - the guy I talked to didn't say a word to me, just gruffly glared at me for a moment and then waved me through. There are also signs up at Phnom Penh and Siem Reap airports advising about Child safety – reminding you that it is illegal to have sex with children 😐
Phnom Penh international and domestic terminals are in the same building, from the front we grabbed another Grab, the driver was great (heaven forbid… I forgot his name) and he gave us lots of information that was useful for our stay, as well as tips on special Khmer cuisine to try. He spoke very fluent English – better than the Thai's. The first thing we noticed about Phnom Penh was the amount of construction going on – there is a lot of Chinese funding still going into the reparation of the city. Which was wholly evacuated under the Pol Pot Khmer Rouge campaign on the 17th April 1975.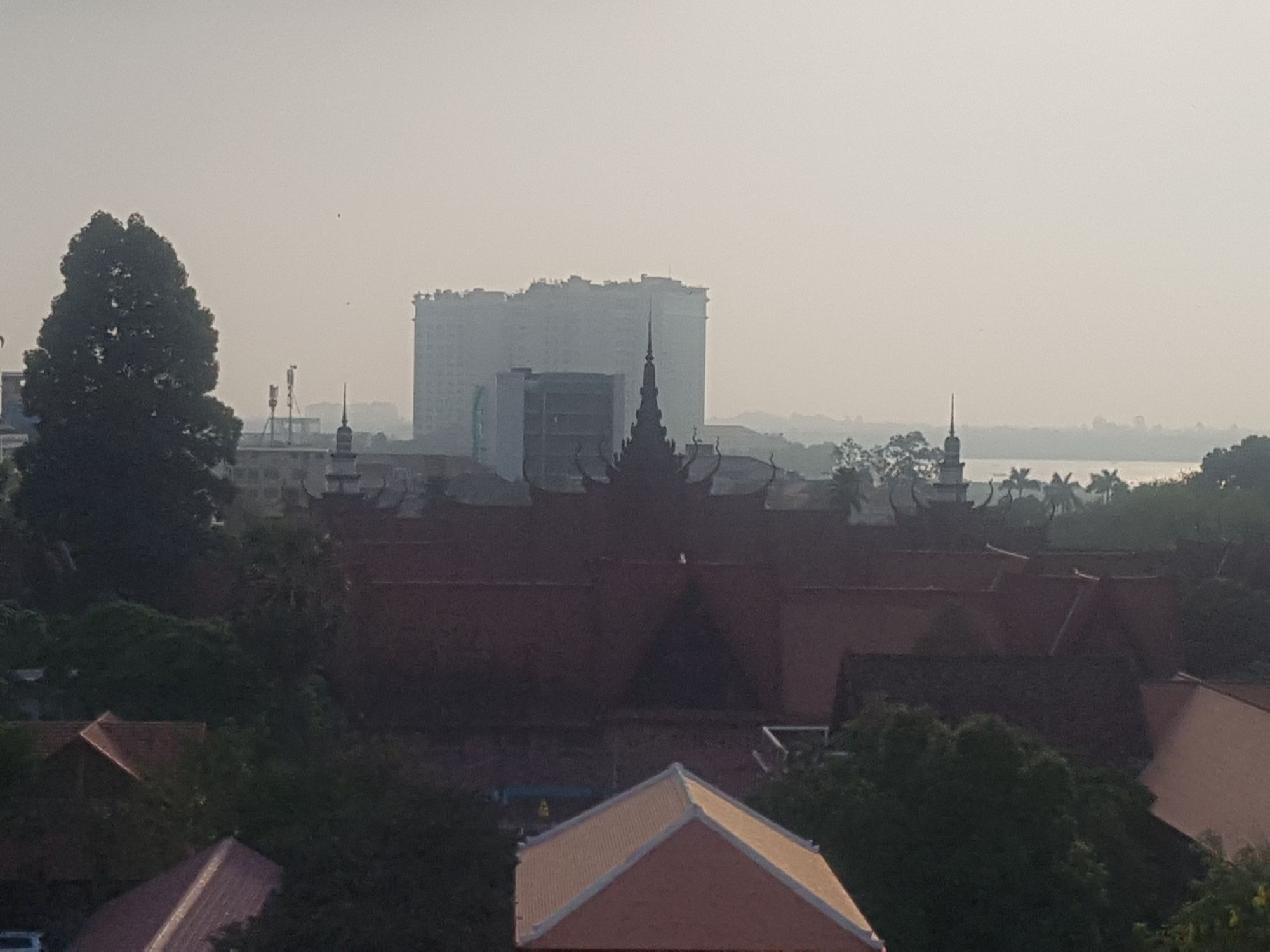 We stayed at Okay Boutique hotel – which was Okay haha... The foyer was lined with golden Buddhas and adorations, as well as multiple water lily vases containing little gourami. http://www.okayboutiquehotel.com/menu.aspx?/=90&/About-Us.htmlAfter unpacking and dropping our bags in our room, we ordered a tuk-tuk to try and see the Central (Russian Market) – unfortunately everything was closed due to it being Cambodian New Year, the same for Songkran and Thai New Year in Bangkok. Instead of heading back we stayed in and had an Angkor Beer at the Mekong River Hotel near Pub Street. The Phnom Penh Pub Street is an attempt to re-brand the Golden Sorya Mall which has been in operation as a night time venue for over a decade. Established nightclubs such as Pontoon and Vibe have been located here for some time and they are staying, the rest of the establishments, which were very 'sleazy' bars, have been moved out. The Golden Sorya Mall used to be a notoriously down market type of place which was full of prostitutes, drug dealers and thieves. There was an Angry Birds Café, and workers out the front of the cafes and bars, but it definitely appeared more discreet than in Nana Plaza. Unless of course they were all on Holiday for Cambodian New Year?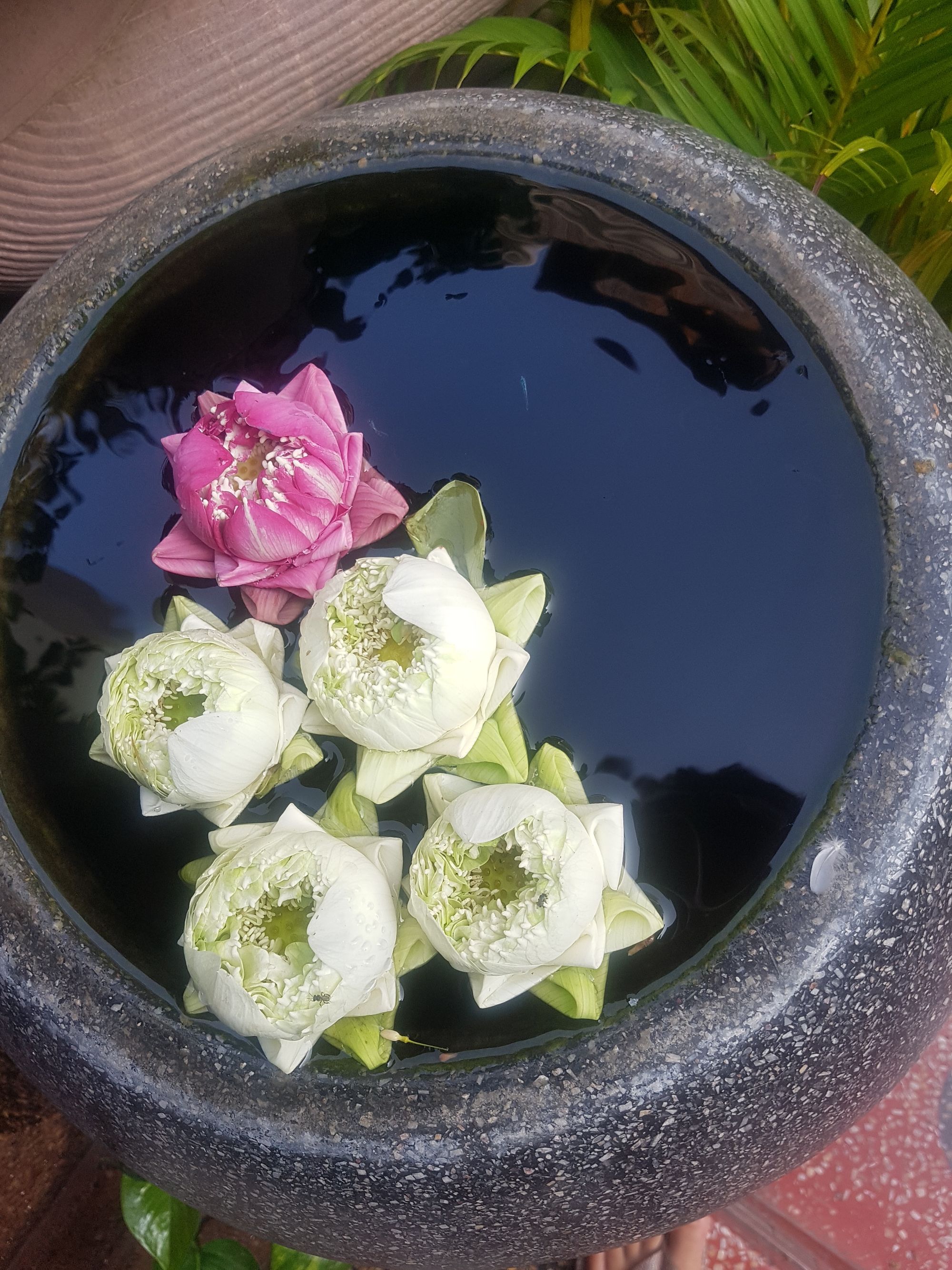 On the 17th April, we had complimentary breakfast at the hotel restaurant on the top floor with skyline views, the restaurant was completed with Western tables and traditional kneeling pads for seated dining. We were picked up by our tour guide early, driving past the Independence Monument which was built in 1958 to memorialize Cambodia's independence from France in 1953. En route to our visit to S21 or Tuol Sleng we watched a documentary highlighting some of the atrocities and background information to Pol Pot and the genocidal Khmer Rouge campaign. The Tuol Sleng Genocide Museum is the memorial site of the S-21 interrogation and detention center of the Khmer Rouge regime. Located in the heart of Phnom Penh, it preserves a tragic period in history with the aim to encourage visitors to be messengers of peace. S-21 served as the central hub of the vast prison system throughout the country and was used throughout the period as a secret facility for the detention, interrogation, torture and extermination of those deemed "political enemies" of the regime – often believed to be CIA, KBG or Vietnamese operatives. Due to a policy of guilt-by-association, at times whole families were detained at the center – Pol Pot and the Khmer Rouge had been quoted to 'pull out the weed, root and stem'. Hence completely obliterating the family units of any detainees. Very few inmates were released out of the prison during the years 1975 and 1979. Only 12 former inmates survived the opening of S-21 when Phnom Penh was liberated – these people were deemed useful by the regime. Four of them were children.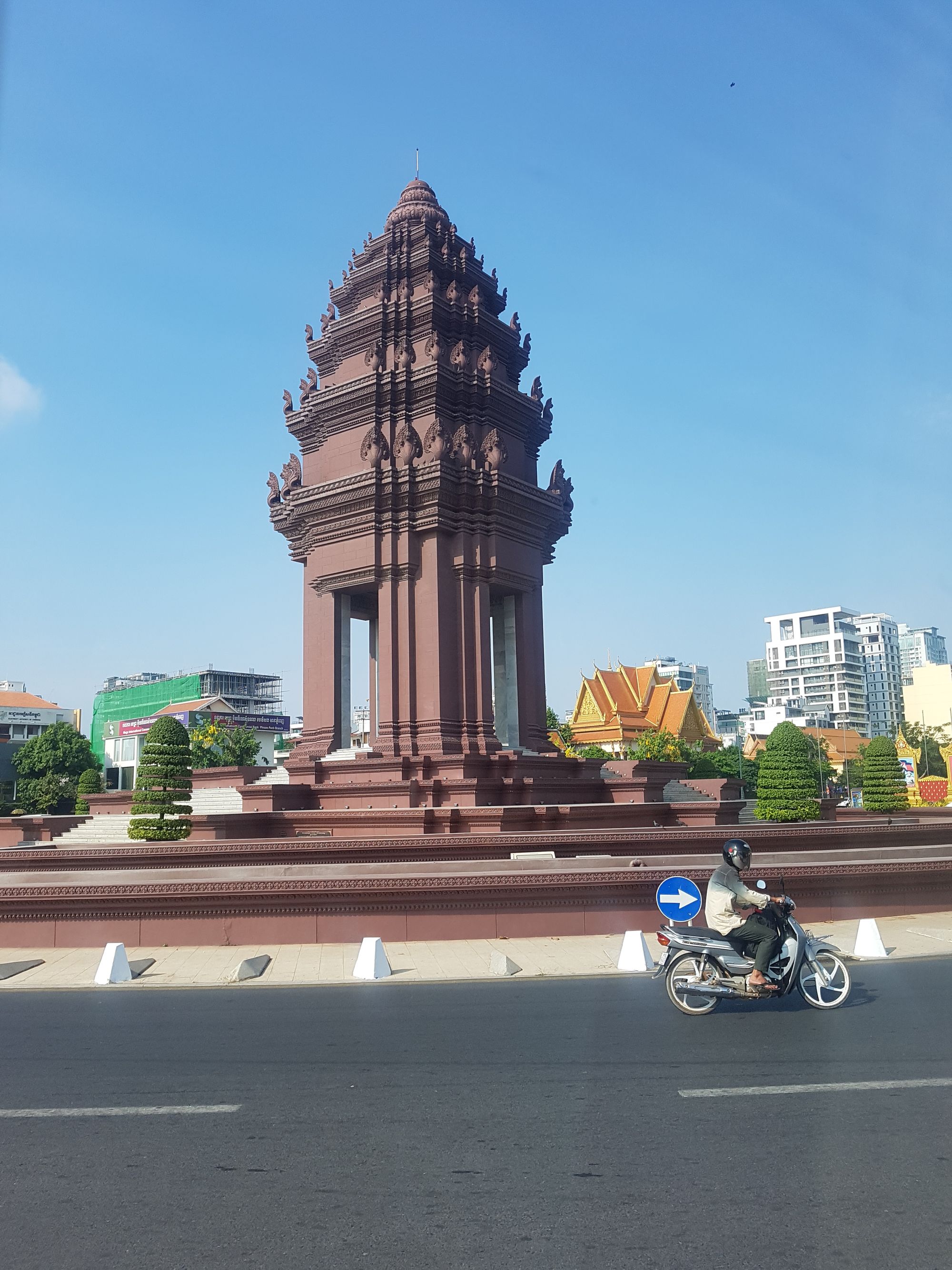 Approximately 1,720 Khmer Rouge actors worked in and for S-21. Several hundred of them were general workers, including people who grew food for the prison. The rest formed the internal workforce, including administration, guards and interrogators. Photos were taken of all detainees on arrival to S-21 and many of the items of torture are still on display. Not dissimilar to the Holocaust in Europe, the Khmer Rouge sought to dehumanize inmates, forcing them to wear dog tags and tortured them until they plead guilty to insane accusations, and then even when they accepted they were sent off to be 'smashed'.
From there we visited the Choeung Ek Killing Fields. Between 1975 and 1978 about 17,000 men, women, children and infants who had been detained and tortured at S-21 were transported to the extermination camp of Choeung Ek. As graphically portrayed in the film The Killing Fields, certain sites around the country – this is the best known – became places of mass murder, where the Khmer Rouge disposed of its enemies: men, women and children – even babies – who had allegedly betrayed the state. Early on, the victims were shot; later, to save on valuable bullets, they were bludgeoned or stabbed to death, and babies killed by being savagely thrown against trees, as loud music blared in the background. As fuel became scarce, victims were dragged out of the city and killed en route, their bodies dumped in the rice paddies closer to town. It is a peaceful place today, where visitors can learn of the horrors that unfolded here decades ago. Admission to the Killing Fields includes an excellent audio tour, available in several languages.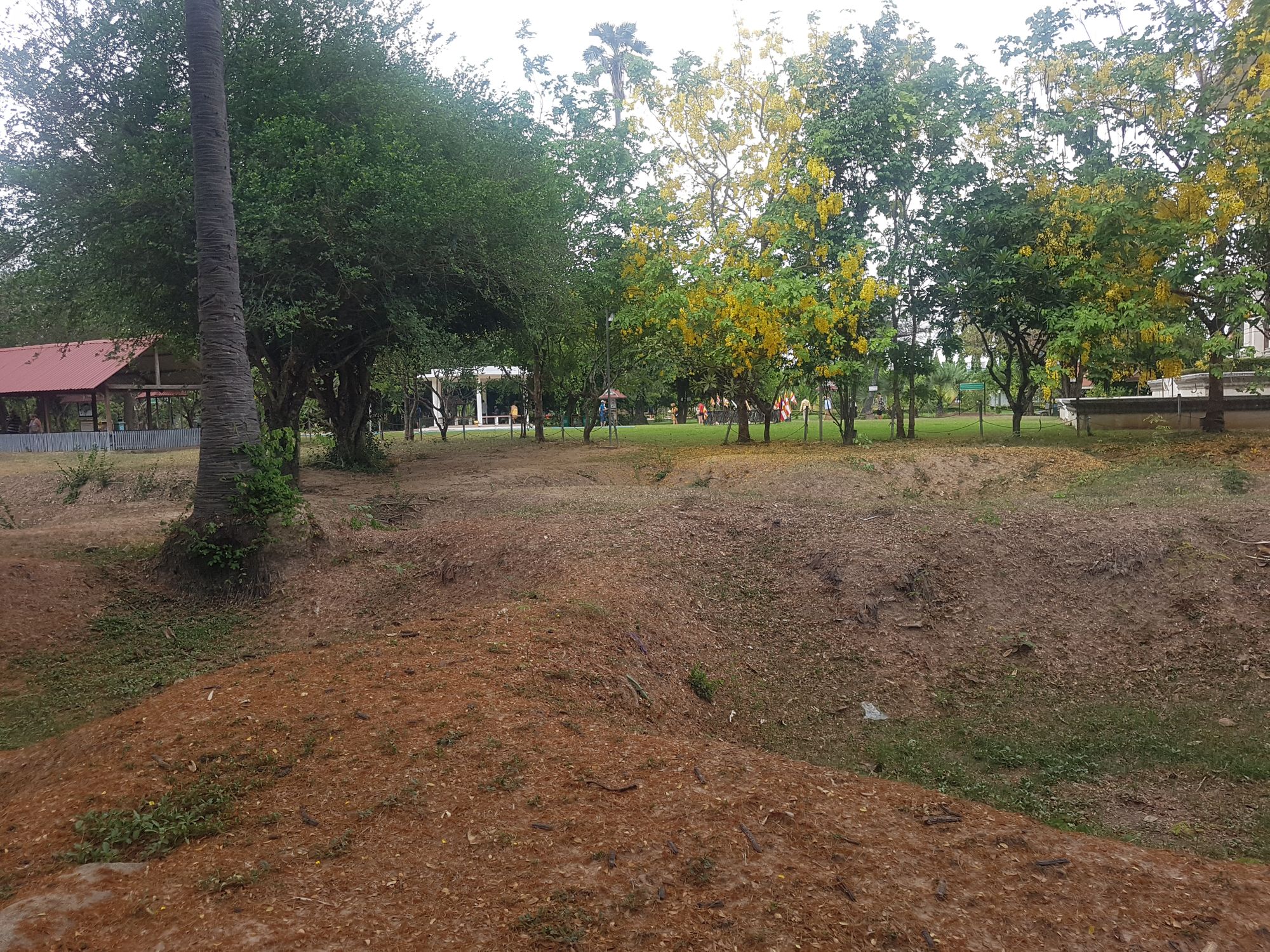 The remains of 8985 people, many of whom were bound and blindfolded, were exhumed in 1980 from mass graves in this one-time longan orchard; 43 of the 129 communal graves here have been left untouched. Fragments of human bone and bits of cloth are scattered around the disinterred pits. More than 8000 skulls, arranged by sex and age, are visible behind the clear glass panels of the Memorial Stupa, which was erected in 1988. The audio tour includes stories by those who survived the Khmer Rouge, plus a chilling account by Him Huy, a Choeung Ek guard and executioner, about some of the techniques they used to kill innocent and defenseless prisoners, including women and children. There's also a museum here with some interesting information on the Khmer Rouge leadership and the ongoing trial.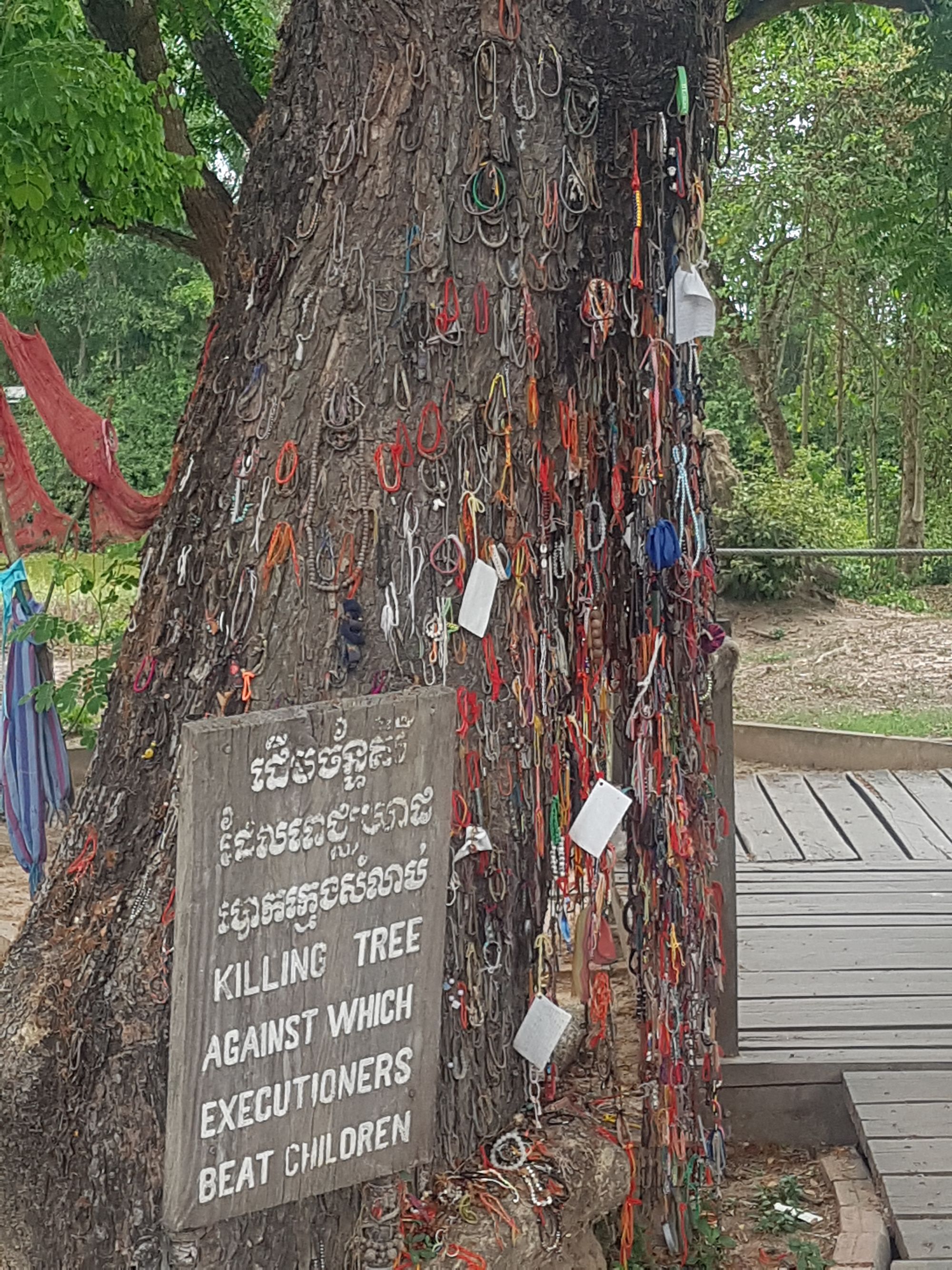 Every policy of the Party had to be enforced at gunpoint by black-clad soldiers, some as young as 12, toting AK-47s around the perimeters of the work camps. The party punished even the smallest deviations of opinion with torture and death, with victims typically suffocated inside blue plastic bags or chopped to death with shovels. Ammunition was in short supply, so drownings and stabbings became common methods of execution.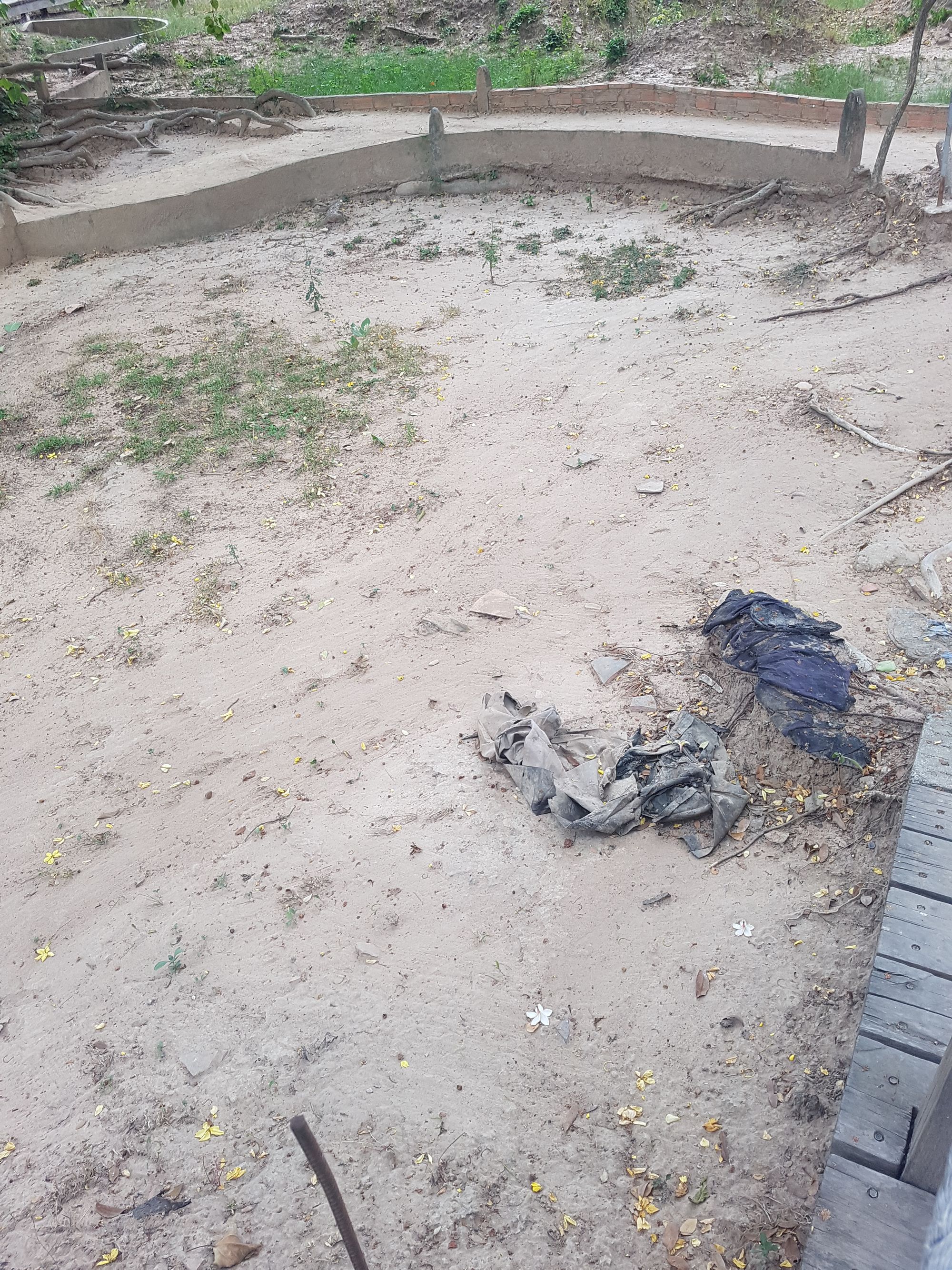 Some background on the Khmer Rouge and the Pol Pot regime: Whole sections of Cambodia's population had been marked down on the Khmer Rouge's kill list, which was published by King Sianhouk prior to the seizure of power, and the regime did what it could to fill up the killing fields with as many class enemies as possible. During this purge, Pol Pot worked to shore up his base by promoting anti-Vietnamese sentiment. The two governments had had a falling out in 1975, with Kampuchea aligning with China and Vietnam leaning more toward the Soviet Union. Now, every hardship in Cambodia was the fault of Vietnamese treachery. Food shortages were blamed on Hanoi's sabotage, and the sporadic resistance was said to be under direct control of the Vietnamese counterrevolutionaries.
Relations between the countries soured until 1980, when Pol Pot evidently went out of his mind and began claiming border areas for his starving empire. That's when Vietnam, which had just beaten back the American occupation and built up a substantial military force of its own, stepped in and pulled the plug.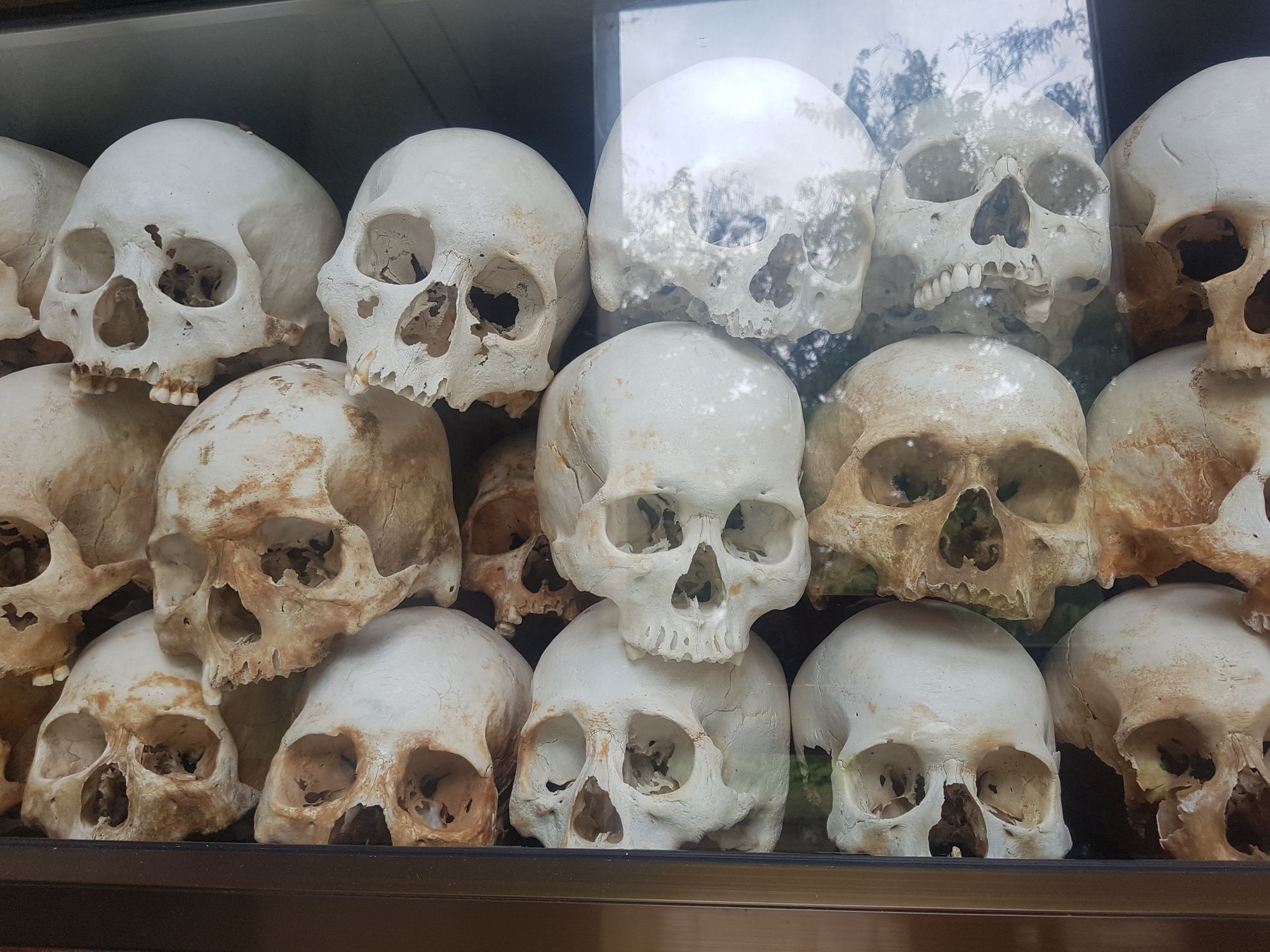 Invading Vietnamese forces drove the Khmer Rouge out of power and back into its jungle camps. Pol Pot himself had to run and hide, while hundreds of thousands of starving people fled their communes and walked to refugee camps in Thailand. The Khmer Rouge's reign of terror was over. But so were the lives of around 3 million Cambodians, roughly a quarter of the country population was decimated during the genocide.
Outside the Killing fields, there were Begging children everywhere. Chasing down the tour buses asking for a dollar. This was also something that was plastered at the airports, do not give to begging children – as it shows them that it is OK and then they don't learn the principles of actual work.
We headed back to the Okay Boutique Hotel feeling somber, we ate lunch at the hotel restaurant I ordered the Khmer specialty Fish Amok. You might not have heard of it but Fish Amok has been around in Cambodia for generations and is a must-try dish if you're visiting the country – exactly like our first grab driver said. The dish is a steamed, mousse-like custard made of curry paste, with river fish and coconut milk, usually served in a banana leaf cup or coconut shell. And it was just as good as our Grab driver had suggested it would be.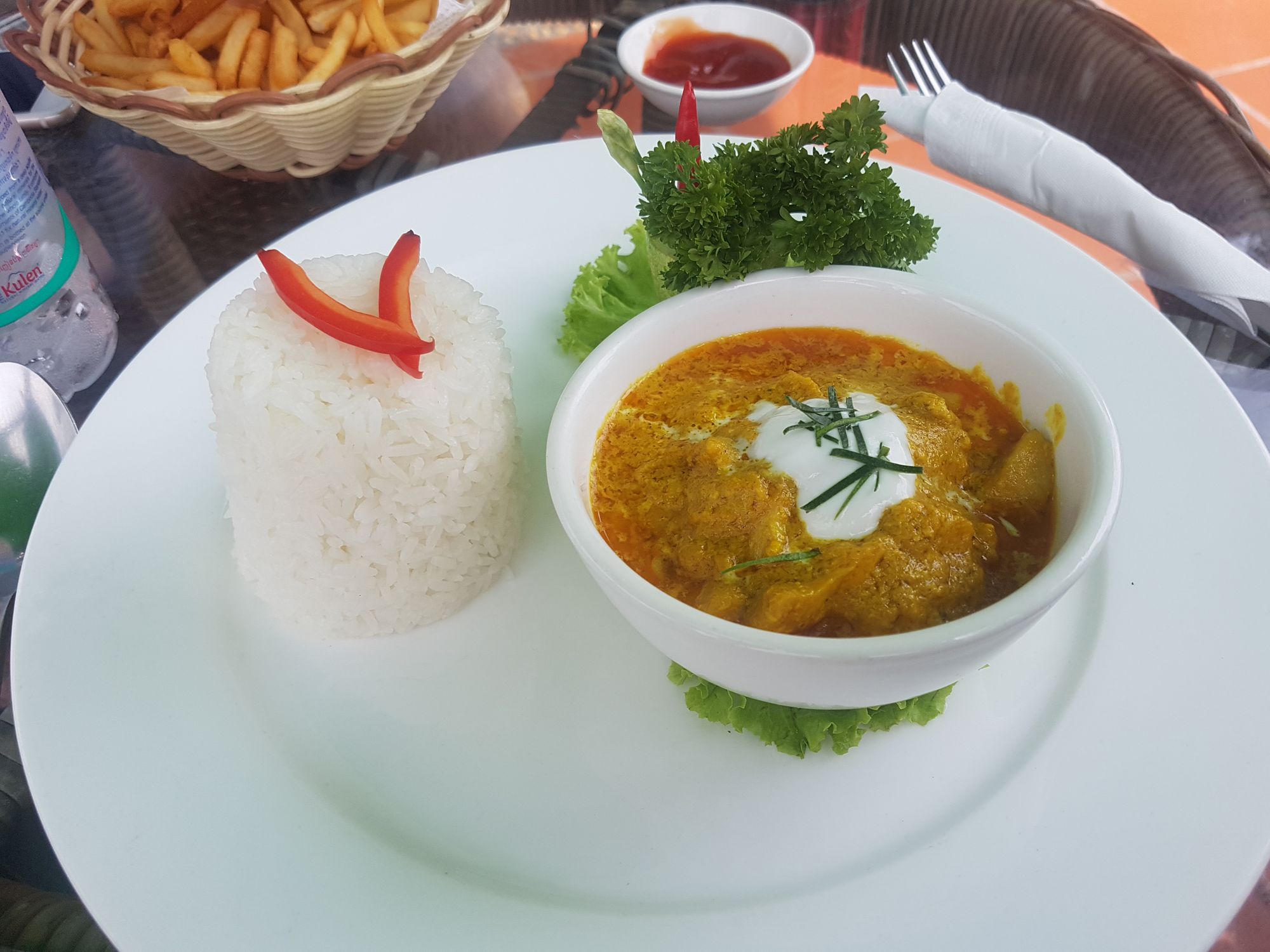 We headed back to the Mekong River Hotel to enjoy an Anchor beer, walking along the Mekong River which flows down through Vietnam we headed back to our hotel feeling despondent at the atrocities we had witnessed during the day. We caught a Grab back to Phnom Penh airport and boarded a domestic flight to Siem Reap operated by Angkor Cambodia Air. This was an interesting experience…
Our accommodation Saem Siem Reap provided us with an airport transfer, and the driver was waiting for us with cool towels and water on the offer. I'll discuss this later but Saem Siem Reap was Phenomenal. A++. We unpacked our bags in our room and organised a tuk-tuk to town through the hotel concierge service. It is 2USD to anywhere in town.
Siem Reap has plenty of souvenir and night markets to stroll around and hunt for cheap souvenirs to take home. The Angkor Market is located at the bottom end of Pub Street. Selling mostly souvenirs, this market is popular among travelers. Upstairs is the Triangle Bar and Restaurant, a rooftop bar, which comes to life with a live karaoke act. There were plenty of fish massage parlours and food stalls selling meat on a stick, banana pancake, fresh fruit shakes and ice cream rolls. I came across a Gemologic Laboratory selling jewellery, cut and raw gems alike. I bought some Sapphire, Beryl, Blue Zircon and Rubies. We ate dinner at Khmer Kitchen, I tried a spicy vegetable soup not dissimilar to Tom Yum.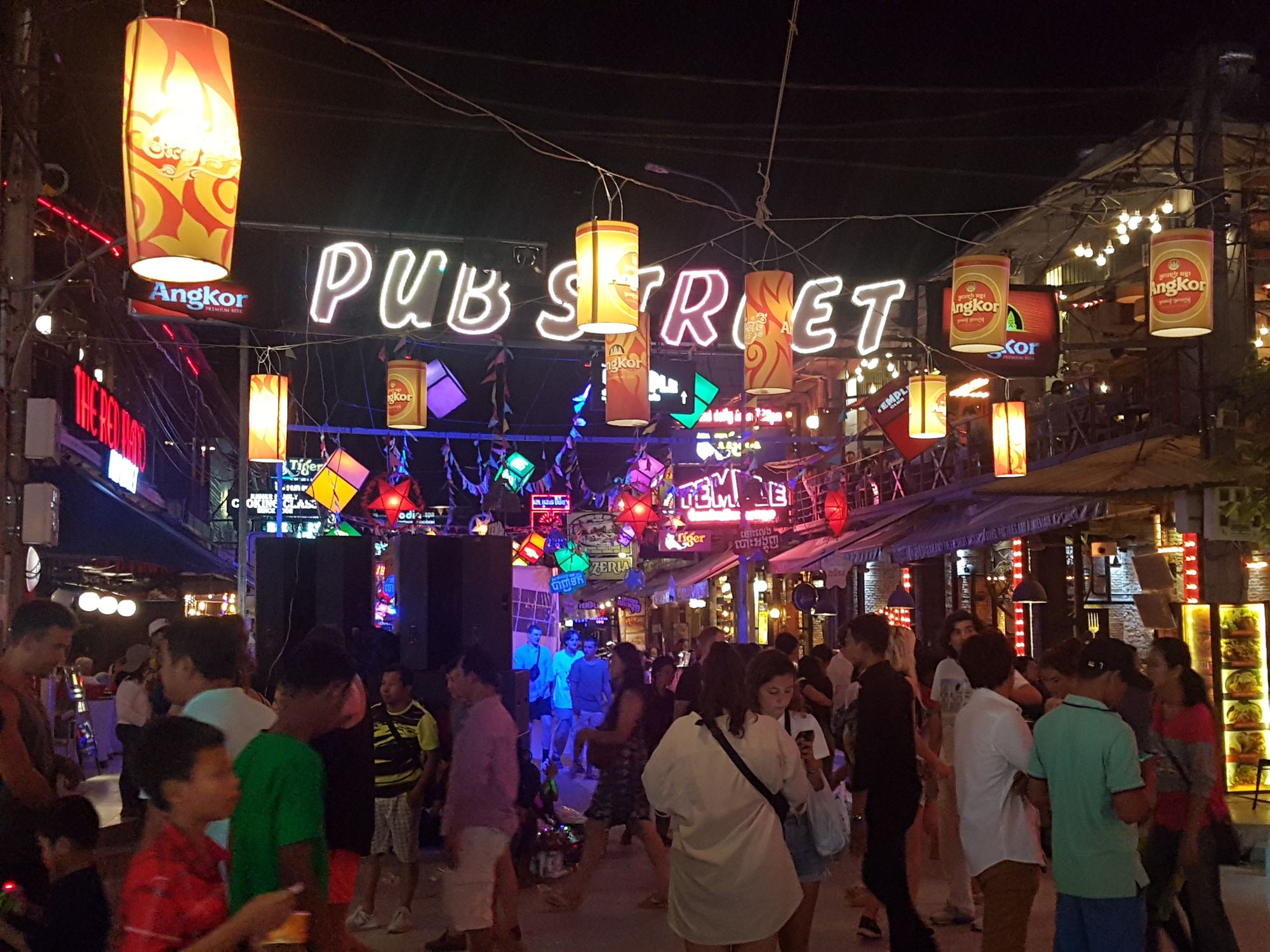 Officially titled "Street 8", Pub Street is the center of action as the night falls in Siem Reap. The street, starting off at the Red Piano Restaurant and ending at the Banana Leaf Restaurant, is a 100m stretch of road speckled with neon lit clubs, bars, restaurants, and vendors. With dancers in the street, and strobe lights it is far removed from the slumness of the Pub Street in Phnom Penh, but not as crazy pardy-pardy as Khao San Road in Bangkok. Was definitely my happy medium. Come night time, Pub Street is blocked off to traffic, making it a relaxing and safe place to stroll, dance, and let loose. With a wide variety of culinary treats ranging from Khmer specialties to Western favorites offered in food trucks, 50 cent draught beers, and crispy insect munchies to indulge in (again), you can spend your entire night on this lively street and never run out of things to do.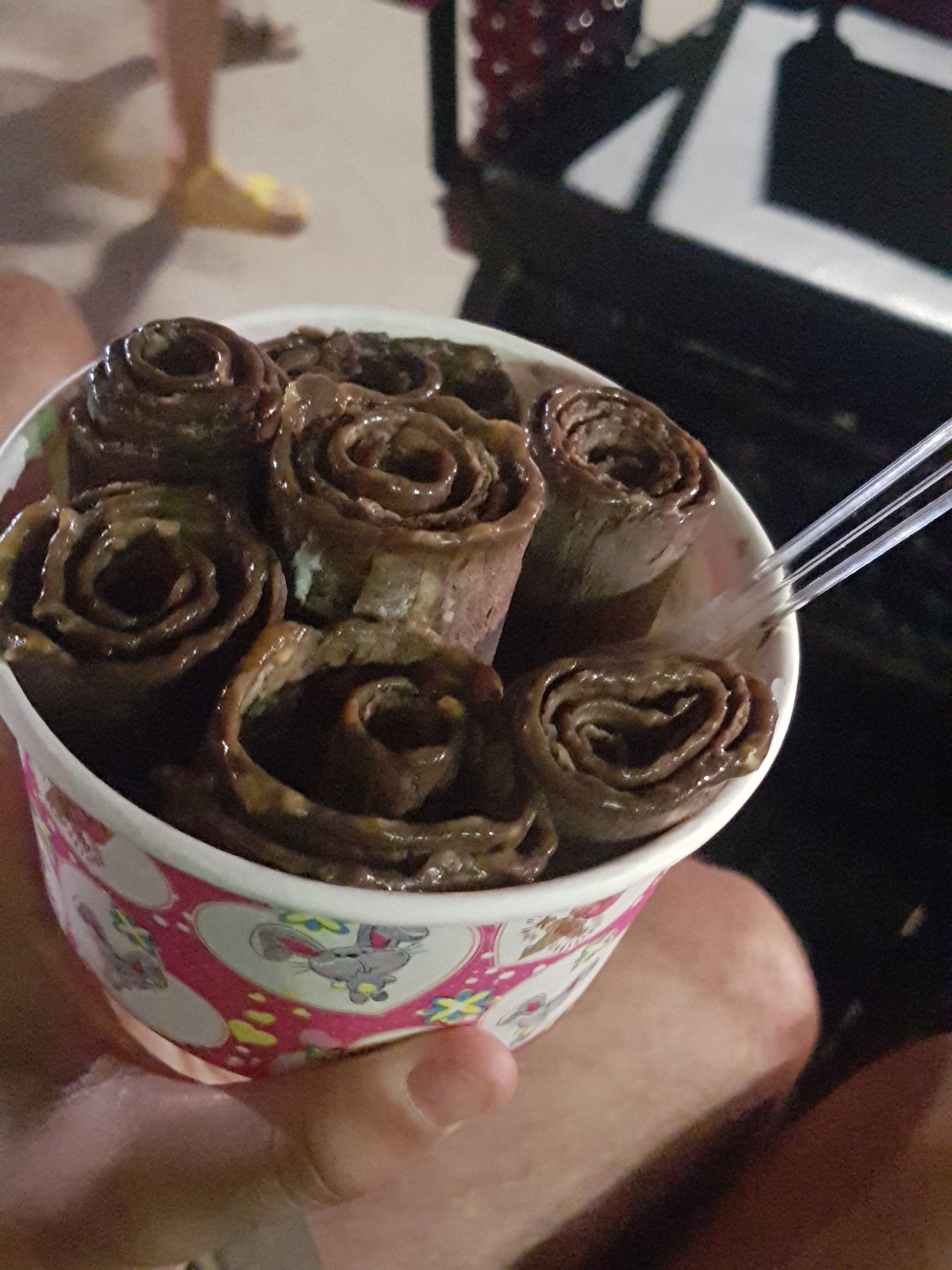 Roll icecream – it's a thing… and delicious.
https://www.youtube.com/watch?v=nVbCkFjtO90
On the 18th April I had traditional breakfast noodles at the Saem Siem Reap restaurant (over time I became used to congee (rice) and noodles for breakfast).We caught a tuk-tuk into the city to take laundry to a express laundromat on Wat Bo street – good value and delivery back. From Wat Bo street we walked over the Siem Reap River, observing the Waterwheels and walked to view the Grand Palace. We happened across the Siem Reap BrewPub on the way – I was stoked. I got a tasting paddle - All of the beers produced in this microbrewery use the finest Malt from Germany, Hops from Australia, Craft Yeast from New Zealand and Clean Local Water. They have a good range of beers, from Pale Ales, to IPAS and to Saisons and Ambers. Even the menu was packed with Western favorites and local cuisine – including the beef topped with fried red ants. They laaaaaaveee bugs in this region of the world. http://www.siemreapbrewpub.asia/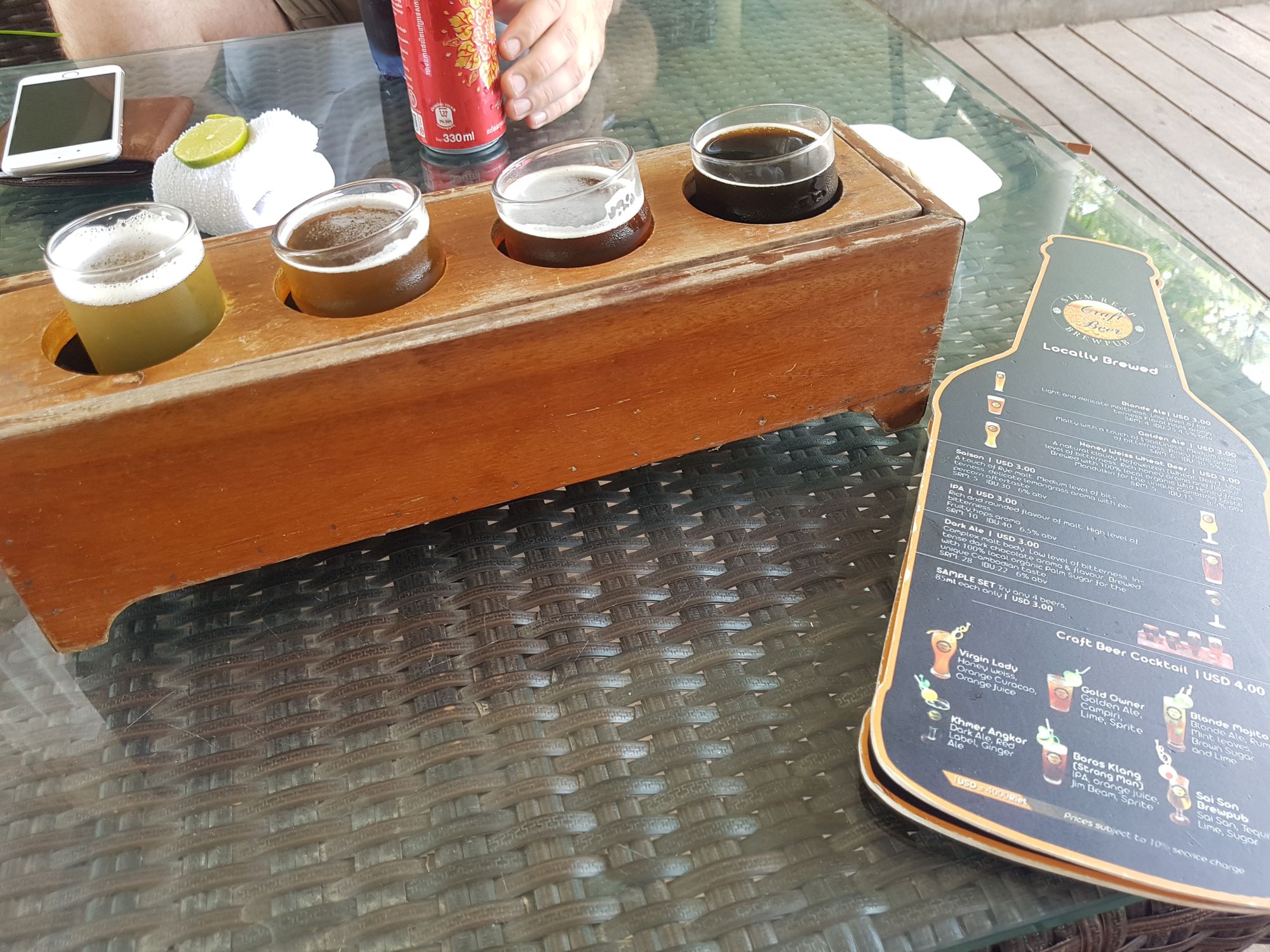 We headed back to Pub Street to check it out in the daytime and had an Angkor beer at Temple – the seediest and best? Night club on Pub Street they say? Angkor What?! Promoting irresponsible drinking since 1997 (this is officially when the country reopened for tourist purposes). Whilst we were sitting down various beggars walked up and down the street selling postcards and books – horrific accidents including missing limbs and potential landmines which are still prevalent in areas around Cambodia's borders with Vietnam, Laos and Thailand.
The Hotel concierge service organised a Tuk-tuk for us through the countryside to the Tonle Sap Lake and Kampung Phluk floating village. Tonle Sap is the largest freshwater lake in Southeast Asia at the end of the wet season but is only a large lake in the dry season when it shrinks to less than an eighth of its wet season size. Stretching almost all the way from Phnom Penh to Angkor Wat, it provides water for half of Cambodia's crops, and yields fish that supplies Cambodia's population with half its protein. It is also one of the country's most important transportation links, as during wet-season you are able to travel from Siem Reap into the lake and then through the Mekong River to Phnom Penh.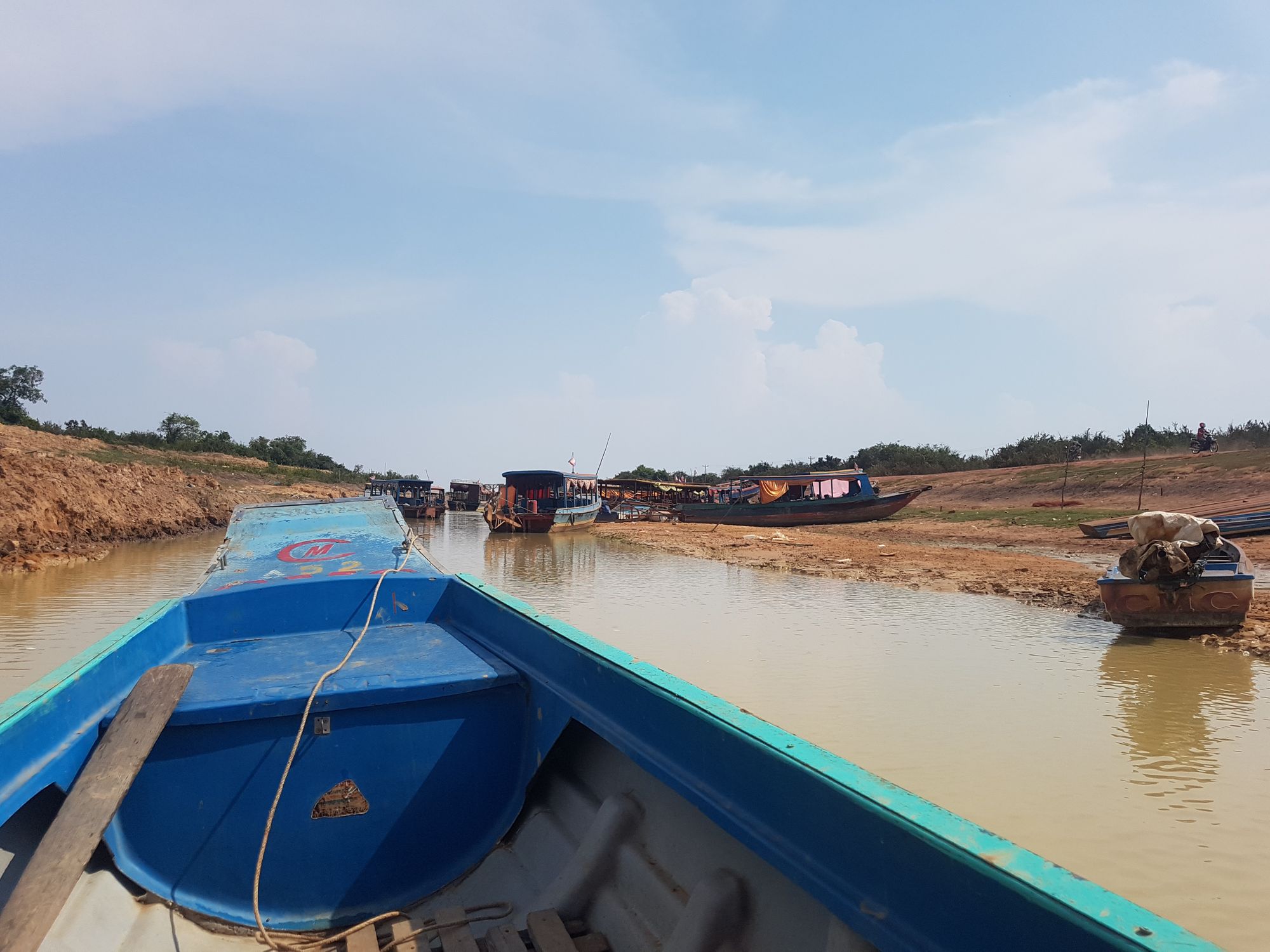 Tonle Sap lake—which is connected to the Mekong by a short river also called Tonle Sap—alternately feeds, and feeds from, the Mekong River. During raining season from June to October, the lake is fills with water flowing from the northward-flowing Mekong River and becomes 14 meters deep in some places and expands it surface area to around 10,000 square kilometers. In dry season from November to May its shrinks in size to 3,000 square kilometers, with an average depth of only two meters as water flows out from the lake when the Mekong changes course and flows south. It is a strange lake, and is unique in the fact that it flows in two directions dependent on the season.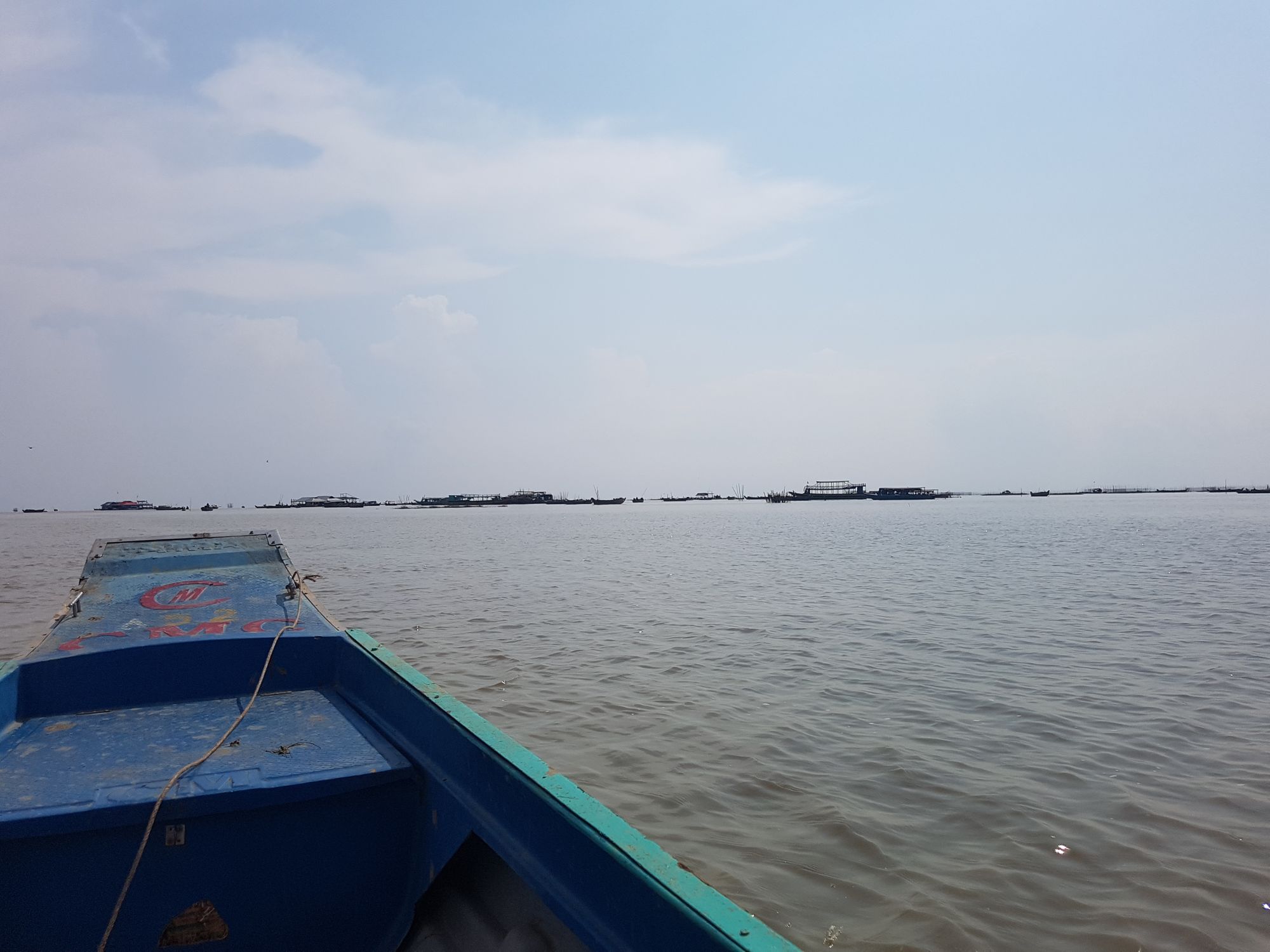 In the Angkor era, Tonle Sap was to the Khmer's what the Nile was to the Egyptians: a source of abundance that freed labor to produce grand monuments and create a high level of culture. In the dry season, the Khmer's captured the lake's retreating waters and used them to irrigate crops, and thus were able to grow two or three crops a year. In the wet season, they used the waterway's advancing waters to carry quarried stones to build Angkor's great temples, at the Angkor Archaeological Park.
Adventuring off the beaten path is always exciting so we decided to get a taste of local culture and visit one of the floating villages, Kampong Phluk. As it was something that we didn't get a chance to do in Bangkok. Most sources on the web today call Kampong Phluk village a "floating village," but that actually depends on what month you go. The hand-made houses are suspended by 16-foot stilts like some wild act in a circus. During the rainy season (June to November) the water level rises to just about the height of the structures. The best time to go, however, is in December or January when the water level drops and you witness temples and schools balancing on thick, wooden trunks. We obviously visited in the peak of the dry season, when the river and lake had retreated and the stilts of the houses were fully revealed. Life is hard for the locals of Kampong Phluk.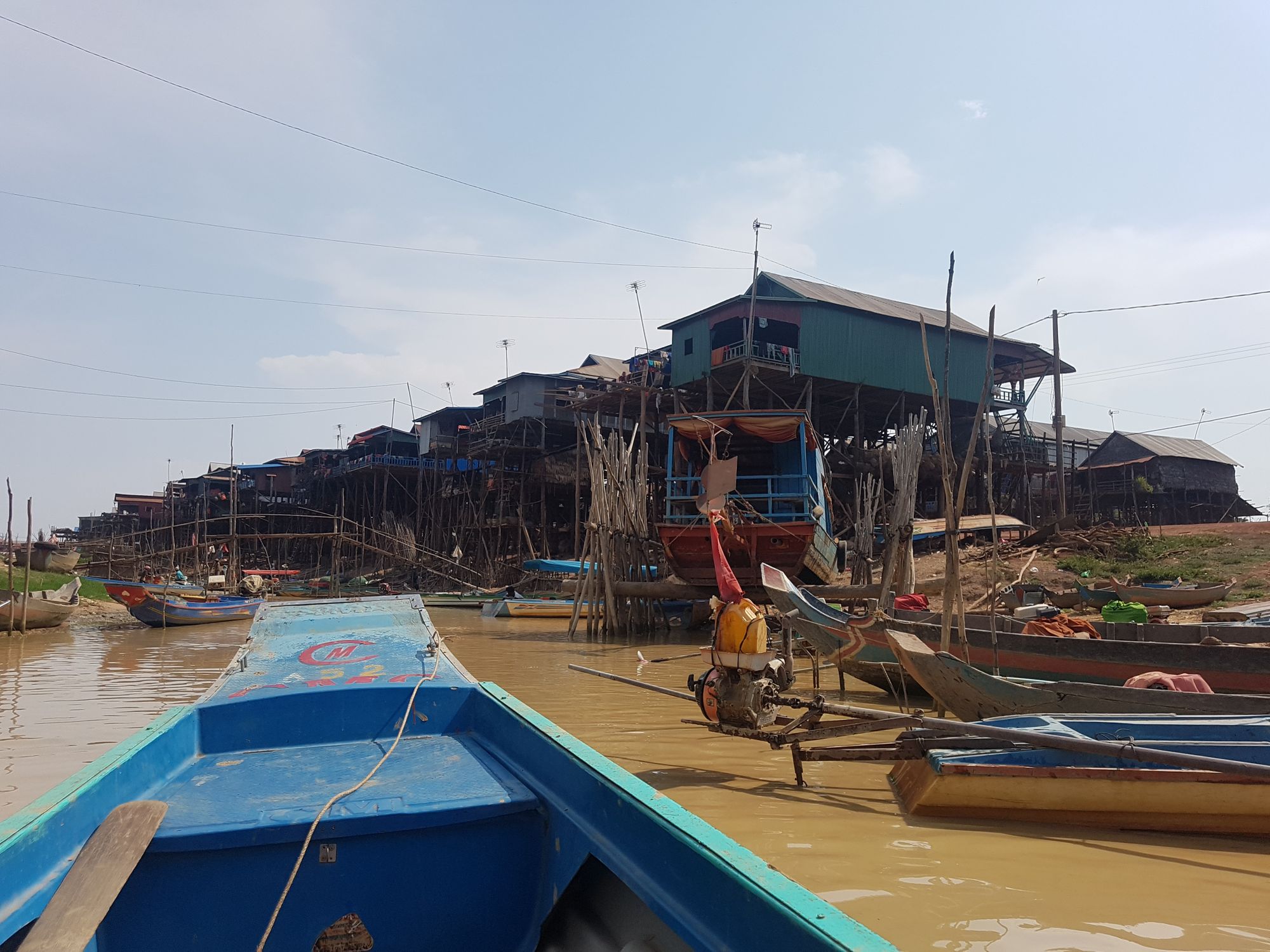 We took a boat up the river that slowed down around crocodile cages, lotus fields, and mangrove forests. There is a bar and crocodile meat restaurant on the lake. You'll see the local community preparing buckets of rice directly over a campfire, children paddling around and locals burning trash. You see what life is like over water – the local residents were busy doing laundry, cooking or fishing on top of their wooden boats. Steep, swaying ladders provided the only entrance where we managed to catch people carrying bags and dishes up like pros. Pigs, cats, and chickens lived inside paddle boats floating around. It was really a one-of-a-kind experience. The children have come accustomed to the tourists passing by and wave time to time. There is also no access to fresh running water, and life is dependent on fishing and boats in tourist season.

The Road stop's on the way back were filled with hammocks for people to rest, and tuk-tuk cookers displaying flayed BBQ chickens for sale. A lot of the local housing in the jungle en route to Tonle Sap has UK/US sponsoring signs out the front – there has been a lot of foreign investment back into Cambodia to return it to the glory of what it could have been before the decimation of the Khmer Rouge and the genocide. The Pol Pot regime literally took the country back into the dark ages by killing off all the intellectuals and skilled workers, forcing the society into the countryside to be agrarian. Stripping away all means of culture, religion and the nations identity.
Sombred again by the harshness of the reality of Cambodia, we went into Pub Street again and had dinner at a Khmer Mexican restaurant called Viva. Fish Amok was yum! As to was the Cambodia Beer draught.
I'd sussed out a restaurant called the Bug Café – the first ever bugs tapas restaurant in Cambodia. Most of the dishes were made from Crickets, scorpions, grasshoppers, ants, bees, silkworms, spiders and more, combined with quality Khmer and western products and seasonings. If you aren't game to try then most of the dishes could also be made bug free. I tried a Tarantula samosa – unique but delicious. Check out the menu for yourself - http://bugs-cafe.e-monsite.com/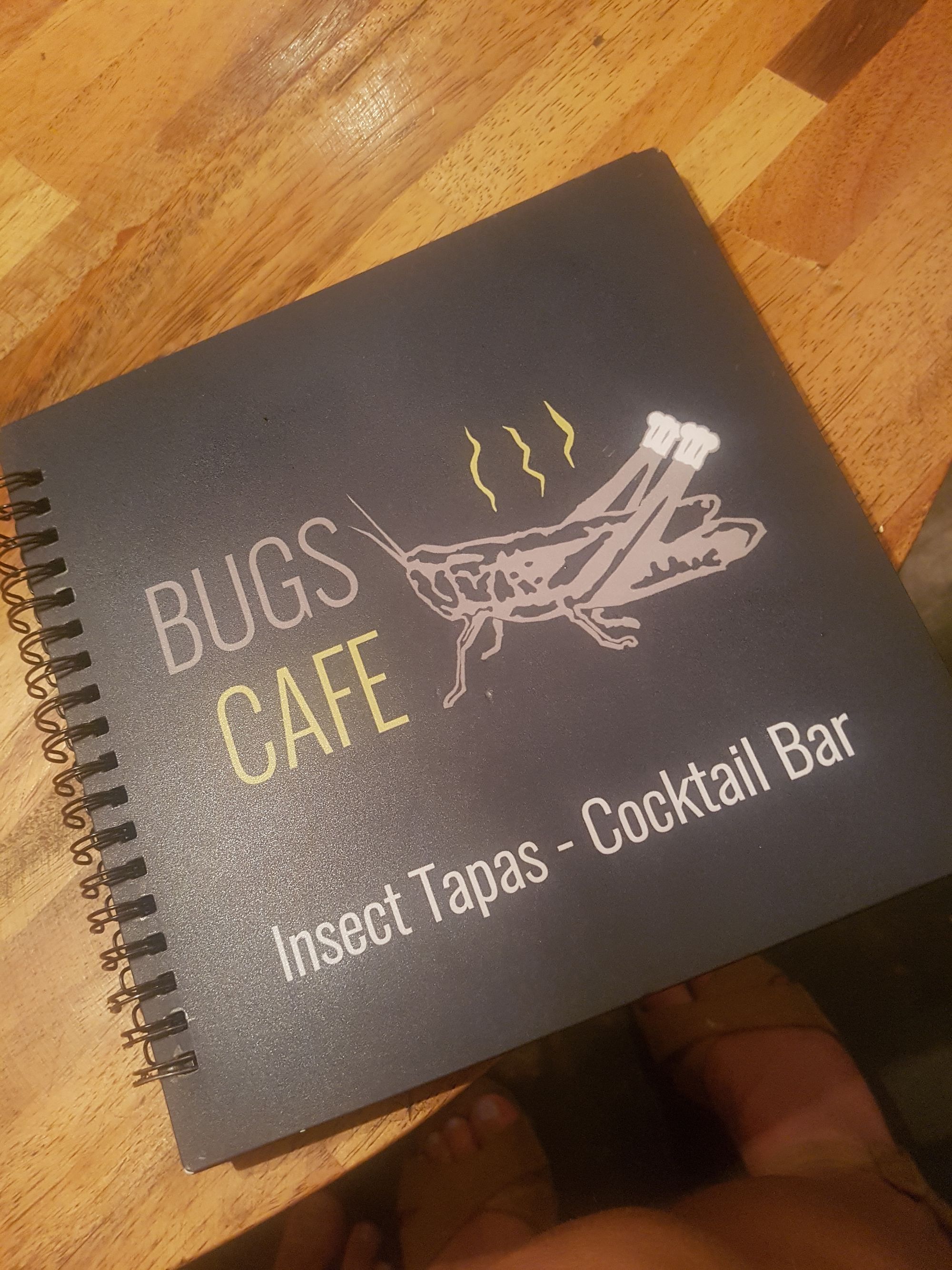 On the 19th of April we booked in our Small Tour of the Angkor Archaelogical Park – this item is a must of the itinerary of any traveler to Cambodia. Our first stop was Angkor Wat, which was built between roughly A.D. 1113 and 1150, and encompasses an area of about 500 acres (200 hectares), Angkor Wat is one of the largest religious monuments ever constructed. Its name literally means "temple city." This Khmer wonder is one of the Wonders of the world.  Angkor Wat was originally built as a Hindu temple dedicated to the god Vishnu, it was converted into a Buddhist temple in the 14th century, and statues of Buddha were added to its already rich artwork. Its 213-foot-tall (65 meters) central tower is surrounded by four smaller towers and a series of enclosure walls, a layout that recreates the image of Mount Meru, a legendary place in Hindu mythology that is said to lie beyond the Himalayas and be the home of the gods.  Angkor Wat itself is surrounded by a 650-foot-wide (200 m) moat that encompasses a perimeter of more than 3 miles (5 km). This moat is 13 feet deep (4 m) and would have helped stabilize the temple's foundation, preventing groundwater from rising too high or falling too low. The heart of the temple was the central tower, entered by way of a steep staircase, a statue of Vishnu at top. The precision and accuracy of the design and fortification of these monuments are phenomenal – how was the Khmer society able to produce such wonders?
Angkor Thom, was the last capital of the Khmer Empire, and was a fortified city that enclosed the residences of priest, officials of the palace and military, as well as buildings for administering the kingdom.The Royal Palace situated within the city of Angkor Thom is of an earlier date and belonged to kings of the tenth and eleventh centuries. Although the foundations and an enclosing wall around the palace with entry towers have been identified, little evidence remains of the layout of the buildings inside the enclosure. This absence of archaeological evidence of the royal buildings suggests that they were constructed of wood and have perished. Zhou Daguan a Chinese emissary hosted by the Khmers, who provided the only first-hand account of the Khmer society, and described the splendor of the city of Angkor Thom.
'At the center of the Kingdom arose a Golden tower, Bayon flanked by more than twenty lesser towers and several hundred stone chambers. On the eastern side is a golden bridge guarded by two lions of gold, one on each side, with eight golden Buddhas spaced along the stone chambers. North of the Golden Tower of Bronze [Baphuon], higher even than the Golden tower. a truly astonishing spectacle. With more than ten chambers at its base. A quarter of a mile further north is the residence of the King rising above his private apartments is another tower of gold' these accounts have caused merchants from overseas to speak so often of "Cambodia the rich and noble ". Symbolically, Angkor Thom is also designed as a  microcosm of the universe, divided into four parts by the main axes. The temple of the Bayon is situated at the exact center of the axes and stands as the symbolical link between heaven and earth. The wall enclosing the city of Angkor Thom represents the stonewall around the universe and the mountain ranges around Meru. The surrounding moat (now dry) symbolizes the cosmic ocean. It is no wonder that the Khmer King was treated often as a deity.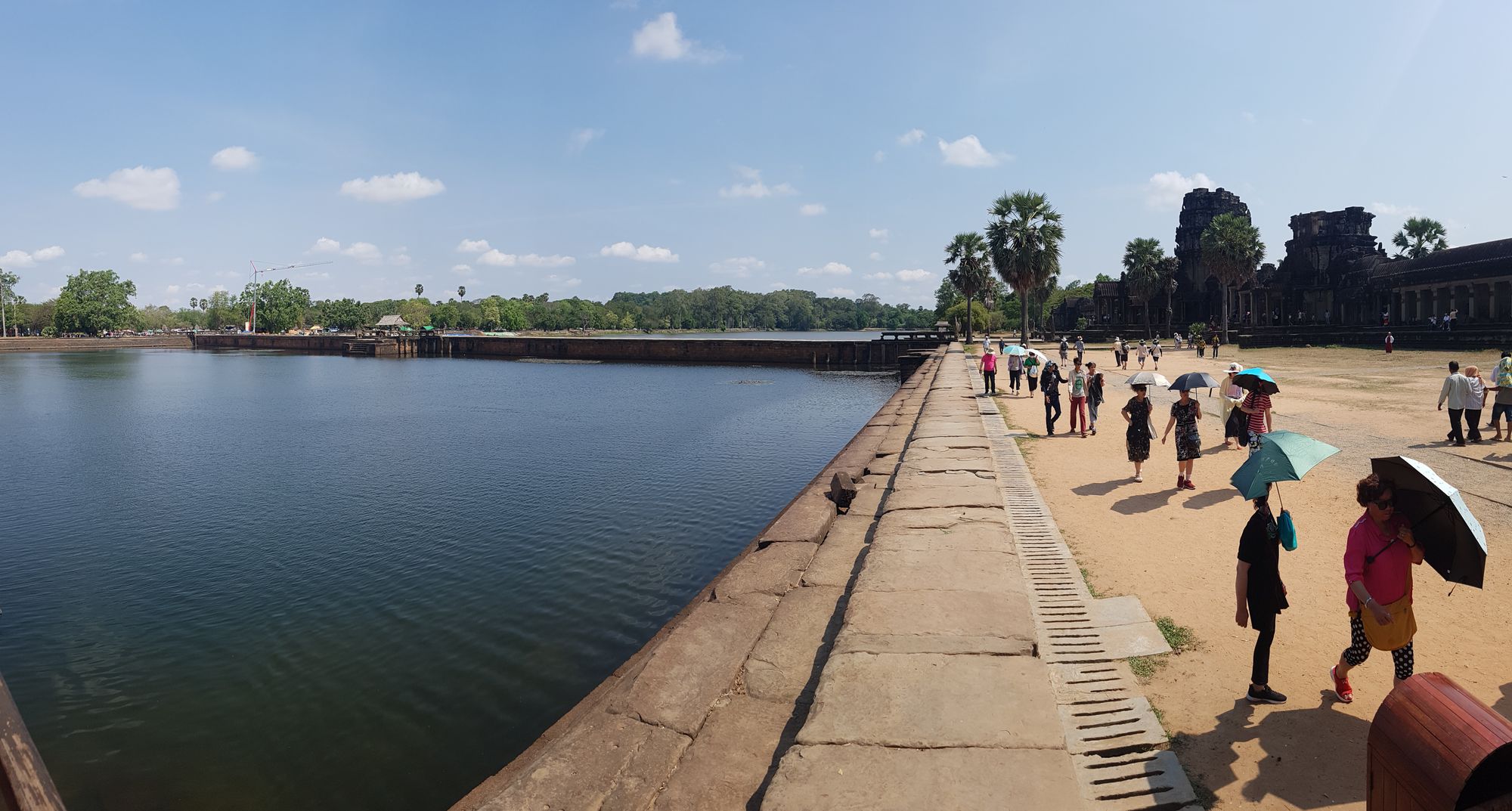 The city of Angkor Thom is enclosed on each side by a wall of which is about three kilometers (1.9 miles) long made of laterite 8 meters (26 feet) in height around the city encloses an are of 145.8 hectares (360 acres). A moat with a width of 100meters (328 feet) surrounds the outer wall. An entry tower and along causeway bisect each side of the wall except on the east where are two entrances. The additional one, called the "Gate of Victory "is aligned with the causeway leading to the Terraces of the Elephants and the Leper King. A small temple known as "Prasat Chrung' stands at each corner of the wall around the city of Angkor Thom.
Each of the entry points to Angkor Thom consist of the gate and a long causeway leading to each entry tower is flanked by a row of 54 stone figures on each side – demons on the right and gods on the left-to make a total of 108 mythical beings guarding the city of Angkor Thom. The demons have a grimacing expression and wear a military headdress whereas the gods look serene with their almond-shaped eyes and wear a conical headdress. (Some of the heads on these figures are copies; the original ones have been removed and are at the Angkor Conservancy in Siem Reap) or were ransacked during the Pol Pot regime to trade and sell off to gain wealth to Cambodia (this was part of the undermining of the religion, culture and identity of the Cambodian people).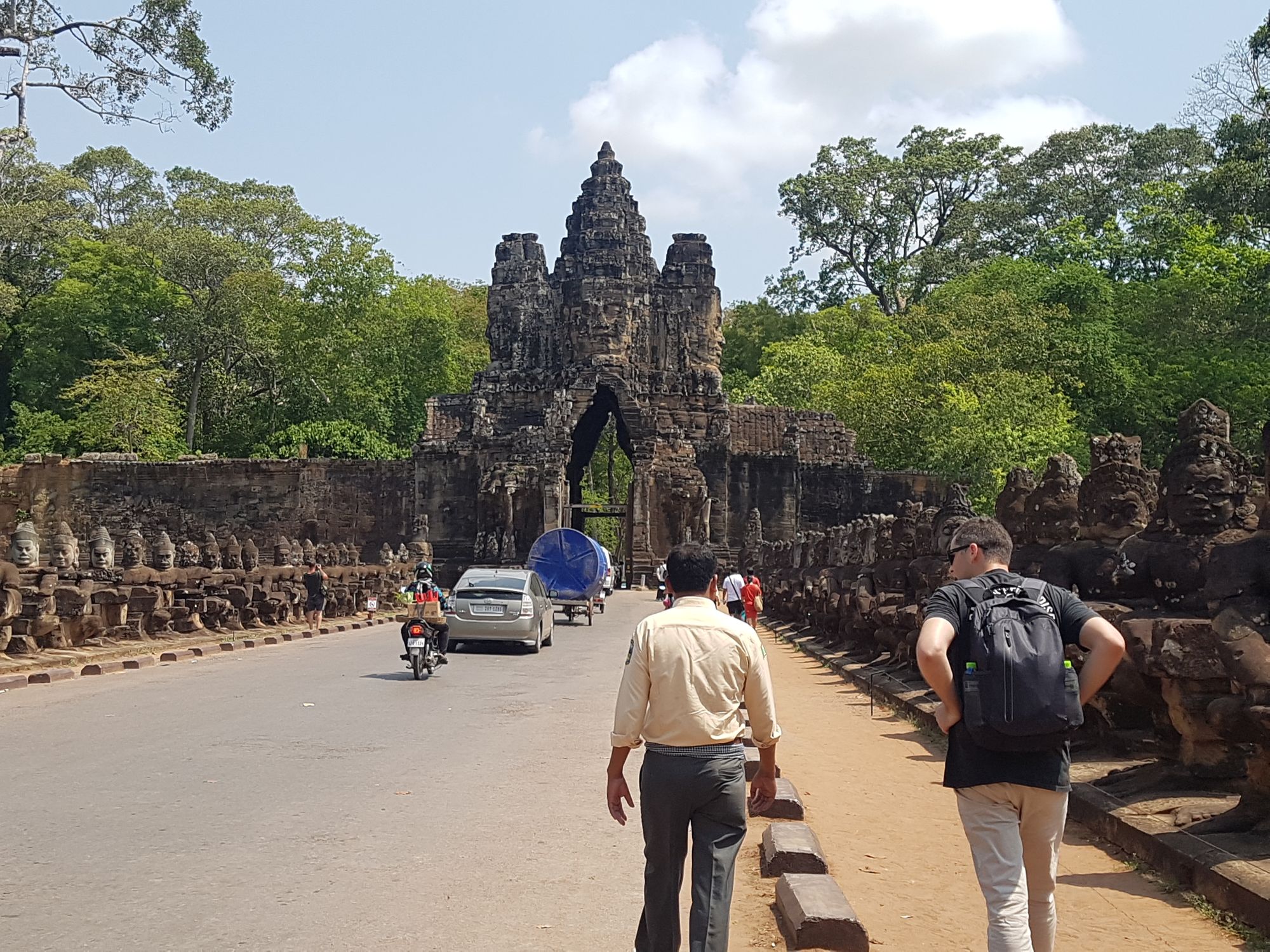 As mentioned earlier, the Bayon Temple represents the intersection of heaven and earth and was the central point in the city of Angkor Thom. Bayon is well - known for its huge stone faces of the bodhisattva Avalokiteshvara, with one facing outward and keeping watch at each compass point. There are 51 smaller towers surrounding Bayon, each with four faces of its own. Khmer architecture is ridic and the attention to detail and accuracy/precision is beyond amazing.
Baphuon is a single sanctuary temple-mountain situated on a high base. It is a symbolical representation of Mount Meru. A rectangular sandstone wall measuring 425 by 125 metres (1394 by 410 feet) encloses the temple. A long sandstone elevated approach (200 metres, 656 feet) at the east entrance forms a bridge to the main temple. It is supported by three rows of short columns. The temple stands on a rectangular sandstone base with five levels that are approximately the same size, rather than the more common form of successively smaller levels. The first, second and third levels are surrounded by sandstone galleries. Baphuon is the first structure in which stone galleries with a central tower appear. Two libraries (6) in the shape of a cross with four porches stand in the courtyard. They were originally connected by an elevated walkway supported by columns.The gallery of the enclosure collapsed and, at a later date, the stones from it were modeled into the shape of a reclining Buddha that spans the length of the west wall ( the head is on the left, facing the temple) . It is an abstract form and the outline of this Buddha is difficult to distinguish. A stairway leading to the summit begins in the middle of the Buddha.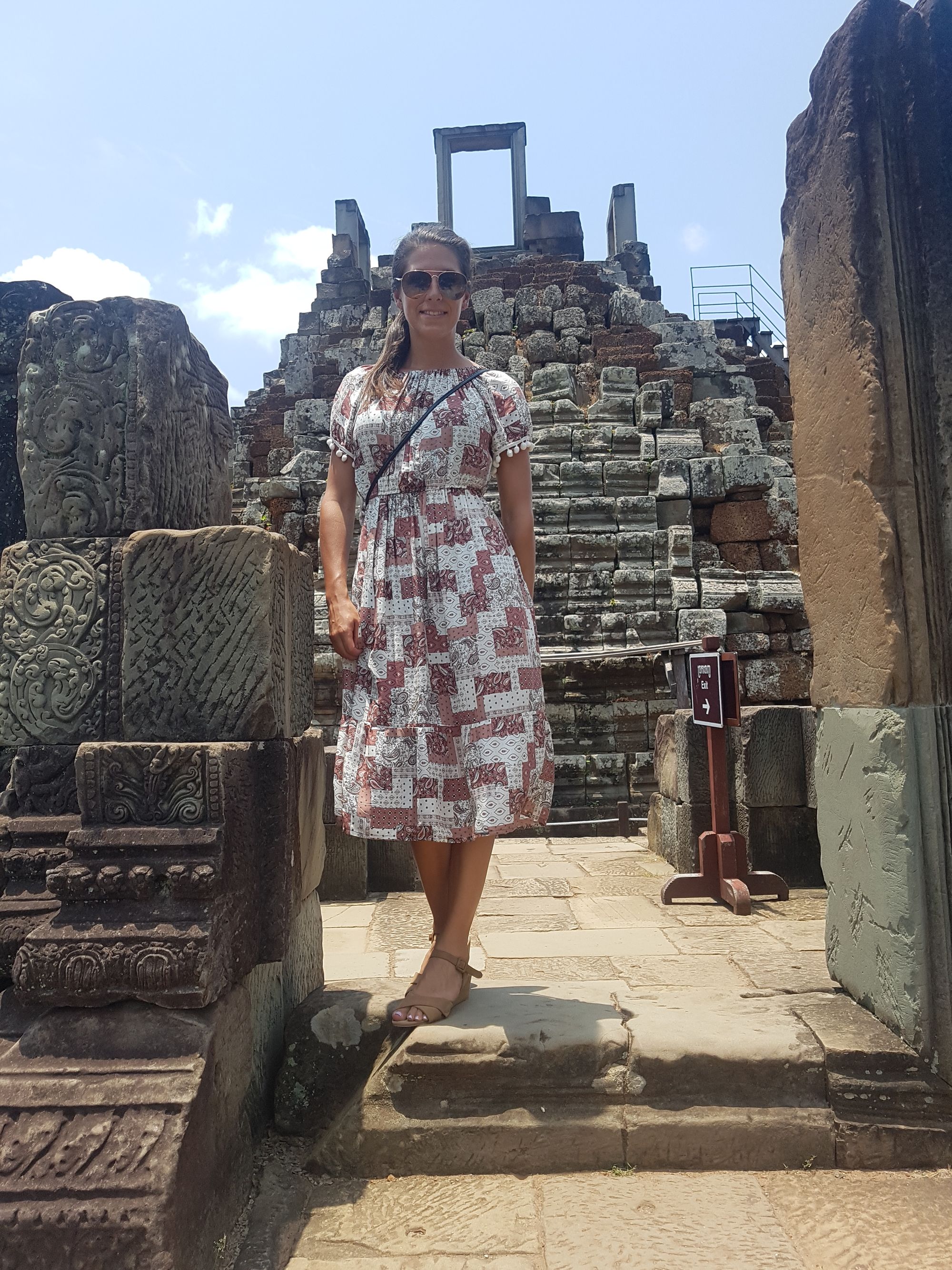 When Lara Croft and Tomb Raider pushed Hollywood images of Ta Prohm temple into cinemas around the world in 2001, they consolidated the case for Cambodia as a tourist destination. Little over fifteen years later, millions of visitors flock to Siem Reap each year, many of whom will have their picture taken under "that tree" that Angelina Jolie stood upon during one of the movie's action scenes. Ta Prohm is a tourist favourite, as is often listed as one of the big three to visit on the itinery to Angkor Archaeological Park. But in all honesty, Ta Prohm was my favourite and was a mesmerizing temple to visit. In fact, it is probably the decision not to clear the site of trees, and leave some of the most impressive jungle/ruin take-overs in place, that made it one of the most atmospheric and most photographed of all the temples. Ta Prohm's original name was Rajavihara, meaning "monastery of the King". It was built as a Mahayana Buddhist monastery and university.

In stark contrast to the often overwhelmingly crowded and popular Angkorian ruins, Banteay Kdei is peaceful and quiet. Its name means "Citadel of Chambers", which is apt; the ruins are a fascinating maze of chambers that are a delight to explore. Also serving as a Buddhist temple, these ruins have been home to an active monastery at multiple time periods since their construction in the 12th century, up until the 1960s. As there are still active monks in the monastery here, females must stay away from them - #monkrules.
The Angkor Archaelogical Park was a delight, and the visit worth its weight in gold. We were picked up at 8am, had a private tour guide and driver which set us back $85 (this is between two of us) in an A/C fuelled sedan. The A/C is a necessity as it was 39 degrees that day and its blooooodyy humid as well. The day pass entry to the Angkor Archaeological Park is $37 USD per person, which is also well worth it. You can also elect for a 3-day or week long pass to explore more of the temples in detail. And other tour groups can take you on longer circuits, there are also bikes for hire and zip lines in the park to enjoy all the of temples from all possible angles.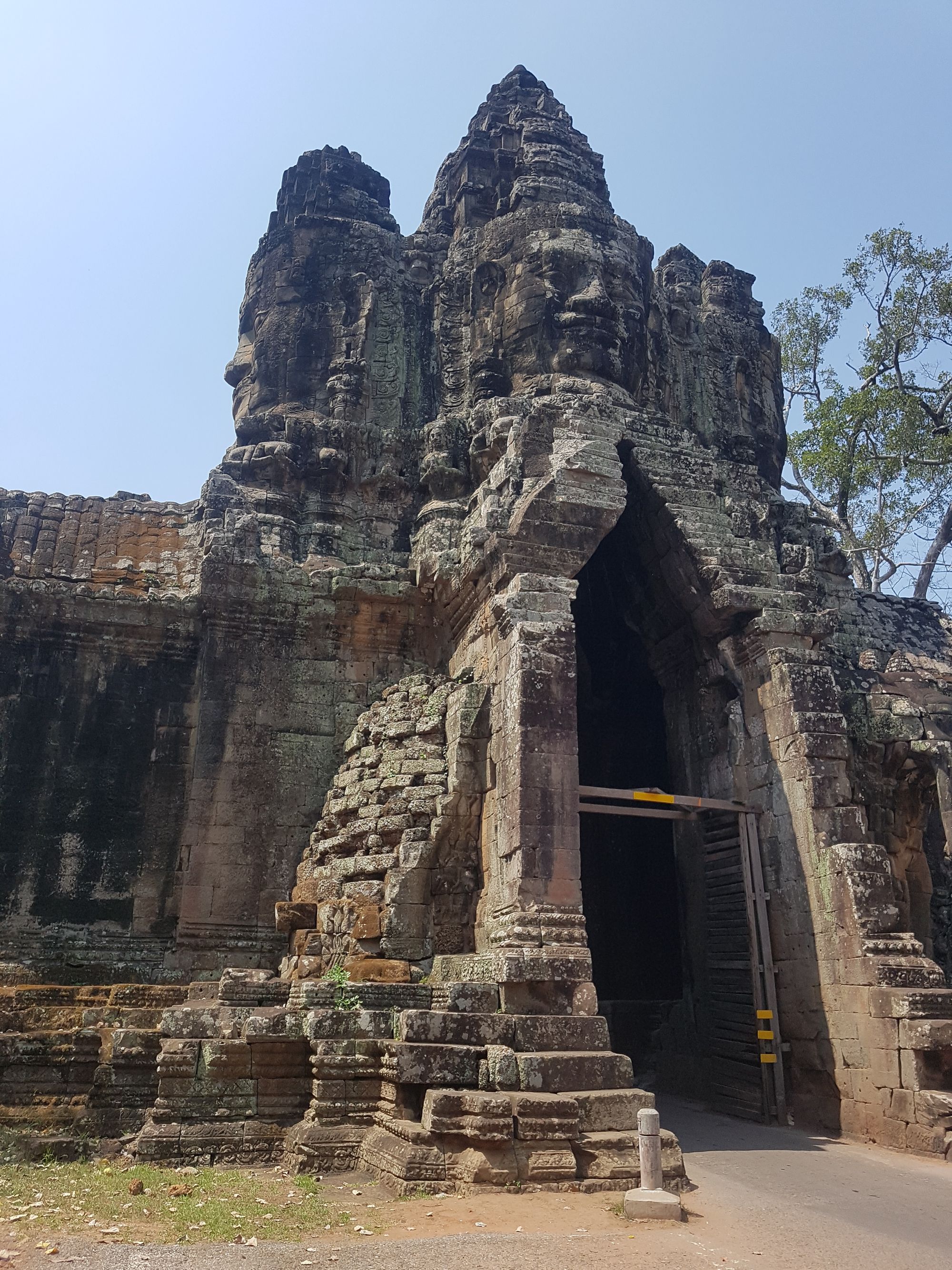 Tuckered out from temple touring, we had one last thing to do in Siem Reap (souvenir hunting). We visited the Made in Cambodia Market which brings together the most exciting examples of craftsmanship in Cambodia today. Internationally recognized artisans and designers participating include Ammo, Rehash Trash, Friends International, Sombai Liqueur and more. We bought a delightful painting of Tonle Sap by an 11 year old boy which we will need to get framed.

Dinner was plain old boring old pizza… Google Ecstatic Pizza Siem Reap if you dare.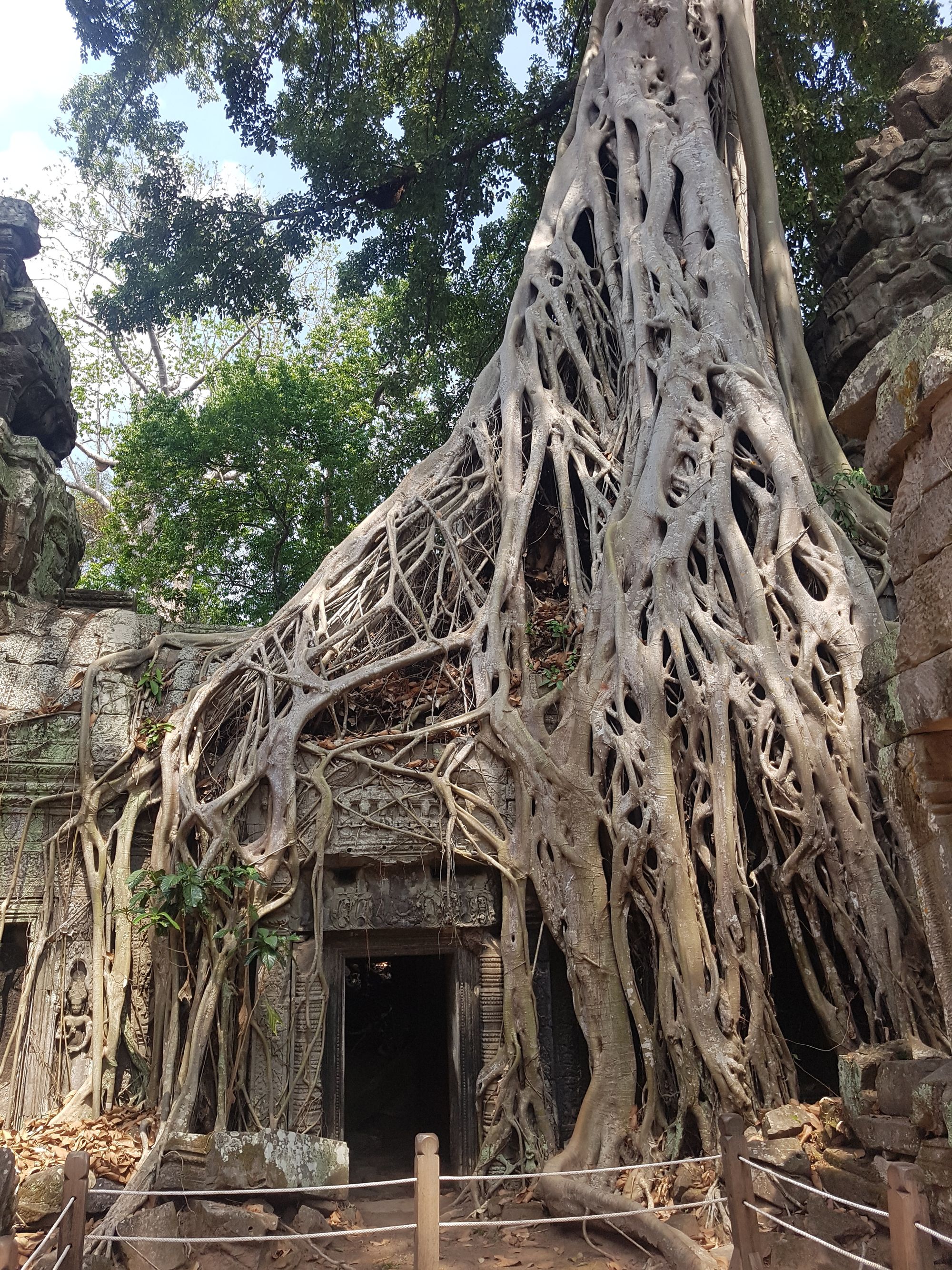 Saem Siem Reap service was phenomenal – and it is hard not to see why it has such high ratings on TripAdvisor and Booking.com. We were so grateful that we picked this beauty to stay in. We stayed in this hotel for our 3 nights in Siem Reap. Beautiful hotel, spacious rooms, fabulous service. Warm, friendly, smiley staff, with concierge staff willing and able to assist with all queries. The staff remembered every guests first name and the pool, gym and spa were well-kept. The attention to detail was amazing, with the admin staff viewing that it was Bens birthday on our check-out day and offering to organise a cake and sing Happy Birthday to him at breakfast haha…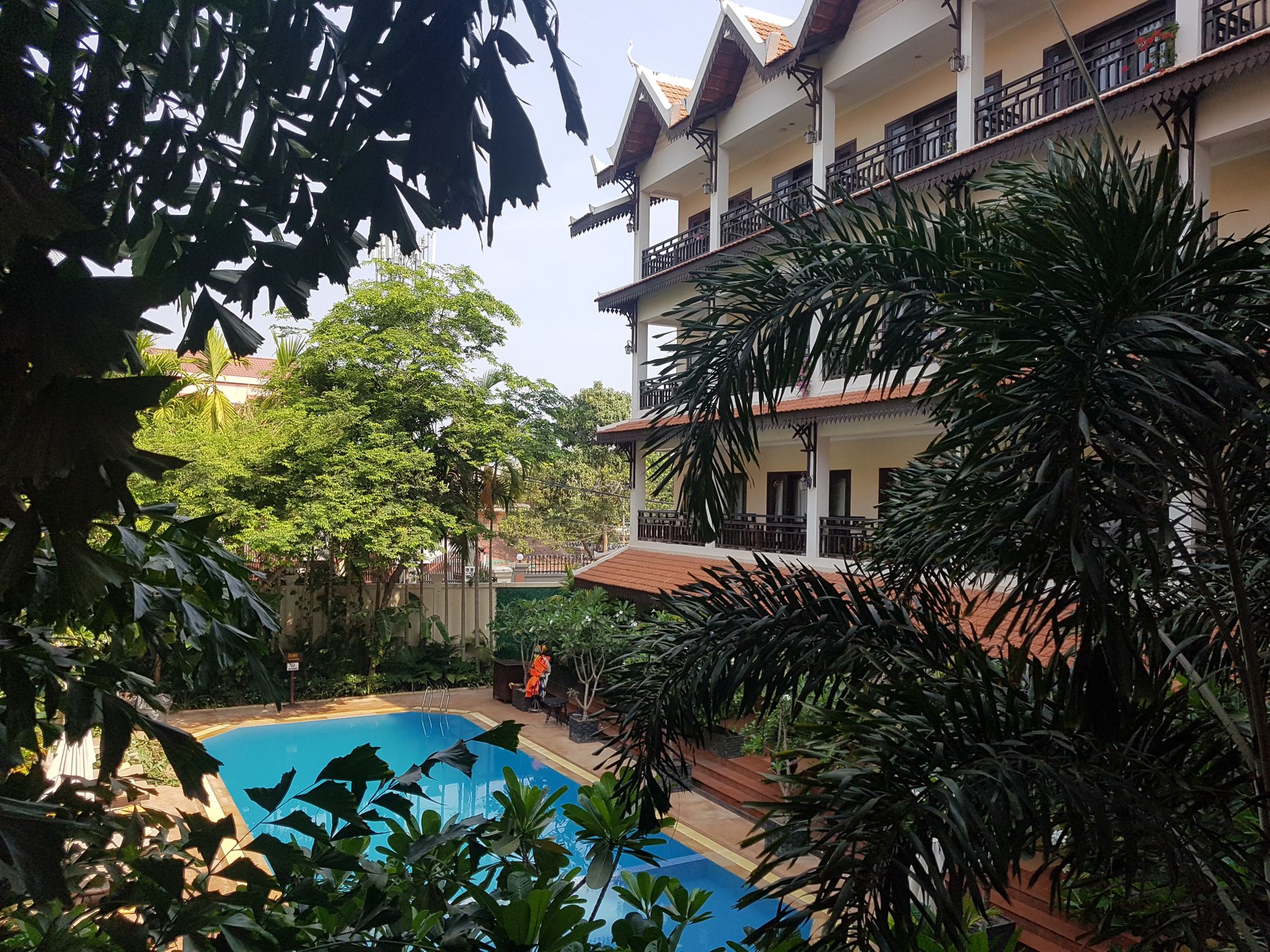 Some of my favourite take-aways from Cambodia:

No McDonalds in Phnom Penh – woo hoo!
The Viet Cong used Phnom Penh as military base at times during WWII
Phnom Penh is often described as 'Paris of the East' – and its hard not to see it in the Parisian style architecture and housing/apartments lining the streets
The Whole fucking… city was evacuated on April 19th1975 – with many of them 'lost' during the genocide.
More than 1/4th of the population killed during the Khmer rouge reign.
Some Cambodian newborn babies are being born with scars? Many hypothesise that this is the 'lost' still haunting the living post the Pol Pot rule.
Cambodians don't appear to have birthdays? This was a strange topic of conversation – and it came up with our Angkor Archaeological Park tour guide, and many of our taxi drivers. They know roughly what year they are born, but don't know the day or month, or exactly how old they are.
There are still unfound landmines in provinces within Cambodia, notably near Battambang.
No pointing – it is rude in Cambodian culture.
Cambodia has had four name changes in last 50 years – Kampuchea, Angkor, Democratic Republic etc. Lets hope that their turbulent history has finally come to a true and real end.