SVBM 2021
Brought to you by the creative brain juices of Andy 'Felix' Poli, his kin-man Simon Poli, his trusted companion Nick 'Broken Hand' Swallow, his talented organisational extraordinaire wifey Suzanne Poli and some random Unicorn Runner...
Brought to you by the creative brain juices of Andy 'Felix' Poli, his kin-man Simon Poli, his trusted companion Nick 'Broken Hand' Swallow, his talented organisational extraordinaire wifey Suzanne Poli and some random Unicorn Runner...we must now announce the recap of the 'The Totally Unofficial and Sub FatArse Swan Valley Brewery Marathon'. The event kicked off on a balmy Sunday morning of the 18th April. A crew of crazy yet dedicated runners made it en route to a meet point of no return. "What happens on the bus, stays on the bus"
Arriving at first, and final stop of Txoko Brewery... Eleven committed and equally uncommitted runners prepped themselves for takeoff. The Baby bottles for the bussed-out babies were organized, the baby bear tin mother bear tin and the puppa bear tin mug prizes were ready to go along with the bottle openers. Least we weren't fussy like fucking Goldilocks. But everyone who started was a winner yeah…. Everyone's a winner, baby, – yeah that's no lie…

The shenanigans began at roughly 10.30am - hair past a freckle on no man's watch – some donned with sparkles, feather boas, xmas tutus, hi-vis hydration packs, and unicorn and rainbow run bibs, with brain optionality. Take off was 10.45am after high-fives and woo- hoo's, equipped with the safety function of #felixnav. Short trek of 1km down to Feral Brewery (Pint #1) and early openers. Beer aversion was quenched with cidery's - agast of 8% ABV. Runners best fasten their seatbelts the adventure is going to be a bumpy ride. Cheers and toasts all round before gallivanting off to the next stop or er... watering hole. Even before we left the start line – things were already going missing. Honestly, how much shit were we going to lose today? Phone is a necessity though, hey capt. Felix… We were stalked by the bus riding Venga(BeerMara) co-pilots and cheer squad Georgia and the Choonsman Shannon. …And everyone was jumpin'.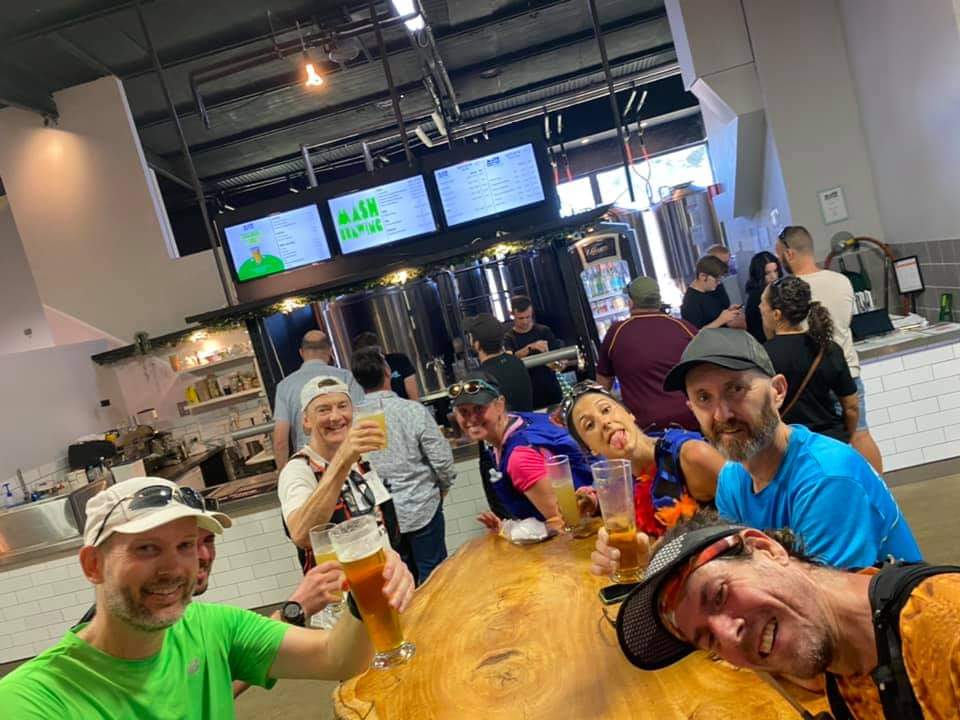 The longest split of the day landed us at Mash Brewery (Pint #2). There were some technical sections, and a water crossing. Muddy splashy, wrestly? Fun was had by Peta and Nick. Clean up on Aisle9 W.Swan Rd please? Note to self - or some adventurous folk *bring waders next time. To the dismay of some, unicorn runner decided to be extra and take a risk with some traffic across the bridge instead of getting her prancing hoofs wet. Kelli and Kirsten did not brave the snakes and insects of the still waters they dodged the mofo'in traffic on the mofo'in plane/road.  Froffys were enjoyed, as the crew stayed together for their merry neigh amongst some curious onlookers, tooting mctoots at the Yagan Memorial Park and the dismay of the Edgecombe Brothers vineyard owners for not stopping in for Vino.  This is where the lovely husband ( Shannon or maybe he was Santa in this particular instance) gave Mrs Clause (Darlene) a shot of rum in her Ginger beer to even out the booze content – naaawwwww, shits gunna get messaaayy.


Short 500m dash down to Duckstein (Pint #3) - say that shit three times fast. Dash Down Duckstein. Dash Down Duckstein... Dash Down Fuckstein... Ah fuck. As Dan Andrew's so classically stated it was time to 'Get on the Beers' although some of the tables were tasting some of the most deliciousness Mango Wine - we digressed. Crew was still together, lots of smiles and laughs... and Sparkles. Brains still attached ... if they were in the first place. Trot Trot Trot down to Maali Bridge and on the beer run train.
We like to party
We like, we like to party
We like to party
We like, we like to party
We like to party
We like, we like to party
We like to party
The bus picked up a few of our more sensible compadres in Kelli and Kirsten

Across the Bridge, Down the road, avoided the trolls - lucky for the trolls as they would have most definitely turned to stone in the baking hot sun on the Great Northern Highway. Sweaaaating... We made it - Swan Valley Brewery (Pint #4). Refreshing, ale-y, thirst-quenchy golden/amber/dark goodness of the gods liquor was had, and anything Fried. Like our souls. The lovely (Shannon)had pre-ordered bowls of chipppiees for the crazies, although some of us already had beer goggles fastened by that point in time and completed missed the bowls. We were met by .... Brian on his deadly treadly…Feel sorry for the guy, we were in fine beery good form by this point.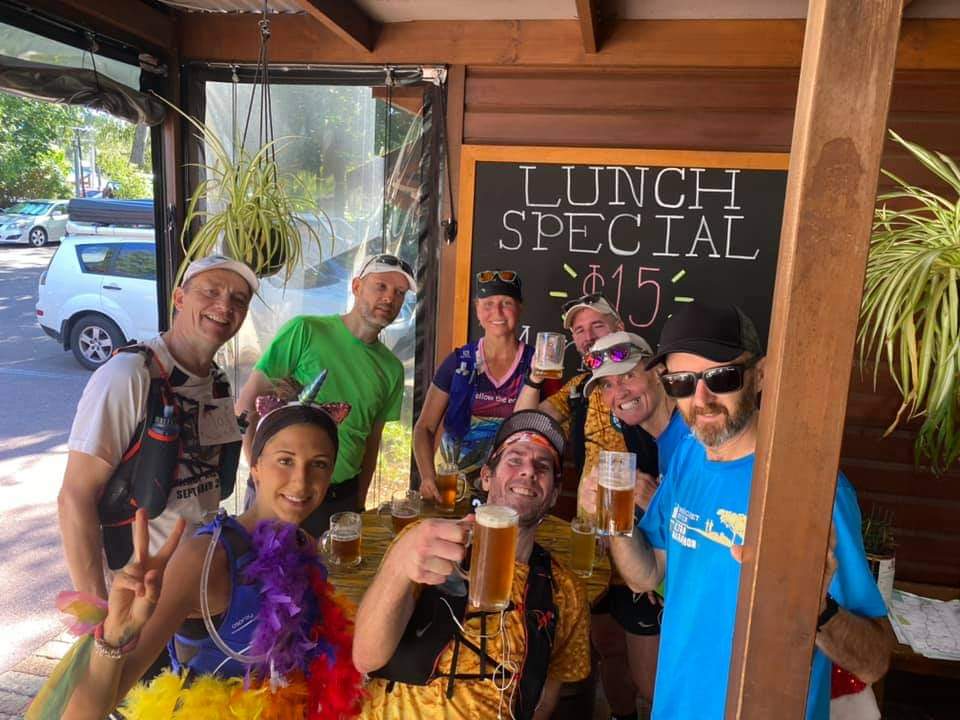 Back down the heated Great Northern Highway, we go. Hi ho, hi ho... and down the Reid we go. Everyone managed to utilise the underpass to access the Llawn no Highway Crossing superpowers required. But I tell ya what my Superpower is? I make beer disapbeer. Arrived at Homestead Brewery for (Pint #5). Decided that the Mad Khing Ginger Beer would be most refreshing - as others dined on some pizza and beeeer snacks awaiting their arrival by Coach Glen AKA  - That Pizza Guy and extra pints to catch up with the full marathon runners. Some of the crew, were Keen Az to kick on - which included fence jumping, paddock frollicking, cow tipping? through the back of Sandleford vineyard back onto West Swan Road. ONFG ... omfg (bad joke)


As we frollicked past the 7-11, we were thinking of our next beer. Ironically like a birthday except as the adage goes - another beer older, another beer wiser? Wait I got that Sub FatArsed up. Ironbark Brewery (Pint #6) sneaking into the back D'Vine, Funk Cider gave options for fruity funk however why would you want to drink clear, if you could drink more beer? If it's not a beer, do not park it here. This be where Nick loved the cow girls and the kiwi bouncer was a dream for photos of the crew. And maybe, just maybe we weren't the craziest crazys galivanting around the Swan Valley that day, there was a freaking Matching Pink PJ Couple – how freaking cool! ) Mini Flagons were purchased by Baby Bus nuts!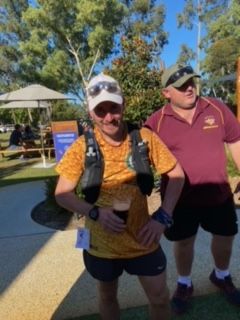 Gallopy back up West Swan Road, including a hairy Reid Highway crossing. Thinking now is not my strong hand. I used to think drinking was bad for me, so i decided to give up thinking. Clearly not, given thinking would entail that one would just not simply Drink and Run - especially a fucking Beer'athon. The Bus crew made a quick detour to the lovely Stella Icreamery just to tease the hot sweaty and froffy beer runners with cones and cups. Glen was not Satisfied with Pizza and beer at the Llawn so added chocolate rocky road to the mix of taunty goodness. Gosh, we are cooked now arriving at Elmars (Pint #7 ) - Wheels on the bus go round and round, round and round, round and round. Like the Pretzels on the wall-o, or whisky in the jar-o. My relationship with Whiskey though, is most definitely on the rocks.  We nearly had a bus baby in Felix, he did not want the tummy poked…. Most definitely not after all the liquid gold consumed.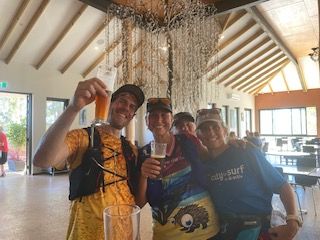 Whoops...Feeling it now... but I only drink beer on days that end in Y. So, Y the fuck not? At this point of the run, there is no such thing as a Bad Beer, some just taste better than others. Bailey Brewing Co. (Pint #8) Met by Liz, Alex and Mini Liz Pattersons, and this is where we noticed Mr Broken Hand Swallow!  - after tripping over his own feet while trying to engage in a water fight with buddy Simon. Pints were consumed by them both instead of the middies. Go hard or go home hey, there is photographic evidence of the ½ middy that was left.   A fumble fingers running Alex O tipped over Darlenes drink – you know a spilt beer is literally the adult equivalent of losing a balloon ja?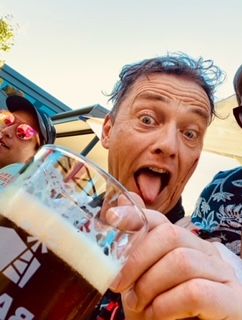 Funk 2.0 (Pint #9) Shits getting reeaaaal. I've decided that Beer is never the answer, but it's a real good way to forget the question of why we are doing this? No photographic evidence here, and the crew were rowdy and running amuk – so the executive decision was made to scull n skip the fuck outta here….. before service refusal.  Saint Nicholas of Beerdom was about to be refused a drink if he could not stay up straight, this was after trying to hit his buddy Simon at the bar.On the home stretch, wait did I just do that fucking bridge crossing again?? Oops... It's the final countdown ... da na na dananana da na na dananana ... we're heading for Venus aka: Txoko (Pint #10) and finish.
The bus stopped for a very weaving Nick - he could have made a tapestry with his very dodgey straight line! Slippery Simon, slippery Simon, slipping through the water… Gulp Glup Glup, Felix got the photos and Simon lost the glasses. Not even 20/21 vision jeeeeeezzz… the technical water section took out Simons prescription glasses with many dips in the cooling brook. Peta rolled her ankle and hobbled back with a Slippery Simon. A few runners did a #felixnav and went the wrong way to the last stop.
Txoko awarded the winner with a 4 pack and wants us back next year – top lads!
Our livers be strong, we drank wheat smoothies, and saved the planet (well... water resources... kinda) - let's not think of all the water harmed in the process of the creation of such a glorious beverage that is beer [please read in a David Attenborough accent, for your viewing pleasure]A beer runner in its natural habitat, parched beyond recognition, ambles or strides eloquently down the pathway that is Haddrill Rd towards the final waterhole where they will lay to rest in the afternoon sun. Naaaaaahhh... fuck it.
How did we survive?
How did we get here?
How did this miracle come to exist?


The Glory, The Honour, The BeerMarathoner.
Adieu.
Neigh - your Sparkly Unicorn Friend. Spaz out....