Make the Thai'm to go... Part1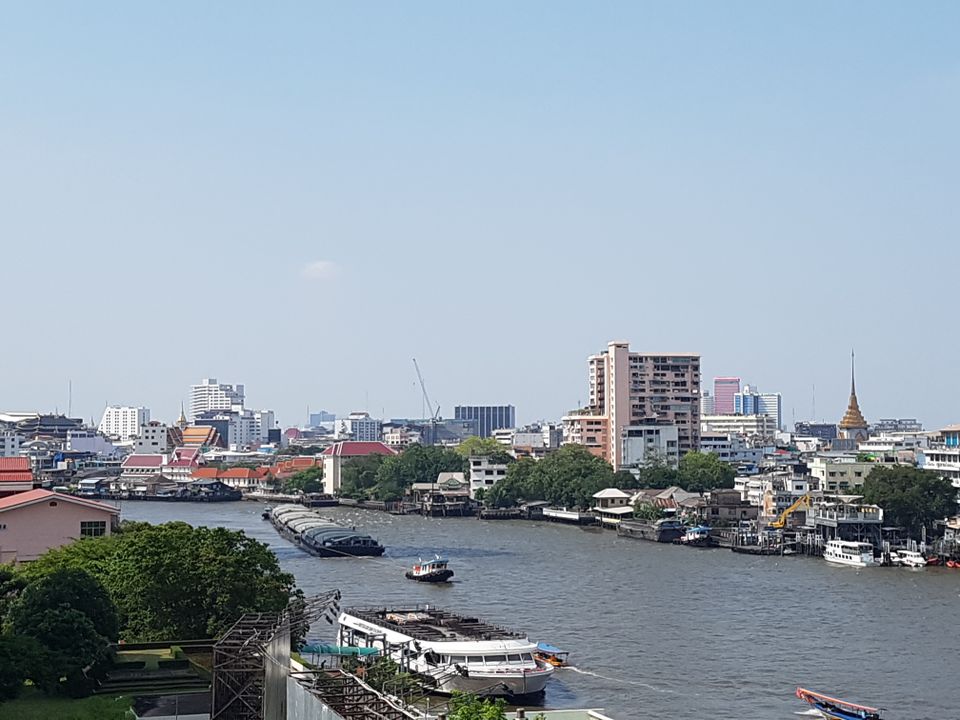 Bangkok – Hola Hola City of Squalor.

On the 12th April we flew to Suvarnabhumi Airport. Bangkok has two airports, with Suvarnabhumi being the newer of the two, the other airport is Don Mueang. Thai Airways is phenomenal, we flew in Business Class. Due to this we were able to access the Qantas lounge at Perth airport before taking off, as a part of the Star Alliance group. On boarding we were handed a hot towel and offered juice, water or champagne (Veuve Cliquot). Needless to say, there were a few options picked! Seats were garnished with fresh orchids – my fave and the seats were 180 degrees fully lie flat beds. An absolute dream compared to the pleb origami-yourself in for a night flight sort of reclined hard shit seats usually found in economy class. There was also a button that provides a 'massage' option on the back rest, pretty cool. There's also a privacy screen should you prefer to separate yourself from your travelling mate. Passengers are provided with a travel accessories kit (Lacoste no less!) filled with the usual travel accessories of earplugs, an eye mask, socks and an assortment of hand and face creams. Thai are renowned for being extremely polite and providing quality service, and this experience was no exception. There was at least 6 cabin crew attending to the handful of passengers on board, so even more extremely attentive to their passengers. I got three refills of the Pinot Noir that I was drinking without asking, and the food was beautiful (with options to pre-order), the complimentary nuts are always a nice treat.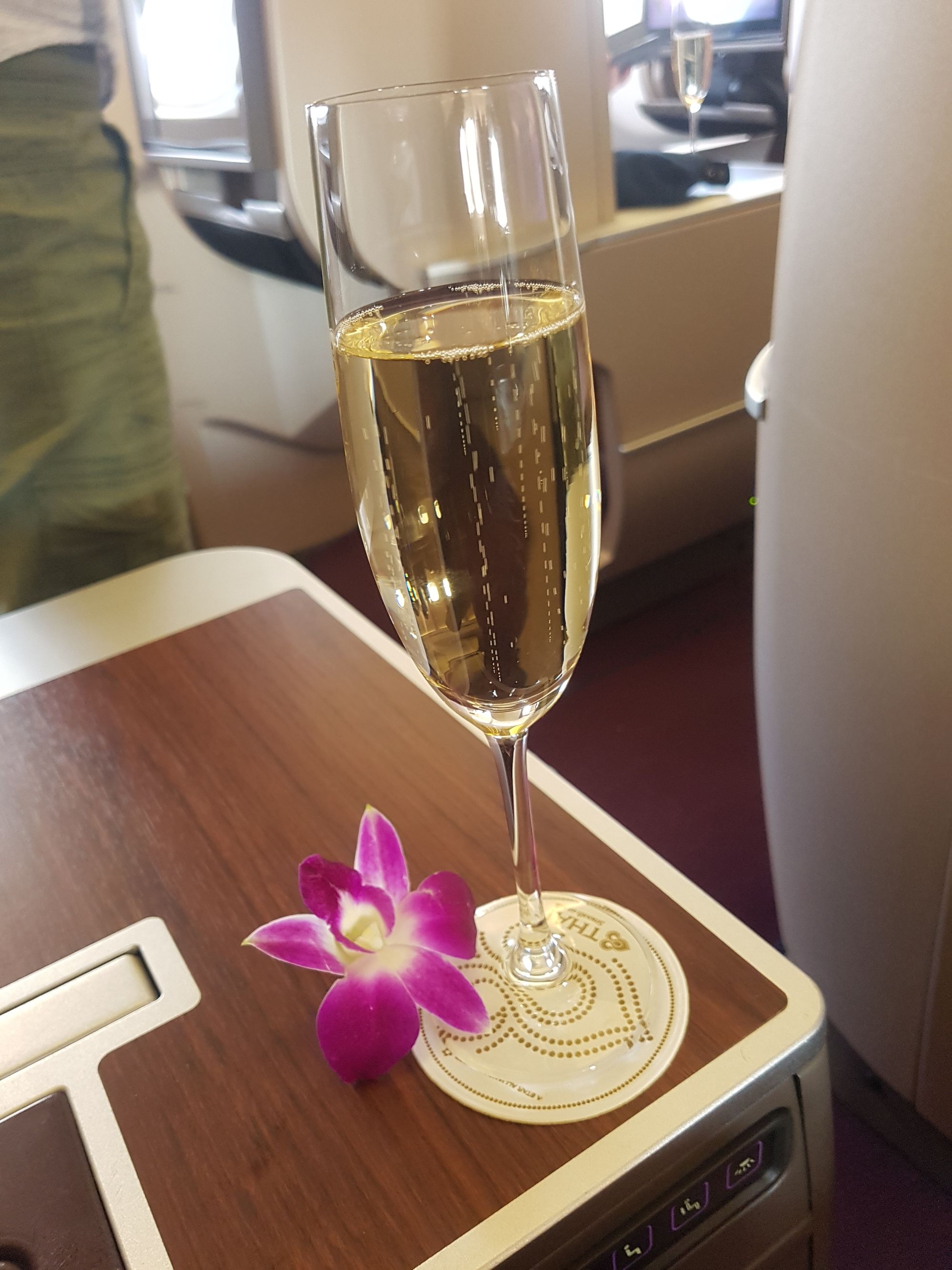 The taxi we caught from the airport (which had easy to read, use and access taxi ranks to successfully filter through all the incoming tourists) was scary to say the least. The trip should have taken near to an hour, at 11.30pm with no traffic, but I think we arrived in about 45minutes due to the driver driving at near 140km/hr for sections – there also appears to be no lanes necessary on Thai highways even though they are demarcated. The trip to Millenium Hilton cost us roughly 150THB – about $7AUD.
The Millennium Hilton was awesome with 360 views out over the Chao Phraya River, which Bangkok is situated on. The concierge service, restaurants, sky bar, shuttle ferry, rooms, and gym were all top-notch and we thoroughly enjoyed our time there. https://www.tripadvisor.com.au/Hotel_Review-g293916-d586655-Reviews-Millennium_Hilton_Bangkok-Bangkok.html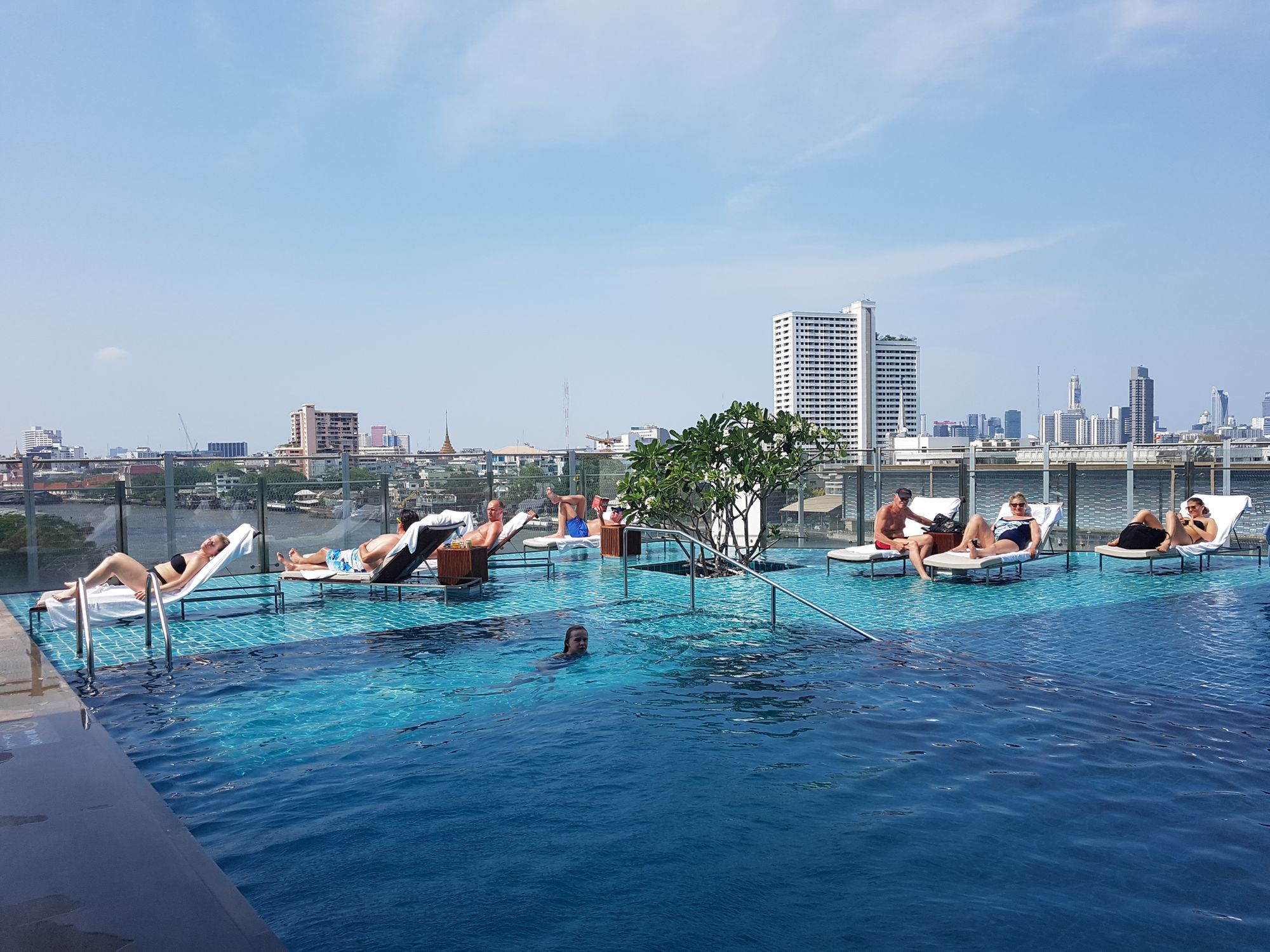 The morning of the 13th of April we had Breakfast at the Lantern, which was an adjoining café to the Millenium Hilton group – adorable cakes and macaroons, similar to what I've seen from Vietnamese, Singaporean and Japanese cake makers, the attention is really on the detail and the blending of flavours with everything from Matcha to Fairy Floss on offer.
We caught a Grab (I touched on this service in my previous blog about Singapore) – to Lumphini Park. Grabs are a ride-share service founded in Singapore, which has now spread across eight south-east Asian countries including Thailand. Read more about it here - https://www.grab.com/sg/about/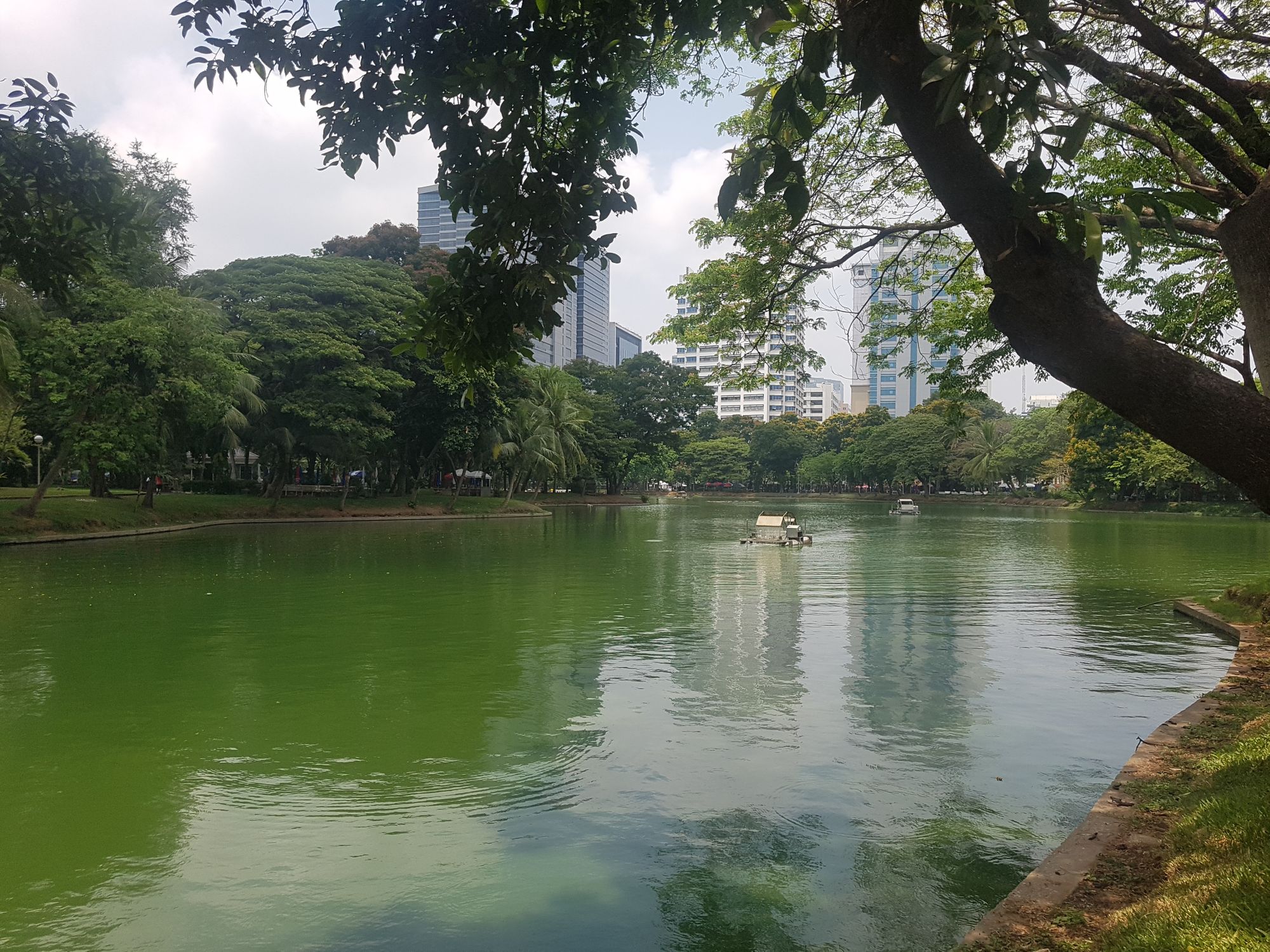 Lumphini Park in Bangkok really is a little getaway, a beautiful little green space in the middle of a concrete jungle. Lots of walkers, joggers and bike-riders completing the 2.5km loop around the park, there are people practicing Tai Chi, and random gym-equipment (hand-crafted) for use. There are markets, water wheels, statues, spirit houses, giant water monitors, and hireable boats and have a bite at some of the internal cafes. The Park is a sanctuary for the giant water monitors, which look conceivably like Komodo Dragons, we didn't know prior to visiting and were shocked to see the huge ass lizards in the water. Very Cool!
Onto Silom Rd, this road is usually a shopping street but it was Songkran or 'Thai New Year' so it was blocked off at both ends and had been converted into a giant water fight. Songkran is usually held from the 13-15th April, and we timed it right (fortunately or unfortunately). Songkran is Thailand's most famous festival and an important event on the Buddhist calendar, this water festival marks the beginning of the traditional Thai New Year. Water is an important element of Songkran, especially in more recent times when the throwing of water has become a huge part of the annual celebrations. If you're visiting Thailand during this period, prepare to get splashed! Crowds of people roam around throwing buckets of water, using water pistols and just generally soaking anyone in the vicinity. The water is seen as a cleansing or washing away of the past. As a tourist it is generally a fun thing, until after 30minutes when you are drenched from head to toe. I am actually glad I got to experience it, but will probably visit Thailand again at another time of the year hahaha.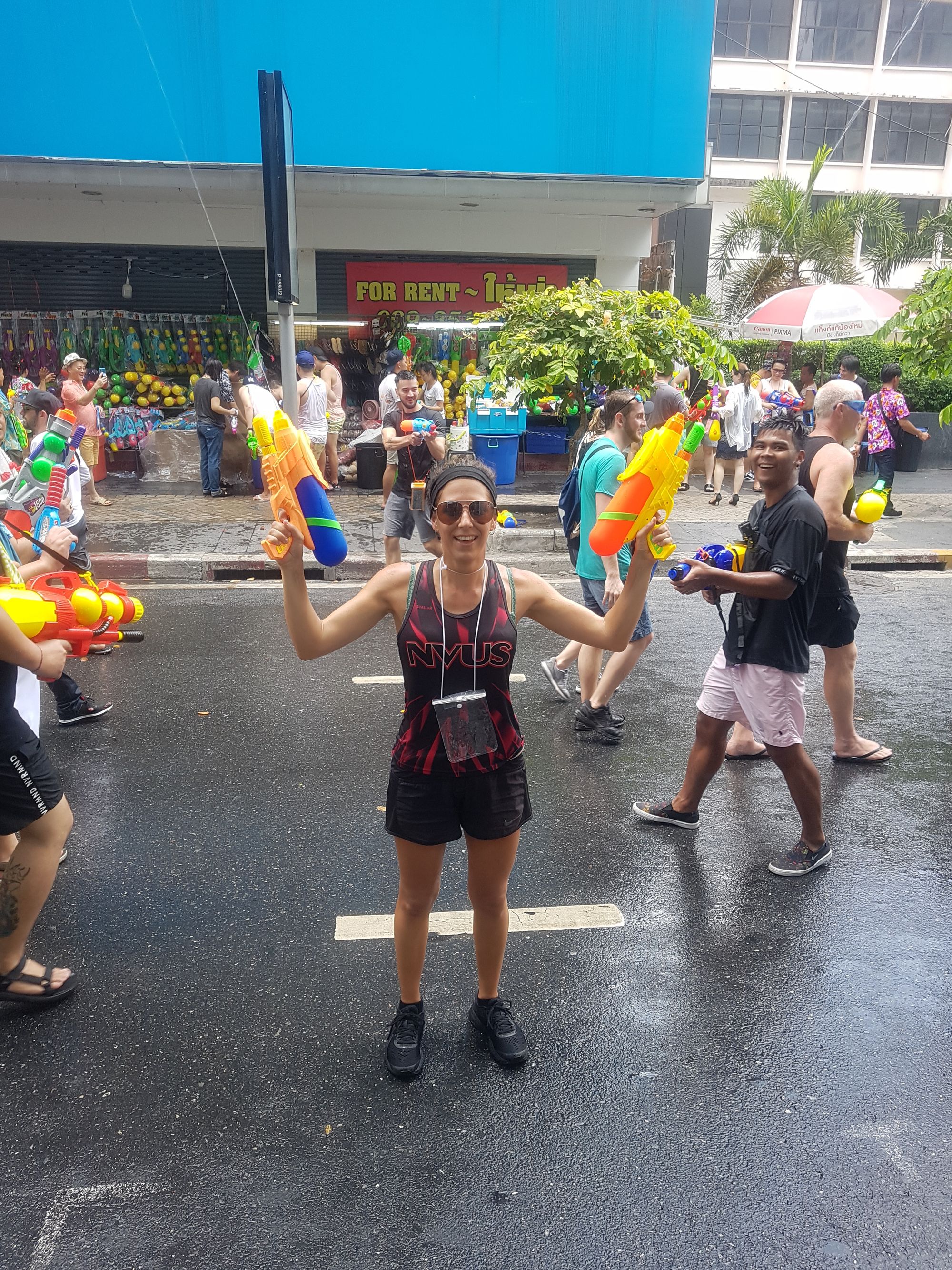 Due to the Songkran drenching on Silom Rd, we headed back to the hotel to change and go for a swim (still wet, I suppose). The pool at the Millennium Hilton was on the fourth level, and we treated ourselves to poolside cocktails and lunch. I had Por Pia Tod ? or Thai vegetable spring rolls absolutely delish and we found out during the trip that these little beauties are on most menus for any food seller or restaurant.
Before travelling to Bangkok, I had researched the Unicorn café and was devastated to find out it would be closed due to Songkran for the entirety of our time in Bangkok. Here's the link for a little bit of eat your heart out - https://www.cosmopolitan.com/food-cocktails/a3883399/unicorn-cafe-bangkok/
Still quietly devastated, I will return to Bangkok for this café and this café alone, I require the sparkles.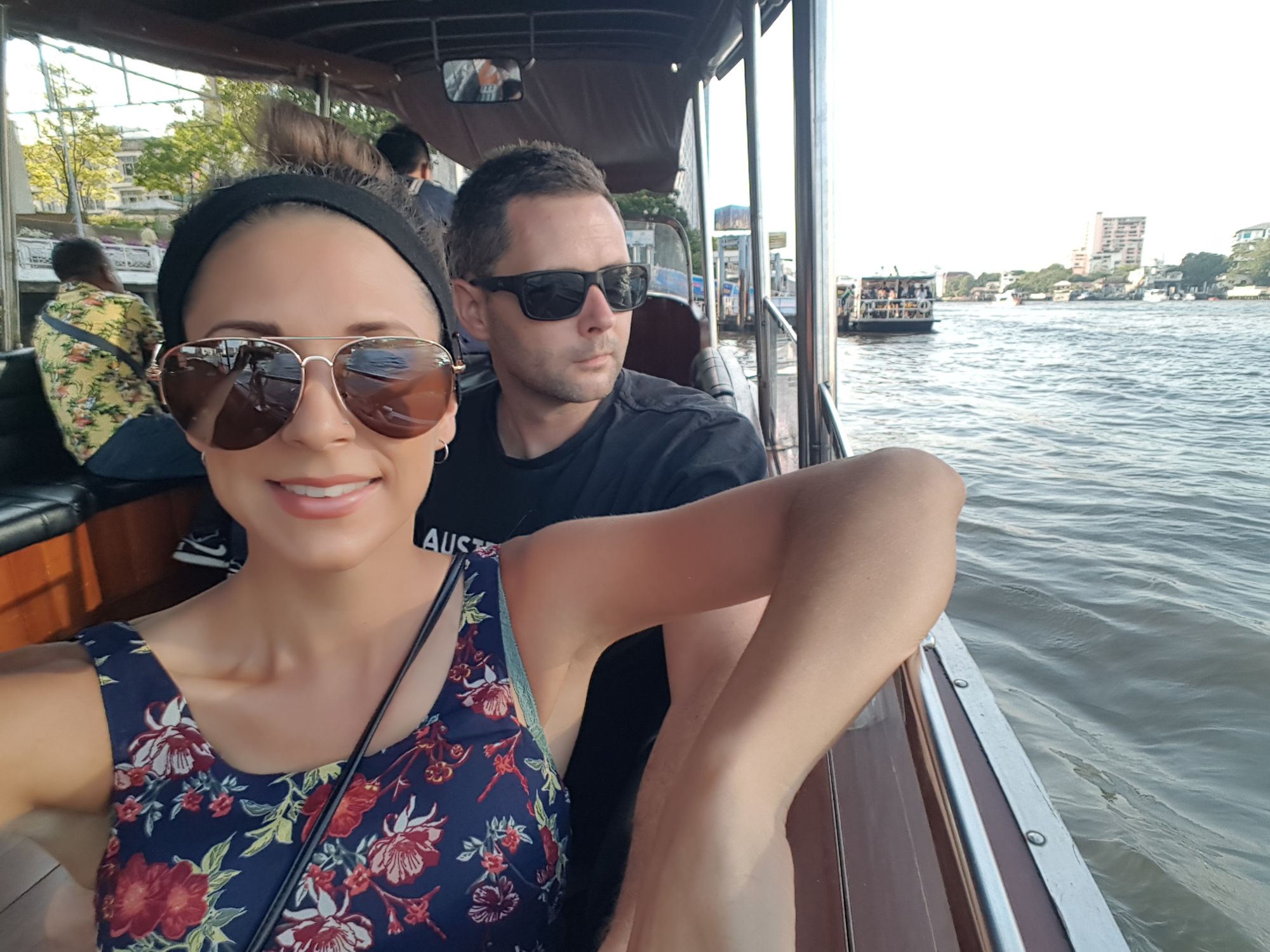 We caught the Hotel shuttle boat to Central Pier or Sathorn Pier, and utilised the river taxi to Port Arthit. There are a few ways to navigate this, and we managed the cheapest and most efficient route.  There are 5 types of river express boats in Bangkok operated by the Chao Phraya Express Boat company. The types of boats are differentiated by the colour of the flag: Blue, Orange, Yellow, Green and No Flag. Blue Flag is a Chao Phraya Tourist Boat service running from Phra Arthit Pier to Sathorn Pier – these double as a 'hop on – hop off' boat and is usually bought as a day pass for something like 200 – 300 THB. The other flagged boats operate to different pier stations, but the Orange line accessed all of the places we wanted to see for only 15THB for one way – it is considered the local boat and is a quick and efficient service. On our cruise up the river we saw the saw the major temples, Wat Arun 'temple of the dawn' and Wat Pho.
We thought it would be a good idea to try Khao San Rd, think opening scenes of the movie 'The Beach' where Leonardo DiCaprio is strolling the street, with market vendors and mafia and everyone at him. And then replace that all with water pistols (was not in the mood for it again, after having only properly dried off from Silom Rd in the afternoon). Khao San Rd is described as the centre of the backpacking universe, and it is not hard to see why…
Neon signs, backpackers, budget hostels, street vendors, internet cafes and a surplus of places to drink and be merry. Knowing the mess we were getting ourselves into again we headed up stairs to a pub with a balcony to overlook the worlds biggest nightly street party, before escaping down an alleyway to Soi Rambuttri (still an overflow of the party) to have dinner.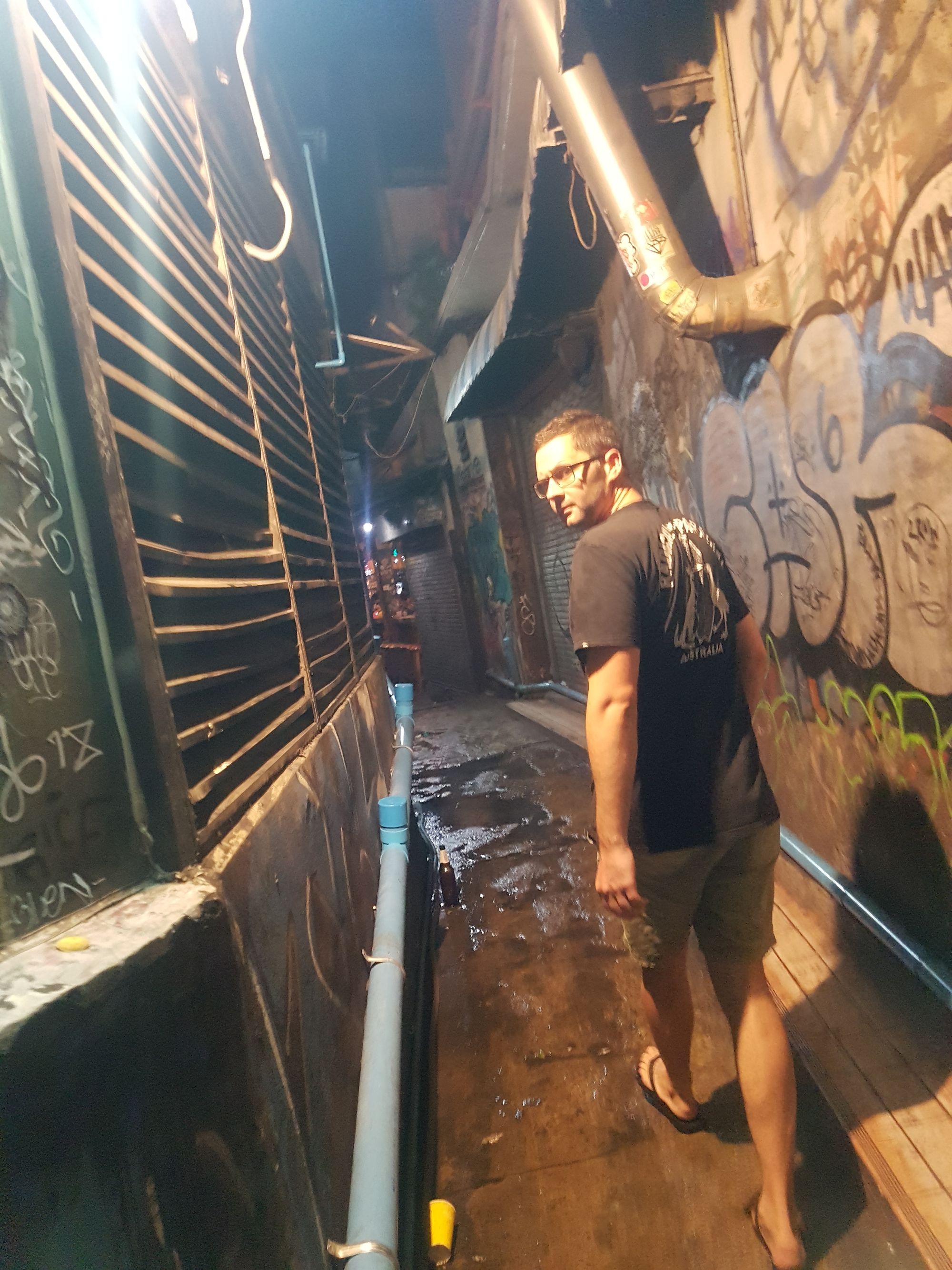 We had dinner at the Green House, which for me consisted of Som Tum (a raw unripe papaya salad, I found a new favourite) , the sauce for it the delectable Thai spicy- sour mix so common as a condiment in the country – and for puddsie I had Mango sticky rice. This is advertised everywhere and is a country speciality too – Khao Niaow Ma Muang – do try it!
On the way home, we walked over the bridge at Phra Pin Klao and saw a literal human shit (I'll leave that here, for thought….)
Before visiting Icon Siam – their largest international shopping centre, the front of it was another Songkran party and another Songkran tradition (albiet much nicer than being splashed aka: soaked) the building of sand castles to the shape of their temples.
Before heading off to snooze land for the night we caught the elevator up to the roof of the Millennium Hilton to see the 360 rooftop bar, think that the waitresses were a little discontent that we both only ordered cokes but aaaaawww well…
Goodnight Bangkok you party town mess!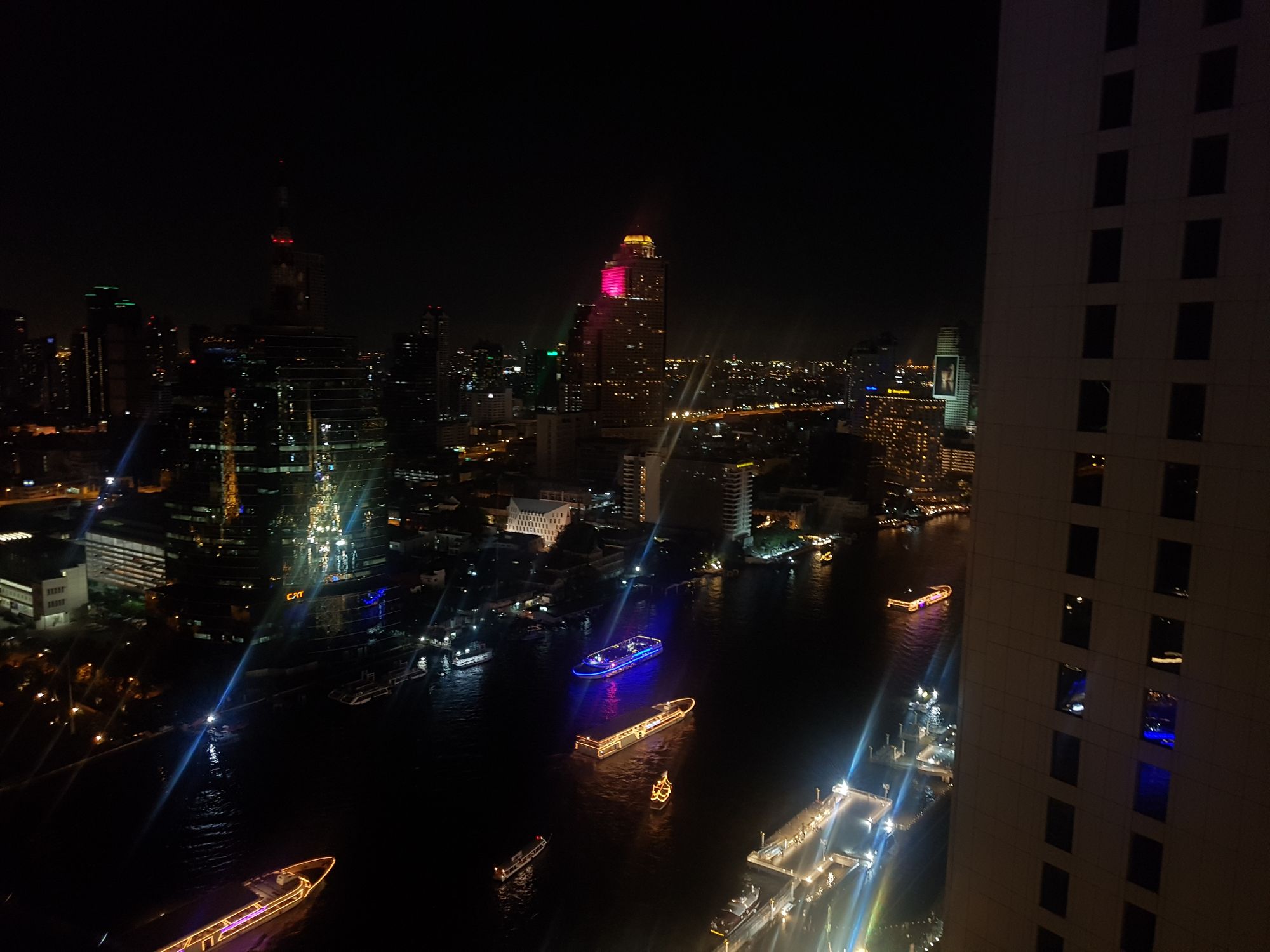 On the 14th we caught the hotel shuttle boat across to Central Pier and went for a walk around. We ended up at the Long Bar at the Shangri-La hotel for breakfast, I had a delicious mango chia pudding. Yum Yum!

We caught the Orange boat ferry again up to Tha Chang pier to offload too visit the Grand Palace. We were warned to cover up and wear what is deemed 'respectful' clothing by the Buddhists – no showing of knees and shoulders. Worst bit was it was blistering hot and steamy (we visited in the end of dry season and one of Bangkok's hottest months). Bangkok's famous palace complex was built in 1782 and features several magnificent buildings including Wat Phra Kaeo (Temple of the Emerald Buddha), which contains a beautiful Emerald Buddha that dates back to the 14th century. You must come with extra water, and get the audio guide which makes it much easier to navigate the complex amid the masses of tourists. Also double check whether or not the palace is open, as it is often shut for ceremonial purposes, national holidays and military events. It is 500 THB per person for entry to the complex.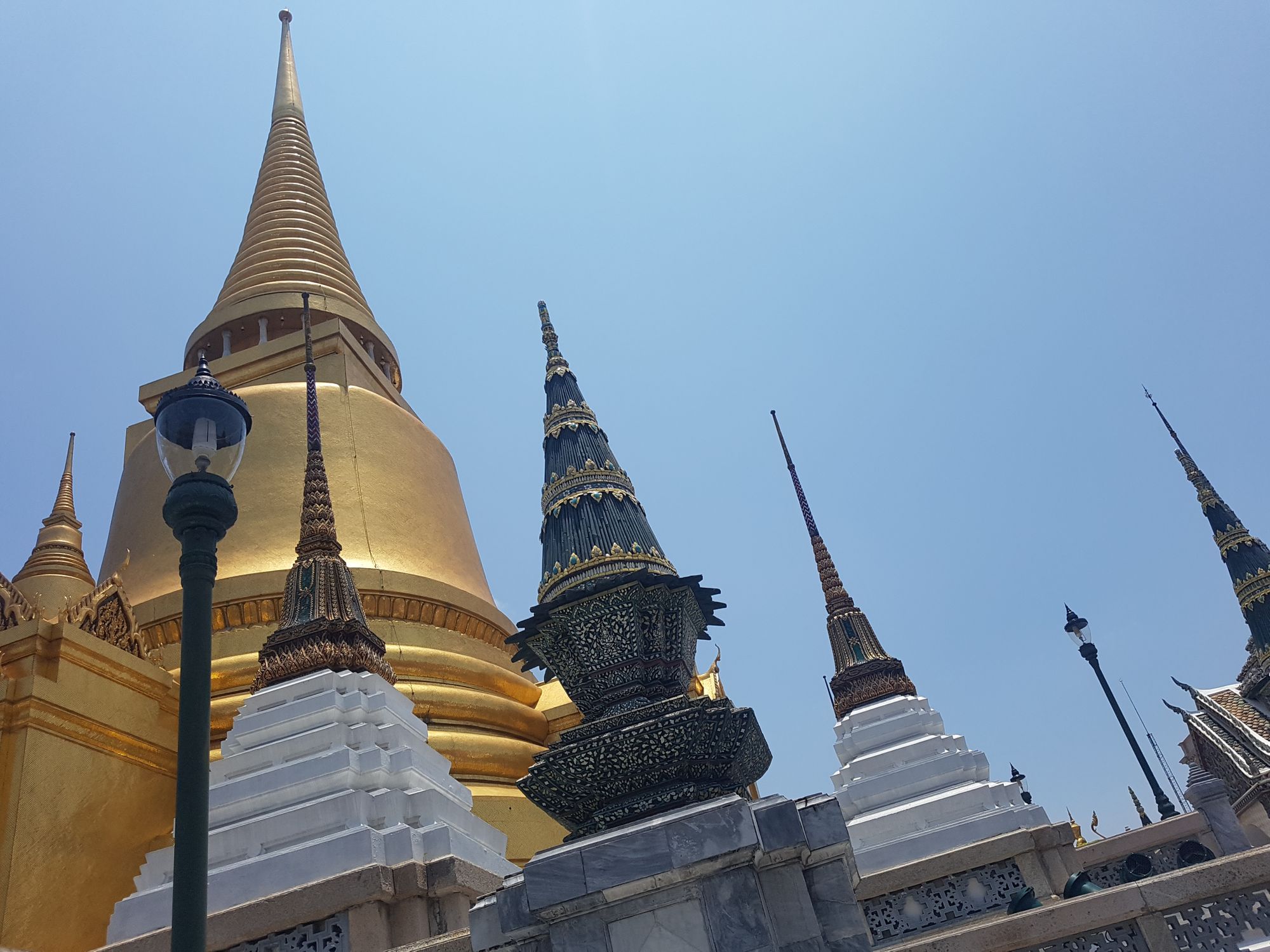 The buildings were superbly beautiful, adorned with gems and gold, and mosaic glass fragments. There is even a model of Angkor Wat that is located in Cambodia? This was apparently a gift? A lot of the time you feel like herded cattle, particularly when entering Wat Phra Kaeo. You must take off your shoes at the Emerald Buddha temple too – aka scalded feet.
I was disappointed in the fact that the Emerald Buddha wasn't made of Emerald but instead of Jade, adorned in Gold clothing – can we ever please a Geologist when gem names are also subsequently used as colour descriptors? Haha. But still go! It is definitely a must-see on any Bangkok trip itinerary.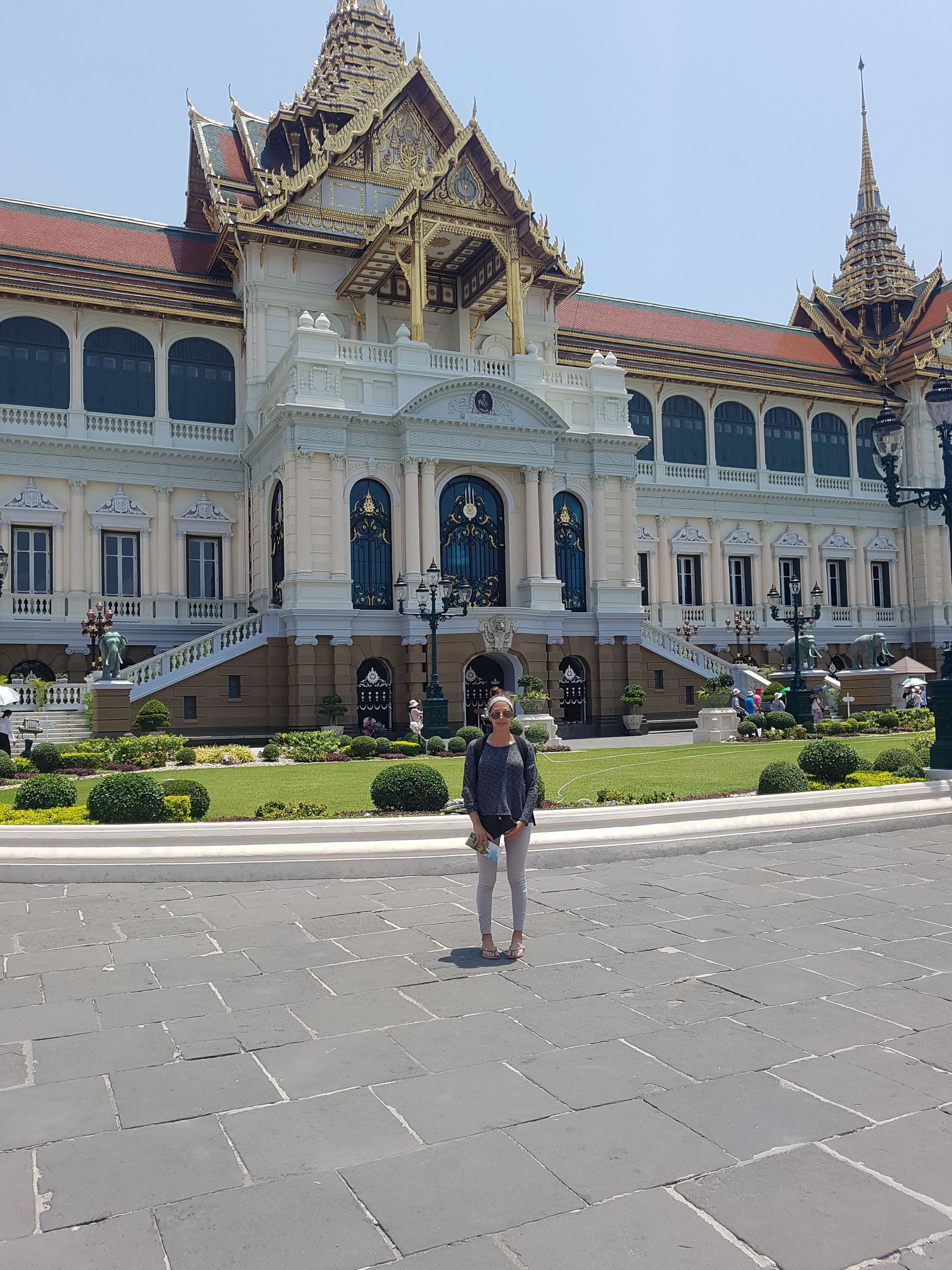 On our way to lunch we walked past Wat Pho, which houses the Reclining Buddha. Totally overheated and over-buddha-ed by this stage, so we were keen to find somewhere to change back into regular civvy clothes and reveal those knees and shoulders. We walked past the Thai Naval base to a nice little eatery called Eat Sight Story deck, I found a local craft beer brewed in Bangkok called Dirty Forty craft.  The eatery had a perfect view across to Wat Arun and was situated on the banks of the Chao Phraya river.
We walked down to the Flower market locally known as Pak Klong markets. On the way we were sussed out by a local and kept our possessions close at hand afterwards, this area is known for pick-pockets. Being a public holiday aka: ruiner but creator of fun: Songkran most of the markets were closed. We found a nice local place for food called Pakhwan at Pakklong and I chowed down on a traditional Thai Omlette and another craft beer, a collaboration between Full Moon and Stockade breworks called Cha Tri IPA.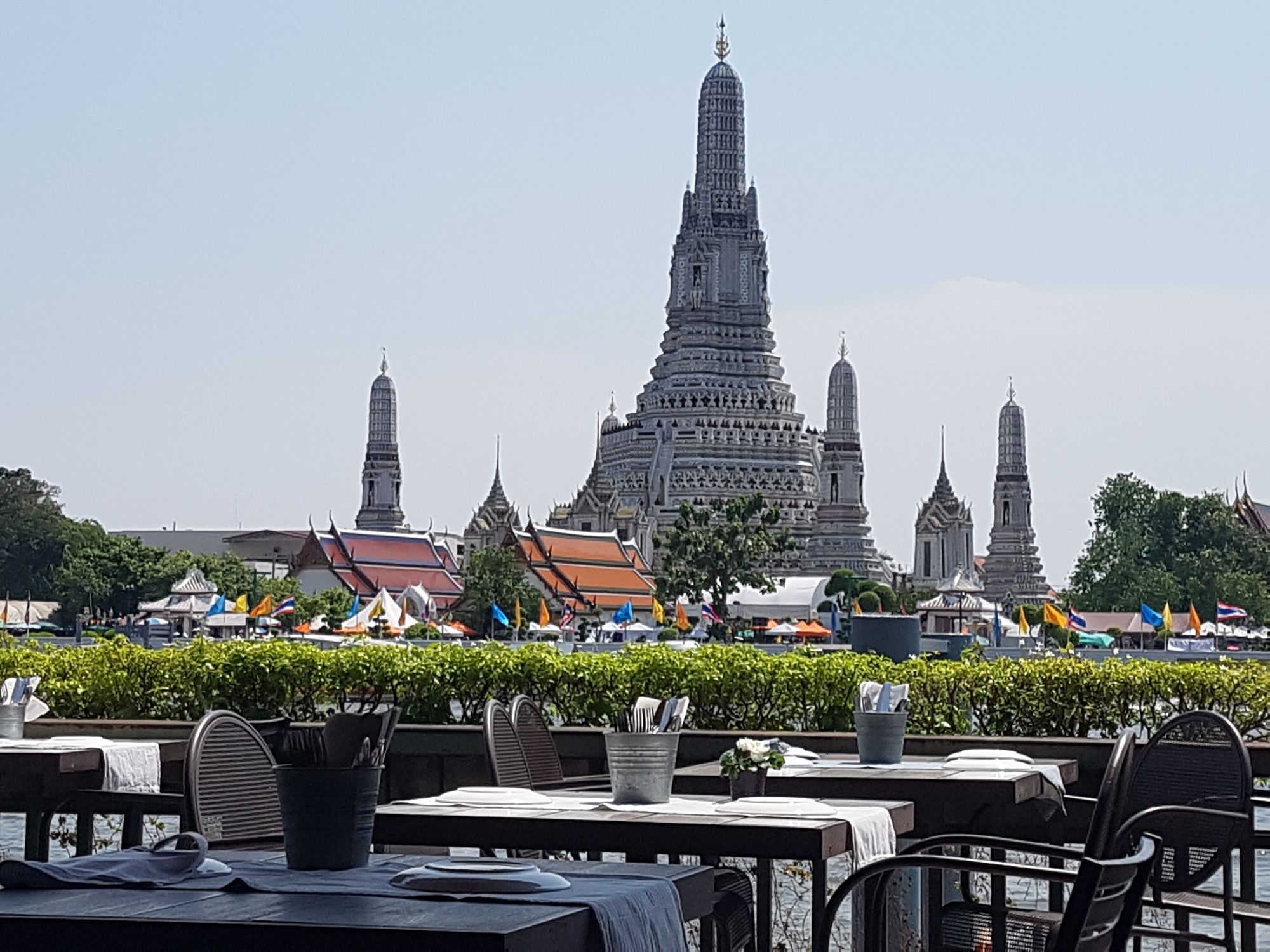 We grabbed a Grab to Chatuchak weekend market – its bloody huge and it was semi closed. I believe this market is the largest in South-East Asia and for my sanity I am quite glad it was semi-shut. So much stuff, catering to tourists and locals alike. And all the street food you could dream of including Octopus on a stick. There were even crocodile skins for sale (imagine that customs) and US relict and army gear. The Coconut Icecream was a must-try and garnished with all things deliciousness. I tried to catch up with a high-school friend here, but unfortunately our plans never eventuated – next time Doy!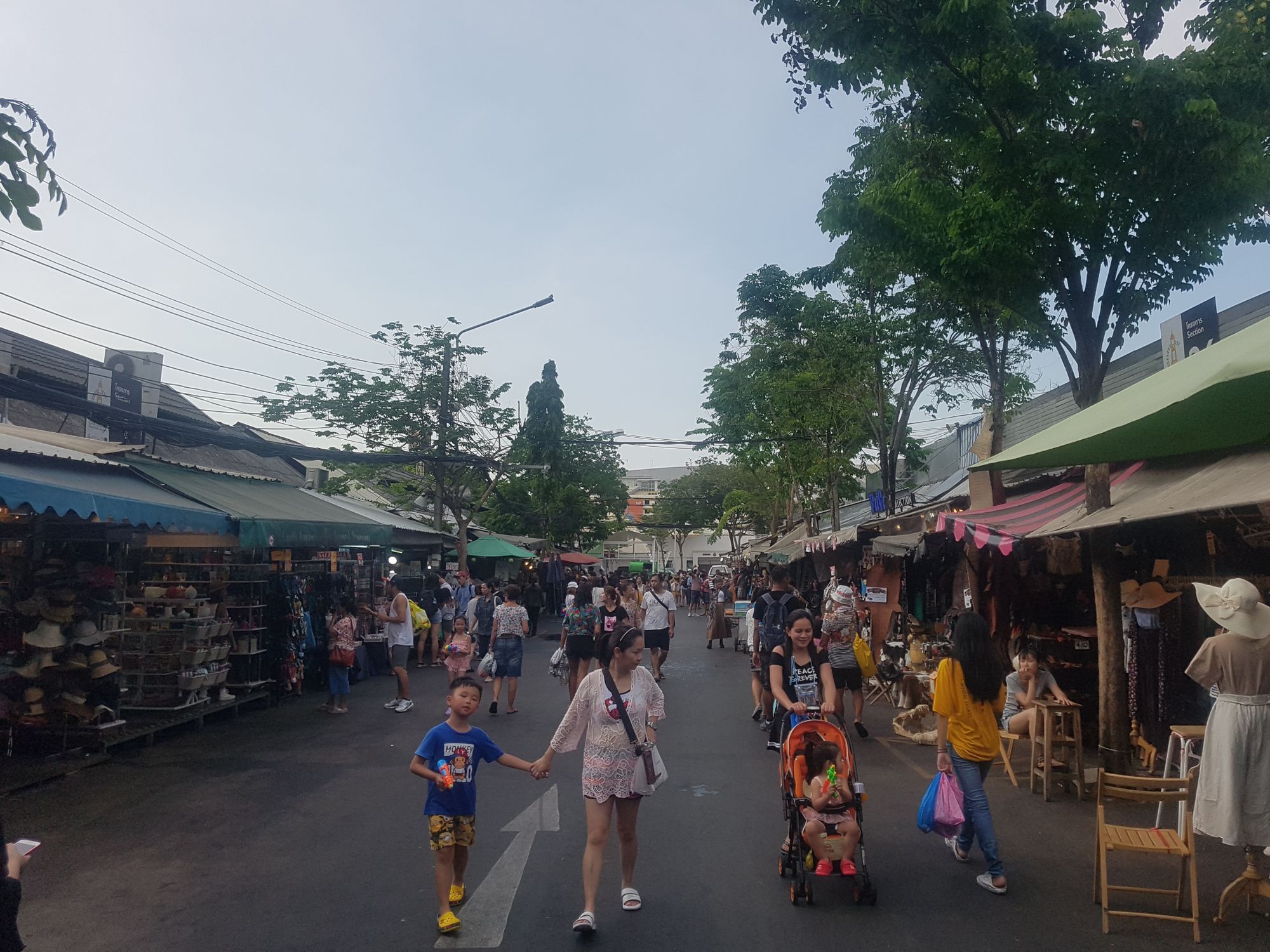 Next door there was a classic flea market, with an aeroplane in the centre? Bloody love markets. This market was called 'the Camp' and was rustic af. Complete with grungy clothes stores, antiques and pop-culture shirts on sale (I found a Beavis and Butthead one).
For dinner we went out to this beautiful Thai restaurant called Salathip, which is within the Shangri-La complex, across the Chao Phraya from the Millennium Hilton. 110%, it was an amazing experience, the food was delicious and the service was outstanding. The setting was lovely, situated within traditional Thai wooden houses with a nice ambiance. You get complimentary delicious lemongrass cold tea for starters. I had a yummy Yellow Vegetable curry and tried the local Mekhong Whisky – tasted more like a rum but was delicious none the less. We were also treated to some traditional Thai dancing as they made their way around the huts.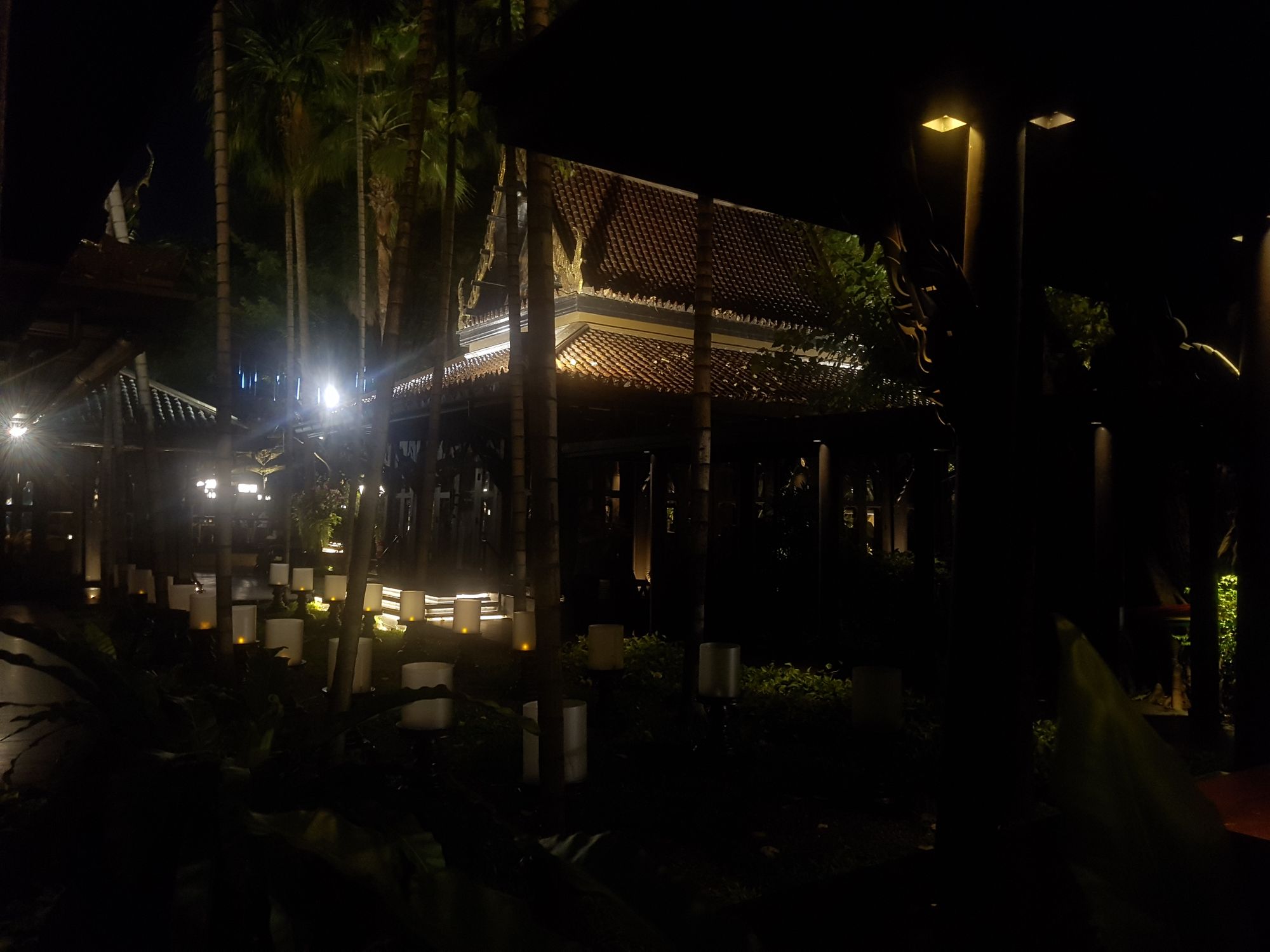 On our way to the Sky Bar at Lebua, we saw many bats and squirrels and the Chao Phraya was laden with catfish. The Sky Bar at Lebua was made famous in the movie The Hangover II. We came for the views not the price, be wary all. As we headed up the elevator the original Lebua building is derelict but the top is fancy AF. They tried to herd us into this rip off Pink Bar that only serves Champagne. At 3000THB for a glass – ah hell no! I only drink complimentary champagne – when it is for FREE not on choice. We politely said we weren't champagne drinker and we were here for the Sky Bar (like everyone else hahah…) and they finally sent us up. Staff in your face and no room for selfies with the skyline … gosh! The cocktails were lovely, but expect to pay in order of roughly $50 AUD for it. There is one drink called the Hangovertini – made for the cast that is a speciality, you should try if you like.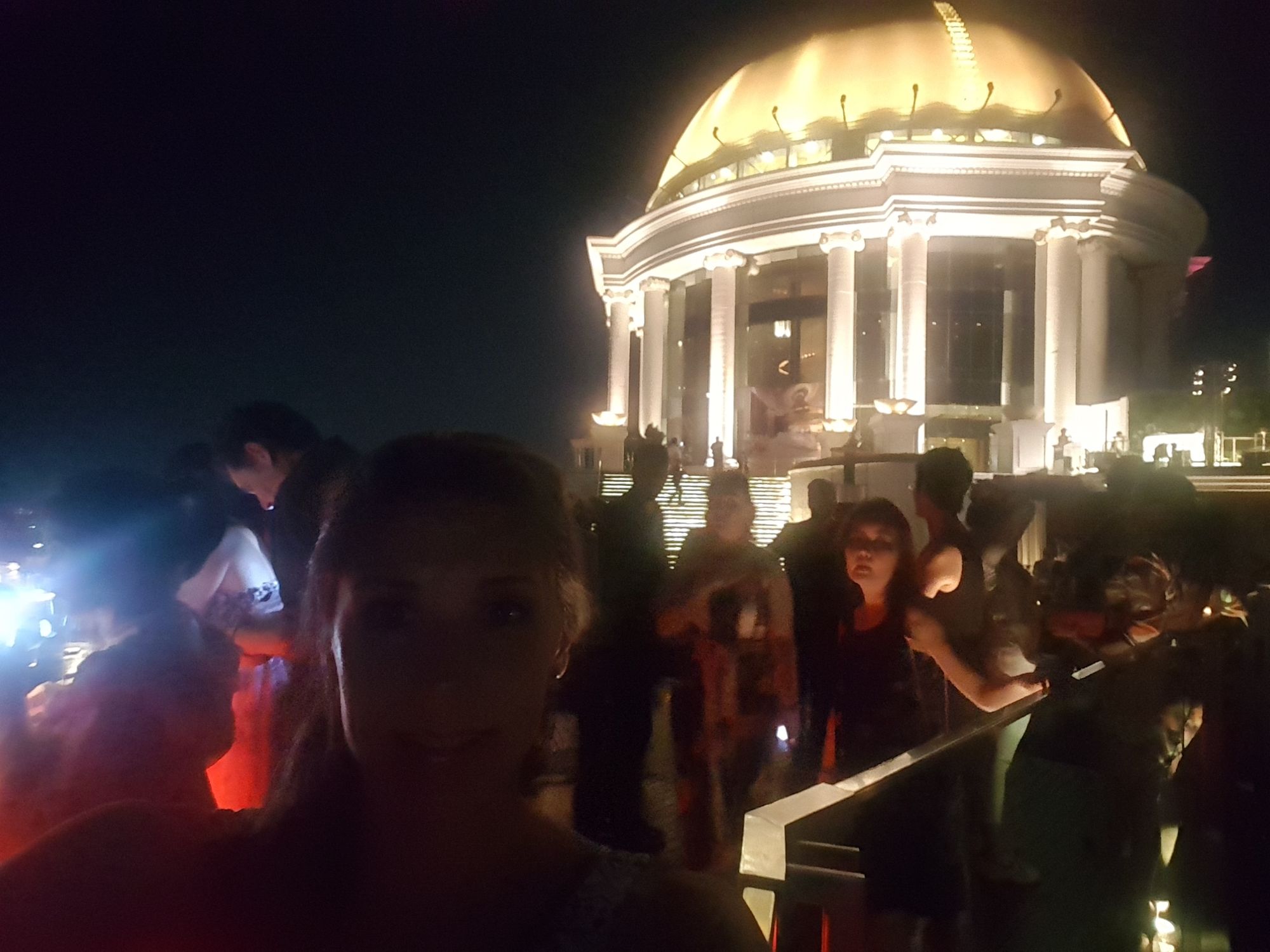 On the 15th of April, we booked in to do a tour to the Bridge Over the River Kwai. We were picked up at the Grand Eastin Sathorn Hotel, which was luckily only a short Grab ride away from the Millenium Hilton. The drive to Kanchanaburi was 2.5hours out of Bangkok, or 129km North West of Bangkok – in Australian standards this is nothing, but Asian traffic is something else. Our first stop in the town was at the Kanchanaburi War Cemetery (known locally as the Don-Rak War Cemetery) and is the main 'prisoner of war' cemetery for victims of Japanese imprisonment while building the Thai - Burma Railway. There are 6,982 POWs buried there, mostly Australian, British, and Dutch. Two graves contain the ashes of 300 men who were cremated. One of the men was from Bendigo, Victoria and had quite a touching story.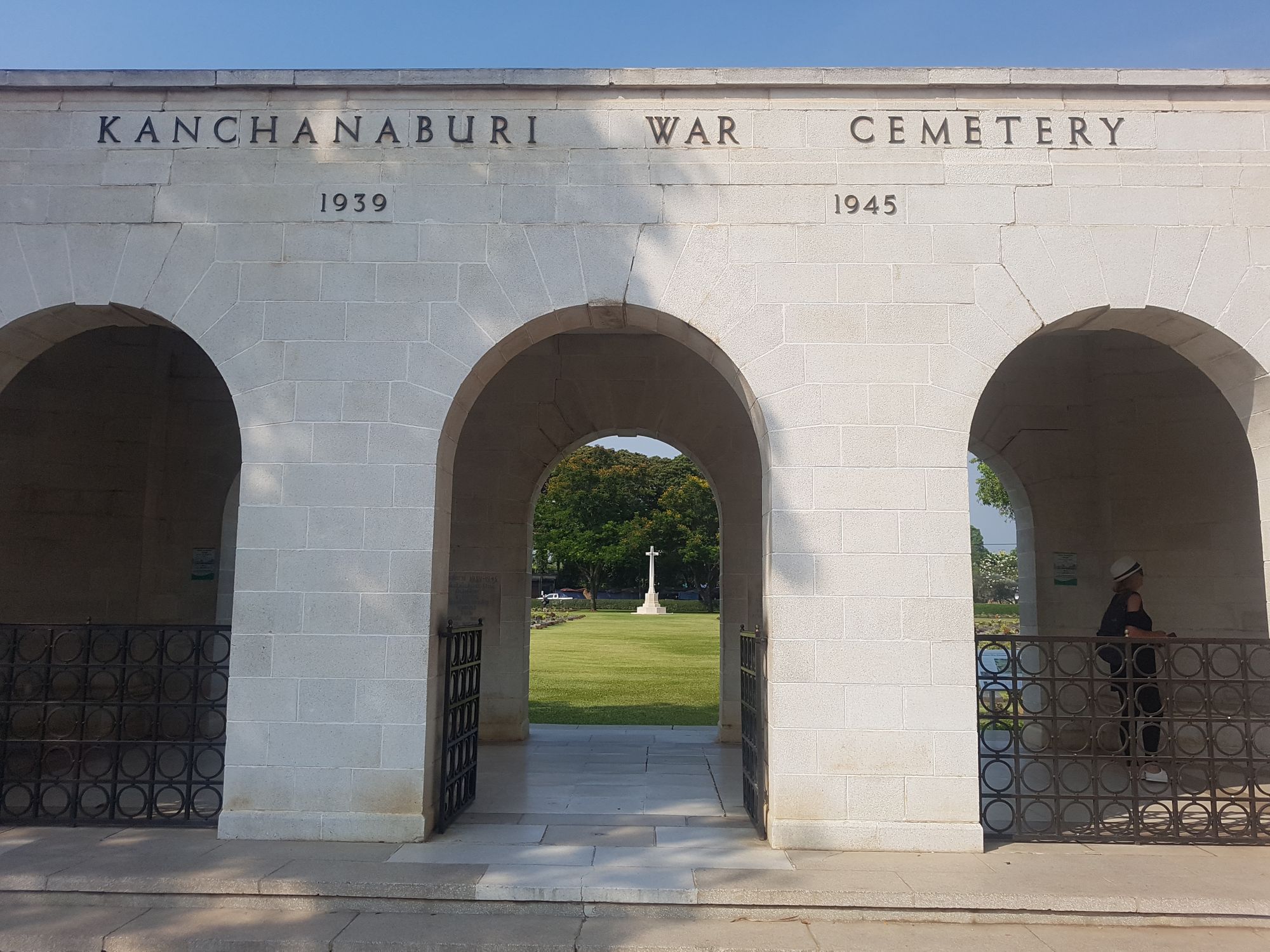 From there we headed down to the River Kwai, fed the fish, which are protected in this area. Before entering the JEATH War Museum. The JEATH (Japanese, English, Australian, Thai and Holland) War Museum was set-up by Takahashi Nagaste one of the guards of the labour camp during WWII. The JEATH museum is run by the monks of the adjacent Wat Chaichumphon. This small, open-air museum displays correspondence and artwork from former POWs involved in the building of the Death Railway. Their harsh living conditions are evident in the many photos on display alongside personal effects and war relics, including an unexploded Allied bomb dropped to destroy the bridge. One of the three galleries is built from bamboo in the style of the shelters (called attap) the POWs lived in.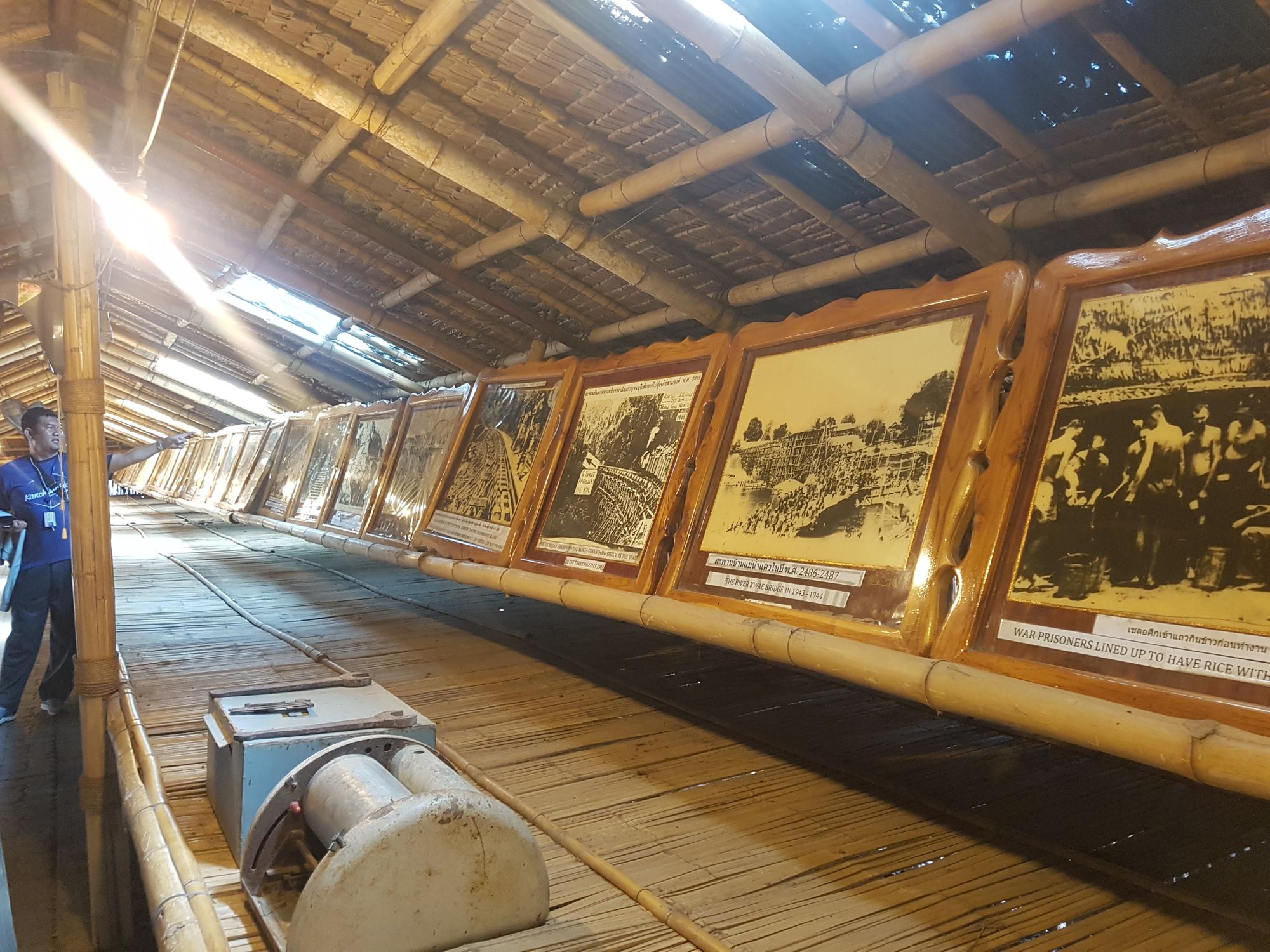 The River Kwai Bridge – was made famous by the largely fictitious story by Pierre Boulle, it is based on the building in 1942 of one of the railway bridges over the Mae Klong river—renamed Khwae Yai in the 1960s. During WWII the bridge was bombed in two sections by the Americans, these have been replaced by rectangular pieces provided by the Americans to retain a history of the area. The novel was adapted into a screen film in 1957, this was unfortunately not filmed at the site. But instead filmed in Srilanka, a more recent film the 'Railway Man' starring Colin Firth and Nicole Kidman depicts the true scenery of Kanchanaburi and the Bridge Over the River Kwai.

The Siam express comes once daily from Bangkok, leaving the city at 7.50am the train arrives at Kanchanaburi at 10.25am. You can continue on the train along the Death Railway to a point at Tham Kra Sae railway station, which overlooks the river and hugs the mountain range. The little town is littered with markets, and local Black Onyx - I saw a cool little blue coloured water dragon too. The Thai loved agglutinated rice cakes in all colours and I found out that dehydrated 'salty' banana chips are actually the bomb. At Tham Kra Sae – there was also a golden Buddha cave to explore, with beautiful flow stones and monuments everywhere.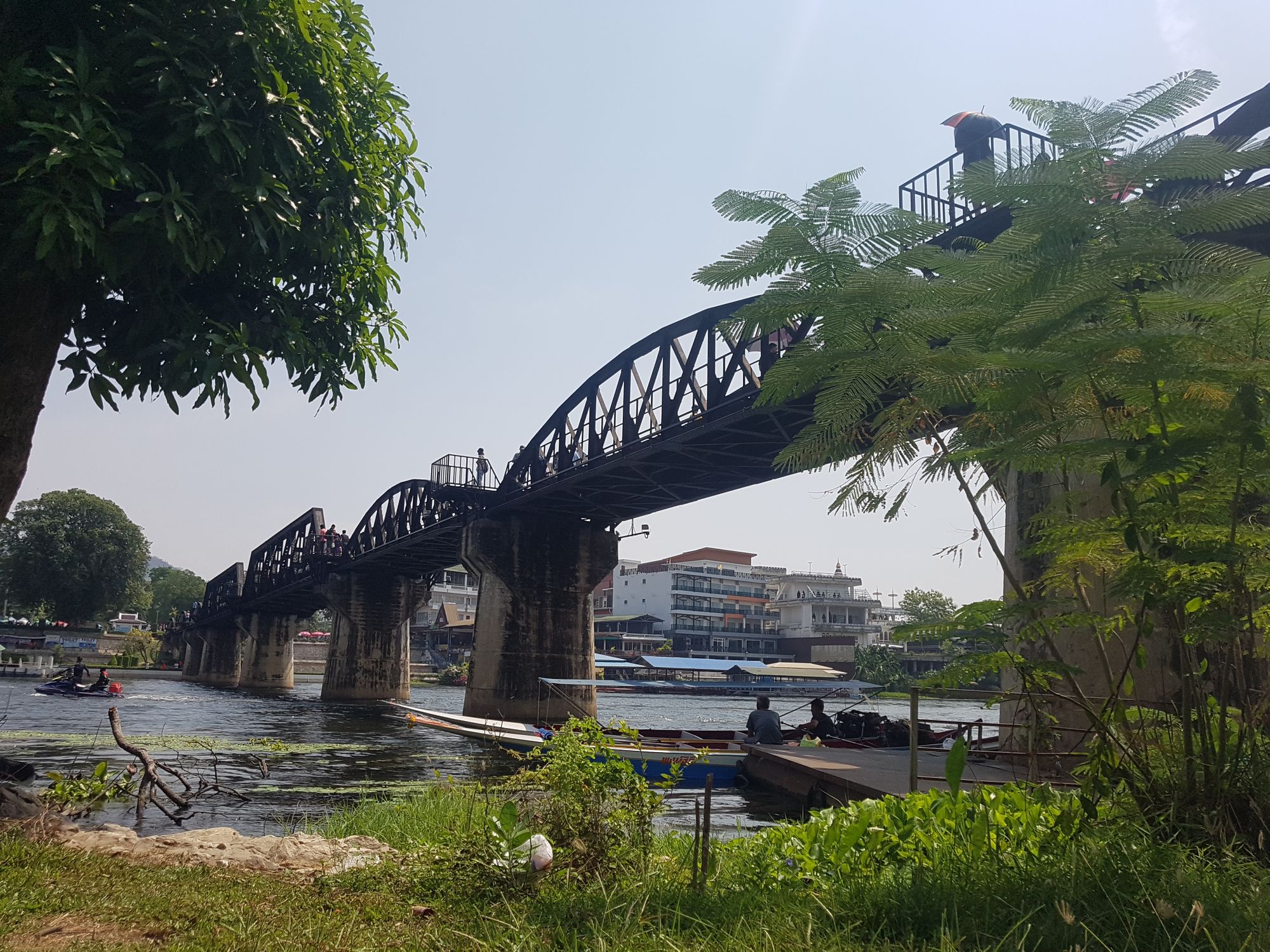 I feel like I am missing a lot of the history here - The Death Railway was in short a terrible time in Thailand's history – with the railway being hand-carved by the WWII prisoners of war and Asian slave laborers. The Japanese Army had taken over South East Asia during this time and accumulated thousands of skilled and healthy prisoners, these POW's were put to work on major projects including constructing a railway line between Thailand and Burma. The Border of these two countries is lined by a mountain range, so it was no easy feat. The concept behind this railway was to cut across the Burmese war front to aid the Japanese invasion of India – which was controlled by England and the allied forces. Originally called the Thailand-Burma Railway, it earned the nickname "Death Railway" because over one hundred thousand laborers died during its 16 month construction between 1942 and 1943. Once completed, it stretched 250 miles from Ban Pong, Thailand to Thanbuyuzayat, Burma. Miserable heat and monsoons plagued the laborers and POW's. The lack of hygiene, inadequate medical supplies, and regular beatings from Japanese and Korean guards made for abysmal working conditions. Most died from exhaustion, dysentery, infection, and malnutrition. POW's were eventually saved when Allied forces successfully raided the camps. The original plan commanded by the Japanese was to kill all Allied POW's in case of a raid, but the men were successfully rescued before any executions could take place.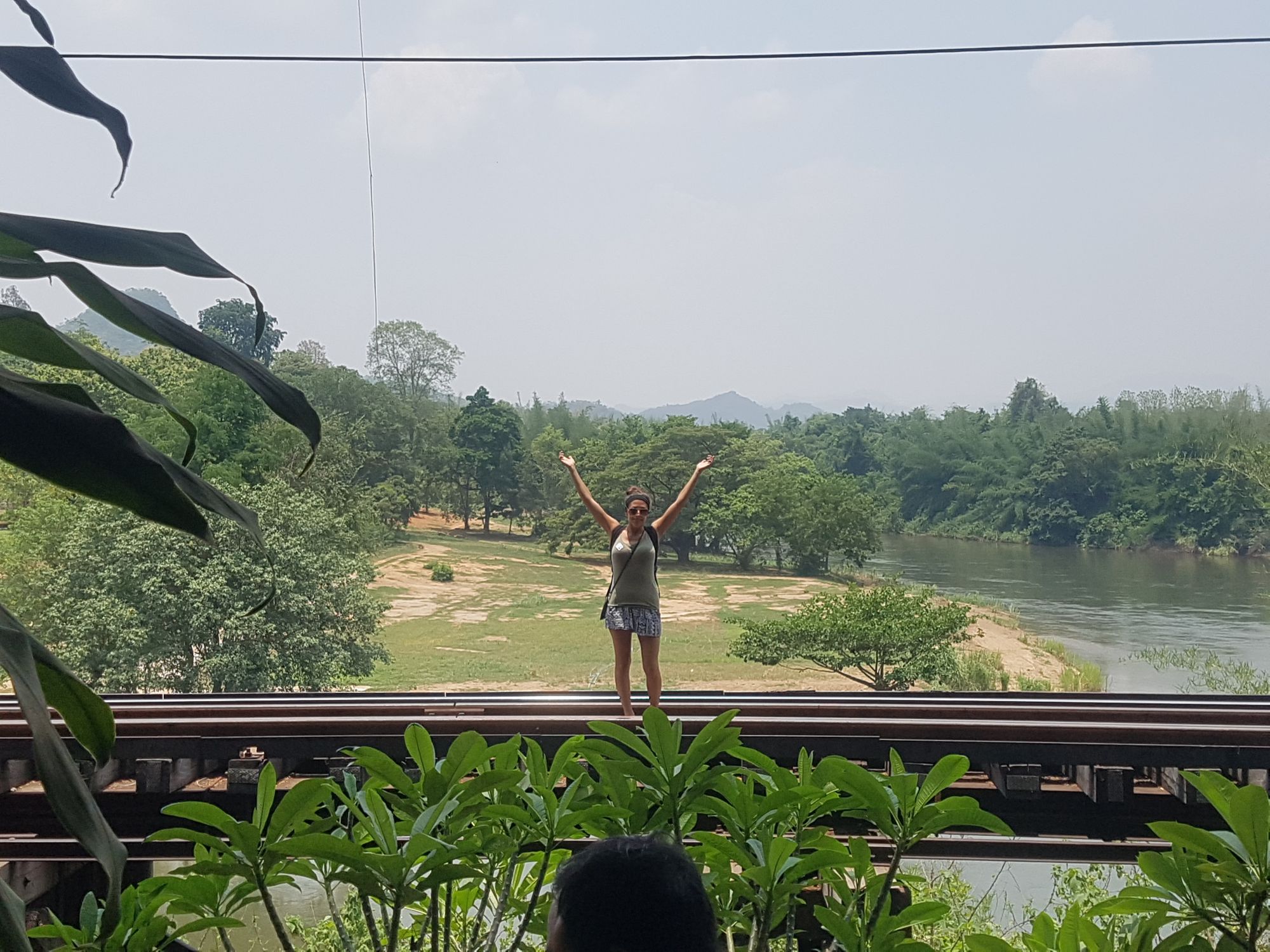 After having lunch at a road stop restaurant, I bought myself some Thai Pearly Tea (the Thai Tea was an instant obsession). Thai Tea is known locally as Cha Yen, and is black tea blended with tamarind, sometimes star anise and vanilla sugar. Served usually cold with either condensed milk or coconut milk.
When we got back to Bangkok, we looked around. There was this old and abandoned building that we had noticed during our stay. And on some research, we found that the Sathorn Unique Tower in downtown Bangkok dominates the skyline and is said by locals to be haunted. It's up there with the tallest buildings in Bangkok. The 47-storey building has been derelict since 1997 when the Thai economy crashed and the developer couldn't afford to continue work. It is a similar design to other completed apartment complexes within the city. What had been launched in 1990 with great plans to be a luxury apartment block with 600 homes in a rapidly-growing part of the city quickly became a feral eyesore. Since its abandonment, drug addicts, homeless and wild dogs soon moved in. Youths spraying graffiti on the walls came next. Followed by stories of ghosts. Fast-forward to now and the building still stands, condemned as an eyesore by locals but proving a draw for curious backpackers, urban explorers and travelers, not least for the stunning views from the top of the tower. Apparently you can tip off guards to be able to climb to the top. But we weren't that game…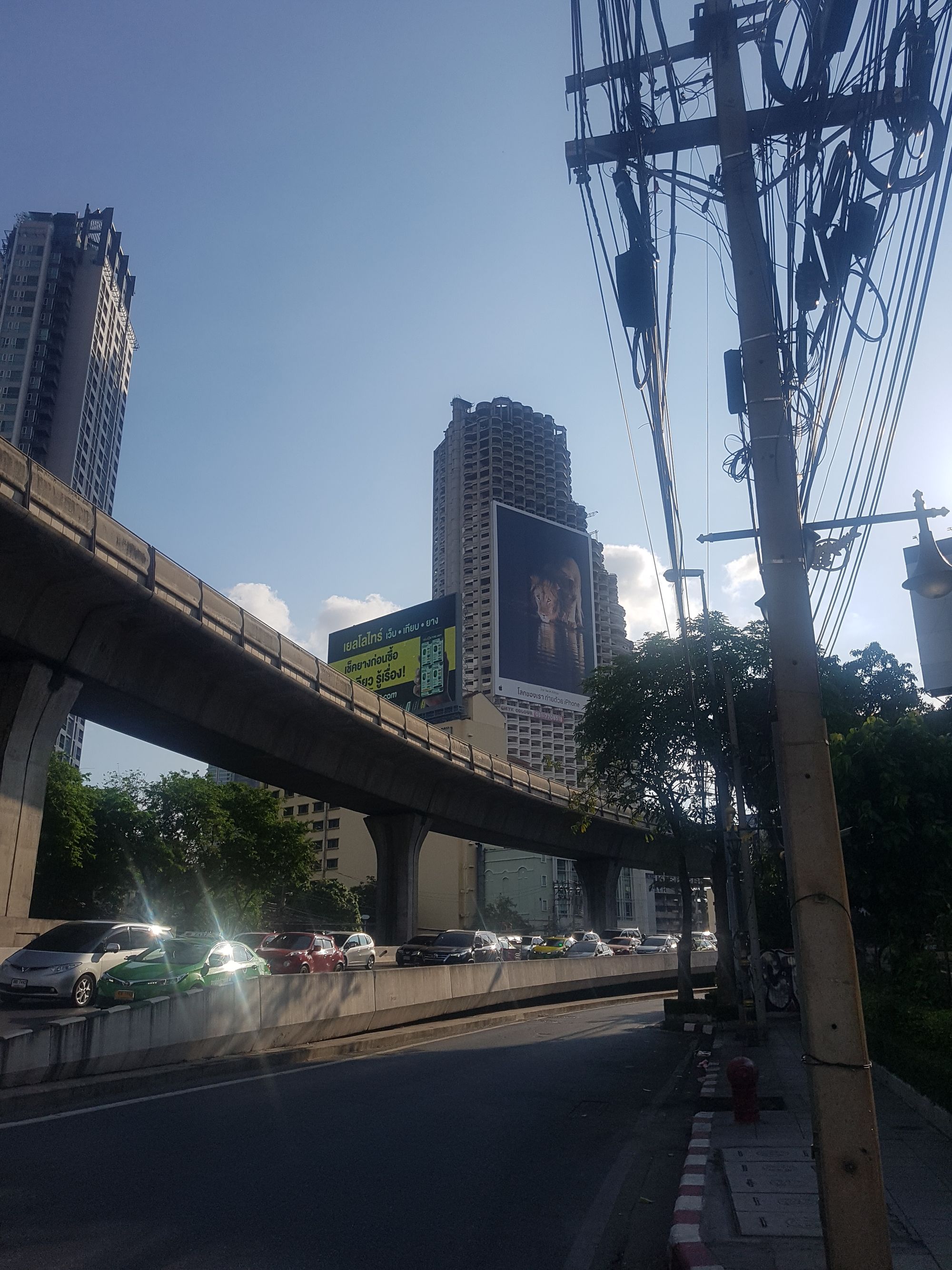 For dinner we caught the hotel shuttle boat to Asiatique.
Asiatique is a waterfront dining and shopping area that has combined both night bazaar, markets and a mall. This area of Bangkok opens from 5pm, we browsed the waterfront restaurants and happened across one that we believed catered to something that both Ben and I would like to eat. Wine I Love You, proved that regardless of a good menu, you should always check the ratings and reviews online. The service was appalling, the waitress walked off halfway through ordering, the meals took nearly 45minutes to arrive and it was just generally shit. Note to self: read reviews, a 2.4 rating on TripAdvisor clearly states something right? https://www.tripadvisor.com.au/Restaurant_Review-g293916-d13990319-Reviews-Wine_I_Love_You_Asiatique_The_Riverfront-Bangkok.html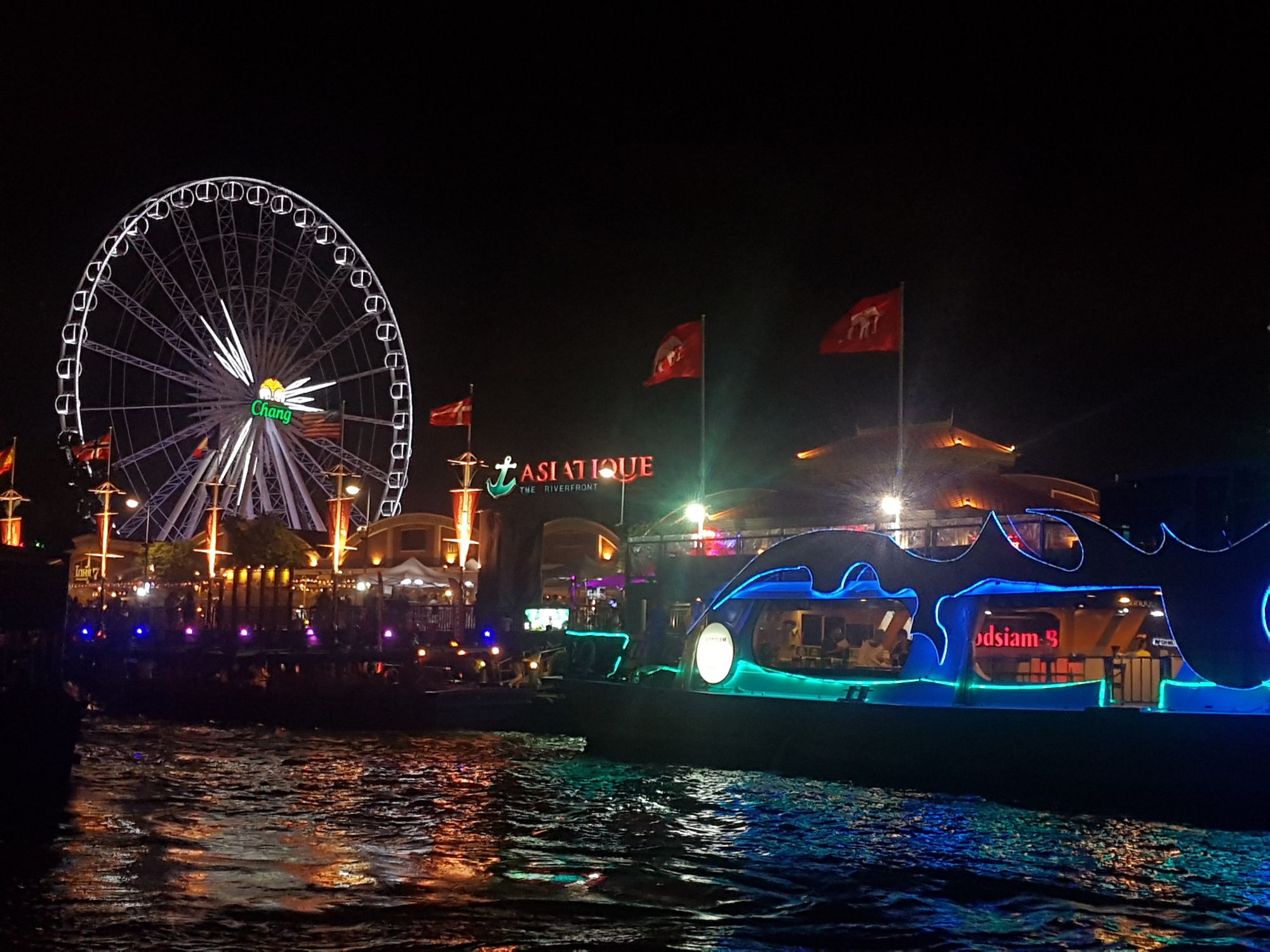 At the night markets at Asiatique I did come across my first Bugs stall and directly opposite was Bangcroc, a Crocodile on a spit roast displayed for all to see.
Welcome to Thailand – where snacking on bugs is culturally acceptable. Throw away your artificial bag of chips and preserved cookies, because marinated, deep-friend and crispy bugs are widely available and waiting to be your next snack! Sometimes edible insects are cooked within certain Thai dishes, but most of the time they are deep fried until reaching a complete state of crispiness, heavily salted, and eaten as a protein enriched snack. Many of the stalls have a wide-array of bug snacks to pick from including scorpions on a stick, water beetles, crickets, grasshoppers, grubs(fart), and little frogs. You can get items of each individually for 20THB, or a full mixed snack box for 100THB. I went the snack box of course – and took it upon myself to try one of each.
Crickets and grubs were nice, as too were the frogs. All of which just had the texture of crispy little morsels, but water-beetles I couldn't do. They were too hard and crunchy. But if you are into trying this stuff, it is definitely an experience.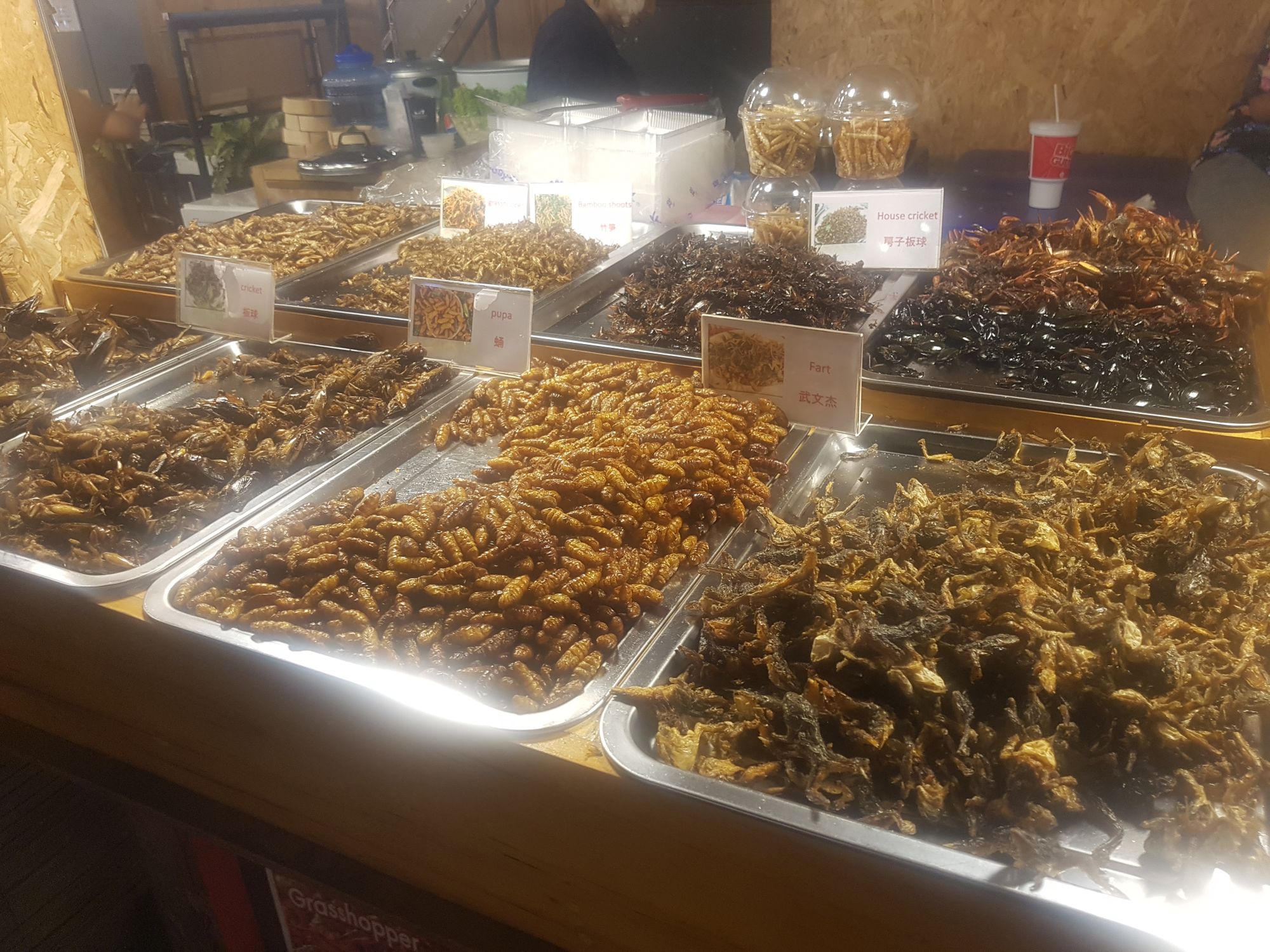 From Asiatique we caught a Grab to Nana Plaza.
Nana Plaza occupies a three-story commercial building in the Khlong Toei District of Bangkok and it is the self-described "world's largest adult playground". Along with Soi Cowboy and Patpong, Nana Plaza is one of Bangkok's three most concentrated red-light districts. Workers here run the multitude of go-go bars that make up Nana Plaza — and the go-go bars here have the reputation as some of the world's best. There are no restaurants here and no markets — save for a handful of street food carts that gather outside on Sukhumvit Soi 4 — instead just the three storeys of pink neon fantasy thrust gaudily upwards around the small central square. Scantily clad girls and lady boys tease and titillate, each vying for your attention (and custom). It goes without saying that prostitution and the suggestion of it is rife, and pretty much anything goes. There's no prejudice here, and that's a big part of the appeal for many of the tourists who come to taste the exotic delights on offer – including ping-pong shows (yes, not just an illusion created by Priscilla Queen of the Desert). Nana Plaza is a very popular spot with tourists of all nationalities and sexes, but most particularly with older white males. If you like people watching – check out the old guys with the beautiful young Asian females (not always) that could be their daughters (or sons).  Open air beer bars on the ground floor have pool tables, big screen TVs and inviting bar girls who are happy to join you if you buy them a drink – remember their drinks cost four times the amount, and they probably wont drink it anyways. There are a host of go-go dancers, coyote dancers, strippers, and other tantalising live shows. Many girls in the shows will make themselves available for 'extra' activities, and can be taken out of the bar after payment of a bar fee (the girl's time with a client is negotiated separately and is paid for in addition to the bar fee).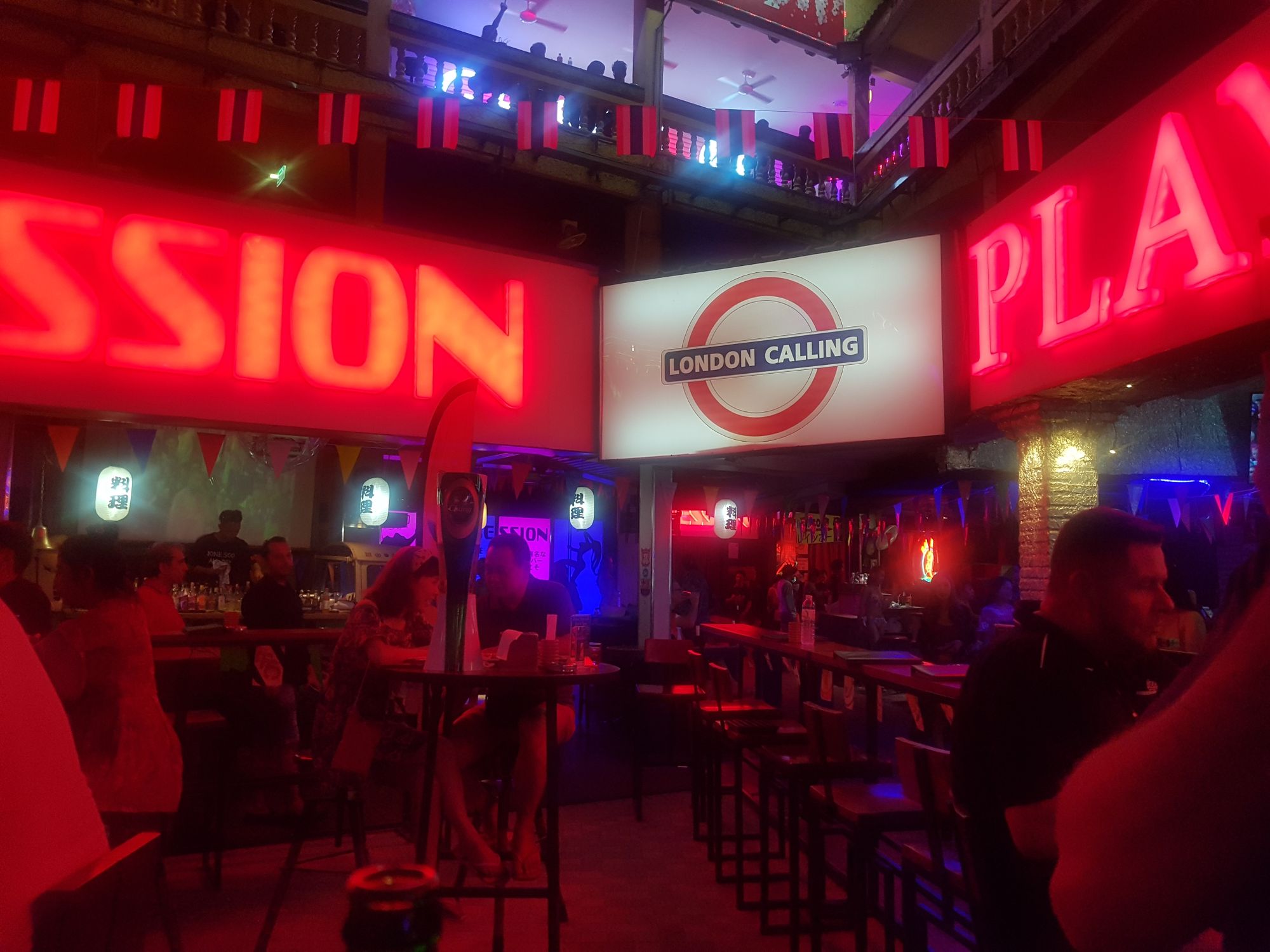 Ben avidly people-watched on the ground floor, and then led me into a bar of his choosing. The billboards were plastered with 'No Video, No Photo' and drinks were demanded to be bought at exorbitant to normal costs. It took me I think ten minutes to realise that one of the girls on stage was a LadyBoy from the hint of a potential package, but it took me even longer before I clued on to the fact that they all were 😐
On our last morning in Bangkok we went to this beautiful coffee place at IconSiam shopping centre called 'Dark'. The menu was amazing serving coffee in all ways imaginable. https://www.prestigeonline.com/th/people-events/people/dark-brings-diners-closer-art-latest-iconsiam-branch/. I had a delectable RiceBerry pudding with fresh fruits and berries.
IconSiam is a large shopping centre with mixed-use waterfront facilities. Its true, Asians love glam shopping and you'll find all your usual Prada and Gucci centres here. https://www.iconsiam.com/th
For lunch we went to the Jam Factory along the banks of the Chao Phraya, I found another craft beer to try. The Chawalan Pale Ale which is also a collaboration between the Australian Full Moon brewing and Thai breweries. I was also astonished at the menu items once more – including fried gourami (yes… the little fish), watermelon balls and plenty of other oddities.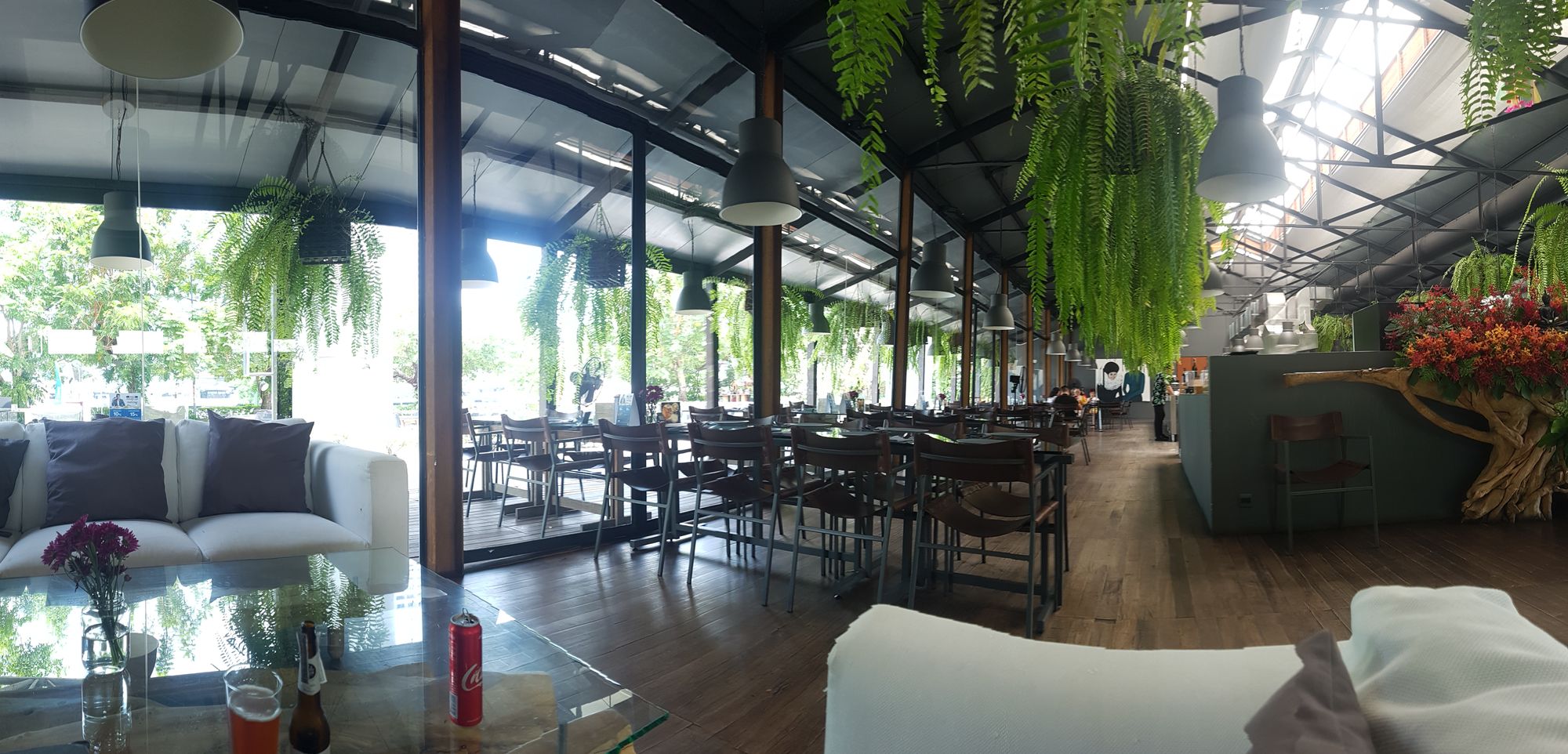 From here we caught a Grab back to Subharanbhumi airport to head to Phnom Penh in Cambodia. The Thai Silk service was again amazing – with complimentary 30minute massages at the lounge spa, we thoroughly enjoyed the luxury before boarding.
Some Fun Facts to take away from Bangkok -
Bangkok has the Longest name of any city. The ceremonial full name, which is shown below.
กรุงเทพมหานคร อมรรัตนโกสินทร์ มหินทรายุธยามหาดิลก ภพนพรัตน์ ราชธานีบุรีรมย์ อุดมราชนิเวศน์ มหาสถาน อมรพิมาน อวตารสถิต สักกะทัตติยะ วิษณุกรรมประสิทธิ์
In the official English language, this is certified as the longest place name in the world in the Guinness book of records. It's pronounced something like: Krung Thep Mahanakhon Amon Rattanakosin Mahinthara Ayuthaya Mahadilok Phop Noppharat Ratchathani Burirom Udomratchaniwet Mahasathan Amon Piman Awatan Sathit Sakkathattiya Witsanukam Prasit
Which is just shortened to Krung Thep – the 'City of Angels'.
Everyone is always carrying an Umbrella. Not for rain but for shade – you will get eyes gouged out, be careful!
Candy cabs – just like their shuttle boats on the Chao Phraya there are a variety of different coloured taxi's. And everyone will argue as to which are the best – you decide?
Local Bangkokians are King Loving – and there are pictures and posters everywhere depicting their royal deity.
Thailand is Gender neutral and often host 3 types of bathrooms – Male, Female and Transgender. Everyone knows how open they are about LadyBoys, who are sometimes treated as their own unique gender within Thai society.
Cash is king, carry Thai Baht wherever you go!
Chao Phraya is to Bangkok as the Thames is to London.
Convenient stores are everywhere, and ATMS and temples are on every corner/street. The city is super convenient.
Soi = lane
22 THB – 1 AUD
Thailand is the creator of the carbonated caffeine beverage known as RedBull or Krating Daeng. The Western version of the drink is often sold side-by-side with the Thai version, which is a syrup with about three times the caffeine content of the version we know. Try it – it really does give you wings!
Thailand is the only South East Asian country to have never been colonised by Europeans. The British, French and Dutch never claimed it. And there was always a monarch in power.