Australian West Coast Explorer

Late last year my Dad was talking to me about doing another APT tour (he's done two previously), but that Mum didn't want to go with him.
I got him to go through the itinerary further, and it covered all of my bucket list items for the Australian West Coast.
I was very reluctant at first, because the tour was with APT (notoriously known for older people's touring) and because of the $6800 price tag attached to it. Here's a link for the quick itinerary - http://www.aptouring.com.au/trips/australia/wa/gowf13r
My concerns were soon negated, after the tour started. Alas, my Dad and I were definitely the youngest on tour, by a long shot in my case. But, the quality of the accommodation, meals, other included items and our tour guide, Vaughan were exceptional.
Here's a quick diary format of my West Coast Explorer tour:
August 14th -
Straight after work, I dropped my car to my friend and hitched a ride to Kalgoorlie Airport to board the 6.30 Virgin Airlines flight to Perth. Upon arriving in Perth, I used the Uber taxi service for the first time to get a ride to my friends place - Bre & Jess', thankyou again for your hospitality girls!
August 15th -
My second Uber experience dropped me back at the airport, where I had a dome coffee and met with my Dad when his flight landed from Melbourne. We then boarded separate flights, I was with Virgin Airlines and Dad flew with Qantas, 10mins in time difference and arrived in Broome again 10 minutes apart. We stayed at the Oaks Cable Beach, and had a nice relaxing afternoon with numerous beverages at Zanders Beach Bar for sunset, watching the camels ride past. Dinner was at Out of the Blue, I had the vegetarian pasta in preparation for the next 13 days of food engorgement.
August 16th -
5am wake up for the Horizontal Falls Tour, this was near #1 on my bucket list. The tour began with hotel pick-ups and a seaplane out to a pontoon. The flight was amazing, the King Leopold Ranges and Dampier Peninsula were awe-inspiring, particularly as we flew down into the Bay to land. At times I thought we were so close to trees that we would crash haha.
The pontoon iteself had Tawny Nurse sharks swimming around it, and we were treated to a Bacon & Egg brekkie (or BAE to me). The group were then shuttled into a speed boat for the trip up to and through the Horizontal Falls- my $6800 was spent here! This tour made my entire trip, before the trip had even begun! After this we had a short boat ride up to Cyclone Creek, and I was inspired by the King Leopold Sandstone cliffs. We also got to swim and feed the Tawny Nurse Sharks, which were definitely longer than I am tall (~3m). On the seaplane out we flew back over Cape Leveque, and the Willie Creek Pearl Farm.
For a bit of arvo fun, we caught the Cable Beach Resort shuttle bus into town to see the imfamous Matsos Brewery - for a round of tasters plus a few. Still incomparable to my local Beaten Track Brewery.
The day was topped off with a visit to the Willie Creek Pearl shop for an impromptu birthday present for my best friend Raja, and the necessary shop for my Dad to buy something suitable for Mum. That night we had the Meet & Greet at Cable Beach Resort with the tour group.
August 17th -
Such a big big day! We had a smoko at a 24 hr truck stop, and lunch at 80 Mile Beach, with lots and lots of driving in between. We arrived in Port Hedland at about 5pm, and stopped by the salt pans for some necessary photography, followed by a brief town drive around then onto The Esplanade hotel. I was lucky enough to catch up with some great friends from Kalgoorlie, who had only moved to Port Hedland in April - John & Nat.
August 18th -
We set off from Port Hedland promptly and onwards to Millstream-Chichester NP. Our first stop for smoko was at Python pool- a beautiful pool with a waterfall over Proterozoic age basalt cliffs. We then visited the Millstream station, and wandered around the gardens, which had a picturesque little creek with perfectly clear water in it. Lunch was spent on the banks of the Millstream river, where a few of us took the liberty of a quick dip before setting out to a lookout over the Chichester Ranges. In the late arvo, we arrived at Hammersley Gorge (Bucket List #2) for an icey swim and enough time for me to indulge in the beauty of the Banded Iron Formations of the Pilbara. Our night was spent at Karijini Eco-retreat glamping (never have I ever seen a tent so glamorous)
August 19th -
I was awoken by a chorus of bird song - one of the things I absolutely love about camping. By this point in our trip, I was already known as 'Tour Guide in Training' so I provided a brief spiel about the formation of Banded Iron Formations and their relationship (along with stromatolites) in the oxygenation of Earth's early atmosphere. Our first stop was at Fern Pool, Dales Gorge and Fortesque Falls, had to have a complimentary swim, the water was so refreshing. Then on to the tourist centre for a brief visit - I scored myself a short book 'Geology for everyone: Western Australia's National Parks' so stoked. Next stop was Weano Gorge and an amazing walk through a chasm to Handrail Pool, which far exceeds the expectations set out by its name. So bloody beautiful!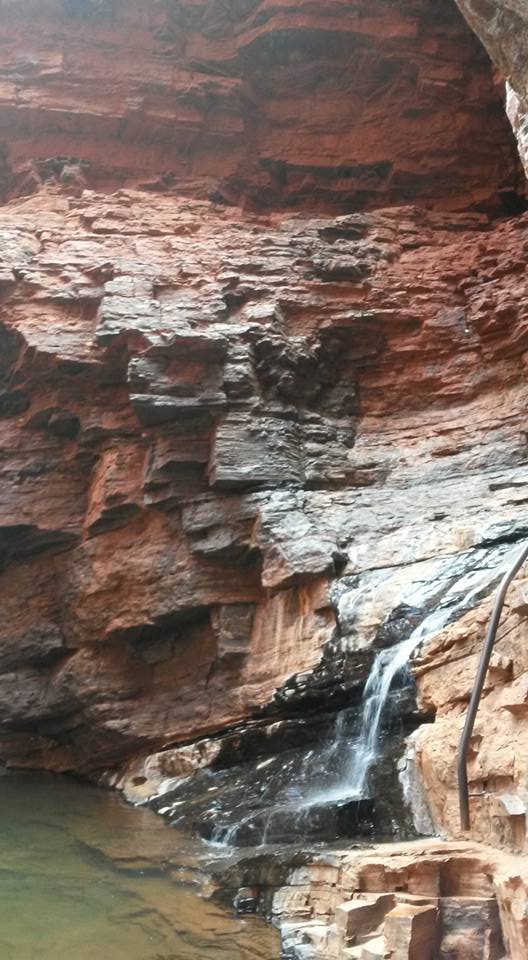 Third gorge of the day was Hancock Gorge,then to Kalamina Gorge, which had an amazing 270 degree waterfall over layers of Ironstone - in awe! Fifth and final gorge of the day was Joffre Gorge - Dad and I crossed the creek for a stroll back to camp, via regenerating bushland. Karijini National Park is a must see, and exceeded my wildest dreams. We glamped once more at Karijini Eco-retreat.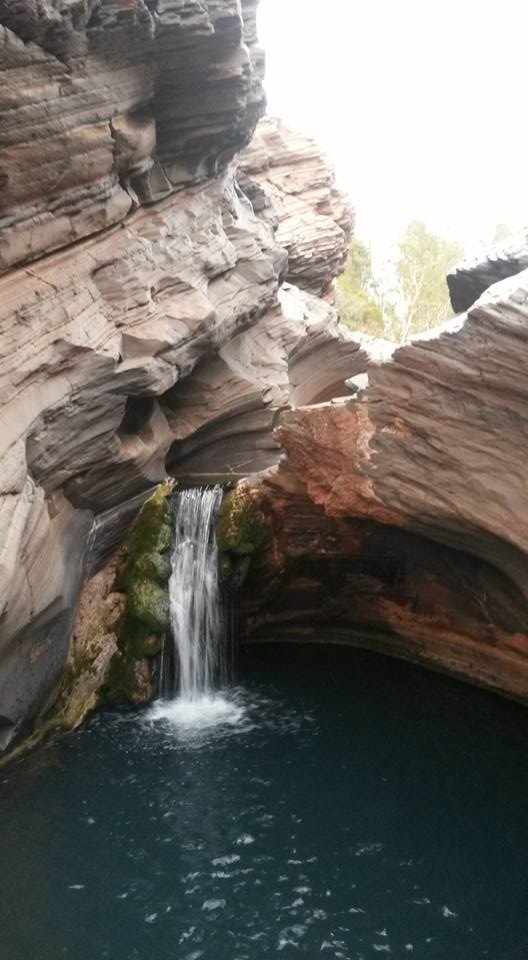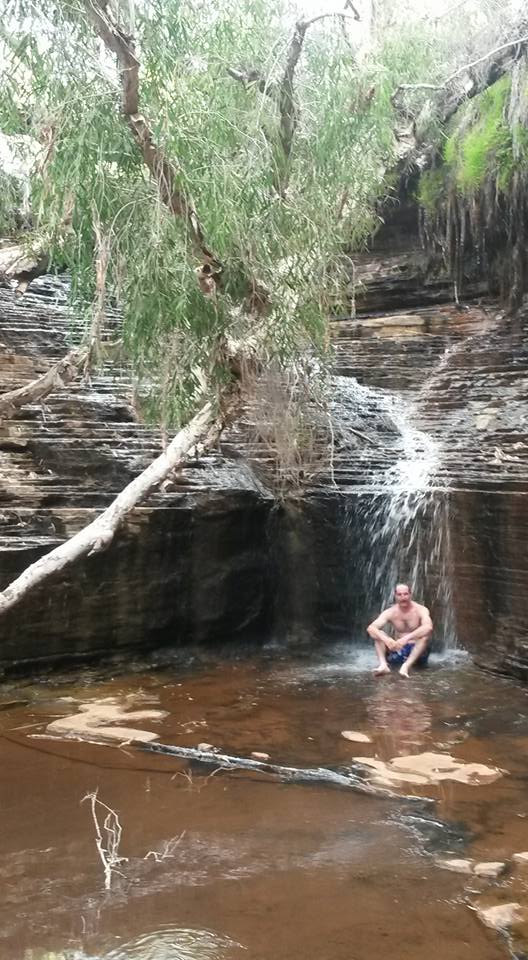 August 20th -
After a quick 200km sprint in the 4WD bus, we arrived in Tom Price mining township for a mine tour of Mt Tom Price. Lets just say that I was suitably unimpressed because I work in the Superpit at Kalgoorlie, but for all the others on tour - they couldn't get over the size of the pit or the equipment that work in it. Smoko was at Beasley River camp, where we were accompanied by Rocky the friendly three legged dog. This night we stayed at the Novotel Exmouth.
August 21st -
The morning was spent snorkelling at Turquoise Bay, in the Ningaloo Marine Park/Cape Range NP. The range of coral, fish and wildlife was spectacular. I even managed a glimpse of a Loggerhead Sea Turtle, before the creature was startled by the rest of our group. I was in awe at how close the reef system is to the actual coastline - literally a short swim out (~10-20m) instead of a 30minute boat ride out to the Great Barrier Reef on the east-coast. Our next stop was at Yardie Creek for a boat cruise up the gorge. The limestone cliffs were home to a localised species of Rock Wallaby, we managed to spot a few and they showed us just how nimble they can be hopping around near vertical rock-faces. Most of the wallabies we saw, sit in a yoga-like pose in crevices sunning themselves - rather cute!


In the afternoon we visited Vlaming lighthouse - named after a Dutch sailor and went down to the beach to view the Mildura Shipwreck. At the beach we saw whales at distance, and took a moment to watch them frollick in the bay. I also took a moment to collect some fossils from the rock pools. We stopped in Exmouth for a quick shop, before three of us decided to continue to Rough Range Canyon for some sunset photography. I was surprised that such a deep canyon could rise so suddenly out of a seemingly endless plain. Whilst here, we read a sign that stated that the site was the first discovery of oil on mainland Australia - fitting as the Carnavon Basin is located just offshore. We stayed once more at the Novotel hotel. Which is superb and definitely worth its weight in ratings.
August 22nd -
We made for an early departure and arrived sound in Coral Bay for smoko, and some more snorkelling/ swimming on the reef. The variety of coral here, was even more vast than at Turquoise Bay. The group aboarded a glass bottom boat for a tour of the reef by some local guides. We saw a range of coral, clams, and so many fish.


Our next stop was in Carnavon, we visited the banana crops and the UHF satellite. That afternoon I took to the leisure of strolling down the recently renovated Fascine to the Carnavon Pub to watch some AFL and get some guiness brews for Happy Hour. This night we stayed at the Best Western Carnavon.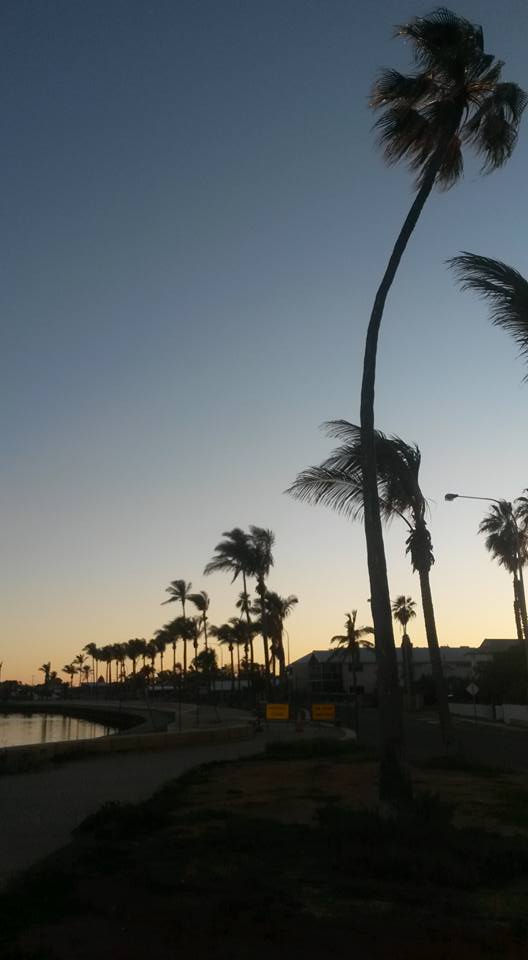 August 23rd -
Our first quick stop for the day was at One Mile Jetty, I took the initiative to do a little bit of exercise and ran the jetty up and back (at least I can say I was the only one to make it to the end haha). I completed the two mile in just under 10 min, I was suitably impressed with myself after all the food and drinks I had been consuming.


We made it to Hamelin Pool for smoko, and visited the Telegraph Station for a lesson in the local history, and an introduction to Stromatolites.
Stromatolites are essentially living rocks, and are some of the oldest forms of life on Earth. They were prevalent during the Proterozoic and played a major part in the oxygenation of the atmosphere that we now breathe today. I spent at least an hour gazing in awe at these wonders and even managed to grab a sample of a fossilized stromatolite- naughty naughty.
Our next stop was at Shell Beach (lives up to its name) and a viewing of the Feral Fence - which has done a spectacular job at keeping Francois-Peron NP feral animal free. We stopped at the lookout at Eagle Bluff for a view out over Freycinet Bay, we hoped to spot some wildlife but none was about. A group of us enjoyed Happy Hour at the Monkey Mia Resort Bar and watched dolphins playing on beach at sunset.
August 24th -
After breakfast, our group strolled down to the beach to feed the dolphins. Two doplhin family groups were present, and at least ~10 dolphins showed up for a visit. At 10am Dad and I boarded a boat for a Blue Lagoon Pearl Farm Tour. Aboard the pontoon we learnt about seeding and harvesting pearls, and got to taste some fresh oyster right out of the shell. The Blue Lagoon company, are the first company to seed the oysters with Gold Nuggets and Australian Boulder Opals, I bought myself a little keepsake pendant.


At lunchtime we boarded another boat for a Wildlife Cruise, we managed to spot some dolphins, a shark, turtles and even a Dugong. I was so excited to see a Dugong in the wild, as I never even managed to see one even at Tangalooma Resort off of the coast of Brisbane. I boarded yet another boat, the Shotover Catamaran at 5pm for a sunset cruise, I managed to drink a whole bottle of wine and was suitably set for the night ahead. That night at the Monkey Mia Resort we were treated to a Seafood feast, I tried oysters both ways, and mussels for the first time ever! The Coffin Bay oysters were delicious, as were the Exmouth Prawns - Yummo!
August 25th -
Our first stop was in Denham to view the Shell-brick Church and Pub. We also stopped for a gander at the HMAS Batavia monument. Smoko was a brief stop at the Overlander Roadhouse, before we got on a dirt track to head out to Wooleen Station. We picked a spot on the side of the road for lunch, wildflowers galore. The ground was awash with all the colours of the rainbow, and a lot of the group took the liberty to take many many photos.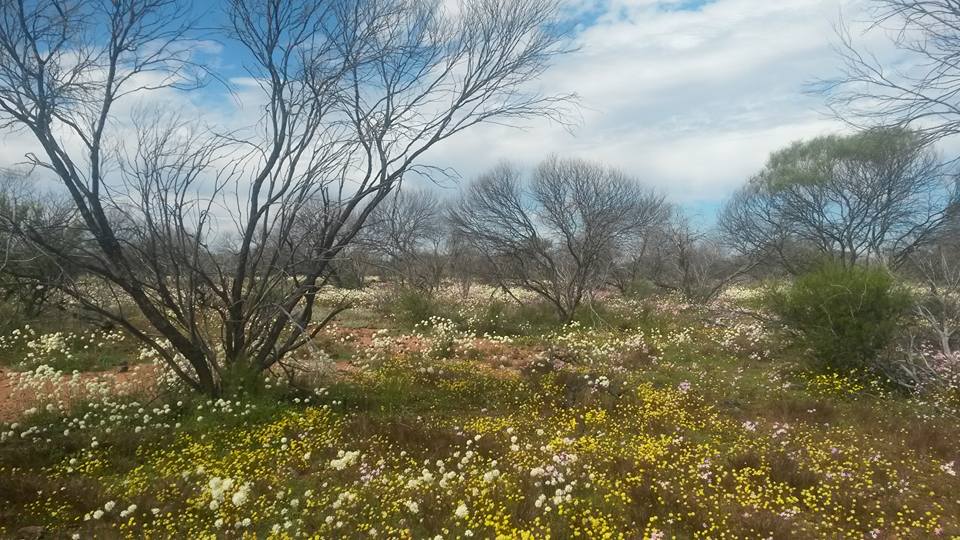 We arrived at Wooleen Station at about 4pm, in time for a quick tour of the Station. We visited the station dam and learnt about the revegetation/ destocking of the station from Dave Pollock & Frances Jones, who's hospitality was beyond exceptional.
We finished the tour with wine, cheese, olives and crackers a top a granite tor to watch the sunset.
But wait, the absolute last thing we did was visit Dave & Co's famed graveyard/ treasure trove - a collection of used everything's.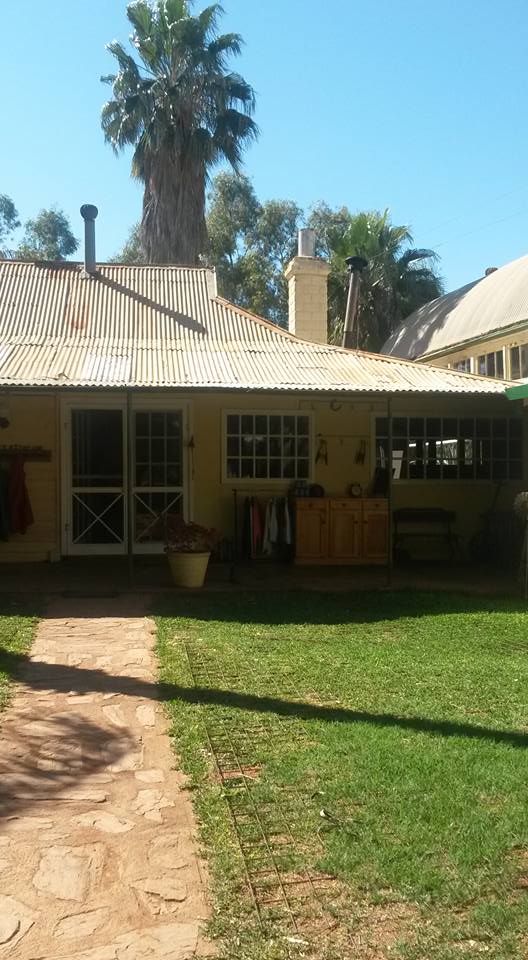 August 26th -
The overnight stay at Wooleen station was superb, we were treated to self-guided nature walks and a tour of the station museum. David even provided us with a personalised wilflower tour of Wooleen Station - I was wild-flowered out by this point in time.


By the late arvo we arrived in Kalbarri NP, and visited the Hawks Head lookout, I managed an extra hours long walk to a lookout over the ocean and to Chinaman's Point. The road to Natures Window was unfortunately closed, but I will definitely make a trip back up this way for it and the sea scorpion trackways. This night we stayed at Kalbarri Edge
August 27th -
We all set off relatively early in the morning. Stopping at Geraldton for smoko, and to view the HMAS Monument. We had lunch at Jurien Bay watching parachuters landing after 'Jumping the Beach'. Our afternoon was spent near Cervantes at the famed 'Pinacles' in Nambung NP. There is much geological debate as to the formation of these lime mounds, still no conclusion has been drawn. My only conclusion is that these structures stand eerily amongst the dunes, and provide great photo opportunities at certain times of the day. Some of the others on the tour took some great piccies of Galahs perched on the Pinacles.
After Nambung NP, we sped off to Perth to conclude what had been a magnificent 13 days of travelling the West Coast of Australia. We ended the trip with a luxury stay at the Hyatt Perth
August 28th -
Early morning for me, I had to jump on the Prospector train for a grueling 7 hour ride back to Kalvegas. Needless to say I was relieved to be home, but definitely not looking forward to starting work the following day
"A journey of a lifetime begins with a few simple steps"
If anyone would like anymore info in regards to the tours I went on, feel free to email me at - sarahdyer234@live.com.au
Love, peace & happy travelling xx
http://horizontalfallsadventures.com.au/
https://en.wikipedia.org/wiki/Millstream-Chichester_National_Park
https://en.wikipedia.org/wiki/Karijini_National_Park
http://marineparks.dpaw.wa.gov.au/dive-in-to-marine-parks/21-ningaloo-marine-park.html
https://en.wikipedia.org/wiki/Cape_Range_National_Park
http://parks.dpaw.wa.gov.au/park/francois-peron
https://en.wikipedia.org/wiki/Wooleen_Station
https://en.wikipedia.org/wiki/Kalbarri_National_Park
https://en.wikipedia.org/wiki/Nambung_National_Park