Top 10 Western Victoria Bushwalks
Grampians National Park (Gariwerd)###
There are plenty of top-notch walks to do within this National Park.
Campgrounds include, Boreang, Borough Huts, Buandik, Jimmy Creek, and Kalymna Falls. All of which include basic amenities, shared fireplaces, non-flush toilets, and some picnic tables. Overnight remote hiking campgrounds include - Bugiga Hikers Camp, and the First Wannon Remote campground.
Day Walks include MacKenzie Falls, Boroka Lookout, Reeds Lookout and the Balconies, Mt Zero, and Beehive Falls.
The Grand Canyon and the Harrop Track include overnight components and should only be attempted by fit and energetic walkers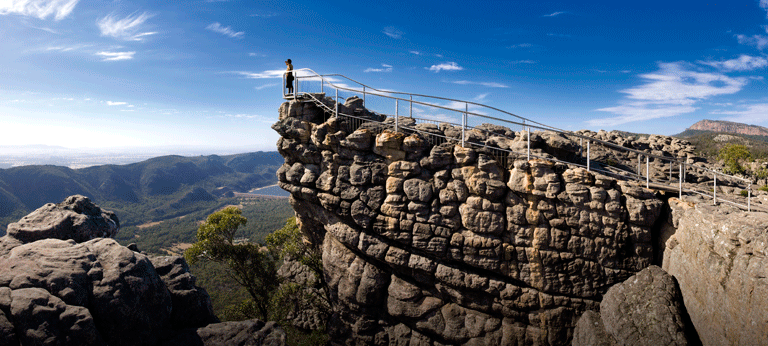 Erskine Falls, Lorne###
The Erskine Falls can be located at the end of the Erskine Falls Rd, 10km north of the township of Lorne.
There is a viewing point near the carpark, and then a walking track (which is relatively steep) leading down to the base of the falls. These falls have been formed by one of the steepest drops in elevation within the Otway Ranges
Great Ocean Walk###
This long distance walk (upto 100km) runs alongside coastal Western Victoria's most scenic drive - The Great Ocean Road. This track starts near Apollo Bay, and finishes near the 12 Apostles, Pricetown.
Advance bookings, and payments are required all year round for this beauty. I've personally done the track between Apollo Bay, to the Cape Otway Lighthouse, and the track is not one to be missed. You navigate through coastal heathlands, wild rocky shores, and picturesque cliff-tops.

You Yangs, Lara###
My personal favourite, that being said, it was the closest thing to a bushwalk to where I grew up. These distinctive Granite hills rise up from the flat surrounding volcanic plains, and are notably popular for their views, birdlife, mountain biking and picnic areas.
There are a few bushwalks that you can do, including the East-West walk, and Flinders Peak Lookout, both of which require a decent level of fitness
Werribee Gorge, Bacchus Marsh###
This State Park offers a variety of bushwalks, rockclimbing, picnic areas and historic sites.
Bushwalking includes the aptly named - Circuit Walk (10km return) River walk (3km) Falcons Lookout (3km) and Centenary Walk (3km).
The best rock-climbing is at Falcons Lookout, and the best picnic amenities can be found at Meikles Point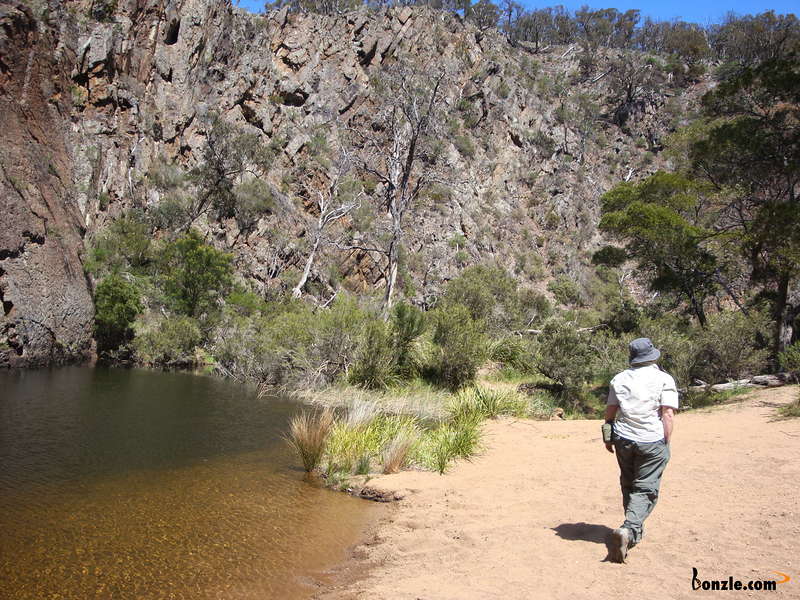 Lerdederg Gorge, Blackwood###
I have fond childhood memories of picking blackberries from this gorge, and issue which is now well and truly under control.
My more recent experiences with the Lerdederg State Park have been bushwalking ones - the Lerdederg River has cut a spectacular gorge through the local sandstones and slates producing many waterholes. Short walks includes the MacKenzie Flats walk, and O'Briens Crossing (3km). Picnic areas are located throughout the State Park, the best include the Shaws Lake picnic area, and MacKenzie Flats
Brisbane Ranges NP
Arguably Victoria's best wildflower site. Enjoy a picnic at Anakie Gorge, or the Stony Creek Picnic Area.
Bushwalks include the Anakie Gorge (3km), Ted Errey Nature Circuit (8km), Wadawurrung walk (2.5km) and the 3-day Burchell Trail, which starts at the Stieglitz Historic Park - bookings are required all year round

Wombat State Forest (Bullarook)
This state forest can be located 50km to Melbournes West, near the townships of Daylesford and Woodend.
Day hikes include Babbington Hill (10km), Lerdederg River Heritage walk (8.7km), and the Whipstick Loop Walk (8.7km)
Pt Addis - Bells Beach, Anglesea
This beauty comes under the Surf Coast Walks within the Great Otway NP. This walk is accessible from the township of Anglesea, and spans 11km of the surf coast back east towards Jan Juc. The limestone cliffs of the Otway Group, contain fossils and have been carved into spectacular formations. Before tackling this walk, be sure to check the tides, as certain sections of this beach walk may be cut off during high tide events
Mount Napier State Park, Hamilton
Another personal favourite of mine, owing to the fact that I spent a good chunk of 2013 here for my Honours project.
The summit walk here, requires a decent level of fitness as it is a pretty steep climb up the flanks of Mt Napier. Mt Napier is Victoria's most recently active volcano, and from its summit you can see out over the to the Grampians and back to the coast.
Whilst you are here, check out the Byaduk Caves and the Wallacedale Tumuli, both of these formations are world-class!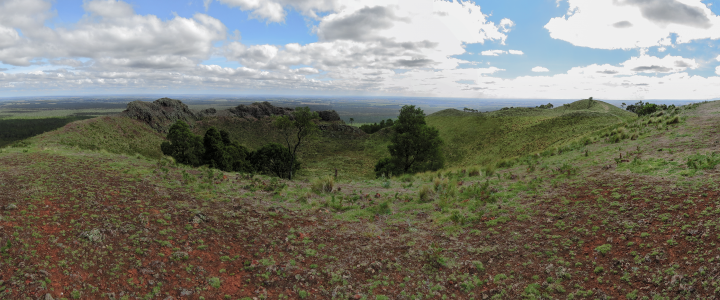 Much love, and Happy Hiking xx