A Sling away in Singapore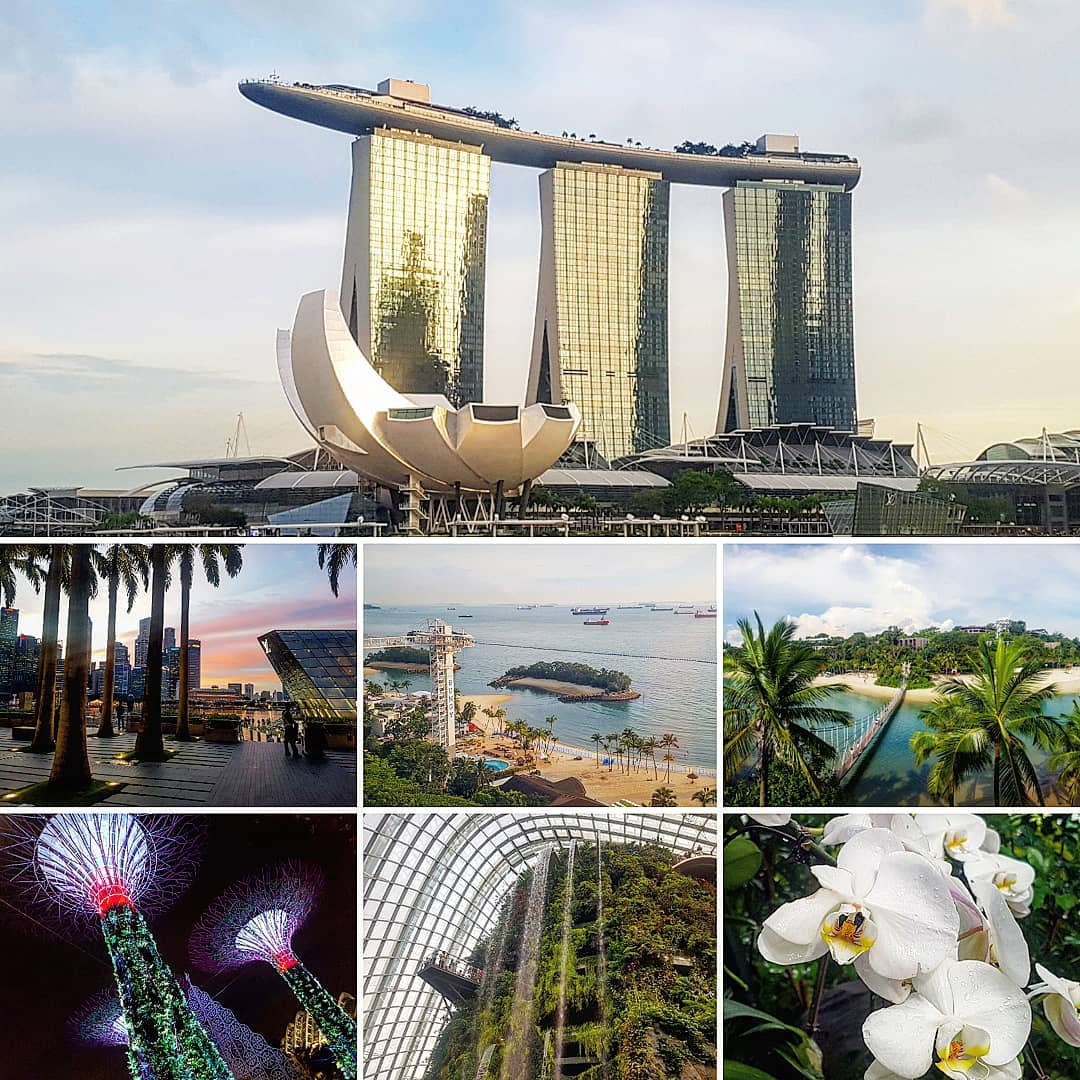 We left Perth early on Friday morning, the 23rd November. Singapore Airlines definitely lived up to their ratings, and I treated myself to a Singapore sling on flight – with cocktails at whim. The flight time was just under five hours, and is a stone throw away for Western Australian travellers, whose usually international go-to is Bali. Singapore is an island city-state off of the coast of southern Malaysia, and is only one degree north of the equator.
Upon arrival at Changi airport, the terminals had been decorated in Harry Potter theme and it was beautiful. And we were amazed at all the inside gardens and fish-ponds. Such a beautiful and glamourous place. Customs was super easy to get through, and I'll say this lightly… maybe we just got off lucky?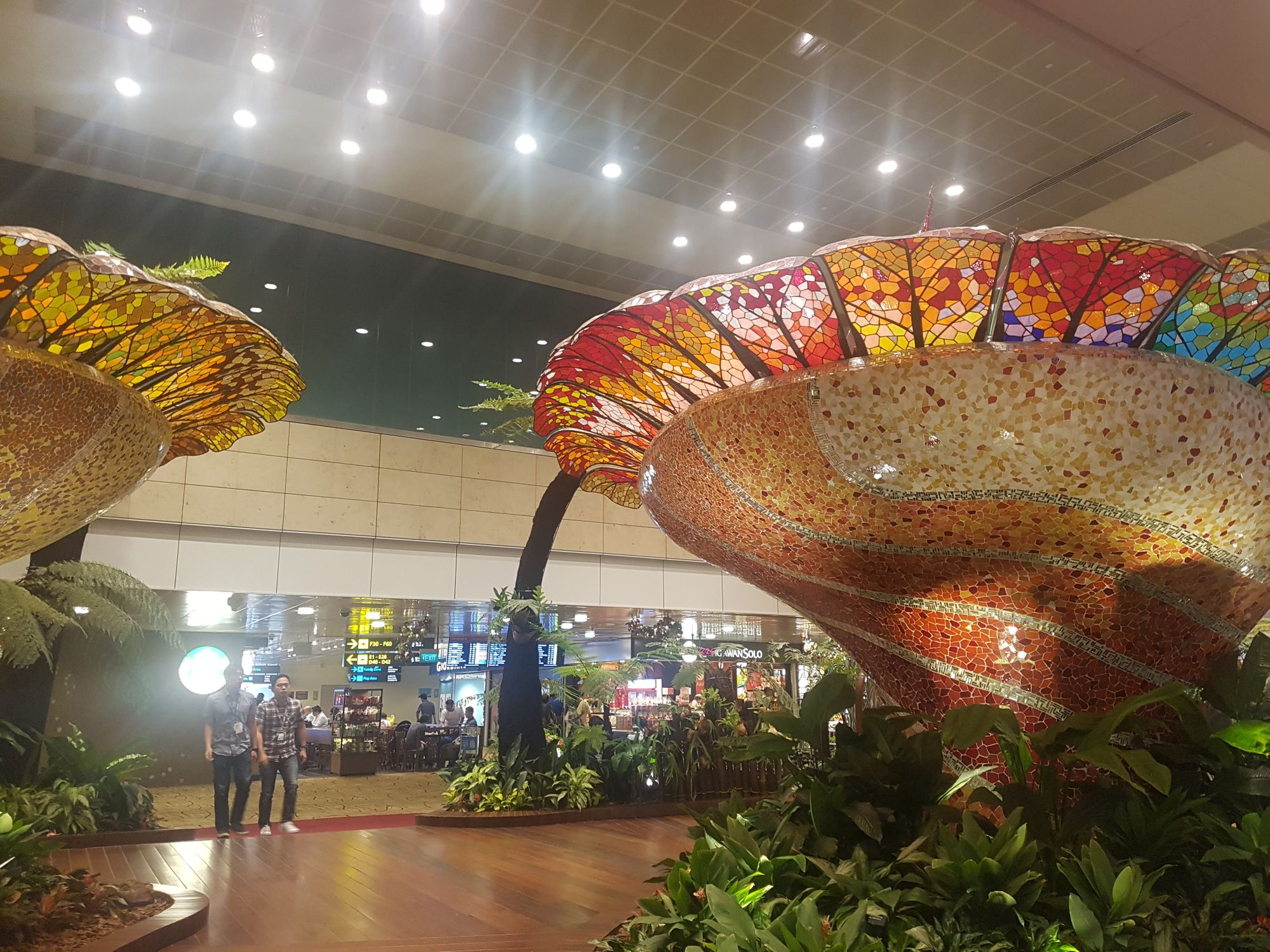 We grabbed a taxi from the taxi rank, and were amazed at how green and well-kept the city was. There are huge fines for everything from littering, to chewing gum and even for eating on the MRT (Mass Rapid Transport) underground train lines. Our first three nights were spent at the Grand Hyatt Singapore, the customer service staff were friendly and there was a man-made waterfall in the centre of the building. Something else!


We relaxed and unpacked before heading out to navigate Orchard Road, Singapore's shopping district. Road crossings are shithouse, and it took us forever to work out how to get around. There are underground walk-ways everywhere and are built like networks, but in all honesty, they are more like rabbit warrens. You get so lost and disorientated walking through these passageways which are teeming with people and with shopping vendors.
We ended up at ION Orchard on Orchard Road, which is Singapore's largest shopping centre – and realised later that we were there on Black Saturday. Worst idea ever, and it didn't stop over that entire weekend. Sales and discounts everywhere and everyone was out to grab a bargain. Much like Boxing Day sales in Australia. Sephora had a line out the door, of people waiting just to get in and shop. I don't understand the incentive or the need, but each to their own…


We found the Hard rock Café in Singapore, and it was pretty average. Ben got a steak and I got special vegetarian spring rolls with Chilli Crab dip. The memorabilia at the Cafes is always lovely. When we finished up, we went outside and it was bucketing down. Evidently the benefit of being equatorial, and we did also visit in one of Singapore's rainiest months. We raced into a 7-11 and promptly bought an umbrella for future use (although we never used it again).
The MRT is something else, and has made the entire city-state of Singapore super accessible to all. There are over 119 stations and 124 miles of network underground – making Singapore's MRT the longest automated metro network in the world. We purchased a Tourist Pass for a deposit and a fee. It is worth it, but we soon realised later that it was super easy to just grab a 'Grab'. Will explain that one later…


There were Bubble tea vendors everywhere on Orchard Road, so I thought I would try the craze. One of the vendors, claimed to have the best Durian Bubble tea, with the highest quality Durian fruit extract and the lowest sugar content. Singapore, similar to a lot of Asian countries uses coconut milk for the base of drinks like this as opposed to dairy which is great for lactards. The Durian bubble tea was nice on first sip, with the disgusting Durian stink on after taste. Instant regret.
For dinner we decided to catch the MRT to Clarke Quay – as tipped off as a go-to spot by my cousin Dean. We ended up at Brewerkz for a late dinner. Clarke Quay is a unique and preserved historical area right next to the Singapore river, the undercover shopping district is made up of fountains, a bungy and a giant swing, and another love lock bridge – sigh!


Our last stop for the night was Orchard Towers – or as its referred to as 'four floors of whores'. Reminiscent of Amsterdam's De Wallen, and the red-light district of Bangkok. We had tiger beers at an Aussie pub apparently… before strolling around and taking some sneaky snaps. The ladies weren't impressed that Ben had brought me along, and were actively trying to coerce him into the clubs.
On the morning of the 24th of November, we had a super big sleep in. Then picked up a quick breakfast at Prive, a Singaporean chain café that looked a lot like French cafes with the table fronts facing out to the street. We jumped on the MRT again on our way to Bishan to find Bukit Timah Nature Reserve. The nature reserve is beautiful lush rainforest, and I was keen to find the elusive Treetop Walk. The free-standing suspension bridge connects the two highest points in the park and offers a birds-eye view over the MacRitchie reservoir. We were greeted by long-tailed macaques, squirrels and some monitors.


On our way home, Ben had investigated a local service called Grab – which is an app-based taxi service similar to that of Uber. It has actually out-competed Uber in Singapore. And was really cost-effective. We caught the Grab back to the Grand Hyatt, and visited a local underground market place called Far East to get some Wonton Shark Soup.
When we got back to the Grand Hyatt, we decided it was a good idea to chill out by the pool. They have a pool service, so we treated ourselves to cocktails and chippies. Its amazing that beers are almost more expensive than cocktails. The Alcohol tax is higher in Singapore than Australia, to keep citizens healthy. Hence the $14 bottle price for regular beers – crazy given the tax on spirits with higher alcohol content is much less.

For dinner we wanted to try a Hawker Market and had been given the tip off to try Lau Pa Sat. It is a circular shape and was gazetted as a national monument in 1973. The centre is filled with eateries, offering the best of local cuisine, which is an eloquent mish-mash of traditional Asian, Indian and middle eastern with western influences. Ben got a doner kebab, whilst I chased down some ramen, with Tiger beers to wash it all down. Afterwards we walked down to Raffles Quay to view the Marina Bay and surrounds. The Fullerton Hotel super pretty.


Since we were in Raffles Quay, we decided it would be fun to check out the historic Raffles Hotel. The Long Bar was still open serving Singapore Slings even though the hotel itself is being renovated. Raffles hotel is due to reopen in 2019. The Long Bar has a white colonial façade, Ceiling fans that are reed fans, peanut shells covering the floor, and a unique cocktail shaker, which could mix up to six Singapore Slings at a time. The historic recipe for the Singapore Sling includes Gin, Benedictine, cherry brandy, and fresh pineapple juice. It is exxy though costing $36 Singapore dollars a pop. But definitely worth it for the nostalgia.

On the 25th November, I woke up early and went to the Singapore Botanical Gardens, Ben decided to stay in bed for a lie-in. The Singapore Botanic Gardens is an inscribed UNESCO World Heritage site, and is the only tropical botanical garden to make the list. The Gardens are made up of four major sections – Tanglin, Central, Bukit Timah and Tyersall-Gallop which was installed as a learning centre. The most notable attraction in the Gardens is the National Orchid garden, with over 1000 species of orchids on display, as well as over 2000 hybrids from the horticultural teams breeding programme. There are countless displays and sculptures throughout including the Silver Arches, Enchanted Garden, Checkerboard, and the Mist Garden. There is also a hall of fame, with displayed orchid species that have been selectively bred and named after famous people.


Afterwards I met again with Ben, and we headed to Fort Canning for brunch. Fort Canning was the site of Malay Royalty in medieval times and where the British surrendered to the invading Japanese during WWII. The hill once known as Bukit Larangan is steeped in local history. We stopped at the Fabulous Baker Boy for food and coffee and was impressed by their cool order form – where you circle what you want on the menu with a provided pencil and then it heads off to the kitchen for preparation.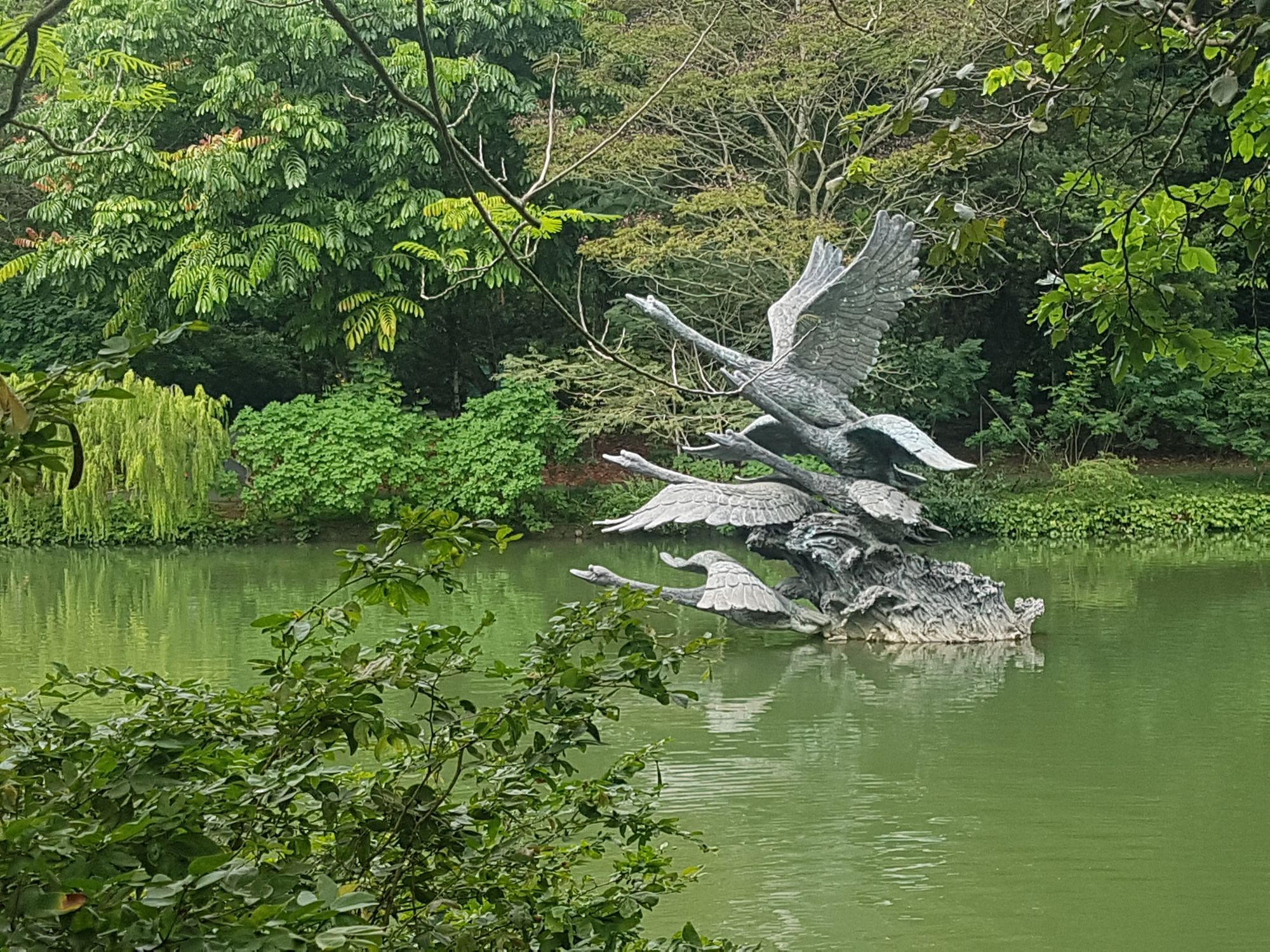 Later that afternoon after a bit of relaxation, we caught up with my cousin Dean. He met us at the Grand Hyatt and we caught a grab to Robertson's Quay. We had Italian at Publico next to an Aussie restaurant called Boomerang. It was great to catch up and discuss life's happenings over the past seven years (I didn't realise that it had been that long since we had both not lived in Victoria). Afterwards, we had a look-see at Dean's workplace. Which was actually just across the road from Grand Hyatt. The Tanglin Sports Club caters for a range of sports, and has a reputation of prestige and quality – with memberships often sought after.


Afterwards we tried our luck at shopping at the Ion Orchard again, I was looking for a dress for the upcoming Christmas Party and Ben for a couple of shirts. Ion Orchard was still ridiculous and the hangover from the Black Friday sales was still well and truly evident. Luckily I was able to find most of what I wanted at H&M and had no issues of finding correct sizes (apparently I'm closer to the Singaporean average, than the usual Australian that shops at Kmart or Big W- haha).
On another note: Whilst we were out we decided it was a good idea to utilise the Grand Hyatt Laundry service. Never again – do not use the Laundry Service. It was flat out extortion, it was a cost per item plus a huge service charge. Ben instantly regretted leaving a tip for the older gentleman that came to pick up the laundry. Although he probably wouldn't receive all the charge in his wages.


It was then time to tick another one of the items off of our Singapore Bucket list - Gardens by the Bay - the Cloud Forest, Flower Dome, and the Super Tree Grove. The gardens did not disappoint and they are quite truly marvels of architecture, design and engineering. The two biodomes the Flower Dome and the cooled Cloud Forest with a man-made waterfall are the largest columnless greenhouses in the world. The Cloud Forest is spectacular and contains more than 32 000 individual plants from more than 160 various species. The cloud mountain and waterfall is covered in ferns, orchids and bromeliads. The Supertrees are hard to miss standing 9 to 16 storeys tall, that collect rainwater, generate solar energy and act as venting ducts for the parks domes. You can take a sky way walk between the Supertrees if you dare. And as night falls the Supertrees put on a dazzling light and sound show called the 'Garden Rhapsody'.


We headed back to have dinner at Mezza9 - and Martini Bar. Which was a part of the Grand Hyatt complex.
In the morning we checked out of the Grand Hyatt and prepared for two more nights of luxury at the Marina Bay Sands (locally known as MBS). We grabbed a Starbucks coffee – which are literally everywhere and savoured the moment on Orchard Road before catching a Grab to drop our bags off and check in at Marina Bay.
There are multiple ways of getting to and from Sentosa Island, and we decided that the Cable Car would be the most fun. We boarded at Harbour Front and soared over the Harbour outlooking onto vast amounts of ships before landing at Imbiah Station. There are other ways to get to Sentosa though, including by public transport, by car or taxi, by foot over a bridge or by bicycle. The island is only 10- 20 minutes away from the heart of Singapore and is dubbed the 'State of Fun'.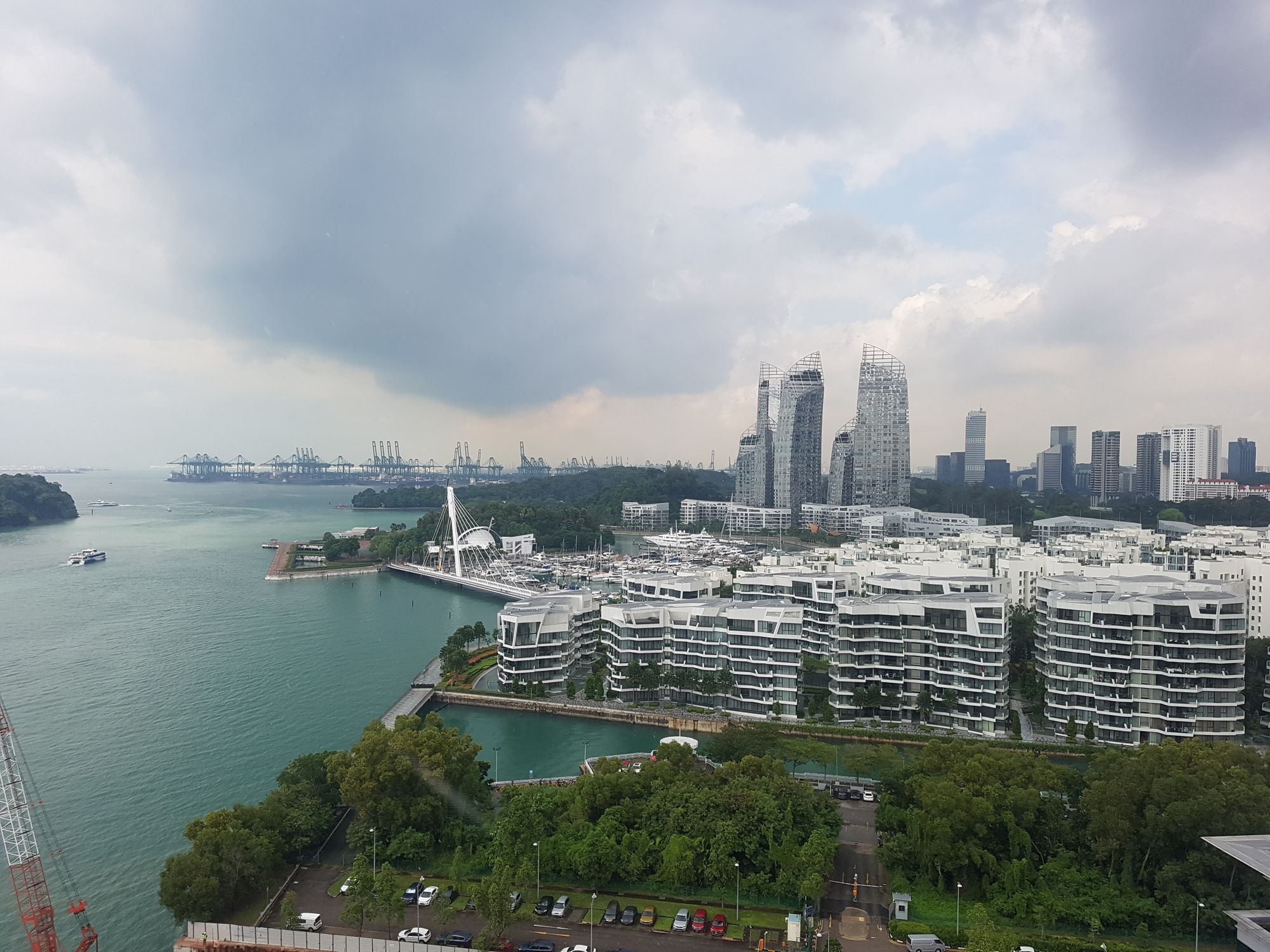 Our main reason for having a day out in Sentosa was to visit Universal Studios. Akin to its other parks in California, Japan, Beijing and Moscow, Universal Studios Singapore is split into various areas themed after different movies. At Sentosa these areas are Hollywood, New York, Sci-Fi City, Ancient Eygpt, Lost World, Far Far Away and Madagscar. The rides were phenomenal, including Battlestar Galactica: Human vs Cylon which was a duelling roller coaster one of the tracks in grey which was inverted, and the other in Red as a usual seated coaster. Transformers 3D ride which was inside a building with drops and fire and bubbles.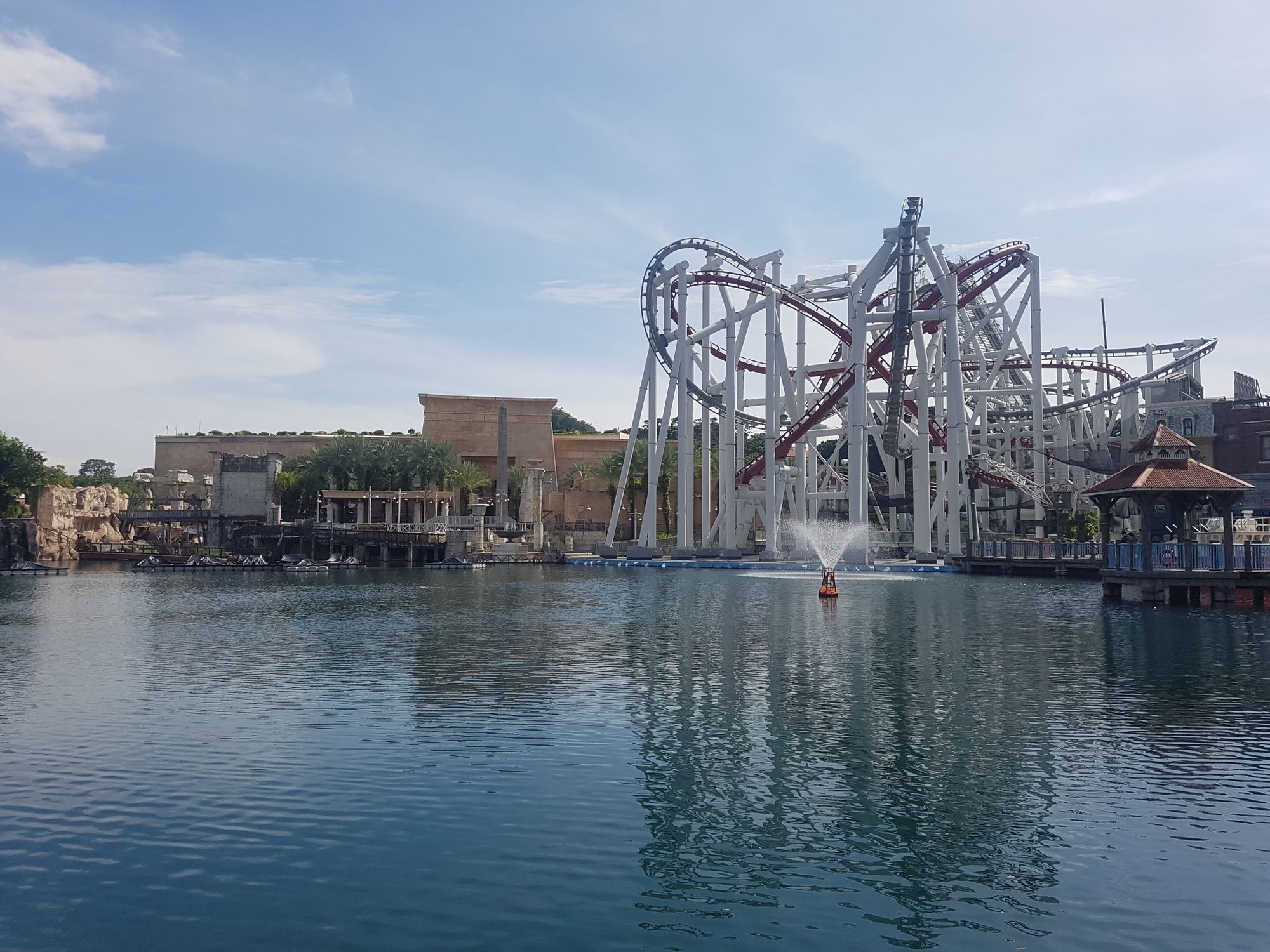 The Jurassic Park Rapids (which we should have gone on last – as we were seated to be drenched) which is a river raft drive through primevial dinosaur habits with pop-up raptors. Treasure Hunters in Ancient Eygpt was an indoor roller coaster (which I didn't give too much thought to) but was dark and scary but intriguely amazing. And finally we went on a kiddy coaster in Far Far Away land called Puss in Boots' Giant Journey, based on the story of Puss n Boots and stealing the Mother Gooses' Golden Egg. Each of the lands has its own themed eatery, and we decided to dine in the Jurassic Park section, with Ben getting the Haianese Chicken and Rice and I got the Seafood Laksa.


Note: Even though the park entry costs a lot (usual for Singapore) it is 100% worth getting the express pass if you want to go on any and all of the rides. It significantly reduced our wait times for rides, and we got pleasure out of walking past all of the people (the looks on their faces in agony).


After Universal Studios, I wanted to go for a dip. Sentosa Island is home to a few notable beaches – Palawan, Tanjong and Siliso. Tanjong is the chill getaway for quiet adult time, Palawan is family friendly with a suspension bridge linking beach-goers to the southern-most point of continental Asia (which is also Asia's closest point to the equator), you can climb up the watchtower and watch the ships and jets go past. The last beach is Siloso, and this is where the fun-happens. There is a man-made wave pool, AJ Hackett Bungy, indoor skydiving at iFly, and zip-lining as well as all your usual water sports items to hire. There are also a number of food places and bikini bar's and at the start of December each year the beach is home to a music festival called Zouk Out! We had some cocktails and chips at Coastes Bar. We caught the cable cart back to Mount Faber this time.


Mount Faber Park is one of the oldest parks in Singapore, and boasts panoramic views out over the city and Sentosa. At Faber Peak you can ring the 'Bell of Happiness'. Similar to a lock bridge, near the bell of happiness is a fence full of 'wishing bells' which can be purchased from the shop at the entrance. There is a café at the top, with the perfect setting for sunset views.


However for our sunset, we made it back to MBS and headed up to the top at the Skypark. The infinity pool was bustling and the bars and restaurants were full. From the Skypark and Observation deck you can see all of Singapore, and even sections of Malaysia. Previously all people used to be able to swim in the Infinity pool, but luckily now it's a reserved attraction. The price of MBS room per night and the use of the pool is definitely worth it – even if you just lash out for the one day/night.


After sunset we headed out for Dinner in the Chinatown district, the streets are narrow and bustling and lined with Red and Gold. There are many ornate Chinese, Buddhist and Hindu temples throughout the area. Notably the Buddha Tooth Relic Temple which is four-stories tall and is said to contain a relic of Buddhas tooth from the Tang Dynasty. The street market is mental, with hundreds of stalls lining the streets selling everything imaginable from silks to lucky cat ornaments. I was searching out a place to get a local cuisine – the Chilli Crab. I got to catch my own Crab from a tank in the restaurant and then they boiled him. I was mortified, but the meal was delicious. The prices for Chilli Crab have been amped up for tourists – poor Mr Krabby.

On our last day in Singapore, I was still in the mood to explore. Ben was in total relaxation mode, but I still had plenty more that I wanted to see and do. I jumped on the MRT to Little India – and got off at the Tekka Centre, a mall full of all the things imaginable. From the Tekka Centre I walked past Sri Veeramakaliamman Temple which is made of hundreds of tiny statues lining the exterior of the structure. I also saw the House of Tan Teng Niah, which could be possibly Singapores most colourful building. From here I walked down Arab Street (literally) to the Kampong Glam district. There is a giant Sultan Mosque, and the beautiful Haji lane – which is full of stores, boutiques, and hip bars and cafes.


After that I headed back to Marina Bay, and walked around. I found a chain café called Toastbox and treated myself to Kaya Toast (do it!). It is a well-known snack in Singapore and is prepared with Kaya (coconut jam), a topping of sugar, coconut milk and eggs on thick-cut toast. Along the rest of the Marina Bay is the ArtScience Museum, and the Red Dot Design Museum. The Louis Voutton Island, and the Shoppes on the Esplande, as well as Helix Bridge, the Heritage Memorial and Singapore Merlion and the beautiful hotel of the One Fullerton.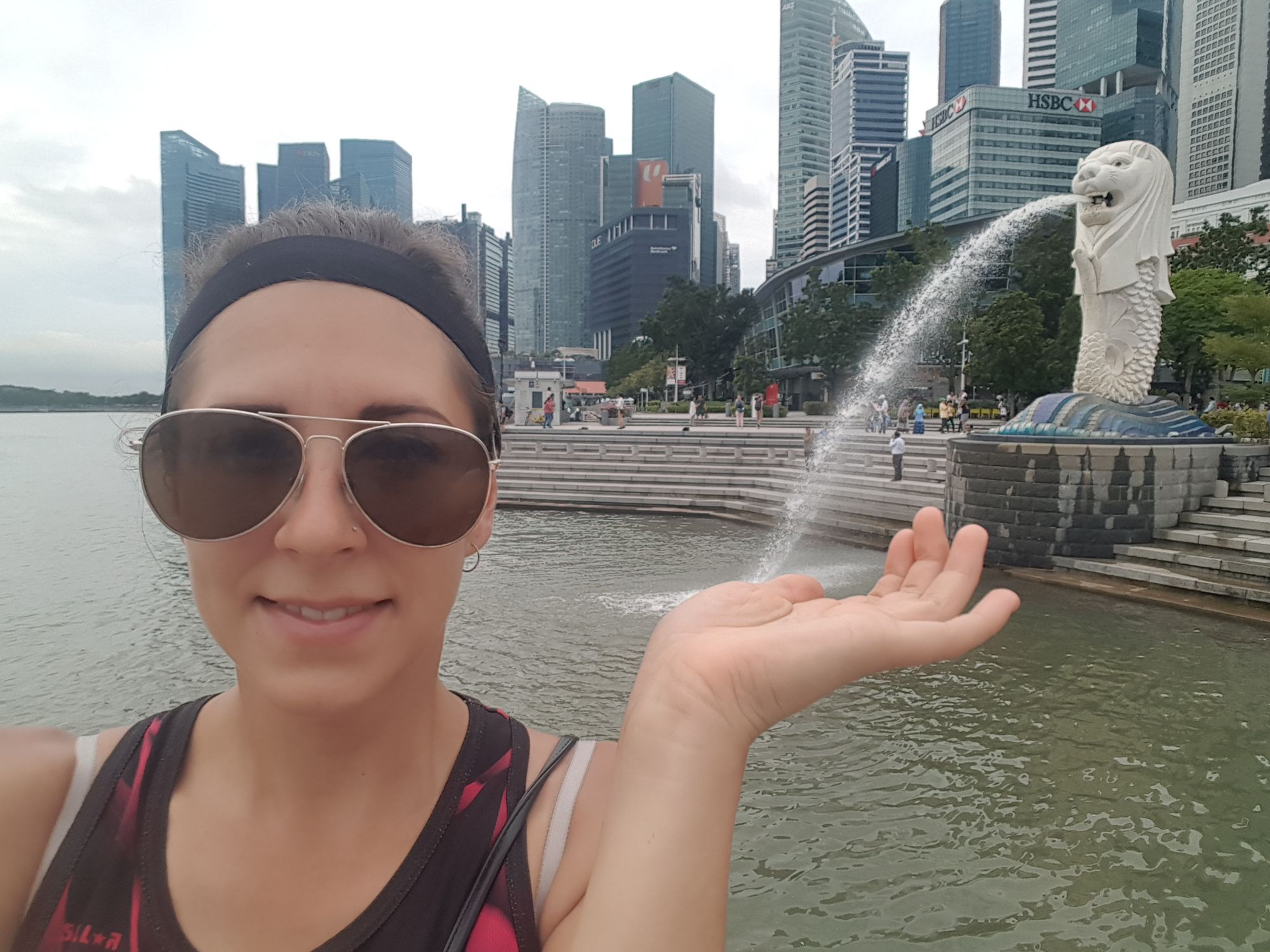 I had another walk through the Supertree Grove and the Shoppes at MBS (think every single fancy brand you can even think of and more…). There is a DC Comics Super Heroes Café, but unfortunately you must make a reservation to even get in. And finally I was on the hunt for an elusive Singaporean Ice Cream sandwich… It is literally a brick of icecream in a slice of bread. There were heaps of vendors on Orchard Road and I had been kicking myself to not try one sooner but I found one and was super excited! Blueberry and wafers yummmm!


I headed back to the room to meet Ben, and we headed up for serviced Cocktails and swims in the Infinity pool and spa. We played around with the GoPro up there, it is definitely worth the over $550 per night for this luxury. Arguably (not… really) the best way to see the Singapore Skyline.


We showered and had dinner at a little Italian restaurant on the Esplanade called Bazim, watching the sun set on our last night whilst an array of runners constantly jogged past around Marina Bay. Bazim was the perfect vantage point to watch the Light & Water show at the Promenade. It is a 15 minute show that runs nightly at 8pm and it is visually stunning – hands down beats the magic fountain show in Barcelona.


Ben was super keen to try his hand at the Casino (generally, he is quite lucky at home). The Casino is lavish and local residents and enforced to pay a $100 dollar entrance fee. Minimum bets on tables are $25, there were Robots with motion sensors rolling around with drinks dispensed, the Casino is one of the few worldwide that allows Smoking indoors, and we were delighted by the auto dispensing hot and cold beverages in all of the rooms – Singaporeans love Milo, so hot Milo was on the menu. Ultimately came away down, but it was well worth the experience.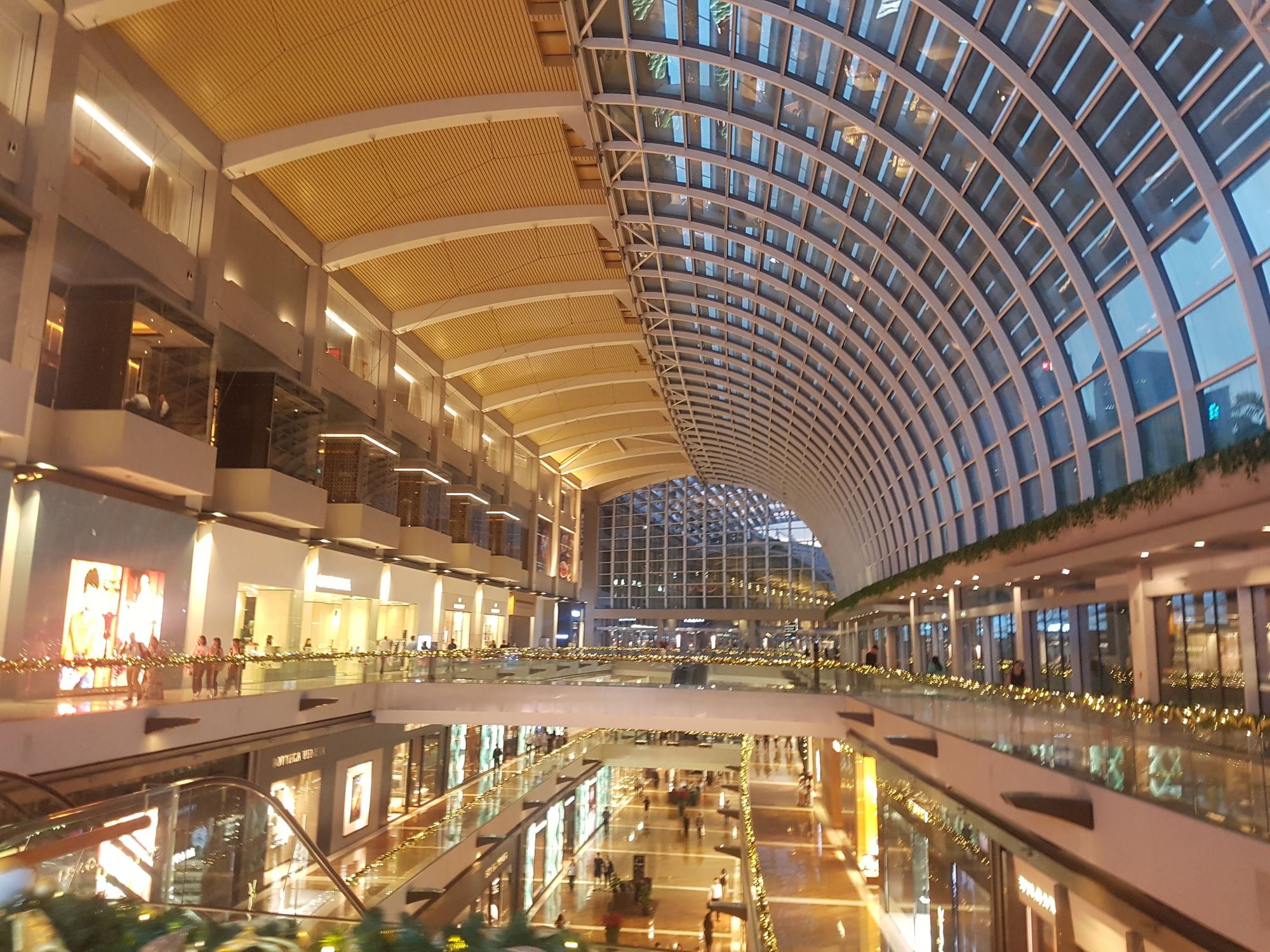 Takeaways –
Spending is not for the light-hearted, Singapore is listed as one of the worlds more expensive cities. You will spend more here than its other South-East Asian countries.
Pack an umbrella – you never will know when the heavens will open up. And then the next minute it will be a sauna again in the sunlight
Look out for the Hawker centre hygiene standards – listed as A to D, from best to risk. At least they care about food safety right?
Very high tax on alcohol and fixed smoking places