#beercartelxmas
A new way for adults to enjoy Christmas!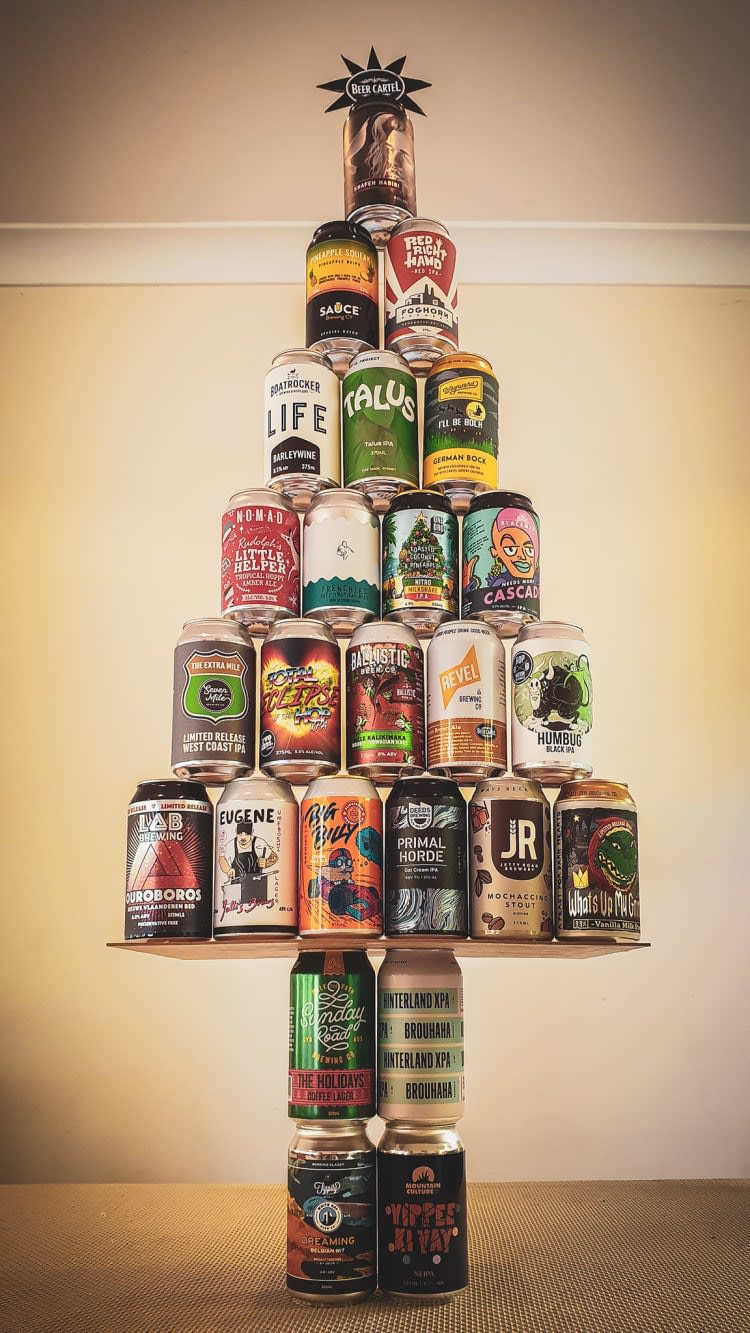 So during our WA Isolation in the month of May 2020, I ordered an advent calendar and thoroughly loved the concept. So when the Beer Cartel Christmas Advent calendar was released for pre-order I jumped on it straight away.
The idea behind a Beer Advent calendar is similar to a regular children's chocolate advent calendar where the recipient gets to individually uncover 25 new craft beer treats. You don't need an advent calendar to know that Christmas is coming, as the Christmas carols playing throughout the month of November are warning signs enough. But opening a numbered door to reveal a new beer each day is an idea that everyone can get behind, especially those craft ones of us! So lets do this Christmas Beer Candvent!!


Day 1 -
Beer Name: Mountain Culture Yippee Ki Yay NEIPA
Brewery: Mountain Culture
Location: Katoomba, NSW
Style: Hazy IPA
ABV: 6.5%
Beer Description: Good news - we've almost made it to the end of 2020! A year so rough that we have surely earnt the right to put our feet up, crack this hazy fruit bomb and press play on the greatest Christmas movie of all time. From all of us at Mountain Culture, we wish you a wonderful holiday season. And as Mr McClane would say, Yippee Ki Yay, Motherf-ers!
Tasty this morsel this one, fruity and a touch of sweetness - a bit pine-ier than a regular NEIPA but super drinkable.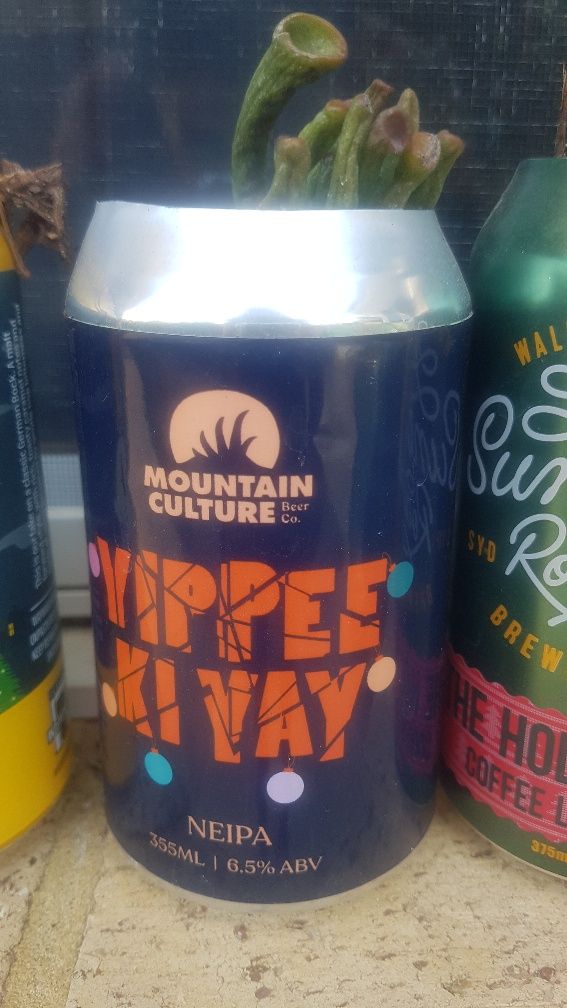 Sarah Stars - 4 / 5
Day 2 -
Beer Name: Seven Mile The Extra Mile West Coast IPA
Brewery: Seven Mile
Location: Ballina, NSW
Style: West Coast IPA
ABV: 7.7%
Beer Description: The Extra Mile is a classic West Coast IPA. Fresh hop aroma jumps out of the glass, with notes of tropical fruit and pine the easiest to identify. Malt characters finish somewhat dry to allow the hops to take center stage. Bittered with CTZ Hops, we then loaded the whirlpool with Mosaic, Centennial, Simcoe and Citra. Finally we dry hopped the same hop combo at a rate of 11g/L.

A fairly standard IPA in my books... generally love an IPA - this didnt dissapoint but didnt get me going The Extra Mile
Sarah Stars - 3.5 / 5
Day 3 -
Beer Name: Sunday Road The Holidays Coffee Lager
Brewery: Sunday Road
Location: Kirrawee, Sydney
Style: Coffee Lager
ABV: 5.5%
Beer Description: If you like an espresso martini you're going to love this. As soon as you open the can you'll be warmly greeted with a bold coffee nose boasting vanilla, caramel, butter rum and raisin. Your first sip lets you know this is different from other coffee beers. It's a lager with a smooth profile and clean finish that's perfectly integrated with single origin cold brew coffee. Knock it back with your Christmas pudding. You won't be disappointed.
Surprisingly good drop - could replace my morning coffee if socially and ethically viable... hmm...
Sarah Stars - 3.5 / 5
Day 4 -
Beer Name: Sauce Pineapple Squeak Pineapple NEIPA
Brewery: Sauce
Location: Marrickville, Sydney
Style: New England IPA
ABV: 6.2%
Beer Description: Yet another fruity squeak! The hops are doing the heavy lifting here, delivering some serious levels of pineapple aroma, although we may have added some natural extract to top it off, because we love pineapple.

Super pineappley - sweet beyond measure. Maybe a little too sweet for someone who is already sweet enough?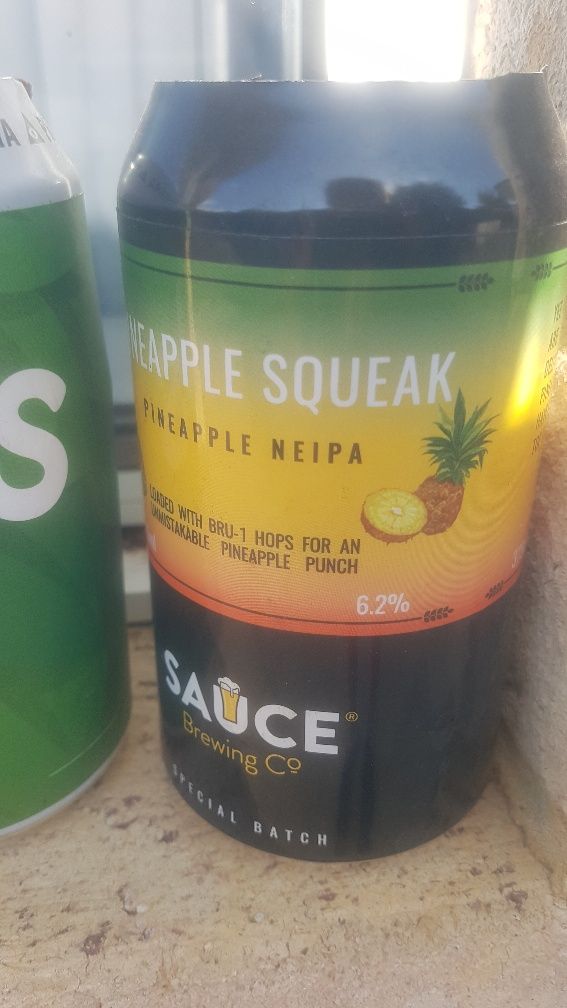 Sarah Stars - 3.5 / 5
Day 5 -
Beer Name: Jetty Road Mochaccino Stout
Brewery: Jetty Road
Location: Dromana, Victoria
Style: Stout
ABV: 4.8%
Beer Description: Caution, do not leave un-attended, especially with cookies by the fireplace. A fat man with a long white beard in a red suit and hat is lurking. With the rich creamy goodness of chocolate and spiked with enough caffeine for a lap of the planet in a night it's bound to go missing.

Love a good stout, and to top it off its solid and super coffee flavoured. A good stout is like a meal in a glass and this is no freaking exception.
Sarah Stars - 4 / 5
Day 6 -
Beer Name: Blackmans Needs More Cascade IPA
Brewery: Blackmans
Location: Torquay, Victoria
Style: IPA
ABV: 6.5%
Beer Description: Cascade is the old soul of the craft beer world. It's what gave us the gift of American style pale ales. This is a tribute to Cascade and its massive citrus & grapefruit characters. Breathe it in deep and smell them hops. For all the guys and girls out there that need more in there IPA.
Reckon this would be super drinkable with a curry
Sarah Stars - 3.5 / 5
Day 7 -
Beer Name: Frenchies Soft Tropical Mist DDH Session NEIPA
Brewery: Frenchies
Location: Rosebery, Sydney
Style: Session NEIPA
ABV: 3.5%
Beer Description: Big hops for a little number, this teeny-tiny beer explodes with tropical aromas on the nose. At 3.5% you expected to be let down on the palate, But no, it is smoooooooth as, round, breezy and tropical to the core.
Full on flavour for its low ABV, punching above its weight that's for sure. Dangerous in a dozen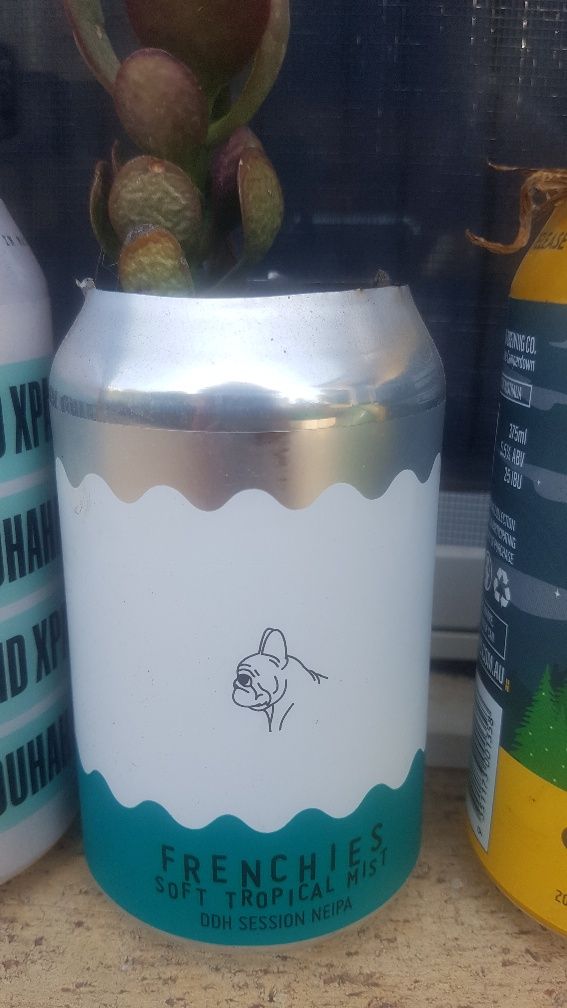 Sarah Stars - 4.5 / 5
Day 8 -
Beer Name: Brouhaha Hinterland XPA
Brewery: Brouhaha
Location: Maleny, Queensland
Style: XPA
ABV: 5.2%
Beer Description: Using our Hinterland Pale Ale as the starting point, this beer has undergone some 'extra' additions. This one-off seasonal has extra malt, extra ABV, extra bitterness and an extra ingredient of Oats because sometimes more is more. This beer still proudly showcases all NZ ingredients, with Gladfield Malt providing the base for Moutere, Motueka and Hort-4337 to shine! Never to be repeated, this is a special seasonal for our good friends at Beer Cartel. Enjoy!
Brou-haha... Love the name of this brewery. Clearly some Kiwi's in the operation. Bit Malty but works well... chur cous
Sarah Stars - 3.5 / 5
Day 9 -
Beer Name: Quiet Deeds Primal Horde Oat Cream IPA
Brewery: Quiet Deeds
Location: Glen Iris, Melbourne
Style: IPA
ABV: 7.0%
Beer Description: "Is that just the wind, or is it a furious vexation?" From a distance, you can see a small shadow on the horizon. A cloud of dust welling all around as it rapidly increases in size. The thundering of muscle pounding earth at a rapid and accelerating pace slowly grows in intensity. As you look in the opposite direction, nothing but flat earth to the horizon. You've got but one choice. To run. To escape. To move and maintain this distance between yourself and this Primal Horde. Your legs begin to work before your brain tells them to. How long can you maintain this pace? I guess we will see soon enough...
Dessert in a glass? So much cream... felt more like a stout however I enjoyed the flavour
Sarah Stars - 4 / 5
Day 10 -
Beer Name: Little Alchemist Ourobors Flanders Red
Brewery: Little Alchemist
Location: Sydney
Style: Flanders Red Ale
ABV: 6.0%
Beer Description: For our summer Limited Release we are dabbling with one of our favourite styles to drink and an absolute classic. OUROBOROS is a take on the legendary sours of old which we have added whole cherries and some vanilla to add a softness to the beer in its early stages. This is the perfect summer sour to enjoy with friends (socially distanced of course) be careful though as this beer is pushing the imperial limit at 6% the alcohol is hidden with the use of fruit and vanilla.
Tasty as, loving all the experimentation with sours at the moment. Especially the delicous in season cherry. Yum
Sarah Stars - 4 / 5
Day 11 -
Beer Name: All Inn What's Up My Grinches Vanilla Milk Stout
Brewery: All Inn
Location: Banyo, Brisbane
Style: Stout
ABV: 5.5%
Beer Description:
What's up My Grinches?
We're back in your hood,
Snatching sacks stacked with riches, so have you been good?
To the badlands of Banyo with pilfered ingredients,
We flew to brew this beerlicious experience,
There's coffee and cocoa, a most roasty treat,
Vanilla and lactose, a spoonful of sweet,
Lashings of chocolate, a brooding black beer,
And a feast for dark hearts, well worth waiting all year.
Vanilla and Coffee together are amazing. Added to a stout - what a dreamboat. A little sweet but not overwhelming, definitely a winner for me!
Sarah Stars - 4.5 / 5
Day 12 -
Beer Name: Ballistic Mele Kalikimaka Double Hawaiian Haze IPA
Brewery: Ballistic
Location: Salisbury, Brisbane
Style: NEIIPA
ABV: 8.0%
Beer Description: Hawaiian for Merry Christmas, this juicy bon bon will definitely get your taste buds leis'd on arrival. Big, juicy tropical flavours hit you upfront with a soft pillowy mouthfeel. We took everything we love about our hawaiian haze and made it festively plump. Enjoy!
Super smooth with tropical fruity goodness. In my books this is a dangerous beverage. So drinkable, and I love IPA's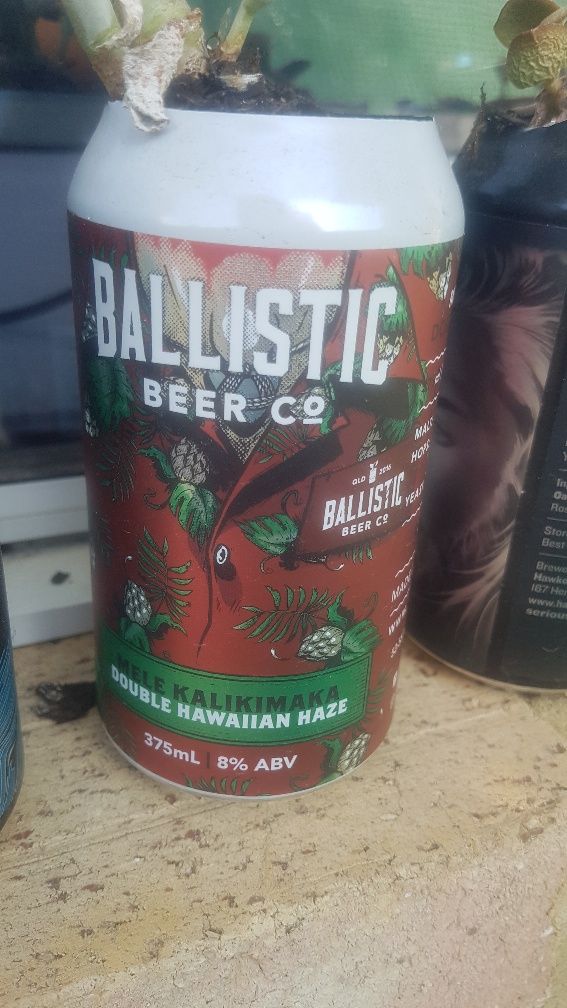 Sarah Stars - 4.5 / 5
Day 13 -
Beer Name: Hop Nation Humbug Black IPA
Brewery: Hop Nation
Location: Footscray, Melbourne
Style: Black IPA
ABV: 6.5%
Beer Description: As the festive season crept up once again, we decided to create something a little different. This Black IPA packs toasty malt characters and a generous dose of hops; sure to have even the Scrooges among us saying Ho Ho Hops.
Roasted malts with a subtle chocolate sweetness - tasted a bit more like a stout or session style rather than an IPA.
Sarah Stars - 3.5 / 5
Day 14 -
Beer Name: Two Birds Total Eclipse of the Hop XPA
Brewery: Two Birds
Location: Spotswood, Melbourne
Style: XPA
ABV: 5.5%
Beer Description: Celebrating the newest hop on the block from hop experts HPA –  Eclipse – this pale and hazy XPA bursts with pine, mandarin and notes of fresh citrus peel. Deliciously / dangerously smashable.
Gah, I love everything Two Birds do. Eclipse is such a wonderful variety of hops and its super citrusy.  
Sarah Stars - 4 / 5
Day 15 -
Beer Name: Wayward I'll Be Bock
Brewery: Wayward
Location: Camperdown, Sydney
Style: Bock
ABV: 5.5%
Beer Description: This is our take on a classic German Bock. A malt forward style, with rich, toasty caramel notes and hints of spice balanced by gentle hop bitterness and a clean lager finish. Brewed exclusively for the 2021 Beer Cartel Advent Calendar.
Not had many Bocks, ever. Toasty, malty, and caramel notes. However, I'm not so taken by it. Not sure if its my style.
Sarah Stars - 3 / 5
Day 16 -
Beer Name: Nomad Brewing Rudolphs Little Helper Tropical Hoppy Amber Ale
Brewery: Nomad Brewing
Location: Brookvale, Sydney
Style: Amber Ale
ABV: 5.5%
Beer Description: Christmas in Australia conjures up a mix of Northern Hemisphere snow scenes and Aussie beach scenes. So, we thought we'd mix things up with Northern Hemisphere malts combined with tropical Southern Hemisphere hops to give you a typical Aussie Christmas in a can.
Santa's biscuity rather than Rudolph's carroty. There are malty hits of caramel, and a little bit of fruity hoppy tartness.
Sarah Stars - 3.5 / 5
Day 17 -
Beer Name: Yulli's Brews Eugene Umeboshi Lager
Brewery: Yulli's Brews
Location: Alexandria, Sydney
Style: Lager
ABV: 4.2%
Beer Description: Eugene is a light and dry unfiltered lager tailor made for ramen consumption. Freshly pureed Apricots, Umeshu and Umeboshi were added into the brew at various stages of fermentation providing a bright fruit aroma and refined sweetness across the mid palette. Eugene finishes ultra clean.
Least favourite of the bunch, but Yulli's Brews are renowned for weirdness. Besides it being a lager style, I'm not taken on Ume either. Will try more of Yulli's fruit brews though.
Sarah Stars - 2.5 / 5
Day 18 -
Beer Name: Revel Browntown American Brown Ale
Brewery: Revel
Location: Bulimba, Brisbane
Style: Brown Ale
ABV: 5.3%
Beer Description: Revels Browntown American Brown Ale pours a deep amber brown with a toasty warmth and smooth rich flavour. In true Revel fashion we've loaded this this one up with US flavoured hops; Cascade, Amarillo, & Williamette to provide a fruity & piney aroma with plenty of bitterness to balance out the malty body. One to be savoured!
Roasty, toasty, coffee flavours - but maybe a bit too much chemical residue? Not so great for drinking on a Perth Summers Day
Sarah Stars - 3.5 / 5
Day 19 -
Beer Name: Boatrocker Life Barleywine
Brewery: Boatrocker
Location: Braeside, Victoria
Style: Barleywine
ABV: 8.5%
Beer Description: Life is an American style barleywine. Heavy malts are balanced out with a range of American hops and a high booze profile. Vanilla, subtle coffee and malt sweetness carry the beer through with a slight bitterness on the back of the palate. Overall a beer to savour and enjoy!
Packs a punch that's for sure. Sweet and malty so retaining its beer-ness. However, strange and a bit too much going on for my liking.
Sarah Stars - 3.5 / 5
Day 20 -
Beer Name: Akasha Talus IPA
Brewery: Akasha
Location: Five Dock, Sydney
Style: IPA
ABV: 6.2%
Beer Description: Introducing Talus, a new flower from creation's garden and the core of this single hop India Pale Ale. Exotic yet approachable, expect pink grapefruit, resiny pine, tropicals and sage in a punchy yet perfectly balanced show of natural splendour.
Really enjoying the beers from Akasha, and this little number was no exception. Both the best of the West Coast style IPA and a Juice bomb.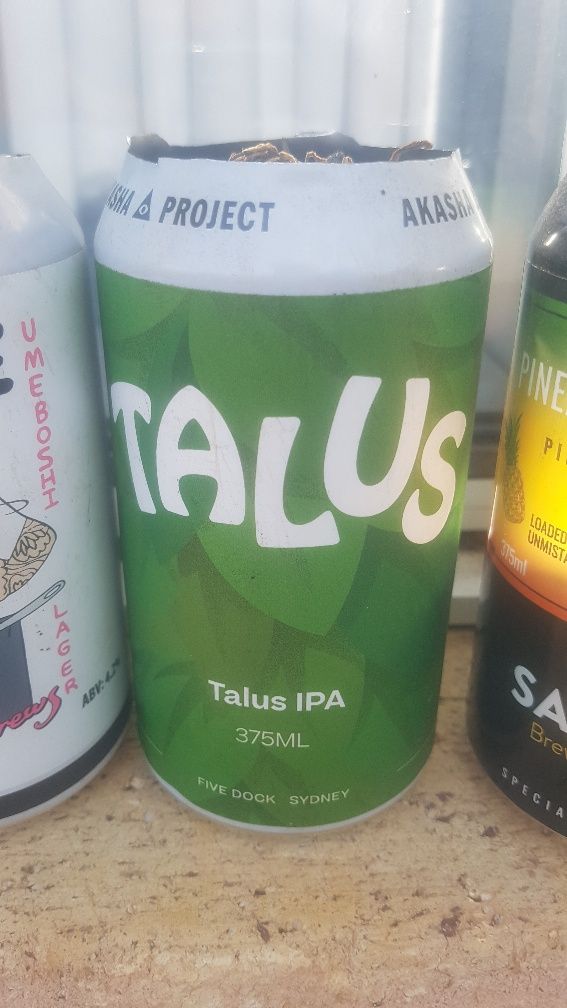 Sarah Stars - 4 / 5
Day 21 -
Beer Name: White Bay Dreaming Belgian Wit
Brewery: White Bay
Location: Rozelle, Sydney
Style: Belgian Witbier
ABV: 4.8%
Beer Description: A simple beer brewed with Jane the Queen tea blend from our dear friends at Tippity. Dreaming was brewed with German Pilsner malt, flaked wheat, coriander seed, orange peel, early grey tea and bergamot.
Usually don't like wit or wheat beers at all... but this was quite light and palatable so I really enjoyed it.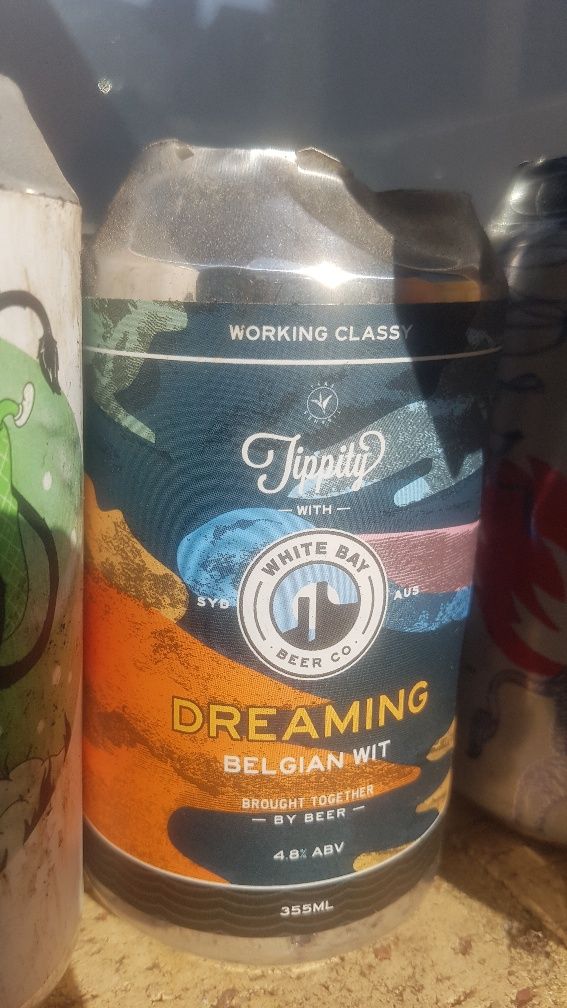 Sarah Stars - 3.5 / 5
Day 22 -
Beer Name: Foghorn Red Right Hand Red IPA
Brewery: Foghorn Brewery
Location: Newcastle, New South Wales
Style: IPA
ABV: 6.0%
Beer Description: Red Right Hand Red IPA is a twist on your standard IPA. Beautiful coppery red in colour, rich caramel flavour and fresh Sabro led hop aroma and flavour. Exquisite balance.
A style that you usually don't read about... but I loved it. Light but malty and hoppy, and all flavours balanced well.
Sarah Stars - 4 / 5
Day 23 -
Beer Name: Slipstream Big Billy Strong Ale
Brewery: Slipstream
Location: Yeerongpilly, Brisbane
Style: Strong Ale
ABV: 6.0%
Beer Description: From billy carts to big dreams. Big Billy charges full flavour forward. Tropical fruit sweetness is chased down by smooth malt characters. Rye spiciness boldly shines through to the finish line.
A mild ale in flavour. Malty but not too malty. Both tropical and smooth.
Sarah Stars - 3.5 / 5
Day 24 -
Beer Name: One Drop Toasted Coconut & Pineapple Nitro Milkshake IPA
Brewery: One Drop
Location: Botany, Sydney
Style: IPA
ABV: 5.9%
Beer Description: Brewed for the 2020 Beer Cartel Canvent Christmas Calendar. A true nitro milkshake IPA with fresh pineapple, toasted coconut, and bucket loads of one of our favourite hops - Sabro. Caribbean and Pina Colada vibes. Its like Xmas on a tropical island - One Drop Styles. And, as always, served with Nitro for ultimate creaminess.
Pineapple first, then the cream of the coconut and the milkshake. Tastes exactly as described, not so sure if the Milkshake beer style is for me
Sarah Stars - 3.5 / 5

Day 25 -
Beer Name: Hawkers Knafeh Habibi Pastry Stout
Brewery: Hawkers
Location: Reservoir, Melbourne
Style: Imperial Stout
ABV: 8.5%
Beer Description: It's a love story between imperial stout and knafeh, a sweet Middle Eastern dessert with pistachios and rose water. We've teamed up with famed Bearded Bakers, Knafeh to deliver a pastry-inspired stout that is as vibrant and lush as it is dark.
Pretty amazing, the flavours of Knafeh weren't really overbearing. They were just there... great flavours for a very different style of stout, and a great celebratory Christmas beer.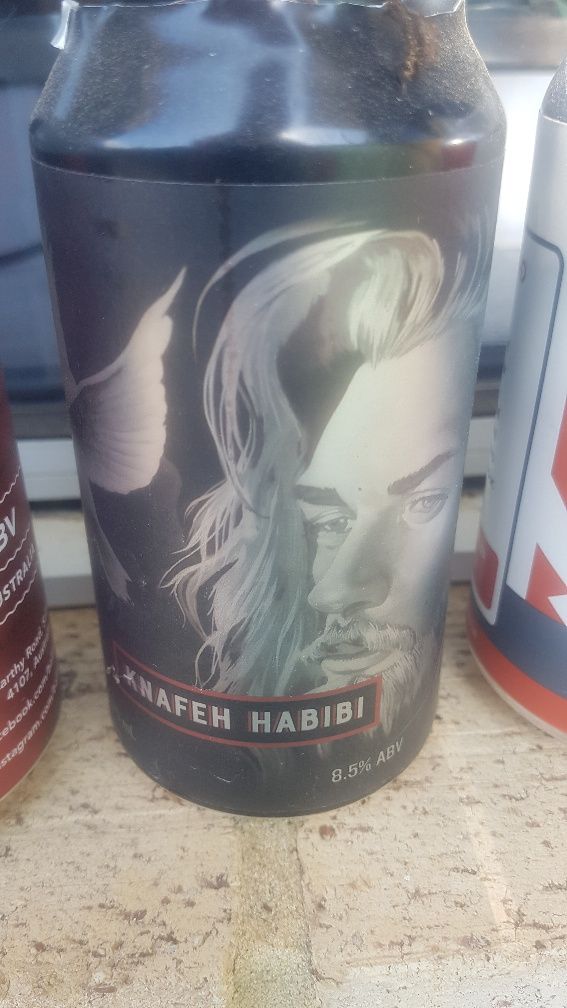 Sarah Stars - 4.5 / 5
and yes guys, you saw it... I make Crafty Succs. Unfortunately not fairing too well in the Perth heat the last few months.

Stay safe, and craft beer savvy x