New Zealand: By a 12 year old

Yep... you read that title right! I managed to find my diary of the trip, whilst I was on a quick visit home to Melbourne.
Albeit, some horribilus grammar, twelve year old Sarah was quite articulate and very detailed with her accounts.
Enjoy!
March 30th - After a 6am wake-up call we headed to Melbourne Airport for a lengthy trip through customs, at 9.30am we boarded the plane. 20 minutes before landing in Auckland, Mt. Eggmont came into view. Post-landing, the shuttle bus dropped us at Britz to pick up a hire-car. We stayed at Oakwood Manor.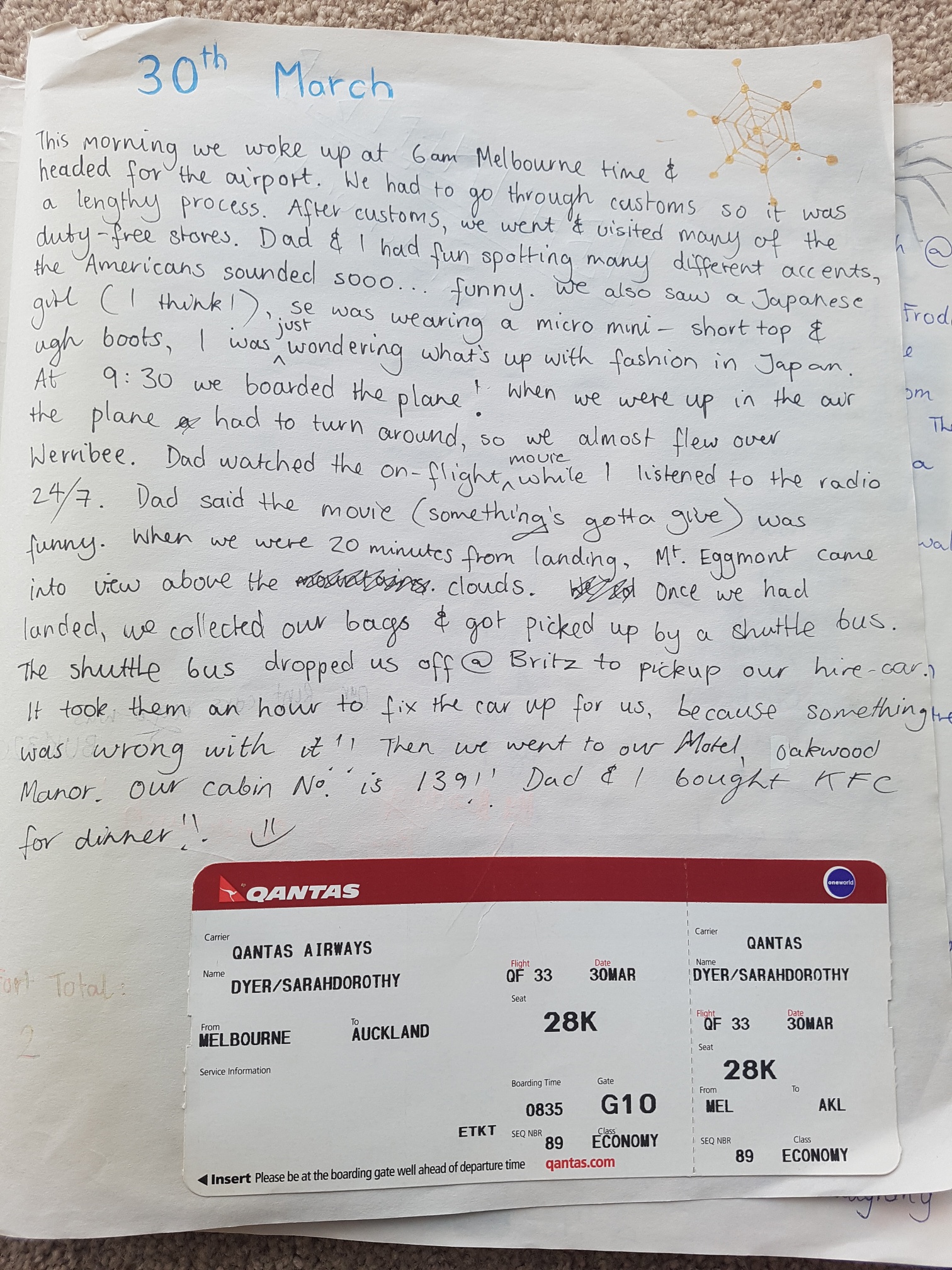 March 31st - We woke up at 8.30am to head back to Auckland airport to catch a flight to Christchurch. Our plane left Auckland at 11am, there were Lord of the Rings advertisements everywhere. Upon arriving in Christchurch, we wandered through Cathedral Square and a market with Maori pendants made from jade and bone. We then made our way to the Avon River and went for a little walk. We left Christchurch at 3.30pm and drove to Akaroa, a town on the Eastern coast. We stayed at Top 10 Holiday Resort Akaroa. We visited the local pier, and a store called "Fire and Ice", full of gemstones, crystals and aromatherapy things.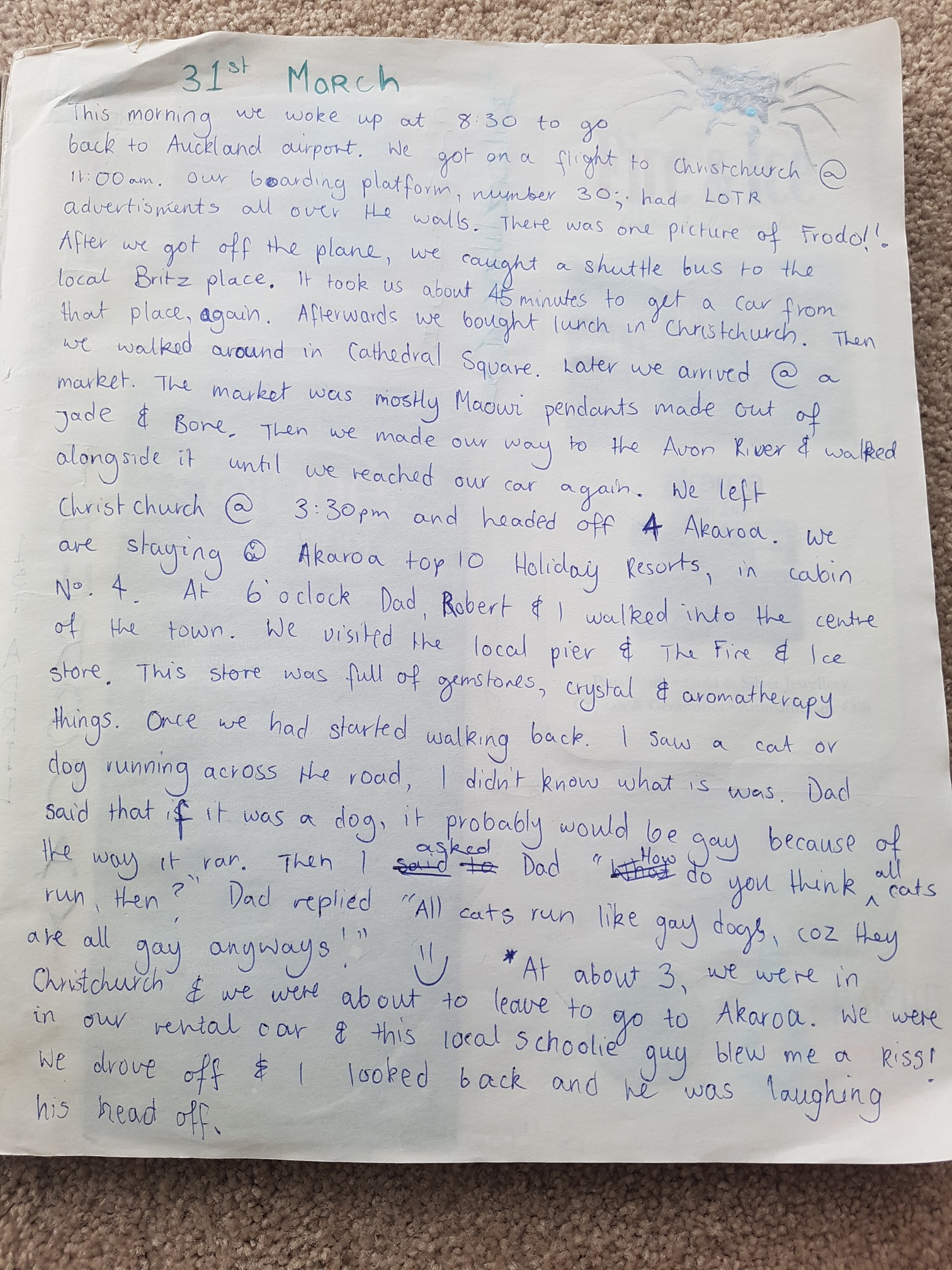 April 1st - We woke at 7am to head off on summit route drive of the coastline. We stopped at Le Bons Bay for lunch, it looked alot like Australian beaches with white sand. We drove around further to Okains Bay, before heading to a Maori/Colonial museum. I learnt about the weapons, tattoos, culture and history of the Maori's. We then headed back to Christchurch, visiting Willowbank Nature Park. We had a Kotane, Hangi dinner at Willowbank, followed by a tribal dance complete with a haka and poi dance.

April 2nd - We left Akaroa again at 8.30am, headed for Twizel. We had morning tea at Ashburton, and lunch at Lake Tekapo - a lovely glacial turquoise coloured lake. We visited another glacial lake, Lake Pukini. We arrived in Twizel at 3pm, you could almost see Mt Cook (Aoraki) from where we were staying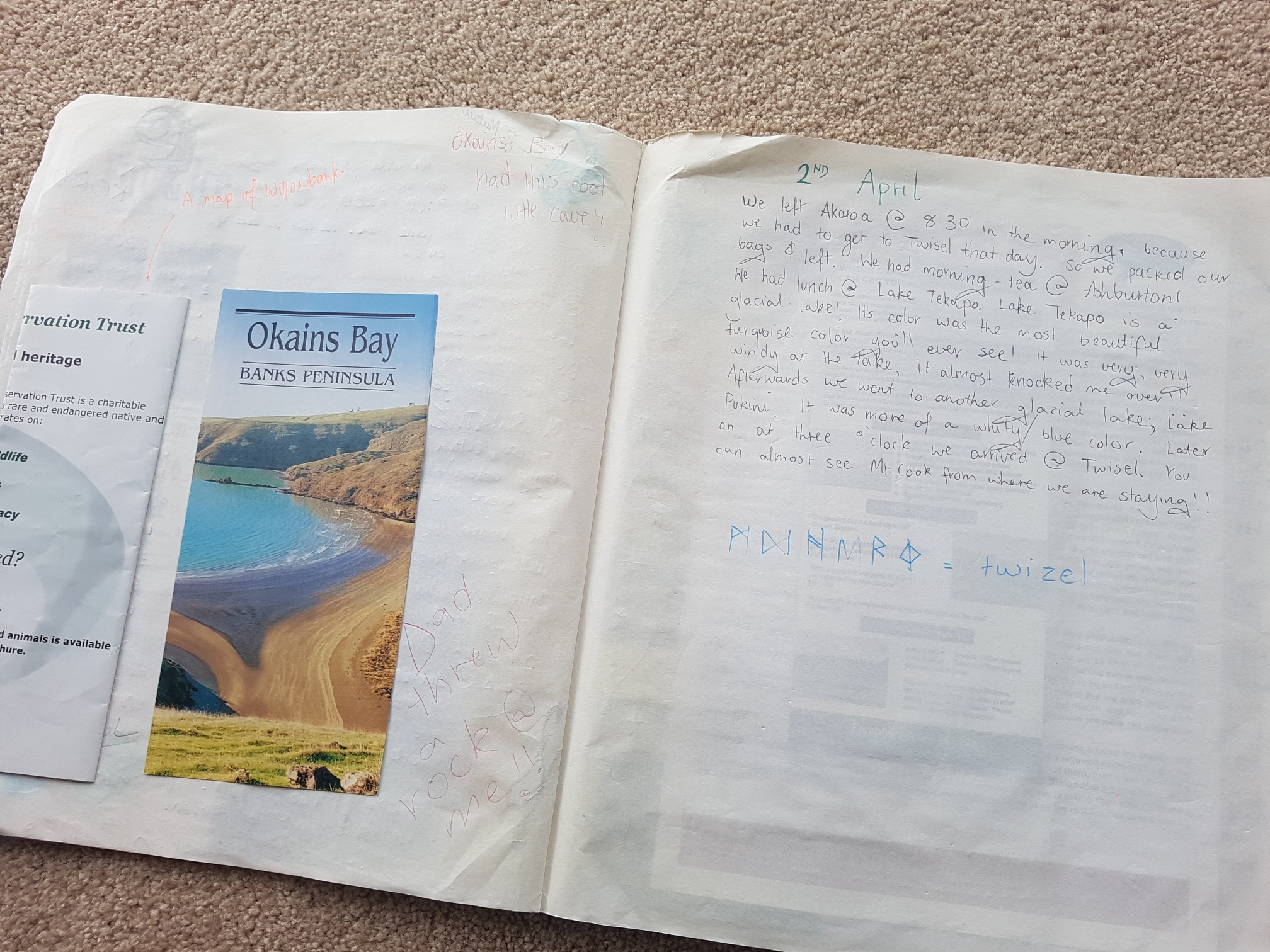 April 3rd - First thing in the morning, we drove to Mt Cook (Aoraki) - it has a snow-cap all year round. We missed the Kea's - mountain parrots, which are supposedly most active at dawn and dusk. Mum and I went on a tour of the Pelennor fields and Edoras - eat your heart out Lord of the Rings fans. We saw where the people and city of Minas Tirith were super-imposed and the tour guide showed us the exact place where Theodin tapped swords with the Rohirrim. We stayed at Sherwood Manor in Queenstown - and visited a rapid river where some guys were boogy-boarding through rapids. We bought fish and chips from the Fishbone Bar & Grill

April 4th - Extreme Sunday the 4th of April 2004. We woke up at 8.30am and got ready to go into Queenstown to get on a Kawarau jet boat - we went out on Lake Wakatipu and then onto the Shotover River. The jet boats are known for doing 360 degree or 720 degree spin-outs, the water was only ankle-deep and I swear you could hear the stones against the bottom of the boat.
Afterwards we went on the Skyline, the view was spectacular. Rob and Dad went on the luges.
In the afternoon, Dad and I went white-water rafting. Robert went mountain-bike riding instead. The water was freezing on the Shotover River - it was only 6 degrees. So we wore wetsuits, wetsuit jackets, waterproof jackets, wetsuit shoes, helmets and life jackets. Our raft group consisted of Aussies, Israeli's and Koreans. Our guide was Dean and we went through the company Extreme Green Rafting. Dean nicknamed me 'Trouble' and put me at the front of the raft - and also told us that he was a stunt-double for Samwise in Lord of the Rings. In total we had an 18km raft ride. The first rapids we went through were grade 4-5, they were called 'Mother' - there were 6 rapids in Mother, I remembered some names including Squeeze, Toilet, and Pinball. Afterwards we went through rapids named Jaws and Sequel. Near the end of the trip, we went through a man-made tunnel that was 170m long.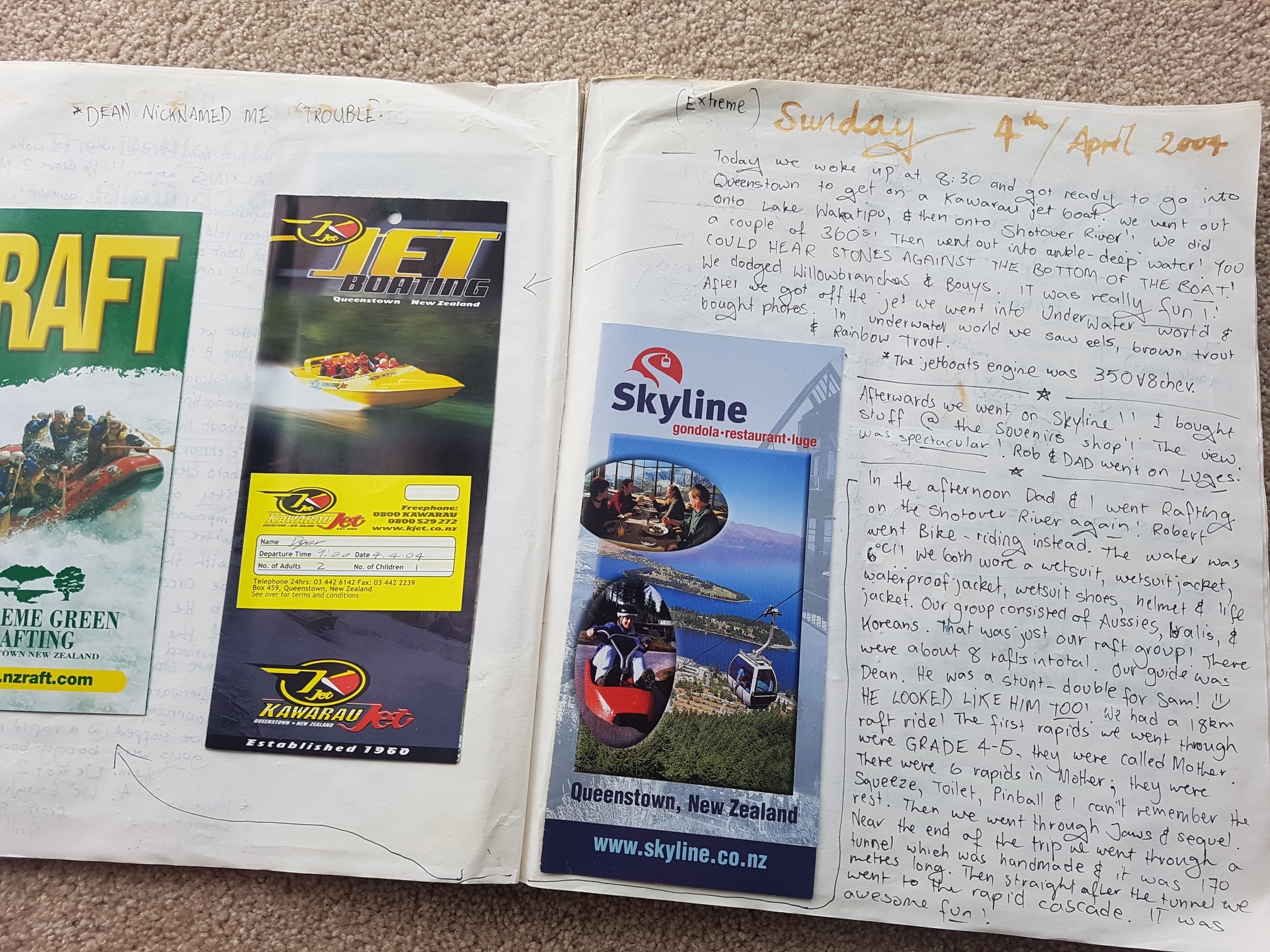 April 5th - On this morning, we woke up to rain, storms and hail. Once we drove out of Queenstown the weather cleared up, which was fantastic as we were headed to Milford Sound. Just before we drove through Homers Tunnel, we saw three wild Kea's. The Kea is a large mountainous parrot that is incredibly curious and intelligent, they have been known to strip all of the rubber off of cars abandoned in the alpine areas of the South Island of New Zealand. The scenery en route to Milford Sound was beautiful, on each face of each mountain there were about 4-5 small waterfalls. We all ate lunch and got on our cruise, which was with Red Boat Cruises. We saw lots of waterfalls and fjords -cruising out as far as the coast and then back in again. Mitre's Peak, the famous landmark of Milford Sound was spectacular. Some dolphins swam near the boat. We had dinner at La Toscana in Te Anau Top 10 Holiday park.

April 6th - We woke up at 7.30am, left Te Anau and travelled only 10km down the road to a local wildlife centre. Te Anau lake is the home to an endangered flightless bird species names the Takahe. It is related to the Pukeko which is a really common bird all over New Zealand (Aussies think flightless Swamp hen). Unluckily, even though the Takahe was in captivity I still didn't manage a photo because the bird wasn't close enough for a photo. We also saw Mokepokes, Kakas, Keas, Antipodes Island Parakeets, Paradise Ducks, Wekas, Kakariki's, Kereru''s and a Tui. The Tui was very hard to get a photo of as every second it would move - I wouldn't blame it though, its cage was so small.
On our way back to Queenstown we stopped where Peter Jackson and crew filmed Fanghorn Forest. The site was roughly 20km out of Te Anau along the highway. We stopped in at Queenstown for about an hour, Mum and Dad had coffee on the lakefront, whilst Rob and I looked at shops.
Later on that day, we arrived into Wanaka, where we stayed at another Top 10 Holiday Park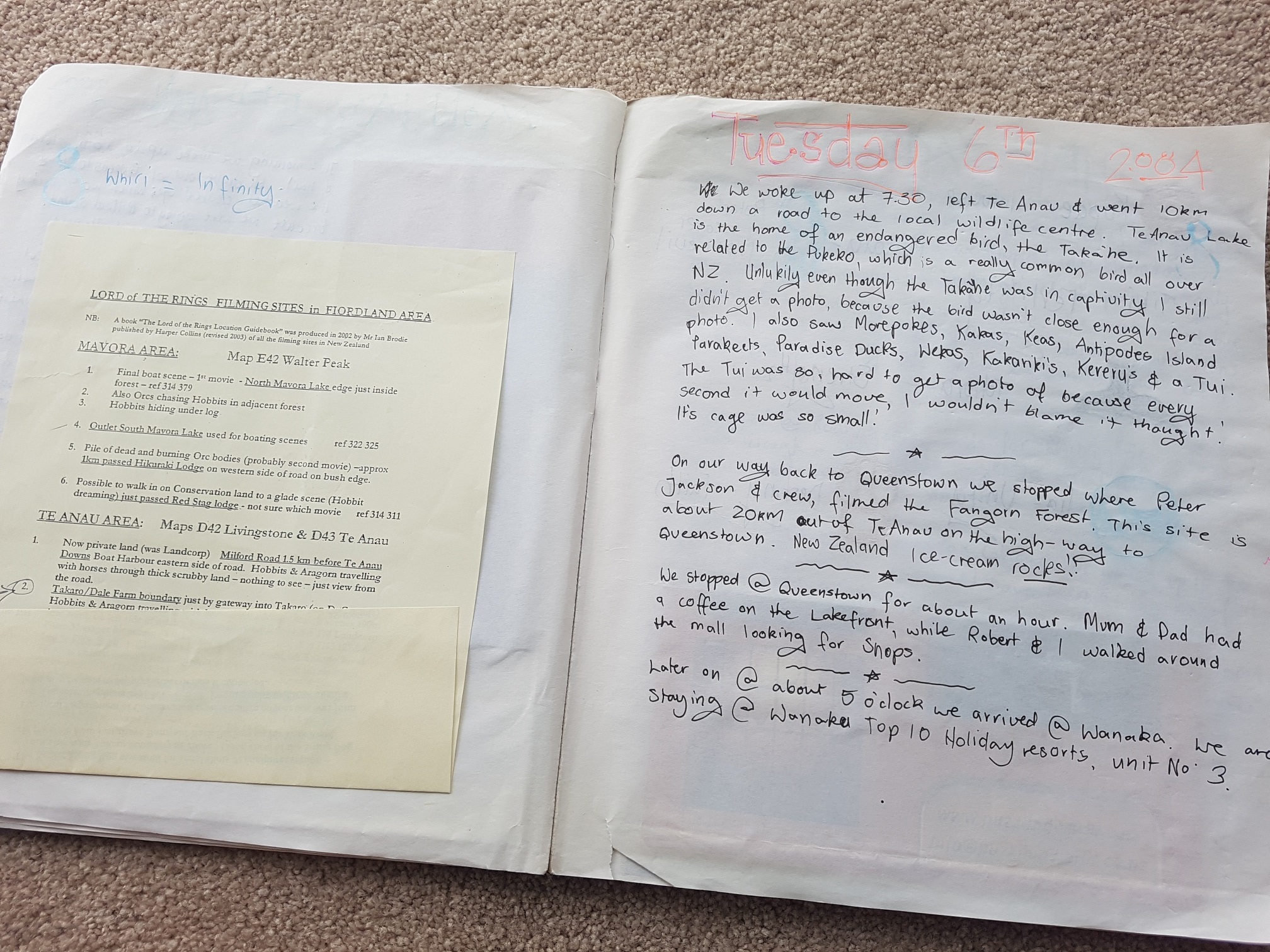 April 7th - We all had a good sleep in this morning, before getting ready to set off to Franz Josef Holiday Park. On the way out of Wanaka we dropped into Wanakas Puzzling World. We didn't actually go into the Park, we only looked at the amazing things outside. The most incredible being the Leaning Tower of Wanaka, leaning in at an amazing 53 degrees, whereas the Leaning Tower of Pisa only actually leans 6 degrees. We stopped at Roaring Billy Falls for morning tea, walking through a beautiful rainforest to get to the falls. I got a photo of my first real-life Koru - a Koru being a Silver Fern shoot. At 1.30pm we reached Fox Glacier. The glacial-cut mountain faces were astonishing, we drove into the township of Fox Glacier and got on to a helicopter which flew up and landed on Fox Glacier - the deep blues of the ice in the cracks of the Glacier were so beautiful. We got back into the helicopter and then flew over Franz Josef Glacier - where the ice in the glacial cracks was nearly a navy blue colour. We landed back in Fox Glacier and drove to the township of Franz Josef where we stayed at another Top 10 Holiday Park.

April 8th - On this morning, we all had another good sleep in. We drove back past Fox Glacier so that we could visit Lake Matheson. This lake is super calm and is overlooked by Mt Cook (Aoraki) and Mt Tasman. We had morning tea at Lake Matheson. We stopped in at the township of Ross for lunch, it was pouring with rain and we were confined to our hire-car although Mum and I managed a short walk to the souvenir shop which was 5metres away. At 3.30pm we arrived at Greymouth Top 10 Holiday Park.
Once we had unpacked Dad Robert and I went to the local supermarket to pick up some supplies. For dinner, we had home made fish and chips in our room for dinner. Later on at about 8pm, Dad realised that a local café had Whitebait Fritters. We had been looking for Whitebait ever since we arrived on the West Coast of the South Island. So Dad and I set out and bought some, we were lucky to get any because they are out of season. I actually really liked the fritters - Yummo!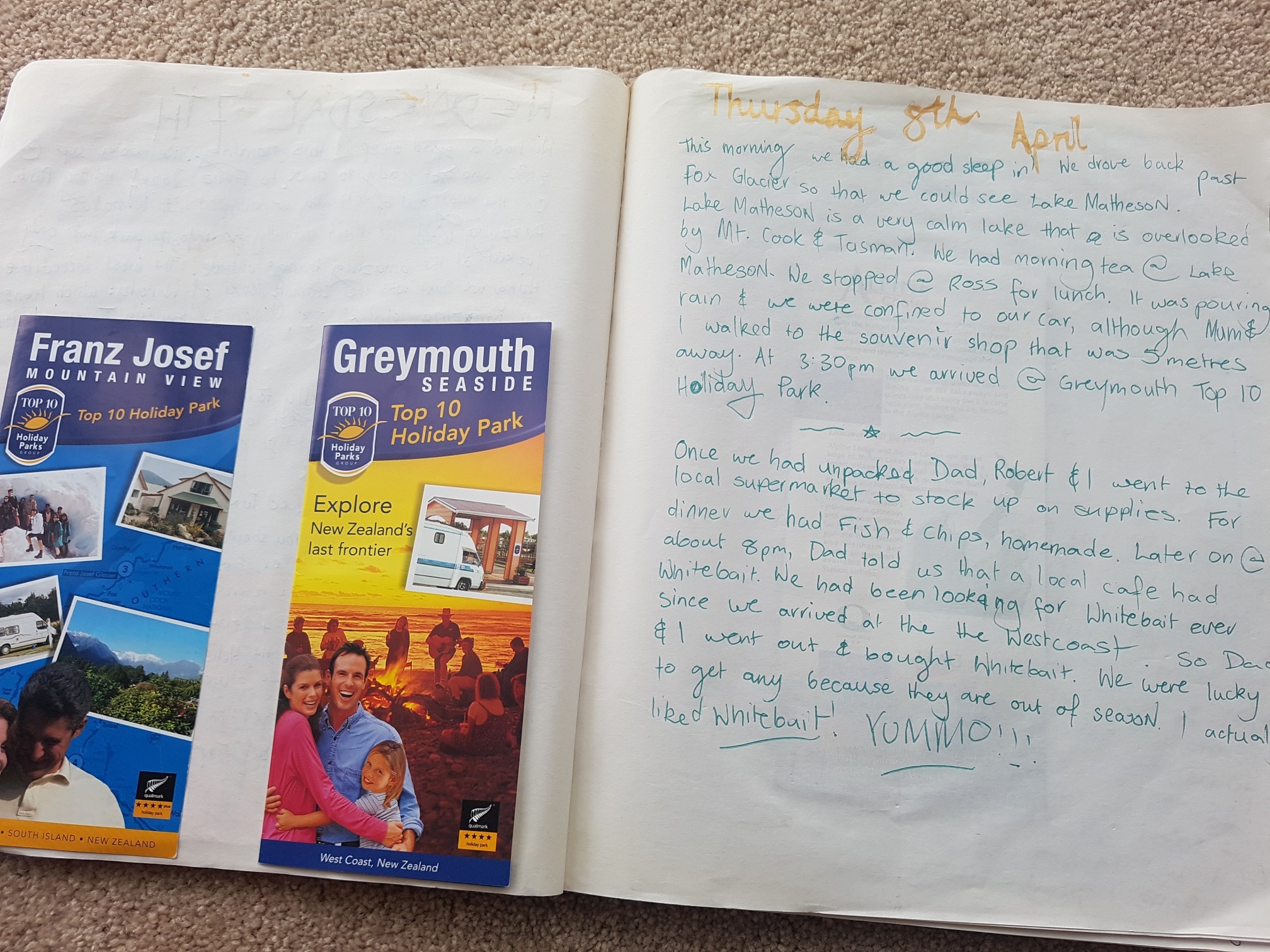 April 9th - Today we awoke at a reasonable time, and visited Pancake Rocks (Punakaiki). They have found many dinosaur fossils here and the road we travelled on to get here reminded me a lot of the Great Ocean Road. When we were near Wesport we stopped at Cape Foulwind (Charming name) to have a look at the local Kekero - or Australasian Fur Seal colony - we also had morning tea here.
We stopped at Wesport for lunch. Once we arrived into St Arnauds, we went and looked at the St Arnauds Range and Mt Robert. Rob was quite pleased with a mountains being named after him. Then we took a quick trip to Lake Rotoiti. When we got back to St Arnaud, we travelled to the place we were staying for the night - Alpine Lodge (not another Top 10 - thank god!). Robert and I checked our emails, I had 78 new emails. God knows what I had subscribed to at that age - Jeezzzz!
We had dinner at the lodge's restaurant and bar. Then afterwards Dad, Robert and I had a swim and a spa bath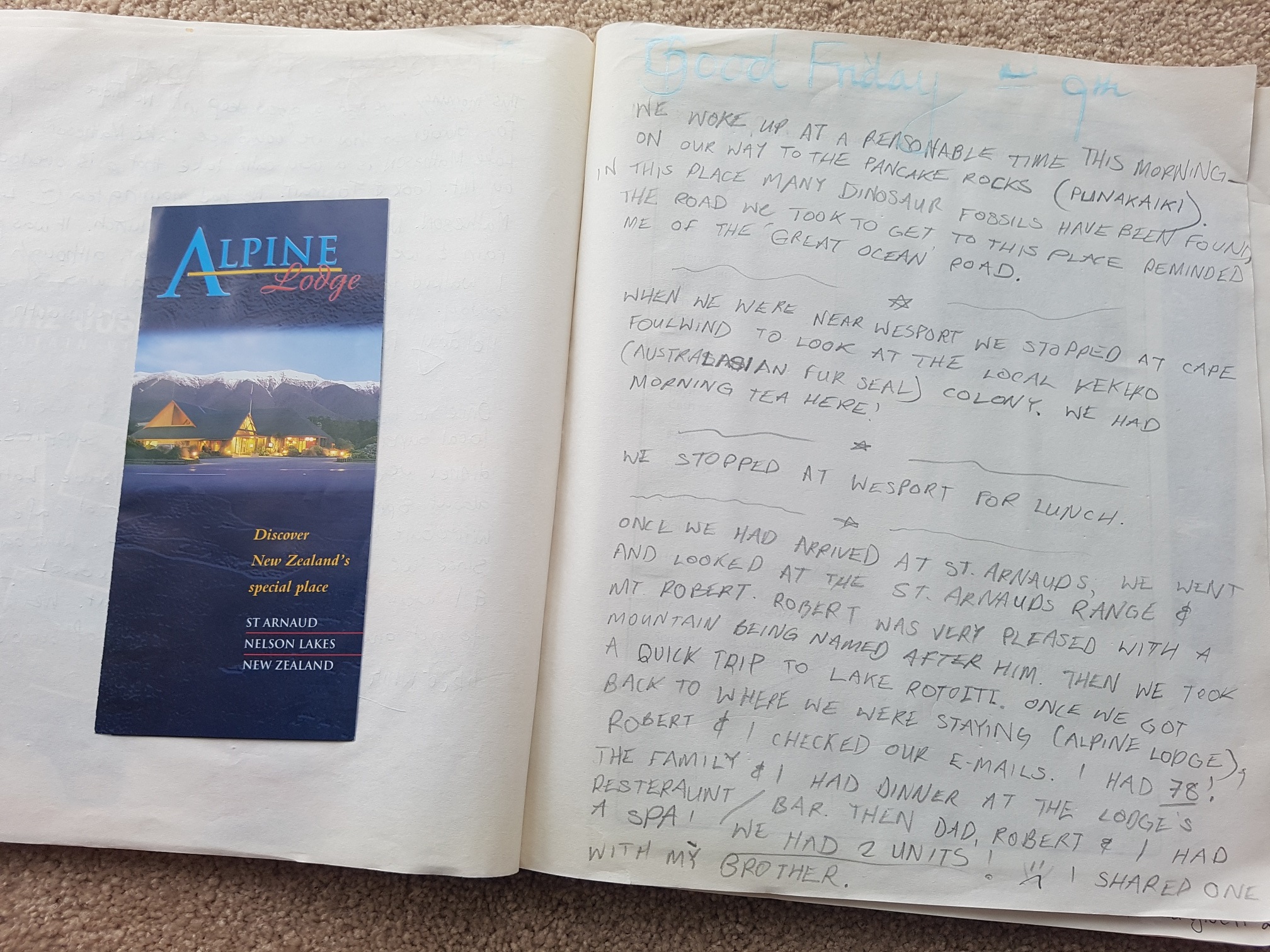 April 10th - We all woke up at 7am, we had a three hour drive to Picton to get on the Inter-Island Ferry. We got there a little early - 9.45am to be exact. When we got to the ticket booth the lady said that the ferry would leave at 1.30pm not 11am - Dad had gotten the times wrong. But we were allowed to board the 11am cruise anyways. It took an hour waiting to get our hire car on board the ferry. The boat was well-equipped with a café, souvenir shop, information booth, live entertainment and a bar.
We got into Wellington at two oçlock - that included the time it took to get the car off of the ferry. We went to Mt Victoria, which is a little mountain that you can climb up and overlook the whole of Wellington. It had a monument dedicated to Antarctica on its peak as well as the lookout. Then we drove to Wellington Botanical Gardens. The Wellington GArdens were a lot smaller and different to the Melbourne gardens that I was used to. Then we drove up to where we were staying - which was 40minutes out of Wellington in the Hutt Valley. We were supposed to be staying in Harcourt Holiday Park, but they had double-booked - luckily they got us into a better place. We ended up staying at Brentwood Manor instead which was ah-mazing. It had heated towel racks, hot water blankets, feather pillows 7 TV stations, digital clocks in all bedrooms and decorative furniture and wall pieces all around the place. 10/10.

April 11th - The next morning we packed up at a leisurely pace and left Upper Hutt to visit the Hutt River. This river had faced severe floods only 4 months prior to our visit. There were two places that we visited on the River, 1. The River Anduin, where the elvish boats were launched into the water after visited Lorien and 2. The place where Aragorn is washed up after falling from a cliff while battling the Orc's on Wargs. We then visited the site used for Rivendell in the Katioke Regional Park. We actually ended up finding what we believe to be part of the set of Rivendell that had been left behind. After looking at heaps of sites we then decided to do three hours of solid driving. On the way we passed the site of the quarry where they built miniature versions of Minas Tirith and Helms Deep. At 3.30pm we arrived at Okahune, the heart of Mordor. And again stayed at a Top 10 Holiday Park - woo!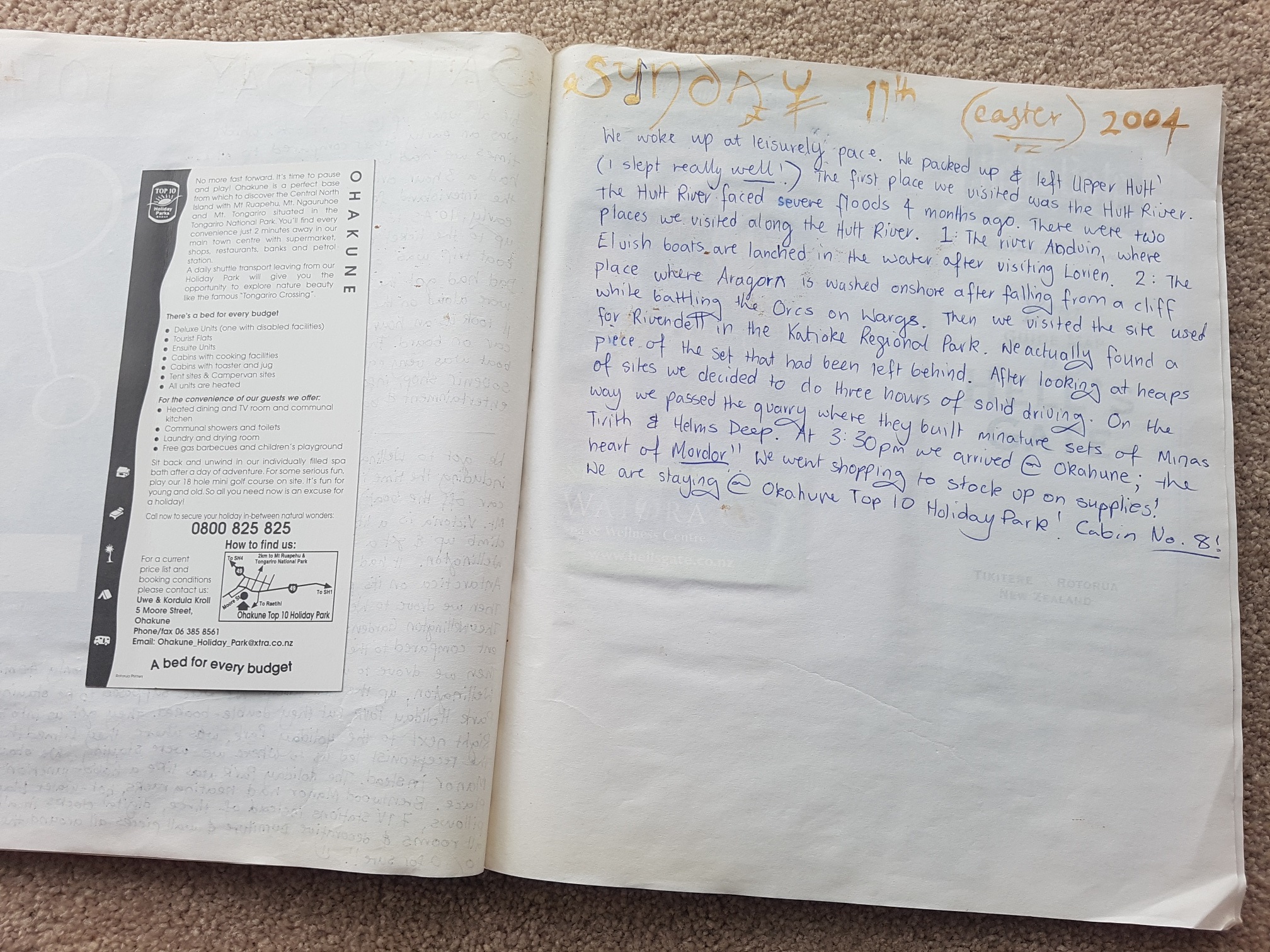 April 12th - We left Okahune at 9.30am and drove into Ruapehu National Park (I thought it was called Tongariro National Park....). Mt Ruapehu is a dormant volcano, nowadays it is only half the size of what it used to be before it last erupted. Mt Ruapehu was used for some of the Mordor scenes in Lord of the Rings. We didn't end up seeing Mt Ngharahoe (Mt.Doom) because of the clouds. We started on our way to Rotorua. On the way we drove past Lake Taupo. To the Maori's Lake Taupo was considered the heart of the North Island. About half an hour further down the road we visited Huka Falls. The falls themselves are only 7m tall, but the most amazing thing was the amount of water thundering through it. We arrived into Rotorua at 3.30pm, we were staying at the Rotorua Thermal Holiday Park. Later on in the afternoon we visited Hells Gate - it really did live up to its name due to the smell and landscape. Hells Gate park has the only mud-volcano in the world, the colour of the soil there was a rich dark yellow colour because of the sulphur.

April 13th - We woke up at 7am and drove to Rotorua's Tourist centre. We waited for 20minutes for a 4WD bus to pick us up and take us on a tour of Mt Tarawera. Mt Tarawera's eruption could be felt as far south as Christchurch and as far north as Auckland. Rocks were hurled into the air and landed up to 7km away from where they were spat out. The eruption even lifted the base of a lake up.
Dad Robert and I did a summit walk and then a long scree-shuffle down into the crater. The basalt that was left was scoriaceous - in all colours of Black, White and Red. Mt Tarawera has a breached crater, when it erupted it blew one wall out.
After lunch we visited the Agrodome, which included a sheep show, chocolate factory, a woollen mill and a café. The sheep were very well trained and they all walked to their correct place on the podium. Afterwards we visited Rainbow Springs which was just across the road from the Agrodome. We saw many different types of birds plants and reptiles, including the Tuatara - which apparently has a third eye on its forehead.

April 14th - In the morning we drove to Whakawerara Thermal Park (Yes...the Wh sound in Maori words is pronounced F... so Fuckawerara). We saw lots of bubbling mud and water and watched the Prince of Wales Feathers Geyser, whilst hoping that Pohutu Geyser would go off as well. We waited for an hour - but it didn't go off. We gave up and went and looked at the Kiwi House and at the New Zealand Maori Arts & Craft institute. We saw a carving school in action. We ate lunch in the Parks picnic area and queued up to watch the Mai Ora concert. Mai Ora was much better than KoTane in Christchurch. Afterwards we started our drive to Waitomo and arrived late in the afternoon.

April 15th - In Waitomo we visited the Glow-worm caves. The guided tour through the Waitomo Glow-worm Caves brings the visitor through three different levels and begins at the top level of the cave and the Catacombs. The levels are linked by the Tomo, which is a 16 m vertical shaft made of limestone. The second level is called the Banquet Chamber. This level is where early visitors stopped to eat and there is evidence of this in the smoke on the ceiling of the chamber. From here it may be possible to link back to the upper level to see the largest formation called the Pipe Organ but on busy days this area is closed to the public because the build-up of carbon monoxide may be hazardous.
The third and final level goes down into the Cathedral, demonstration platform, and the jetty. The tour concludes with a boat ride through the Glow-worm Grotto. The boat takes the visitor onto the underground Waitomo River where the only light comes from the tiny glow-worms creating a sky of living lights. We stayed one more night in Waitomo.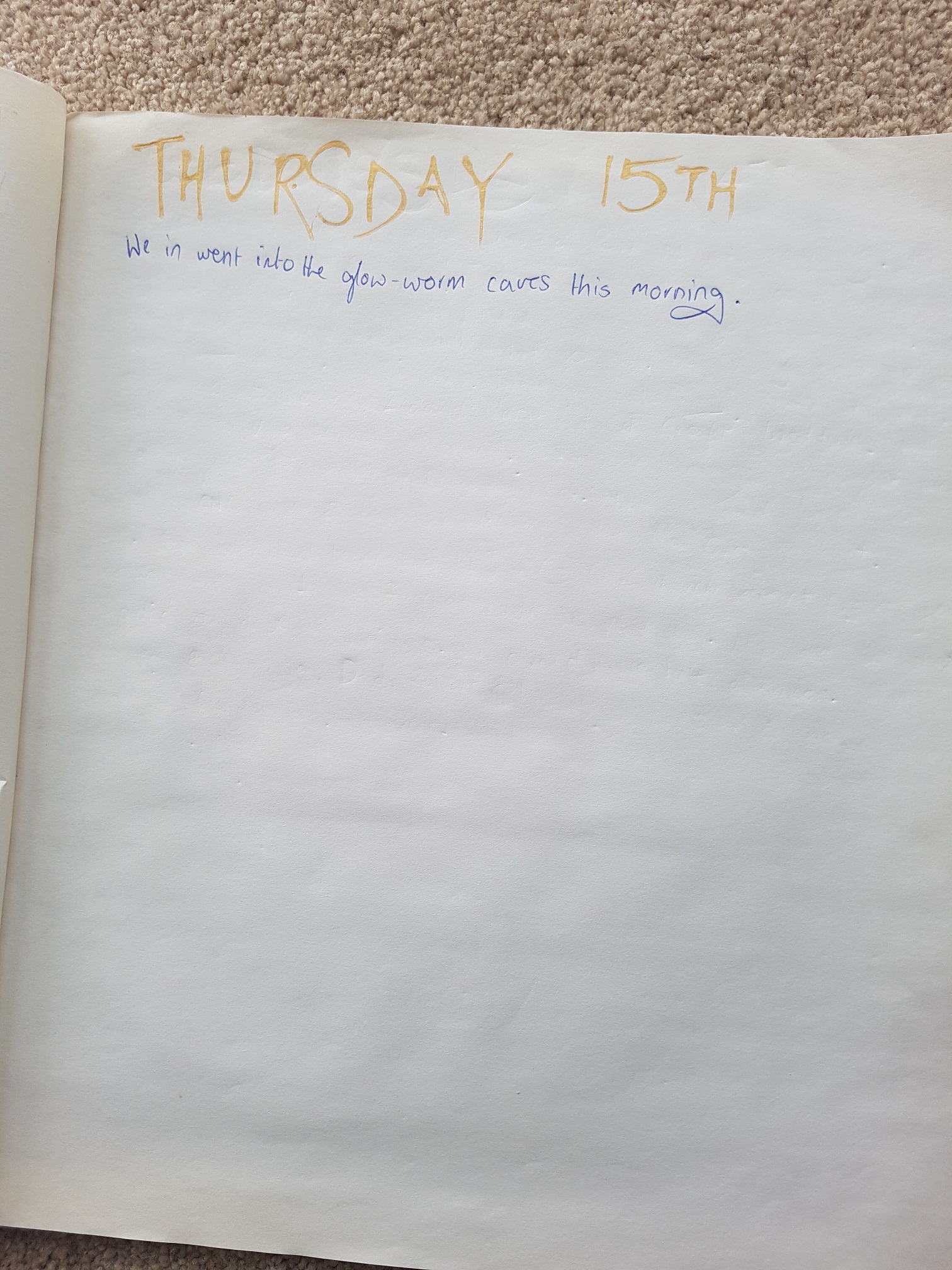 April 16th - We awoke at a leisurely pace this morning - and headed off to find Kawhia Hot Water Beach. One of the Hamilton & Waikato's, and indeed New Zealand's, best kept secrets is Kawhia Hot Water Beach. Head down to Ocean Beach in Kawhia at low tide, clamber over the sand dunes and stroll down onto the beach. Find your spot and start digging for an instant natural hot water spa, with stunning views to match. Te Puia Springs as they are known locally are one of the best North Island attractions, yet they remain a true hidden gem. They can be accessed via Karewa beach, tucked into the south side of Kawhia, or by a short climb through the sand hills from the car park at the end of the forestry road. We also visited Hobbiton - we continued across the Kaimai Ranges toward Rotorua and onward to Matamata, where you'll visit the Hobbiton Movie Set, a working sheep farm and significant filming location for The Hobbit and The Lord of the Rings movie series, all of which were filmed throughout New Zealand. Discover how the site was transformed into JRR Tolkien's The Shire — home of Bilbo Baggins and his fellow hobbits. Have your photo taken in front of a hobbit hole and see the pond, the Mill, the Green Dragon Inn and more. From there we set off to Auckland.

April 17th - Our final day in New Zealand was spent in Auckland.


Spectacular glaciers, picturesque fiords, rugged mountains, vast plains, rolling hillsides, subtropical forest, volcanic plateau, miles of coastline with gorgeous sandy beaches - it's all here. No wonder New Zealand is becoming so popular as a location for movies.